You can chuck most cookery shows into one of three pots. There's the Competition Cookery Show—Masterchef, Masterchef the Professionals, Junior Masterchef, Masterchef Australia, Masterchef: South Norwich Liberal Democrat Council Candidate Edition—that fixates on emotional manipulation, narrative journeys, and meringue-related heartbreak. Next up is the Cook's Cookery Show: a mononymous chef swans around in a Disneyland simulacra of a family kitchen, peering into the camera over a bowl of cake mix like a well-fed Narcissus, all the while pretending that the food is star, not them, honest.
Then there's Sunday Brunch.
Over the last few years, Tim Lovejoy, the strangely wooden former Soccer AM man, and Simon Rimmer, a slap-headed housewives' favourite, have revolutionised the Sunday morning televisual landscape.
Simon and Tim's obvious affection for one another masks a lot of Sunday Brunch's faults: interviews often feel under-researched and half-arsed; bleary-eyed guests occasionally make for combative presences; the self-referential self-reverence of the duo's hosting style can, during the most acutely painful of mornings, grate. The carefully-concocted faux-amateur atmosphere is, at times, a hindrance. That's saying nothing of the endless blurred photos and grainy videos of avid viewers "CHEERS"-ing the hosts, or the let's-stare-into-space-while-the-blender-whirrs-very-loudly bit they do week in, week out.
And yet, there are few finer food-related shows on air.
For those of us too hungover to even contemplate soaking up Marr and Peston's latest political grillings, too tired to sit through another disjointed, Nicky Campbell-hosted debate about the problems that come with a secular society, or too sport-saturated to watch Saturday afternoon's netbusters for the fifth time, Sunday Brunch is a weekend saviour.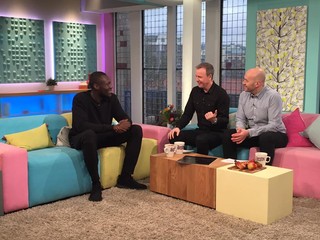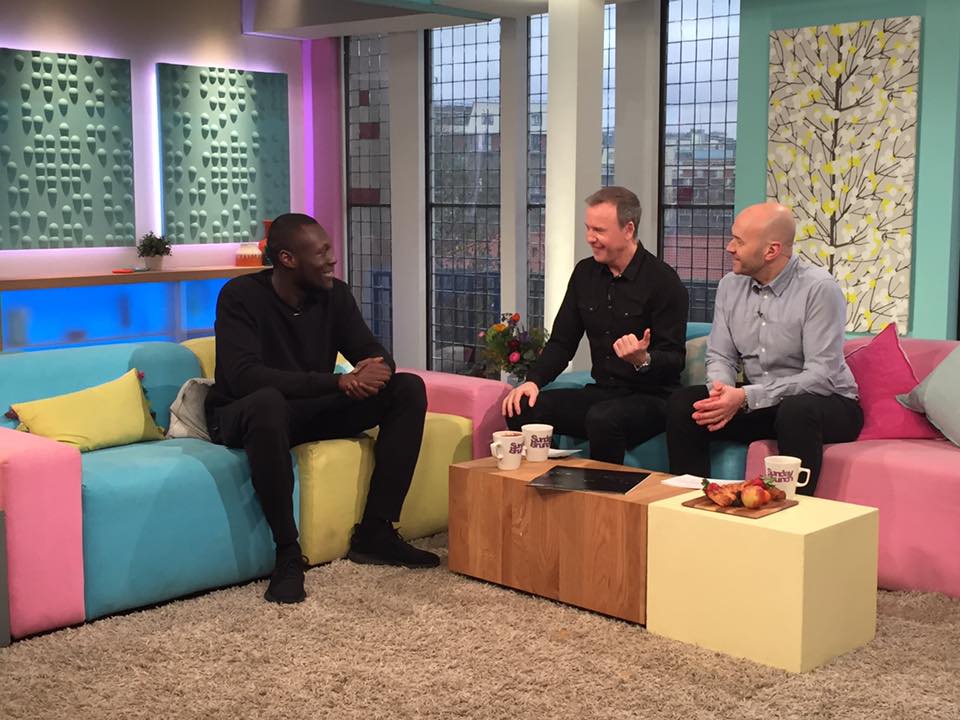 The world that Lovejoy and Rimmer oversee is one where food only exists to be pawed at by Sophie Ellis-Bextor, Domhnall Gleeson, and Harry Hill. Sandi Toksvig sips whiskey before half ten. The possibility of man successfully colonising Mars before the decade's end is discussed before most of the viewers have even begun thinking about ridding themselves of last night's alcoholic residue.
Sunday Brunch is, in short, the perfect televisual reproduction of the kind of mild-hysteria that occasionally makes a hangover as enjoyable as whatever precipitated it.
Comparing it to the BBC's Saturday Kitchen—surely one dud Omelette Challenge away from cancellation after it's post-James Martin iteration has been about as enjoyable as chowing down Mrs. Thatcher's mystery starter—would be almost unfair. One's Brazil, 1970, the other's Burton Albion, 1992. They're Mozart and Milli Vanilli, Picasso and Purple Ronnie.
The sense of almost-unbridled bonhomie that courses through the studio is what transforms Sunday Brunch from just another cook-and-chat show into something that's nearly unmissable. Anyone can bung Galton Blackiston in front of a hob, plonk Arabella Weir and Tinie Tempah on a nearby dinner table, and hope that the combination of a new single to hawk and a bowl of olive and spelt broth will do the heavy lifting. But as Let's Do Lunch with Gino & Mel showed us, sometimes that's just not enough. You need more. You need banter.
Sunday Brunch is a show absolutely saturated with banter. The banter pours out of it. The banter threatens to drench all and sundry. Lay the corpse of Sunday Brunch on a slab in the morgue, slice it in two, and where you'd normally find a heart, you will in fact see the shrunken head of a cackling Bradley Walsh spewing pure, liquid banter.
Sunday Brunch is the perfect televisual reproduction of the kind of mild-hysteria that occasionally makes a hangover as enjoyable as whatever precipitated it.
Banter for banter's sake is often painful—a boorish approximation of good humour, usually reliant on the kind of self-defensive nastiness most of us grow out of when we finally cast puberty's awkward shackles aside. In the hands of Simon Rimmer and Tim Lovejoy, it becomes something else.
It becomes a much needed antidote to foodie culture.
Food, we shouldn't need reminding, is both serious and not. It is, in a very literal sense, a matter of life and death, but many of us find the idea of thinking of it as such hard to swallow. Spend a few minutes in the company of any serious foodie and you'll likely never want to eat for pleasure again; piousness about pomegranate molasses isn't a good look.
It isn't that Sunday Brunch doesn't treat food with a kind of loving, because behind the peals of laughter and intentionally awkward silences, there is a deep well of passion for quality ingredients and a desire to share good, achievable recipes with a home audience who're probably seconds away from consuming an entire packet of Richmond sausages. And it isn't that the show sneers at Ottolenghi and his ilk, either. What it does, in a way that seems almost revolutionary but really shouldn't be, is present food as an accompaniment to a good time, rather than making it the primary focus of it.
When we go out for a Vietnamese after work on a Thursday with mates, or have people round for a Saturday night special straight out of Nigel Slater's latest cookbook, we aren't congregating just to admire the glass noodles or the kale gratin. That will, if the food is half-decent at least, play a part in it, but food is one of the few middle grounds we've established since we hauled ourselves out of the primordial ooze and into the nearest Franco Manca. And so a meal is a form of communion, a chance to sit and talk and, at it's best, push the real world away from the table for a long afternoon or a pleasant evening.
Watching Sunday Brunch gives you that feeling of social wellbeing, even when your head is whirring and your lungs are flat-lining and you positively reek of tequila and shame and all you really want to do is burrow deep into the earth's crust, left alone with your remorse and regret.
Somehow the sight and sound of Peter Capaldi, The Saturdays, Beth Tweddle, and Jack Savoretti, or Johnny Vegas, Kym Marsh, and Hugh Fearnley-Whittingstall hunched around a plate of burritos while Tim Lovejoy manages to make reading off an autocue look less achievable than a one-manned lunar landing is enough to remind us that for all its horrors, the world can be a kindly place.
Or at least one where nothing matters more than a decent daiquiri and a natter with a tired Dawn French.