What London's Night Czar Could Learn From Amsterdam's Success
The Dutch capital has created a finely tuned harmony between its local residents and its clubbing population – London could take a leaf out of its book.
|
20 September 2018, 11:46am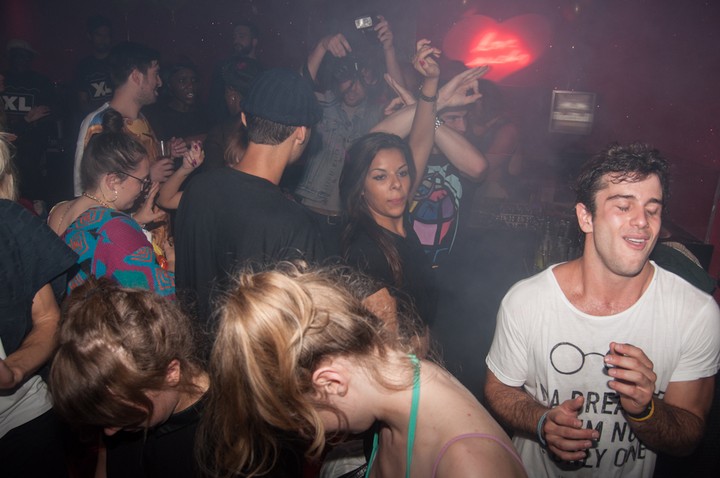 (Photo by Jake Lewis)
Spend any time in Amsterdam, and it soon becomes apparent that its reputation as one of Europe's premiere destinations for debauchery and bacchanalian pursuits remains alive and well. The red light district, freely available drugs of all kinds, and the proliferation of super strong beers have turned the city centre into a late night playground for the lads'n'ladettes-on-tour brigade, noisily slurring and vomiting their way between cheap dive bars and seedy alleyways. And despite the locals' protestations regarding such nocturnal nuisance, the uncomfortable truth is that Amsterdam has grown to rely on the constant influx of thrill seekers and local night owls. Around 18 million visitors contribute €2.7 billion annually to the city, while the Dutch dance music industry alone supports around 13,000 jobs and is worth over €600 million.
Yet the friction between people who live and work in the city – those who see it as a carnival of night-time excess, and those who make a living catering to the whims of the latter – led to the creation of the world's first Night Mayor: the Nachtburgemeester. At first it was a voluntary position, but in 2014 Mirik Milan (a former club promoter) was officially elected to the role by festival goers, club and bar owners, and (in an online vote) the public. He quickly set about protecting the interests of the ever-growing night time economy while assuaging the concerns of residents and politicians.
"The general idea was to create a dialogue," Milan tells me. "To bridge the gap between small business owners, like nightclubs and festivals etc, and city residents." Initially change was slow, and trust hard to come by. "In the beginning, it wasn't taken seriously," he says, "not by the industry, not by City Hall, not by residents' groups. But we formed an alliance of progressive people from the nightlife scene, brought them to the table, and built a bridge of trust between them and City Hall, convincing them that we wanted not more, but better quality nightlife – that worked for everyone."
Having recently stepped down from the position, many agree he's done a great job in difficult circumstances; over four years, pragmatic solutions for seemingly intractable problems have been found, complaints have decreased, and the night time economy has continued to grow and diversify. Problems remain of course, but as Milan himself admits, "gathering support is an ongoing process and the moment you think that you're there, then you're already losing; you have to constantly invest in relationships and try to spot trends, to bring people together."
So what can be learned from Milan's successful stint? London's Night Czar, Amy Lamé, has struggled to have much of a positive impact since her appointment in 2016, and a number of high profile setbacks – most recently Hackney Council's new venue curfew laws – have seen many question her influence and competence in what is a well-paid, publicly funded post. Only time will tell how effective Lamé will ultimately be, but in the meantime, here are some lessons she would do well do heed.
Protect Your Independence
Milan set up an independent, not-for-profit NGO to house the position of Night Mayor, something he believes was critical to his success. "It's often a really difficult thing in cities to get the nightlife scene to understand that an organisation is more valuable to them when it's an independent not-for-profit, and not just another association of bars and clubs. I think that strikes the very core of the issue that you see in London because we can keep a critical distance from City Hall but also, really seek out who our partners are, from the Mayor to civil servants, to the planning and zoning department to the police, and really work in close consultation with these people."
How does London compare: The Night Czar is now a salaried, full time position within the Mayor's Office, appointed by Sadiq Khan. As such, it's unclear precisely how far Lamé is able – or willing – to push back against decisions she disagrees with, or even if the industry views her as friend or foe. As Milan notes, "That's the vulnerability of being an appointed person by the leadership; if the leadership changes then maybe the role will. That's why I think it's so important to have this independent role where the City pays in, and industry pays in, because it's the only way it will work; there are so many stakeholders involved and so many interests from all sides."
24-Hour Licenses Can – And Do – Work
One of Milan's biggest success stories was the introduction of 24-hour licenses, and proving to all sides that they could have a positive impact. "What is really radical about them is that they focused on the quality of the content instead of, 'You just have four walls, a roof and a bouncer on the door.' And they're obviously not in the city centre, they're on the outskirts; it creates more attraction, and you can provide for people more outside of the city." There are now around ten venues in Amsterdam that can choose when to open and when to close; crucially, none have attracted complaints by local residents or flouted noise controls.

How does London compare: As has been drily noted, there's not much point in having a 24-hour tube if there's nowhere to go to. Many of the capital's 24-hour licenses are held by supermarkets and off-licenses, as it's often fiendishly difficult for venues to meet local authorities' conditions that form part of the Licensing Act. As a result, while a few notable bars and clubs continue to serve all hours of the day and night, London is a very long way from being considered a proper, 24-hour city.
Together, You're Stronger
Early on, Milan realised that to be successful, he had to get proprietors around the table with not just politicians, but with each other. Bar and nightclub owners, promoters, DJs, music venue owners, festival organisers; all were consulted. "I left the organisation with 75 members, and that was from zero," he says. "A lot of club owners and festival guys live in their own bubble, so it was really about forming an alliance and bringing everybody together in understanding what was required, and what would benefit everyone."

How does London compare: Lamé's job is complicated by the fact she's not just dealing with a variety of venues and businesses, but with 33 separate local authorities, all pursuing their own policies. As such, getting consensus is all but impossible – various area's have very different approaches to new venues and license renewal. When such legislative power is distributed across individual boroughs, joined up policy is doomed to fail, and it'll take more than a Night Czar to change this.
Win Over NIMBY's With Facts & A Cool Head
Many in Amsterdam had decided they'd had enough of the various city-based festivals, and pressure led City Hall to announce plans to reduce capacity by 25 percent. Yet Milan persuaded them to abandon such draconian action, and actually let some events grow. How so? "People always think that there are no votes in nightlife, but that's not true; ravers are also residents, and that's something that's easy to forget," he says. "It's very difficult to balance the night time economy in an urban environment; nobody said it was easy. But the only thing you can do is 'serve people with facts instead of emotions'. A lot of residents' associations are based on emotion; they're like: 'It's too loud, it's too noisy, people are puking.' So we ask, 'OK, where, how much, and when?' Also, you have to consider the economic impact of these decisions, and the City eventually saw that the demands such groups were making were actually quite outrageous."

How does London fare: In Lamé's defence, it often seems like the various competing groups in London – business owners, residents, politicians, developers, law makers – aren't even talking to others on their own side, never mind opponents. The swirl of competing interests is often directed by greed, with few willing to compromise or listen – once again, the lack of any coherent, city-wide policy or planning makes a role such as Night Czar somewhat tokenistic. But getting everyone around the same table is essential; to foster trust, mutual understanding, and a sense that there need not be "winners" and "losers". Compromise can be good for everyone.

@derekrocks