People Really Love Glitter, and Other Things We Saw at Lovebox
We sent photographer Zo Rahman to this year's festival and he saw a whole lot of under-eye sparkle.
All photos by Zo Rahman
Festivals in the middle of the city are perfect for people who: a) hate camping and; b) like to end their night knowing they can walk to a friend's house nearby or follow the herd towards the nearest Tube station, crushed for a bit in the sticky body heat but feeling infinitely better about it than having to sleep under a sheet of canvas. Or, festivals in the city are a limiting experience because of noise regulations and an early curfew and the knowledge that you're just in the real world the moment you leave the confines of the park, where all the glitter in your beard/under your eyes makes no sense and looks like a mistake.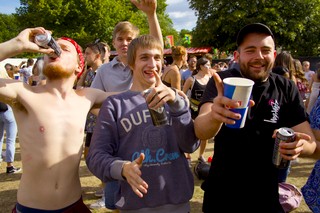 Whichever way you slice them, festivals in big cities are ideal photo story locations. Where else will you find so many elated and glowing people, so many borderline haggard but still loving it people, so many people about one drink away from doing that thing where they just quietly lie down, flat on their backs under a tree towards the end of the festival, needing to be shaken awake like a toddler? These are people Having a Great Time, and they love to have their photo taken. These are the people of Lovebox 2017. Scroll down to see them, in all their joyous glory. All photos by Zo Rahman.