Photo by Heami Lee
Servings: 4
Prep: 25 minutes
Total: 40 minutes, plus 2 days marinating
For the marinade:
3/4 cup|155 grams granulated sugar
1/2 cup fish sauce, preferably 3 Crabs brand
2 tablespoons yellow curry paste
2 pounds|1 kg chicken wings
For the glaze:
3/4 cup|155 grams granulated sugar
1/2 cup warm water
1/2 cup|125 ml fish sauce
2 limes, juiced
For the ranch dressing:
1 cup|225 grams mayonnaise, preferably Hellmans
1 cup|250 ml buttermilk
1 tablespoon (plus more to taste) granulated onion
1 1/2 tablespoons (plus more to taste) granulated garlic
1 tablespoon finely chopped chives
1 tablespoon finely chopped dill
1 tablespoon finely chopped parsley
Your favorite hot sauce, to taste
For frying:
1 cup|167 grams white rice flour
1/4 cup|32 grams tempura batter mix
Canola oil, for frying
Lime wedges, for serving
1. Marinate the chicken wings: Mix the sugar, fish sauce, and curry paste with 1/4 cup water in a large bowl and stir until the sugar has dissolved. Place the wings in the marinade and let marinade in the fridge at least overnight; 48 hours is preferable.
2. Make the glaze: Combine all ingredients in a medium bowl until the sugar is dissolved. Reserve the glaze until you are ready to serve.
3. Make the ranch dressing: Mix all of the ingredients together. Transfer to an airtight container and refrigerate until ready to use. Ranch will keep, refrigerated, for up to 5 days.
4. Fry the wings: In a large bowl, combine the rice flour with the tempura batter mix. Fill a large saucepan halfway with oil and heat until a deep-fry thermometer reads 350°F. Drain the wings from the marinade and, working in batches, toss the wings in the batter. Shake off any excess and fry until dark brown and cooked through, about 8 minutes. Using tongs or a slotted spoon, transfer the wings to a paper towel-lined plate. Repeat with remaining wings.
5. Place all of the wings in a large skillet with 1/2 of the glaze cook over high, stirring and tossing the wings to coat, until the glaze is thick and the wings are sticky and gooey, 3 to 5 minutes. Transfer to a platter and serve immediately with a side of ranch.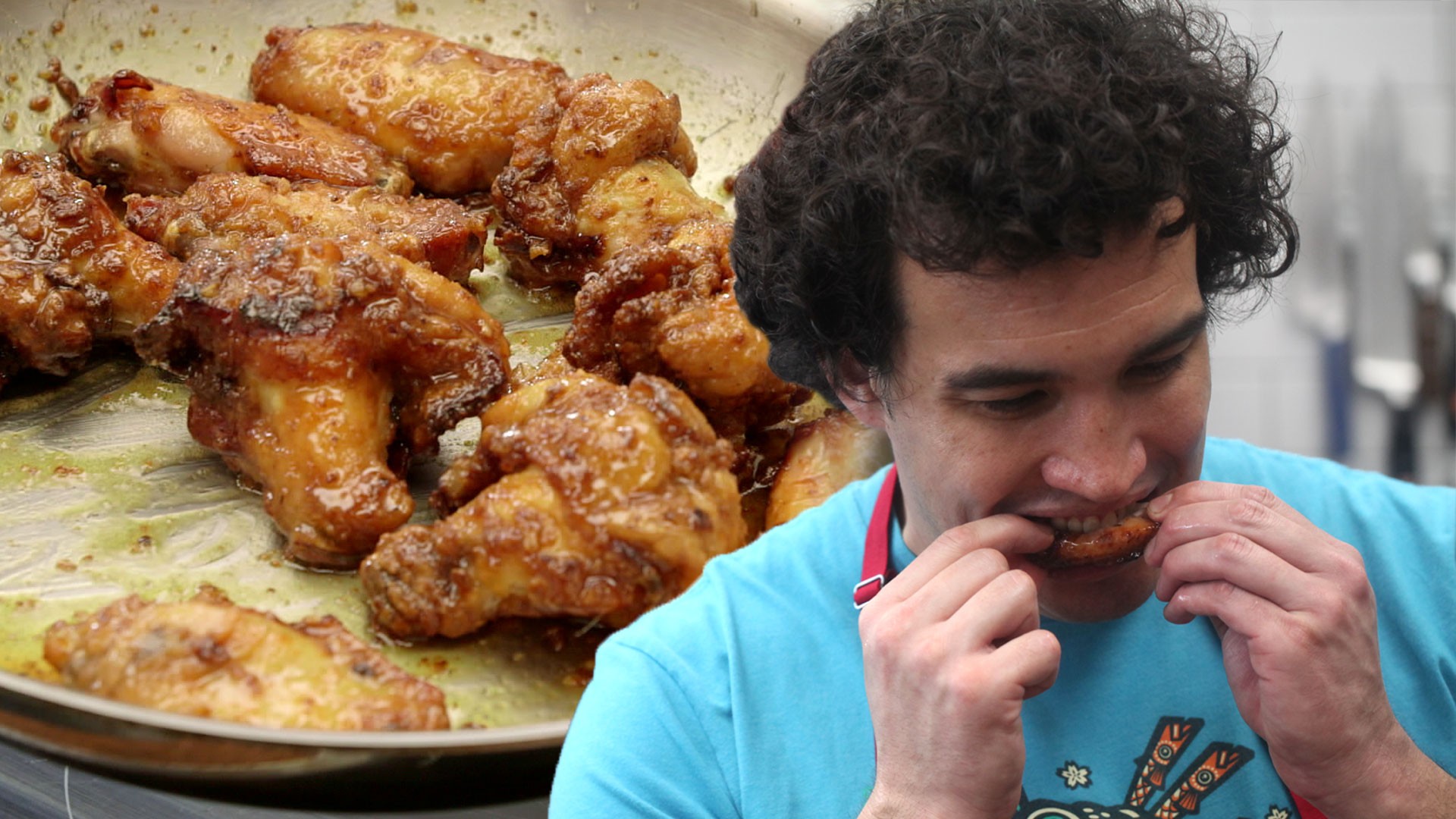 This article originally appeared on Munchies US.