Welcome to Angus Take House – a weekly column in which I pit two of the wildest takes the world's great thinkers have rustled up against each other. This is your one-stop shop for the meatiest verdicts and saltiest angles on the world's happenings. Go and grab a napkin – these juicy hot takes are fresh from the griddle.

What's the story? Olympic diver Tom Daley and his husband Dustin Lance Black are expecting a baby.
Reasonable take: Congratulations.
Cajun Herb Shake-n-Take: Two men having a baby? What is this? The 90s?
For the kids in the audience who don't know who Richard Littlejohn is, this guy is Little England's OG moral crusader. He was giving political correctness a bruising when Katie Hopkins was still in school. He was voted "Irritant of the Year" during 1982's What the Papers Say awards. The most important line on his Wikipedia page reads, "Although many of his newspaper columns are devoted to life and society in England, Littlejohn lives for much of the year in Florida."
Anyway, the don is back with a sizzling hot take: that two dads having a baby is not normal. He starts off complaining that they've shared the news at all, asking, "What makes diver Tom Daley and his husband think we want to look at the ultrasound of their yet-to-be-born baby?" Before qualifying that with "I still cling to the belief that children benefit most from being brought up by a man and a woman." Yes, cling to the belief. The vibe is very cling to the belief.
Sadly Littlejohn falls into the trap most bigoted old sacks of ham do, by both asking not to have the affairs of the LGBTQ community rubbed in their faces and then immediately asking "what's all that about anyway" for a thousand words. You know: I really don't care if you're having a baby, to be honest, mate, but while you're here, who is the birth mother? Whose sperm did you use? How are you going to feed it? Are you going to breast feed it? Are you going to grow breasts? How will you grow breasts?
Maybe two men having a baby would be more normal if you didn't write a column about it, mate.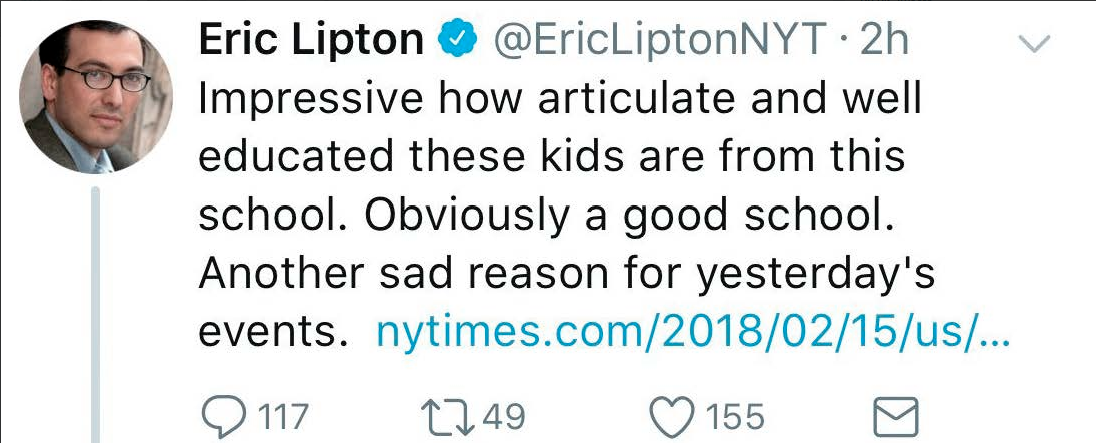 What's the story? This Wednesday a teenager killed 17 people at a Florida high school.
Reasonable take: How/why?
Slow Cooked Brisket: How/why? ...especially at such a good school!
No fun to be had here, but you'd think that in the days after a mass shooting – the worst attack on an American high-school to date – people would be a bit more considered in how they roll the takes out of the wagon.
New York Times journalist Eric Lipton sent an ill-advised tweet about how articulate students from the school were during television interviews, concluding "Obviously a good school. Another sad reason for yesterday's events." It's one of those optical illusion takes. You read it once and it sounds nice, then you squint and realise, oh no, looks a lot like you think the deaths of the better-educated are somehow sadder than their more disadvantaged peers.

What made things worse was that Lipton responded to criticism of his tweet by saying: "I deleted an earlier tweet that was misread by many people. What I was saying was not meant to be disrespectful. Sorry it was read that way."
Yes, he is very sorry you offended yourself with his words.
Prime Take: This week it goes to the shit-talker-in-chief, Irritant of the Year 1982, Richard "It's Just Not Normal" Littlejohn.