I can't dress myself. When I have to buy new clothes I'm as good as a dad having a post-divorce identity crisis; l'll stare awkwardly at the Topshop mannequin and shuffle off to find the same bits they've put together. I need a plastic figurine to tell me what to wear. Yet, even I know high street summer fashion for teen girls is rancid. You can't move for the "I Heart Coachella" tees, the sleeveless Slayer tees, the fringed T-shirts with gold lettering pronouncing to the world that you are, in fact, "bae". Distressed denim shorts are the only option for your bottom half.
Mind you, I don't know who's buying this shit. Half the time, the teens I see look just as old as me and twice as cool, so it's obviously not them. With that in mind, I thought it would be fun to take some teenage girls to review the clothes intended for them.
When I arrived at the Oxford Street Topshop, where we'd arranged to meet, I clocked them straight away, but didn't think it was them because they had proper acrylic nails and looked too old. It was them. The main girl I'd been in contact with, Faith, 16, was wearing a tartan skirt, black socks and seapunk make-up. Her friends were Libby, 15, who wore bunches, glittery platforms and a pair of wings; and Jo, 16, who had brown hair, wore Vans and a dip-dyed shirt.
They'd very kindly taken a Saturday off from revising for their GCSEs and said they wanted to do jobs like music promotion and fashion photography, immediately marking them out as cooler than me. They assured me they hated high street fashion. Their outfits were from Missguided, Dollskill (an expensive Tumblr-goth American brand) and "from loads of random online shops no one really knows about". Jo said they preferred "independent clothing brands because they don't appeal to the masses."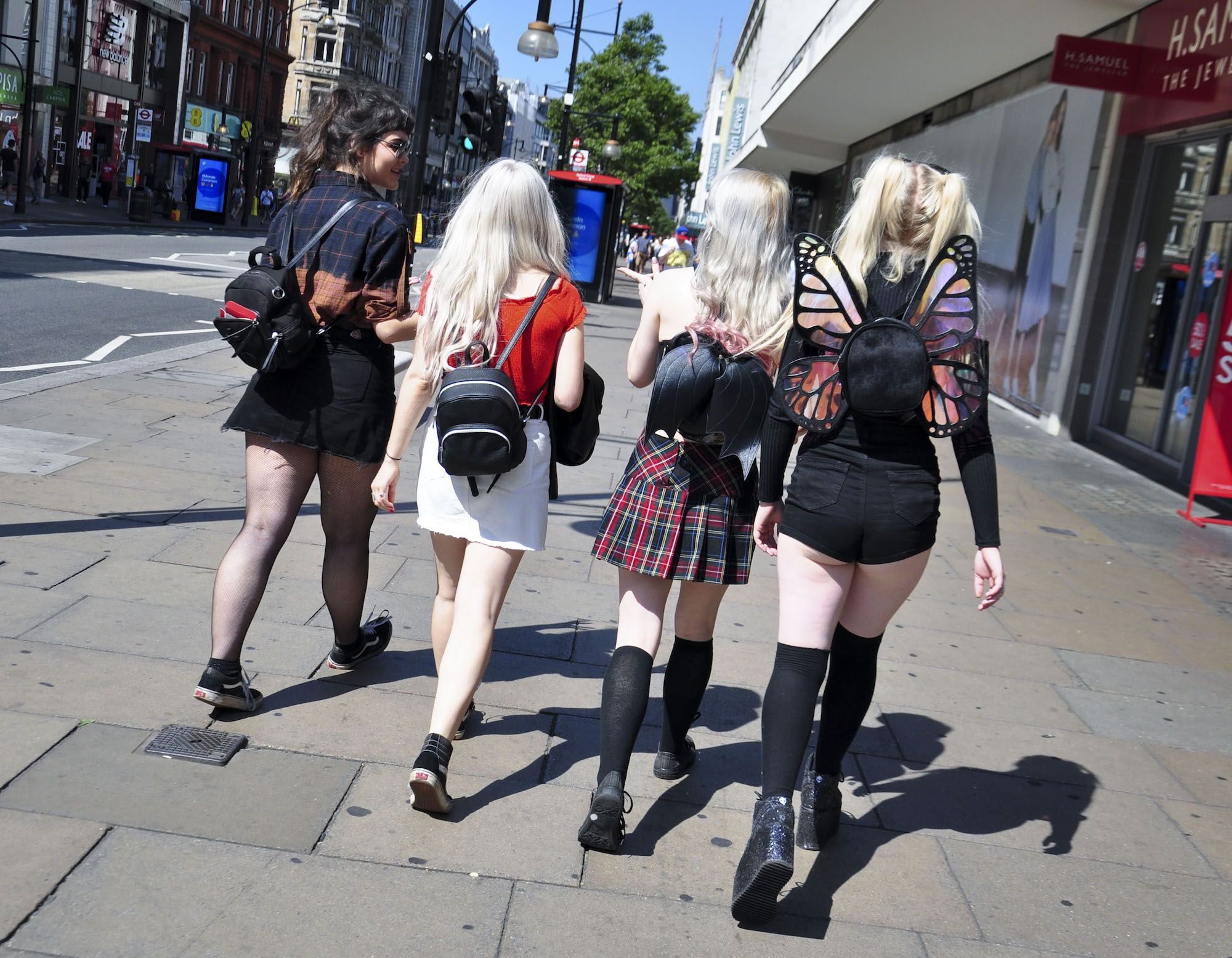 "The stuff in stores is so disgusting," said Faith. "I shit you not, it's so gross." Libby added, "When it's not hot pink and frilly, it's the same basic top that every single person on the planet owns."

I looked down at my own top. Everyone definitely has this top. "What do you think of what I'm wearing? Don't hold back – properly go for it."
"I'm not going to lie: I don't like your top. It's basic," said Faith immediately. Jo said my skirt was "OK". My vans were too dirty. "I appreciate what you're trying to do with your lipstick matching the top," said Libby. I was basic. A bland kernel. I would find that not only were these girls very funny, but that a lot of the high street was basic along with me.
Alice, the photographer, asked what they thought of what she was wearing. I don't know why she did after seeing what happened to me. They paused and looked her up and down. "I don't really like your trainers," said Faith, chief bearer of serves. "They're old. Maybe they looked better when they were new?"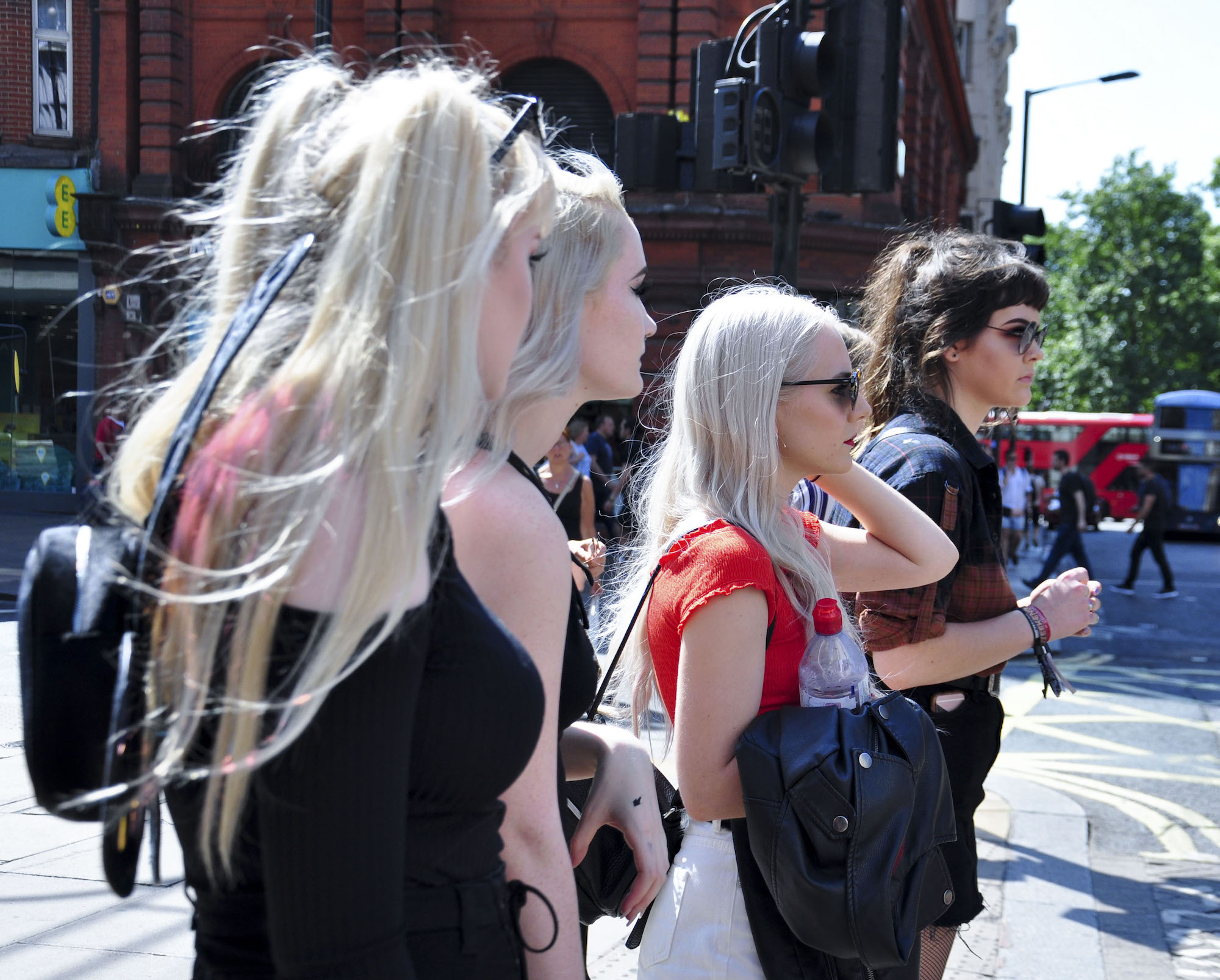 Walking into our first high street chain, a cacophony of "basic" rang out. The first thing we all spotted was a varsity-style crop T-shirt that said "UNICORN FAN CLUB" on it. "Unicorn stuff is so basic," said Jo. "Lime Crime was doing that a few years ago and it was cool, and now everyone's doing it. Everyone's got a unicorn line."
The three girls noted it's the same with mermaids. "I'd wear that to bed, maybe. It's one of those ugly, basic things you have from when you're younger and you can't be bothered to throw it out so just have it as a pyjama top," said Jo. "Nearly everyone's wearing stuff with Japanese writing on it. Can you speak Japanese?"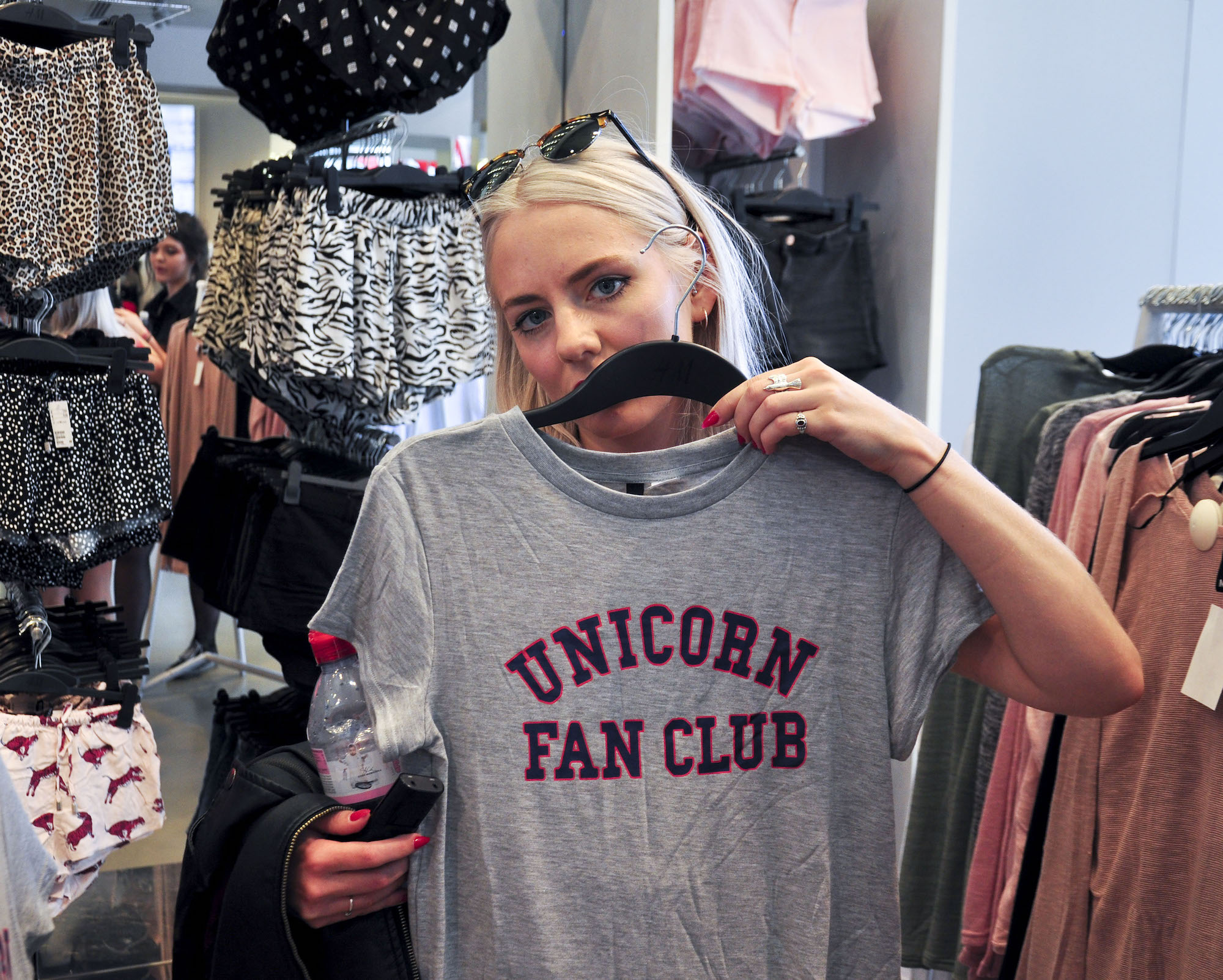 Everything we were seeing had words emblazoned on it. This did not please the girls one bit. Once they'd pointed it out, it was irritatingly obvious. "ANYTHING with words on, though," Faith said, shaking her hands in the air. "It doesn't matter what it says. Absolutely cringey. Not going to lie, no one wants that."
Within a minute-and-a-half, Faith had spotted a tiny crop top with the word "Coachella" on it and screamed. "SOOOO BAD!" A "VACAY ALL DAY" top elicited a similar cry. We remembered the GEEK T-shirts everyone used to wear and I was surprised they're old enough to remember that phase.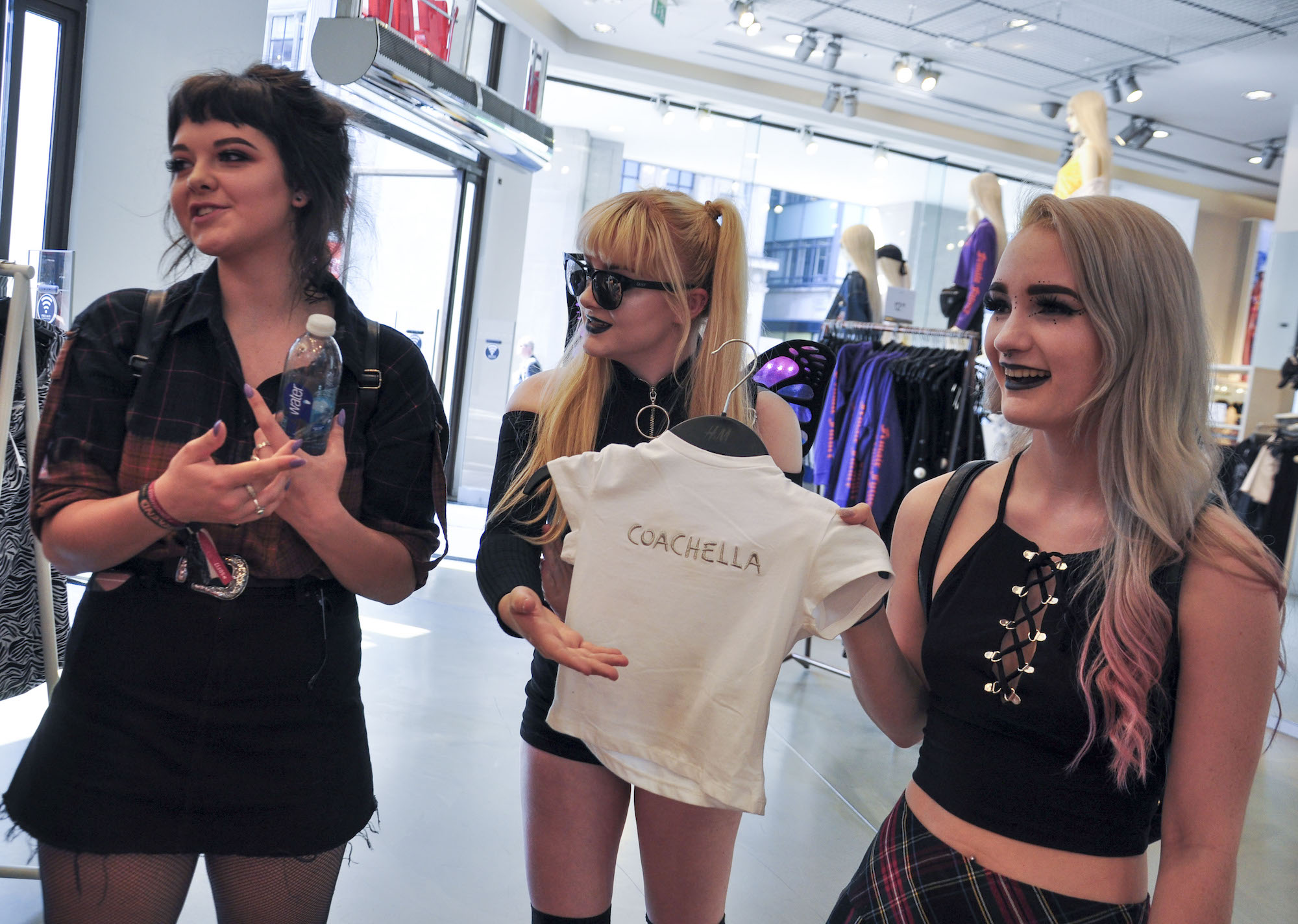 Not only were words an issue, but I soon realised feminism and 'girl gang' stuff was at every turn.
"I feel like it takes the piss out of it," says Jo. "You see all this feminism and girl power stuff on the high street, and yeah, it's all good and stuff, and I think all girls should believe in that, but it's weird when shops are trying to make girls buy into it."
Faith agreed: "It's profiting off us and off feminism. They've just realised how big a market of girls who believe in it are."
Jo made a good point: "You'll see a dumb T-shirt saying 'Girl Gang' in H&M, but you don't see one saying 'Black Lives Matter' or something about LGBT rights."
Libby picked up a tiny pink crop-top which said "MY POSSE MY RULES" on it.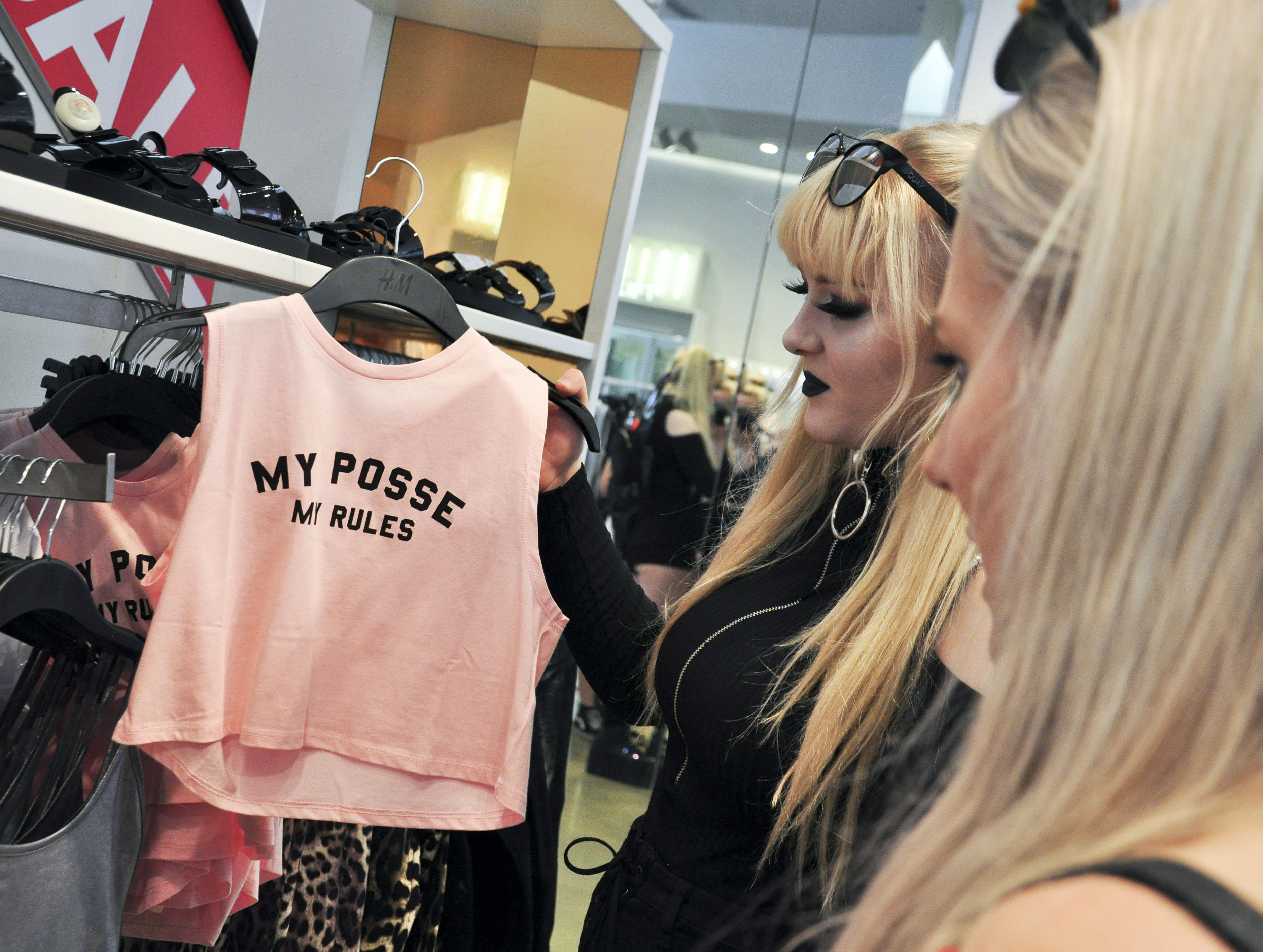 "Why are we all in gangs and posses?" she asked. I didn't have an answer.
On one rail were jumpers covered in icons of teen girlhood – lemons and lipsticks – as signed off by some 40-year-old senior designer. One that said "SORRY NOT SORRY" had, bizarrely, a WiFi symbol on it. "That is so patronising," said Jo. Faith picked it off the rail with a raised eyebrow. "Apparently girls like lemons and lipstick. Faith, do you like lemons?"
"Yes, I do," said Faith.
"You must be part of my girl crew then."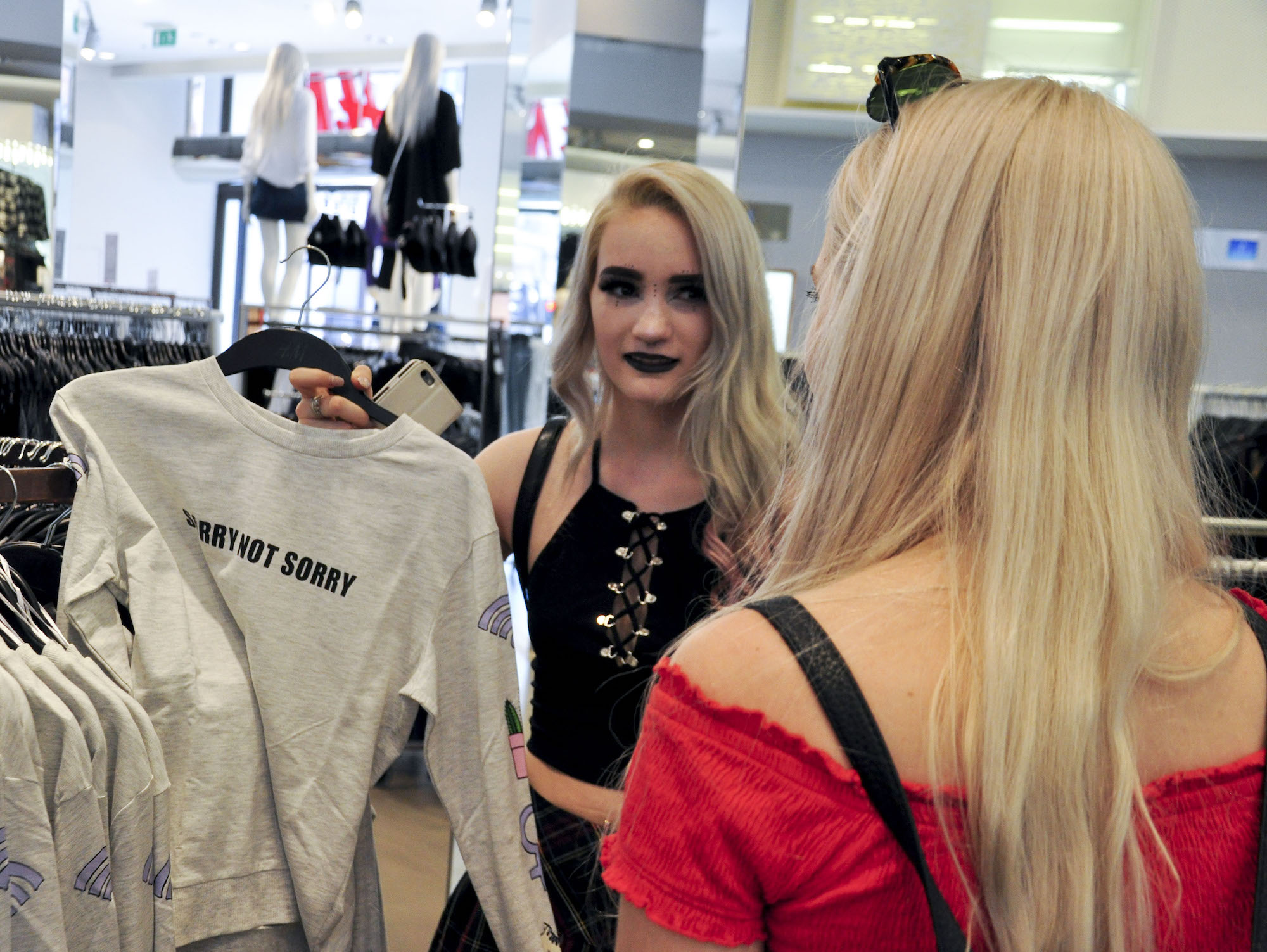 The majority of what we were finding marketed at teen girls has its obvious roots in small online brands kickstarted off Instagram. Iron-on patches of the venus symbol or a cap with a DIY-punk-looking illustration – but not only do they look like mass-manufactured knock-offs, the chains aren't able to keep up. They're all a year or three behind whatever small retailers or independent sellers are doing, and teenage girls know that; they spend a lot of time on Depop or faving pics of bloggers who've been gifted a whole cardboard box of new season Boohoo tat.
All three mentioned the Kardashians a lot. It's their main cultural point of reference. And this chimed perfectly with what we were slating as we walked around. Loads of fashion, they said, is inspired by what the Kardashians have been doing. One of the sisters wore a waist belt; shops started selling hideous waist belts, despite the fact no one has bought one since the late-90s. Another sister wore a corset; "Only a Year 8 would wear that to a school disco."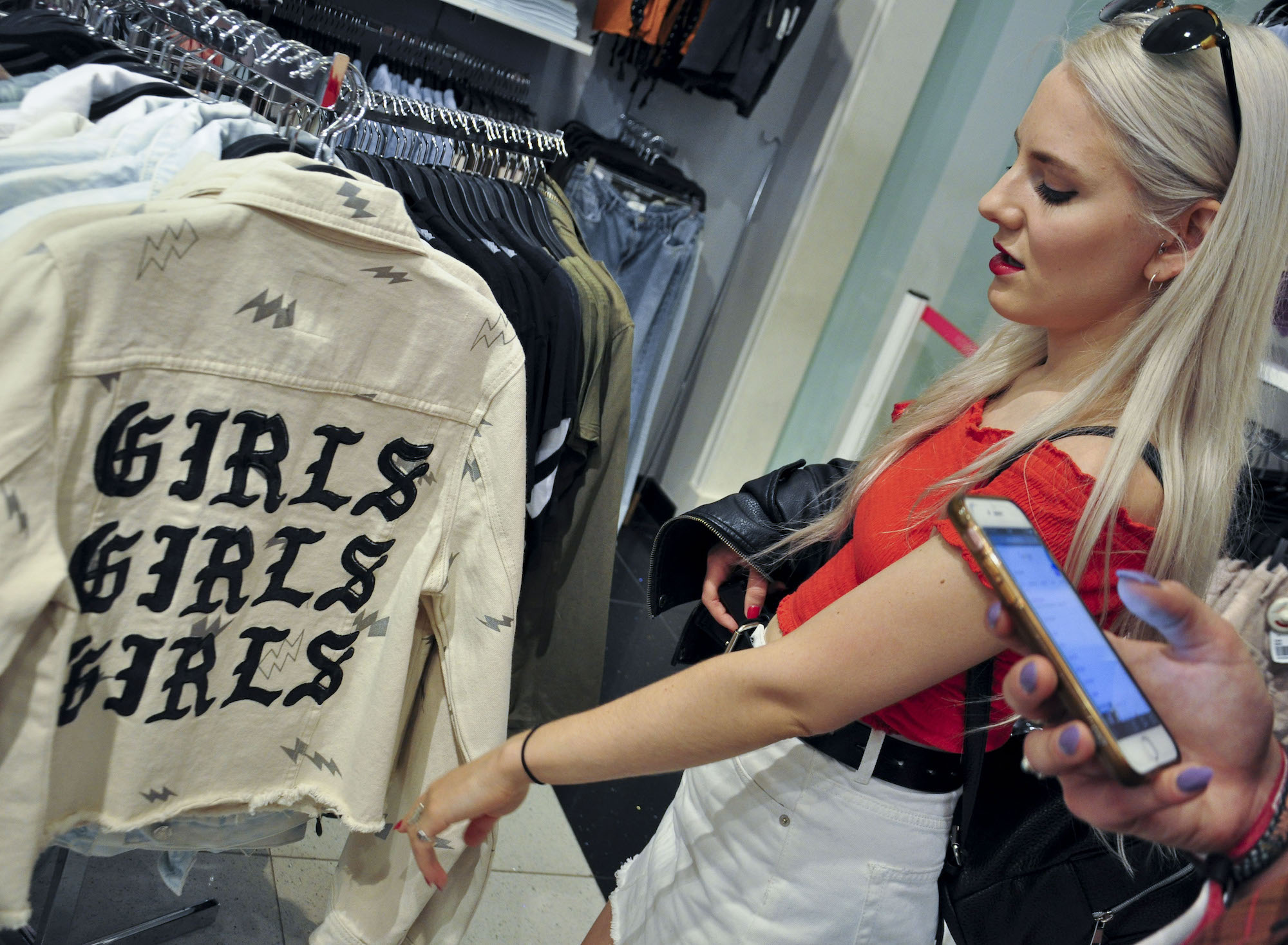 The result is that everything looks outdated, cheap and, oddly, immature for teens.
On the flipside, a lot of this stuff was weirdly sexual. Between H&M, Forever 21 and Claire's, we found a load of clothes with "daddy" references. "I'm so grossed out by all the hot pink shorts with 'Daddy' on the back," said Faith. She poked a pleather collar in Claire's – with "meow" on it – that looks like it's aimed at very young girls. "All of these 14-year-olds wearing stuff saying 'DADDY PAYMENTS', like, 'Oh my god, that's so cool.' They don't know what it means. If someone gagged you, you'd call for your mum."
I thought I was largely on the same page as them all, but as the morning went on I realised, just as I had when I got shot down, that me and the teens were worlds apart.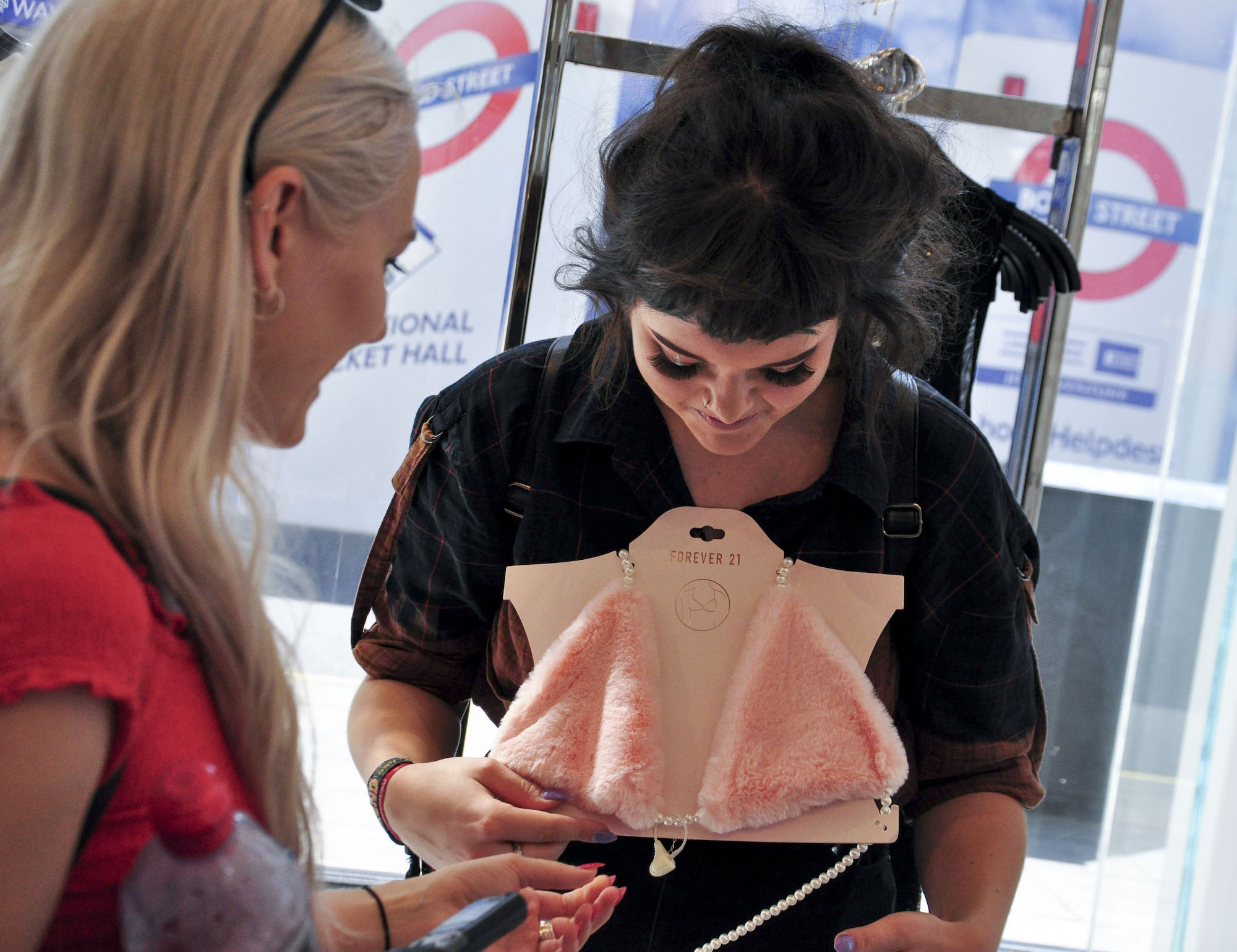 I kept spotting things I'd like, and as a note of praise exited my mouth it would collide with a "BASIC!" or "Eurgh" from theirs. I saw a pink tulle dress in Forever 21 which they poo-pooed as "cheap and tacky". I grabbed a furkini made with fake pearls I liked, sure they'd approve. Jo was the first to slate it. "Sooo tacky. It's made out of the felt from arts and crafts. Feel it." She offered it around the girls, who thumbed it and nodded solemnly. "It says 'I'm Marilyn Monroe. But cheap.'"
Turning the corner, we approached a row of pastel fur sliders. I held my breath, waiting for the girls to notice them. I have a pair just like them that I adore. They, like my red top, did not go down well.
"I know a girl who had a pink pair of fur sliders, and she wore them on holiday to Mexico. You want to look furry in Mexico? Really?" said Jo. Faith added, "They're going to get so dirty. Unhygienic, seriously." I asked for confirmation: "Furry sliders are bad?" They looked at me as if to say "duh".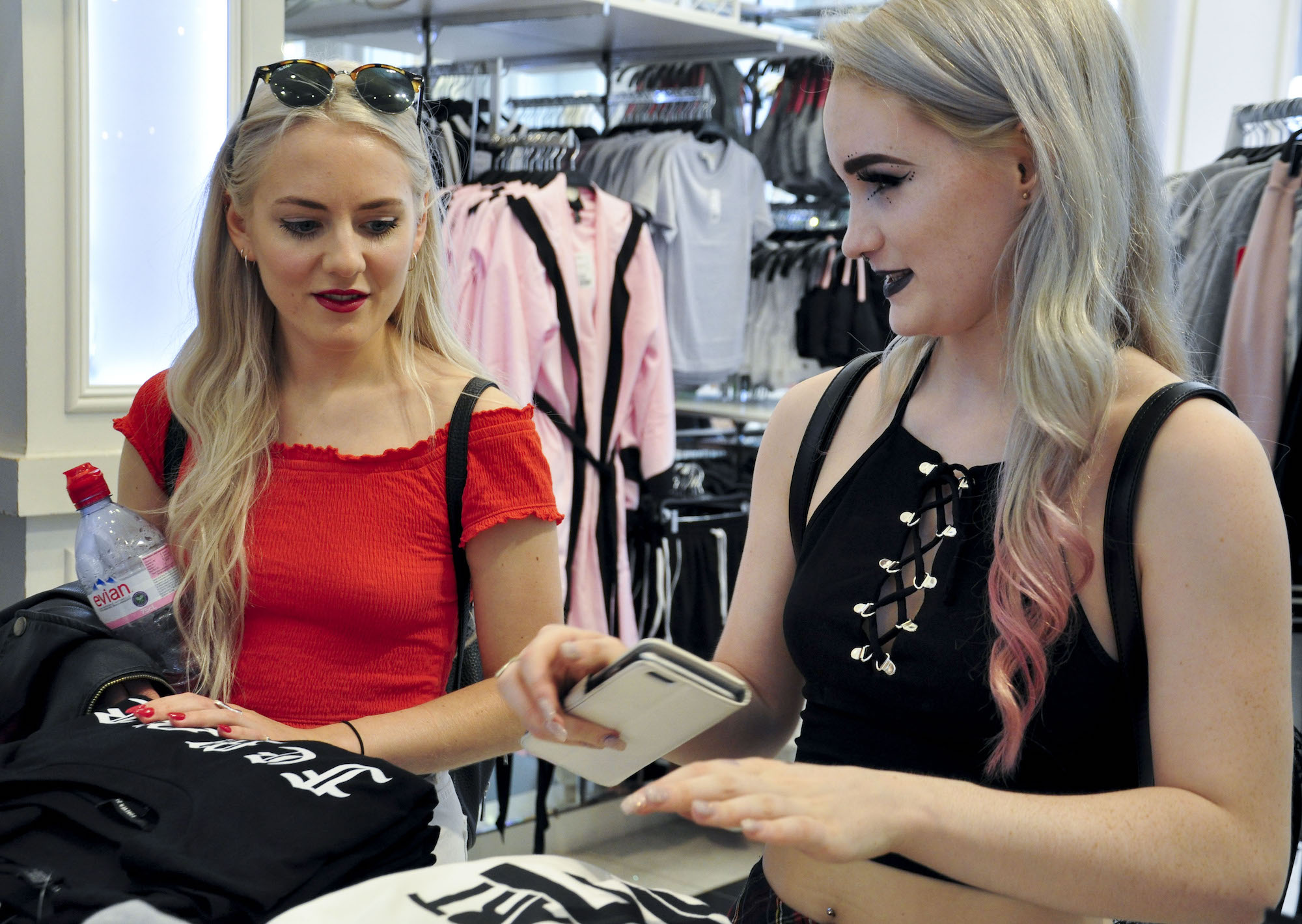 It was only in Primark, at the end of our trip, that our minds met. Jo picked up a pair of the sort of large thin-rimmed glasses you'd previously only have seen on the heads of either a) your grandad, or b) Rolf Harris. These are, in my humble sartorial opinion – which we have already established is terrible – the worst trend of the past decade. "Jesus, these are a bit Jeffrey Dahmer," said Jo.

As we parted ways, we all spotted some Pride T-shirts on a mannequin. There it was: Primark, the wokest shop on the high street. I might not understand the rules of teen girl fashion, but all four of us had agreed it was rubbish. If the high street is going to survive, it's not going to be 15-year-old girls saving it. Perhaps – in fact – it's going to be me.
When I was safely out of view, I went back to Forever21 to buy my cheap and tacky tulle dress in secret, before picking up a smoothie from Boost and heading off into the basic bitch sunset.
More on fashion:
I Dressed Like an Idiot At Fashion Week To See How Easy It Is To Get Style Blogged
Why Are So Many People Obsessed With Supreme?