For many, confidence has a pretty ephemeral quality. It comes – maybe when you're surrounded by your nearest and dearest, or when you're in that perfect three-pint pocket – and goes just as quickly. Which can be frustrating, because confidence is a very useful thing. It makes you feel more secure in yourself and, sometimes, helps you get stuff, like a promotion or an upgrade to business class.
So how do those whose careers rely on confidence manage? You know, the performers of the world who regularly have to hold their nerve in front of hundreds, sometimes thousands, of people? To find out, we spoke to a comedian, a life coach, an actor, a singer and a pornstar.
SINGER – KELE OKEREKE
Kele Okereke gained international fame in the mid-2000s as the frontman of Bloc Party. He's also released two solo records, The Boxer in 2010 and Trick in 2014, with a third solo album, Fatherland, to be released in October 2017.
I feel I'm a relatively confident person, but my private life is different to my onstage persona. I didn't necessarily have a massive desire to become a singer. You know, some people go around singing in their house and it's like their thing, but I started singing with Bloc Party because no one else could do it at the time. I had a sense of drive, and so I had to do it. Over the years, I've learned to grow into that role and feel more comfortable.
I can definitely remember, in those early performances, feeling nervous. It wasn't something that came naturally to me. I'd say that it wasn't really until the end of the first album that I realised maybe this was something I could do well and something that people enjoyed. When we finished touring Silent Alarm, it was around that time I became a lot more comfortable with it.
What's important for me now is just being at ease onstage. You don't have to be Freddie Mercury. I don't particularly admire that type of performance and, if anything, it can put me off a bit. Even now I do get nervous. I've just finished an acoustic tour of Europe; it was just me and an acoustic guitar, which was the first time I've been exposed like that, so it was definitely nerve wracking.
If I were to give advice to people I'd say that nothing gets done if you retreat and shrink into yourself. If you want to make an omelette you have to break the eggs.
COMEDIAN – STEVE MCCANN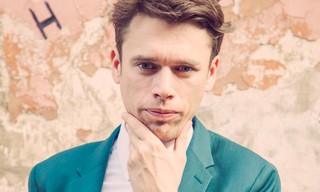 Steve McCann is a professional comedian, a contributor to talkRADIO and Shoreditch Radio, and hosts McCannn's Power Hour, a weekly show on Hoxton Radio.
I've always been pretty confident, I would say. But not as a comedian. At first, I was definitely worried I'd be completely shit. What I learned pretty early on, though, and what I would tell all new comedians, is that you're likely to never see the audience ever again, so it doesn't matter what they think or how they react to your performance. You shouldn't be nervous about getting up in front of these people. If it goes tits-up you might be embarrassed there and then, but you won't be in the long-term.
Being prepared is the key. I'd say that's the same for any normal person who has to deliver a talk to an audience or present something at work. Be prepared, get clued up and know what you're talking about. Or at least, act like you know enough so people will believe what you're saying.
With comedy it's a very native thing. I know loads of confident people who are hilarious but would rather die than get up there in front of people. You've just got to believe that what you're saying is funny enough to be listened to. Still, every single comedian has issues with insecurity. A lot of the time they go on stage to gain confidence, in a way – to seek approval. I, for one, don't pay attention to reviews or criticism. I try to forget all about that and it helps.
If I was to offer advice to non-comedians, I'd just say be confident in yourself. Around new people you have to be yourself. People respect that. I think if you're going to act up or try to be something else it shows massive insecurity and it all falls apart later.
When I was younger I was at a barbecue with an ex-girlfriend, who went to Cambridge. They were all talking about plays, philosophy and literature – stuff I had no idea about. I couldn't join in and I felt inadequate. You know, at my school people were too busy smoking and fucking around for any of that. So I went home and bought £100 of books about art and drama and such, so I never had to experience that again. I know a lot about that shit now.
PORN STAR – BUSTY COOKIE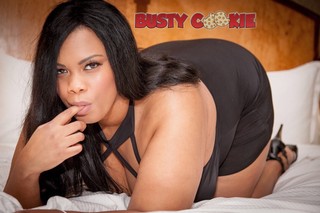 Busty Cookie has worked in the adult industry since 2009 and has appeared in Playboy and on Babestation. More recently, she played Pianne Faggot in the film Hard Brexxxit.
When I was younger I wasn't really too confident, but moving into the adult industry helped. I didn't feel comfortable initially and it forced me to spring out of my shell. It's only this year, really, that I've gained a proper confidence. I used to have stage fright. At school I was scared of crowds and audiences, and I had this problem where I was scared to be in public. But I'm much more out there now.
I was doing a day show on a channel called Red Light, with clothes on – nothing nude. There were Babestation girls who worked there, and when I turned up they said, "Right, just get on with it." That was pretty nerve wracking, but I ended up being the highest minute holder on that station. The girl whose record I beat came on after me and said, "What? This fat girl beat me?"
I don't find I'm too nervous on set because you can't see an audience looking at you; it's just a camera. One time, though, I got asked to do a Playboy shoot, which was much more professional and much scarier. I was with Megan Coxxx, and that was both of us popping our cherry, so to speak. We'd never done a shoot like that before.
My advice would be, if you're lacking in confidence, just focus on yourself and what you're doing. Especially for guys. In porn, they tend to all psyche each other out. On a scene I did once, two new guys had just watched a more experienced guy perform really well. They were intimidated and were really struggling to perform, but I saved the day with my squirting. It made the scene; it was all over this office desk and everything.
I was probably more sexual when I was 17 than I am now. I was always good at sex and was always experimenting all the time. My advice to girls would be to love yourself. Learn to love your body. If you don't, you can't love anyone else, even if you're a bit fat.
ACTOR – DORA RUBINSTEIN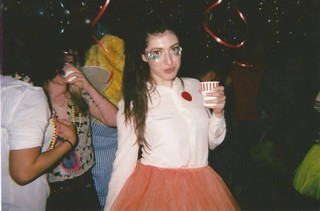 Dora Rubinstein is a stage actor from Newcastle who has toured with the Young Shakespeare Company and is about to star as Dorothy in Shit-Faced Showtime: The Wonderful Wizard of Oz in Leicester Square.
I think I've always been a pretty confident person, but drama school makes you feel like shit before building you right up again. I remember, on my first day, the dance teacher made us all strip down to our tiny shorts and bras and lined us all up in front of the mirror. She looked us up and down, one by one. It makes you feel like total shit, but once you've left you feel stronger in a way, like you can face anything. We weren't allowed to wear make-up, either. A lot of that kind of thing goes on at drama school, which probably isn't allowed really.
In performances, though, I stopped getting nerves. Shows are all the same – you're just repeating something you've rehearsed 100 times. One of my teachers said that nerves and excitement come from the same part of the brain, so when you're nervous you can trick yourself into feeling excited instead. That's how it feels when I'm about to perform now; I just get excited.
I think auditions are way more scary. I've recently auditioned at The Globe and the National Theatre, and in those cases you're meeting someone you admire, like a director you've been following since you were young. That's much harder, because they're right there in front of you. I try to just show myself as much as possible and not to be a robot.
LIFE COACH – LYDIA AMOAH
Coach Lyds is a business coach, mentor and motivational speaker, with over 20 years experience across the media, PR and personal development industries.
I originally defined myself as a confidence coach. There were areas in my own life which crippled my confidence, but I sought help and then I decided to go into that field for work. I think, when you've had problems yourself, you can read it easier in other people. This is a subject I'm passionate about.
I lost my father when I was about seven. You don't fully understand [the effects of that] until you approach your teen years. I'd find in situations I was being bold, but I didn't feel quite right on the inside. I felt in social situations I'd hold myself back because I didn't have as much confidence. With people lacking in confidence, they don't understand their own value or self worth. I did have a counsellor and they helped immensely. I felt like I had solid bars on my shoulder that just lifted off. That was it after the counselling – I felt I could take my foot off the break.
My advice to people would be to identify the elements where you're lacking in confidence and to focus on that. I had a client once who had graduated and worked in an open office, sitting next to his boss. He lost confidence on the phone because a guy next to him was very good at it. I got him to tell me good things about himself and obstacles he'd overcome in his life. Suddenly, a lightbulb goes off and people begin to see the great things they're capable of.
Lots of people tend to do this comparison thing, where they compare themselves to others. But that really is a theft of joy. You need to respect other people's success and not compare and put yourself down. You need to change the language with which you describe yourself. People tend to think about themselves in private in a way that they wouldn't describe their worst enemy. Describing yourself in a more positive light is a good first step towards confidence.
More on VICE:
Girls Talk About the First Time They Felt Powerless