It's a hot Tuesday morning when I arrive in Warsaw's Centralna railway station and my search for a zapiekanka, the Polish street food I grew up eating, is already off to a disappointing start. The station's modern concourse is a mishmash of universally recognisable convenience food vendors, including a clean eating juice bar and French bakery chain. Fresh off a flight from the UK and lightheaded from the 34 degree heat, I momentarily forget I'm even in Poland when my eyes land on a Dunkin' Donuts. As I drag my suitcase through the station, I become increasingly incensed that not one shop sells what I deem to be my motherland's greatest culinary achievement.
A cross between a sub and a pizza, the zapiekanka is a toasted half baguette traditionally topped with finely chopped white mushrooms and a mild meltable cheese which, once sizzling, is finished off with a generous slathering of ketchup. Born in the 1970s, zapiekanki saturated the market thanks to a 1988 change in the law (Ustawa Wilczka) that loosened Communist restrictions on private enterprise, prompting the proliferation of food trucks selling cheap rotisserie chickens and zapiekanki.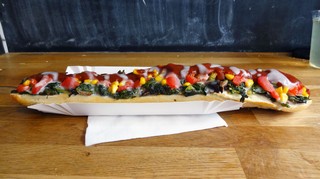 As with any long established foodstuff, the zapiekanka varies from region to region. In the capital Warsaw, zapiekanki have traditionally been long and thin, measuring up to half a metre long. In Krakow, wide zapiekanki reigned supreme. What was uniform was their reliability. It's difficult to fuck up a zapiekanka and this, alongside its cheap ingredients and fast assembly, made it an appealing prospect for vendors and customers alike.
The success of the zapiekanka has to be appraised within the context of Poland's conservative culture. This is a country that has always been focused on family and our national foods are reflective of feeding groups—from bigos, the sauerkraut and sausage "hunter's stew," to beetroot borscht with dumplings. In contrast, the zapiekanka is a singular entity. The way it's served on a made-to-measure paper tray doesn't lend itself to sharing. Perhaps this break from convention is what made it so appealing to young people initially.
My own enthusiasm for zapiekanki grew out of an early childhood rejection of meat. My strongest memories are from the pit stops on long train journeys between Warsaw and my grandparents' houses. Feeling guilty for having to leave me for prolonged periods, my mum would indulge my appetite when we were reunited and therefore, zapiekanki for me signify that most comforting of comfort foods, forever associated with my mother's affection.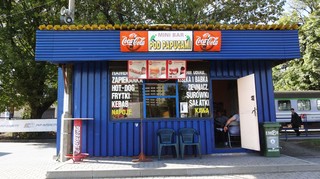 Following the dissolution of the Soviet Union, Poland turned its tastes towards the West, as demonstrated by the arrival of the country's first McDonald's in 1992. In spite of what renowned Polish food critic Piotr Bikont described at the time as a badly strategised rollout and shoddy slimlined menu, McDonald's and other American brands thrived in Poland and the zapiekanka never quite recovered, especially after long years of bootleg versions of Western brands during the Communist era, Poles were enjoying finally having access to the real deal.
But the zapiekanka never completely disappeared either, especially from smaller towns, where McDonald's hasn't reached even today.
Indeed, the fear that my favourite childhood snack has been erased from my homeland's culinary landscape is finally abetted two and a half hours after setting off from Warsaw, when I arrive in Włocławek, a city in central Poland known predominantly for its spicy ketchup—the perfect partner to a zapiekanka. Outside the train station, the kiosk is exactly as I remember. Like the trucks in the 90s, its brightly coloured signage pays homage to the American brands Polish fast foods tried to emulate. The only difference I spot is the addition of kebab meat as a zapiekanka topping option.
"Zapiekanki are a food conjured up from the conditions of total poverty. It was half a baguette, it was mushrooms, it was the cheapest ingredients."
Back in Warsaw, I meet up with journalist, food critic, and blogger Basia Starecka who writes for national newspaper Gazeta Wyborcza and chronicles food trends in Poland and abroad.
"Zapiekanki emerged around the same time Vietnamese food arrived in Poland," she tells me over breakfast, remembering how both cuisines adapted to cramped conditions in booths no bigger than the diameter of four portaloos. "But unlike Vietnamese cuisine, which arrived with foreign exchange students, zapiekanki were a fast food reflective of people's desire to make a profit. They also illustrate our limited resources at the time, as zapiekanki are a food conjured up from the conditions of total poverty. Because what was it? It was half a baguette, it was mushrooms, it was the cheapest ingredients."
"Zapiekanki were definitely overtaken by American fast foods and later, other gastro trends like gourmet burgers and veganism but they returned on a nostalgic wave a couple of years ago as a sort of souvenir from the Communist times," she continues. "It's like, we want to remember because we've got good memories from our childhoods, the taste of Turbo bubble gum and Polo-Cockta [the Polish version of Coca-Cola]. So along with the return of Soviet-era milk bars, the zapiekanka stands of today are a pop culture version of Communism."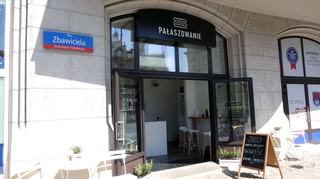 Starecka recommends I try Warsaw's Pałaszowanie, a zapiekanka joint that emerged on this wave of nostalgia. The Scandinavian-looking spot is situated on Plac Zbawiciela (Savior Square), a roundabout of establishments catering to the bona fide hipster. If you want cold brew coffee or matcha-flavoured cake, this is your place. Knowing that I'm soon going to the countryside, I opt for what seems like the most cosmopolitan veggie zapiekanka on the menu: the three cheese.
The baguette arrives with its crust cut off, which feels like an insult to the whole concept of the zapiekanka, whose foundation is the crispiness of the bread. But I remind myself that these zapiekanki are only meant to be a sentimental nod to the real deal. Indeed, as I take my first bite, the bread's sweetness reminds me of a burger brioche, rather than any zapiekanka I had when I was little. I'm not entirely convinced, but the blue cheese, gouda, and mozzarella topping makes up for some of my doubts. The three cheeses are a winning combo and complemented by a generous helping of sharp rocket and sweet cranberry jam, which replaces the traditional ketchup.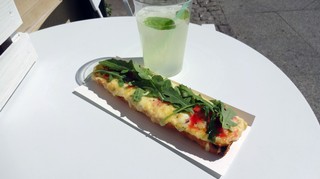 At my grandma's in Kowal, I cycle to a nearby lake, where the inhabitants of the surrounding towns and villages gather for weekends of fishing, barbecuing, and splashing in the water. For years, it was a rare site of undisturbed natural beauty, with only wheat fields and the odd house in its proximity. Situated inside a large marquee that wouldn't be out of place at a British festival, the new lakeside bar sells a selection of hot food: hot dogs, hamburgers, and of course, zapiekanki.
The specimen that arrives ten minutes later is just like the one I remember from my childhood. The bread is crispy, the mushrooms are tiny specs in the glutinous cheese, which is just a little burnt on the sides—exactly what I was hoping for. The whole thing is generously slathered with Włocławski ketchup, its tart flavour miles away from the sweetness of Heinz.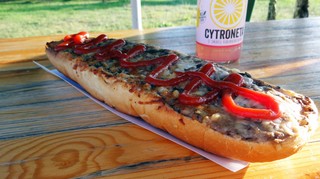 Next up, I'm in Łódź for my cousin's wedding. Home to a prestigious film school that launched the careers of Polish directors Andrzej Wajda and Roman Polanski, the city is also a favourite of David Lynch. My cousin informs me the best zapiekanki are sold on the city's main thoroughfare on a long pedestrian street of back-to-back restaurants and bars called Piotrkowska. Indeed, when I arrive there late on Saturday night, there's a long queue outside one joint, Zapiekarnia.
I return the next day to find the place just as busy. It's no surprise, given the almost endless choice of toppings on offer, from smoked cheese to salmon. To my delight, there's a whole veggie section. I opt for a vegan zapiekanka this time, seeing as this is the first place I've seen one on the menu. Cheese is replaced with sautéed spinach, and chunky fried mushrooms are accompanied by fresh tomatoes and sweetcorn.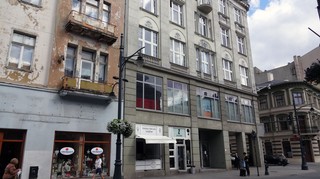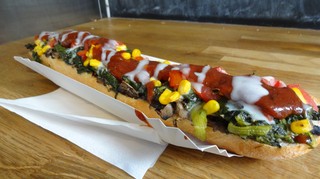 This is the hardest zapiekanka to eat and my hands are soon covered in ketchup and vegan mayonnaise. At 40 centimetres long, you'd also definitely poke someone's eye out if you tried to eat this walking down the street. Perhaps as a knowing nod to these obstacles, Zapiekarnia operates under the slogan "not so fast food" and true to their warning, it takes me a good half an hour to get through this beast.
Like most popular convenience foods, the zapiekanka has made its way from the street side to the home kitchen.
"When drugs first arrived in Poland, when weed became popular in the 90s it was the stoner food of choice for the munchies," Starecka recalls. "You'd get them in the frozen aisle of the supermarket. And like the Vietnamese food you'd have at four in the morning after the club, it was the kind of thing you'd have after a rave too. For a long time in Warsaw, it was just those two that catered to the lifestyles of young people."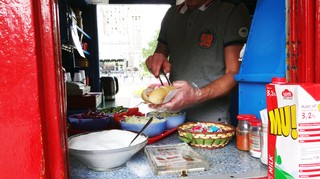 Zapiekanki are to Poles what kebabs are to Britons, so it's no surprise that the two now sit side-by-side on menus across the country. But one place has been doing this far longer than most: Warsaw's Bar Lussi. Situated outside the city's focal point, the Palace of Culture and Science, it's open 24 hours a day and has been trading for the last 25 years.
"When my mum died, I took over," explains current owner Sebastian. "Zapiekanki are still the most popular item on our menu and the recipe is largely unchanged, except we used to use cheddar and now we've switched over to mozzarella."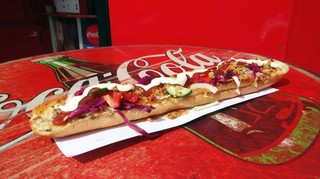 A little thinner than the ones I've had previously, Lussi's zapiekanka lends itself to being eaten quickly, which is just as well as with another train to catch, I wolf it down in about four bites. Made from bread that's crispy on the outside but super soft on the inside, it doesn't require much chewing. But even as an especially short sensory experience, it delivers, thanks to its variety of textures and flavours. Cool sweet red cabbage, crisp cucumber, and sweet tomato chunks vie for my tongue's attention as they intermingle with the warm cheese and mushrooms. The lingering taste of crispy onions means that I'm still remembering this particular zapiekanka long after my train has pulled out of the station.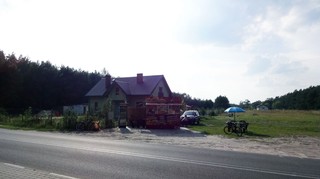 My favourite zapiekanka of the whole trip comes courtesy of a trailer situated on a crossroads between the lake and my grandma's hometown. Owned by a retired couple whose house stands right behind it, it's a glowing example of the kind of enterprise displayed by Poles who popularised zapiekanki in the 70s. Similar to the one I had at Lussi, this zapiekanka sits unashamedly in the junk food category.
"I got the recipe from the previous owner," the proprietress tells me, before listing praise from out-of-towners as far away as Krakow.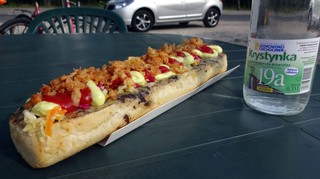 I take my time getting through this, my last zapiekanka. Just as Poles have proved themselves throughout history, the zapiekanka is characterised by resilience and adaptability. It thrives as the guiltiest of fast foods but also sits comfortably with the healthy eating crew. In Britain, a few zapiekanki stands have popped up following increased migration from Poland, with vendors in London, Bristol, and Kingston-upon-Thames. Ferry company DFDS introduced them to their menu in 2014 and even Tesco sold frozen zapiekanki for a while. But they still remain as a niche food in the UK, which is a shame because they're fucking delicious.
So, if anyone wants to go into the zapiekanka business, holler.