Keeping animals cooped up in small spaces with strange people and food is a categorically terrible idea. And yet there doesn't seem to be any let up in the stream of novelty eateries intent on combining critters and cake. Aside from the plethora of cat cafes, there are bars where you can owl watch, eateries with wild foxes, and pop-ups with pigs. Hell, there's even a restaurant that lets you cuddle unicorns (kind of).
This week, another cafe was inducted into the Animal Pop-Up No One Asked For Hall of Fame. At The San Francisco Dungeons, a popular tourist attraction in the California city, you can now pay to dine with rats.
The imaginatively named Rat Cafe will open for business at the dungeons during the first week of July. For the bargain price of $49.99, customers will receive admission to the museum, as well as tea, coffee, and a breakfast pastry in the cafe. A cafe shared with multiple live rodents, that is.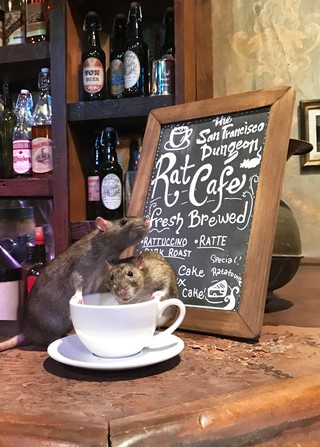 Despite the fact that rat sightings in restaurants are usually followed by swift exits and frantic calls to the local environmental health office, the San Francisco Dungeons website says that their pop-up simply offers guests a "frighteningly funny encounter."
They're not letting any old rodent wander in off the street, either. According to a press release, Rattie Ratz, a Californian organisation "dedicated to the rescue, rehabilitation, and placement of domestic pet rats" is providing the animals.
Even so, we'll pass on this one, thanks.