I'm at Nuala, an Irish restaurant in East London, and someone has already cracked open a bottle of Guinness. A huge plastic container of potatoes is sitting in front of me. It's 10 AM.
Disappointingly, the Guinness is for cooking, rather than drinking, but it still seems fitting for the establishment, opened by half-Irish, half-Scottish chef Niall Davidson. Having grown up in Ireland and moved to London, Davidson launched Nuala—named after his younger sister—in January. With a menu of classic Gaelic dishes including soda bread, Irish cheeses, and champ (a mashed potato dish), it's one of only a few modern Irish eateries in the capital.
As staff mill around me preparing for lunchtime service and a giant carcass of unidentified meat is carved on the counter next to us, I ask Davidson why there aren't more Irish restaurants in London.
"A lot of it has to do with the culture of food, and a lot of the food culture is about subsistence and living," he tells me. "Out of that is born some of the tastiest dishes in the world, but … the dishes that are born out of that are famine food."
"Ultimately, because of that," he continues, "people don't have the balls to say, 'Fuck it, I'm Irish. I grew up eating it and I love it.'"
This is not something Davidson has a problem with, but the dishes at Nuala are certainly more than "famine food." Before our interview, I ask him to show me an archetypal Irish dish that also encapsulates Nuala's modern approach to the cuisine. Which is why, on a Wednesday morning, I find myself about to eat mussels for breakfast.
Davidson begins by cold-smoking the mussels with juniper, before cooking them over the kitchen's giant open fire with some—you guessed it—Guinness. He tells me about his journey to become a restaurant owner.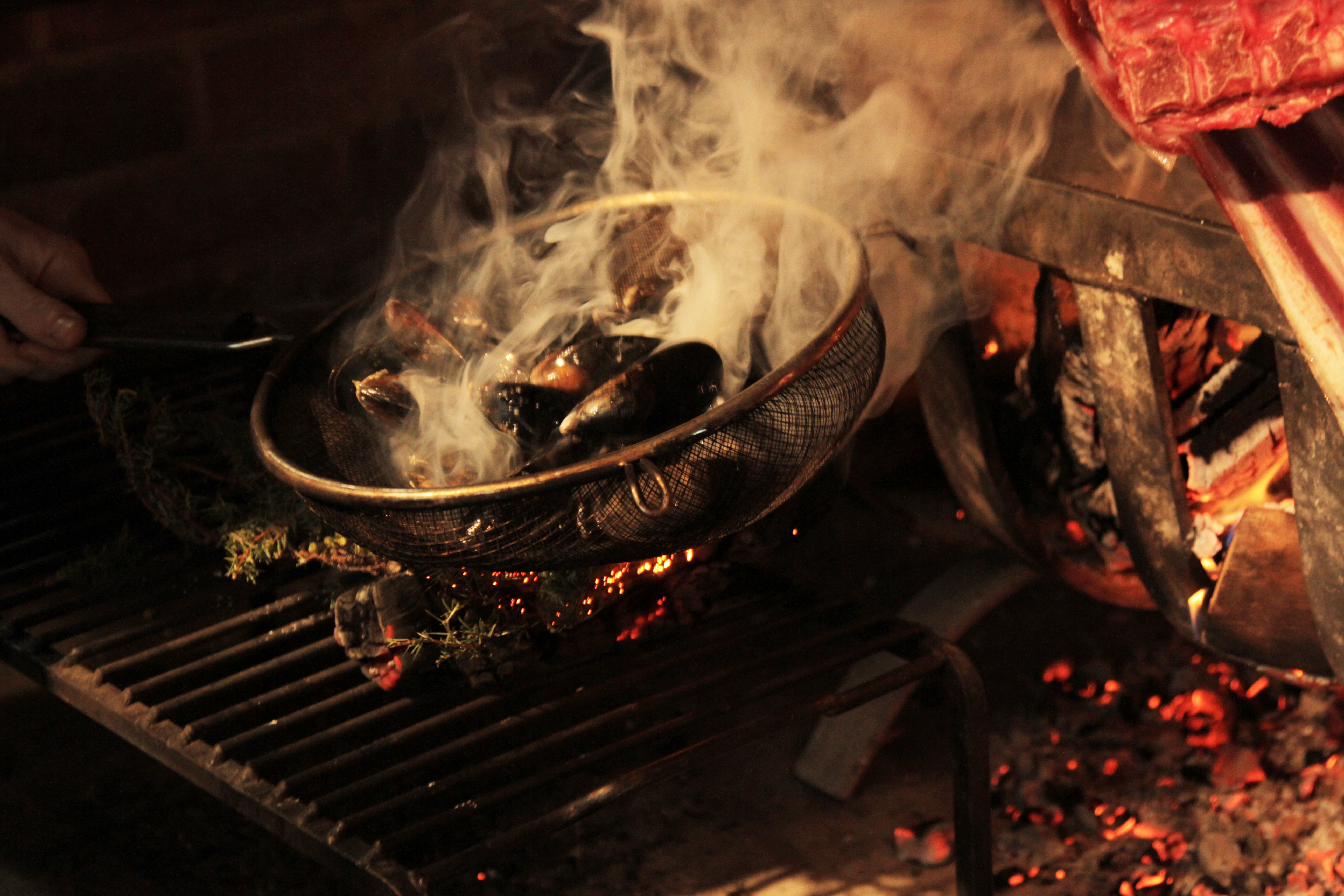 "I came [to London] as a butcher," explains Davidson. "I'd just started cooking at restaurants here and there, but I just wanted to make a restaurant that was sort of ... made for people?"
"I didn't think it had been done before but also, it was just the kind of food I wanted to eat," he continues, adding more Guinness to the mussels. "A lot of it is not Irish at all," he says, only slightly undermined by the Irish beer in his hand. "A lot of it is very cosmopolitan. You could only get away with it in London."
After the mussels have been cooked in the beer, Davidson adds samphire and a Guinness sauce (of course), and serves with slices of the house (not soda) bread. The dish is smokey and buttery, and it definitely doesn't go with coffee.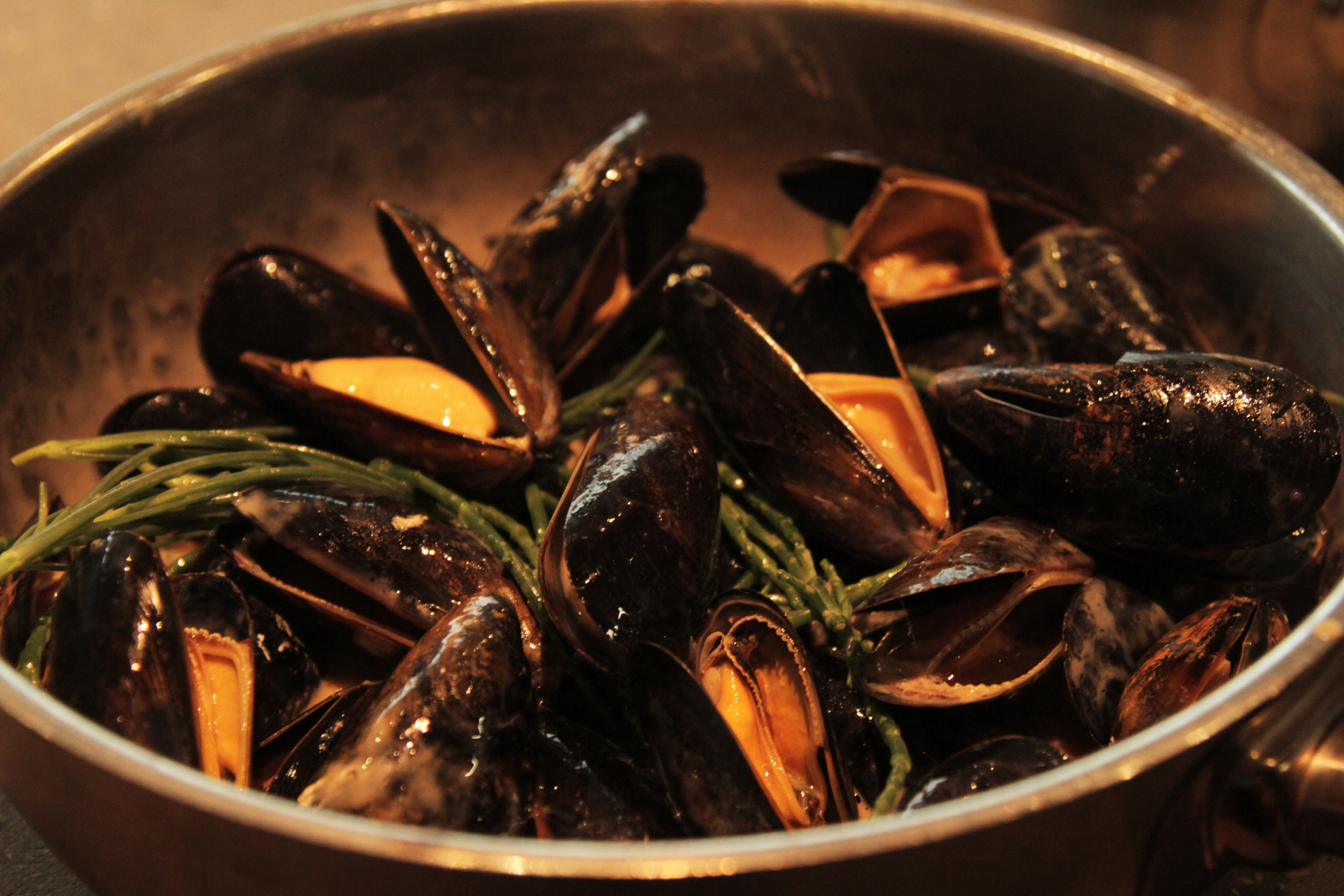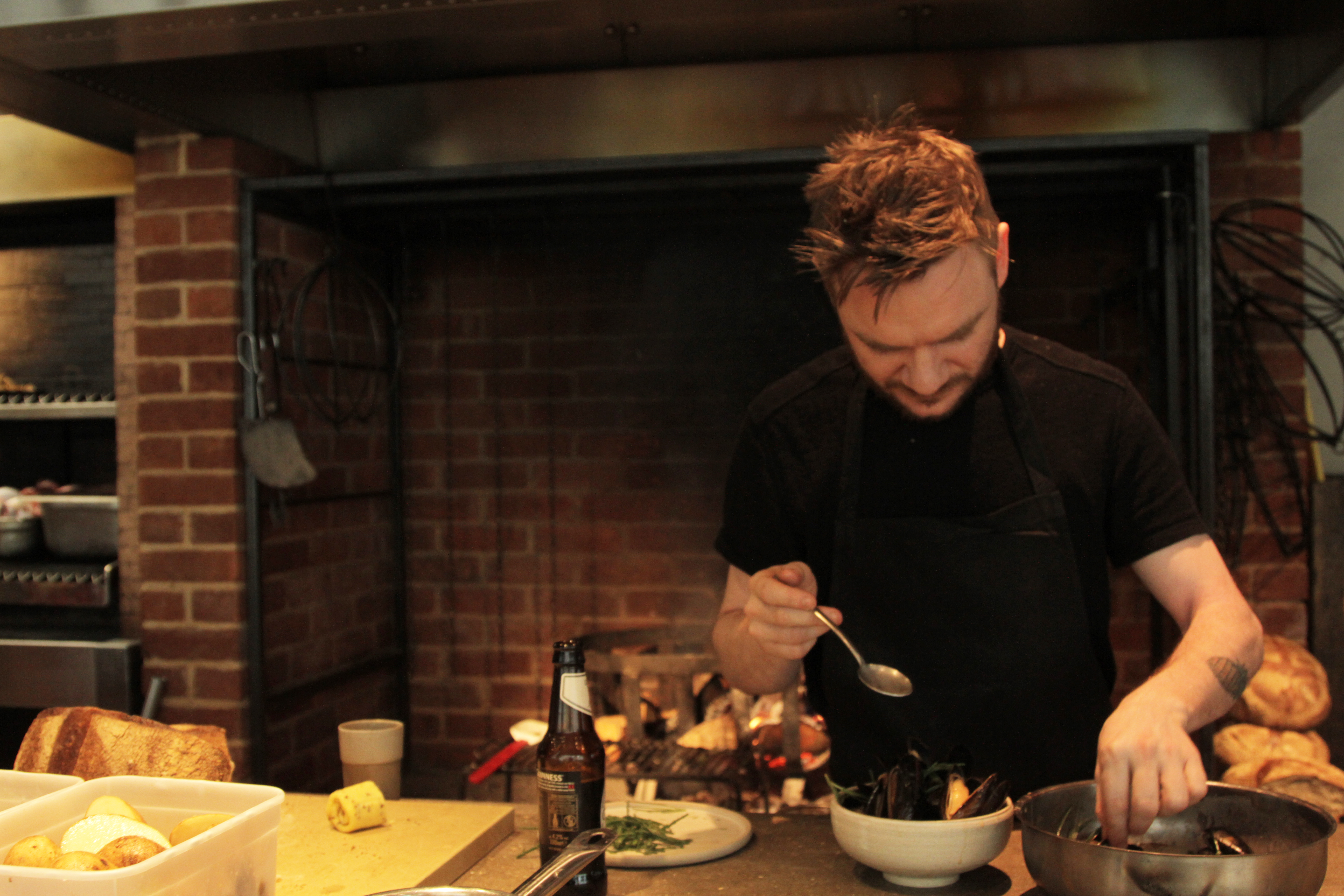 Davidson watches suspiciously as I dive into the plate of mussels (it is, apparently, "too early for seafood"). Between mouthfuls, I ask him to tell me more about Nuala's identity as an Irish restaurant.
"The biggest question here is, and a big thing for me is, 'What does it mean to be Irish?'" he explains. "I think the culture of Ireland is super fascinating. I really just wanted to do a proper London restaurant with that Irish feeling. It's not about tacki-fying that, but about making the culture of the place open and honest. It's also not trying to be anything that we're not."
Many of the staff I meet at Nuala are Irish, but the restaurant evades the stereotypical "Irish Pub and Restaurant" aesthetic. Despite it being two days before St. Patrick's Day, I spot neither a Jameson's cocktail offer on the bar menu, nor lurid green shamrocks adorning the walls.
Davidson recognises that it's a difficult line to walk as a restaurant: presenting something recognisably "Irish" without becoming a gimmick.
"For me, it's an interpretation of Irish cuisine," he continues. "It's not in your face. It's not like"—here he puts on a comedy Irish accent—"'try some stew, here's some soda bread.'"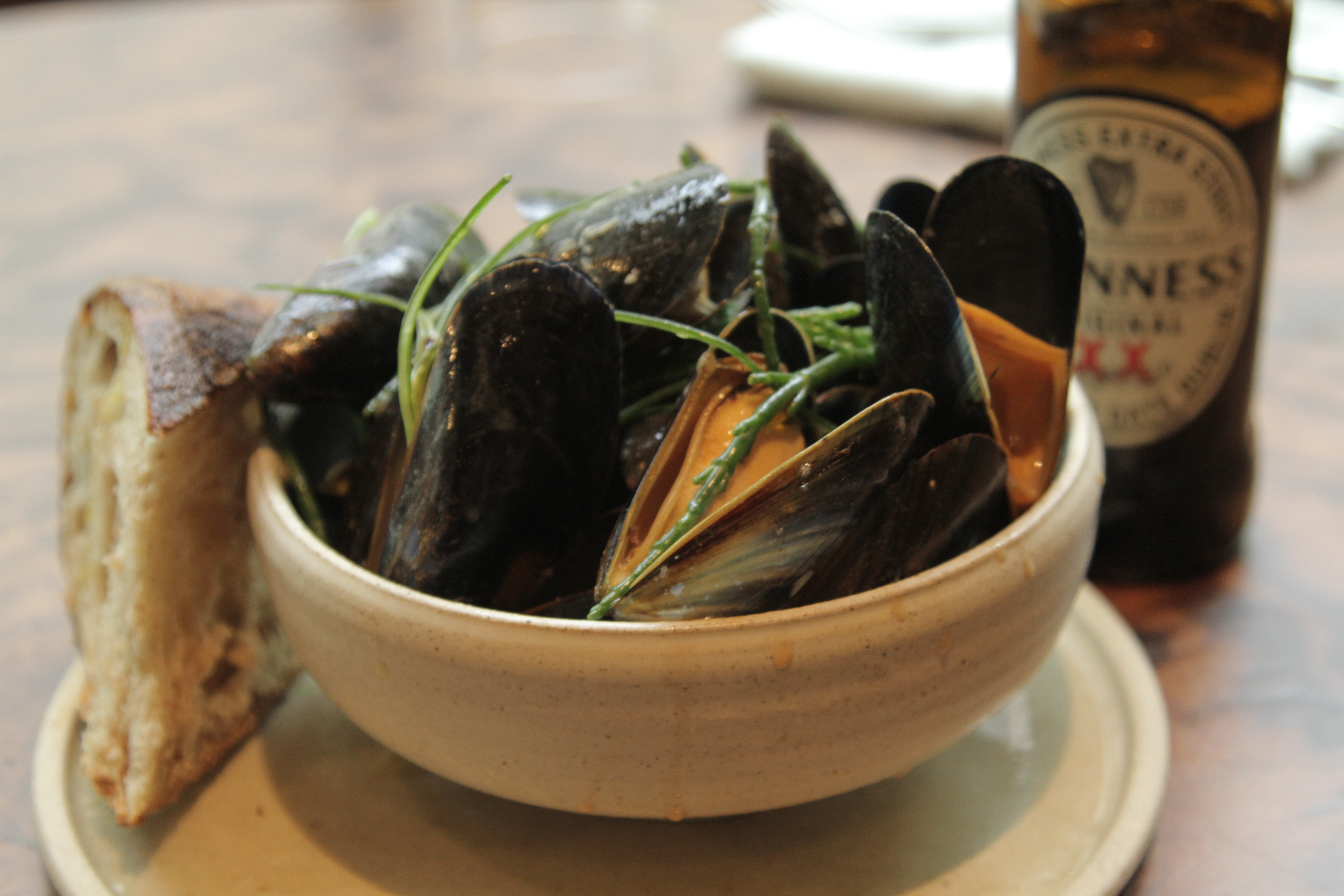 Are we about to see a trend for reimagined Irish food?
"I think it's a massive emerging scene throughout the world if I'm honest, because I just think there's an identity there that's not really …"
He trails off, before thinking for a moment and adding: "If we were to put the classic Irish foods on the menu, we wouldn't have anybody walk through the door. Well, we would, but it would be gimmicky. The last thing I'd want to do is create a gimmick here."
Nuala is far from a gimmick—you'd have a hard time guessing from the dishes on offer that the restaurant was Irish. The menu spans turbot with artichoke, beefsteak tartare, squid with bacon and almond, and crab on toast.
It does, however, also include a subsection dedicated entirely to the most beautiful vegetable of all: the potato.
I worry about coming across as a patronising English snob if I ask Davidson how important potatoes are to his cooking, especially following such a lengthy conversation about the breadth of Irish food. "C'mon Ruby," I fear he'll say, narrowing his eyes. "I know this is an Irish restaurant but, we can cook more than just potatoes." The interview will end curtly. I will never get to try the mussels again.
But encouraged by potatoes' presence on the menu, I ask anyway. Davidson pauses.
"I just love potatoes," he says, passion unbridled. "They're the best thing ever. I don't care what anybody says."
Phew.