When Pride was around 13 his father sent him out to the shops to get some bread. This wouldn't normally have been a dangerous task, but Pride lived in Buea, the English-speaking southern part of Cameroon – a region that's home to a strong anti-government independence movement, led by the Southern Cameroons National Council (SCNC).

On one side of the main road a Cameroon flag was being hoisted up its pole by police. Law dictated that Pride stop walking as a mark of respect while the national anthem was sung. But he was far away on the other side of the road, and did not. The police saw him, arrested him and, at the nearest station, beat him severely and accused him of being a member of the SCNC. Pride was still a teenager; he didn't even know what the SCNC was.

Pride's father Peter was incensed and humiliated. "He knew that he couldn't confront them directly," Pride tells me, "so he joined the SCNC." Peter was fed up of seeing his community humiliated by the French-speaking police, and so, for the first time in his life, he became a political activist. He was, like the rest of the group, eager for change and angry at the impositions put on his people from outside. "We were in an English part of the country, but there was still French domination," says Pride. A few years later, he too joined the SCNC.
After encountering government officials at a conference, Peter was hospitalised, along with five other SCNC members. All of them had fallen ill almost immediately after the conference. They suspected poisoning but could not prove it. In hospital, Peter was not treated by the doctors or nurses. He told Pride that he was going to die and that Pride was in danger. He urged him to go to Britain as a student. Having been beaten and harassed by the police many times himself, Pride knew his father was serious.
Pride is telling me all this from the Morton Hall immigration removal centre in Lincolnshire, uncertain about his future. He came to the UK in 2009 as an asylum seeker, and found out two weeks after arriving that his father had died (the five other members of the SCNC were also dead). "I saw my dad like Superman," he says. "It took me a long time to find myself after that".
Pride initially arrived in Portsmouth to study computer engineering. When news came of his father's death, he was left alone and traumatised, far from home and without any way of coming to terms with what had happened. Back in Cameroon, his mother was being visited regularly by the police. Pride tells me they were looking for him and that they would beat and assault her. She has since left the country.
"I'm trying to uphold British culture and I'm being persecuted for it."
Towards the end of his time as a student, Pride sought asylum in the United Kingdom. "To be honest, I wouldn't have applied if my visa wasn't about to expire", he says. "But I had hoped that the situation in Cameroon would get better and I would be able to return safely. It didn't, so I had to stay here." Once he had applied for asylum, the Home Office moved him from Portsmouth to Sheffield, where he lived in shared accommodation whose running had been outsourced to the security services group G4S. "I spent a winter living in a house with no heating," Pride says. "It was really, really bad."

Unable to work because of his legal status and getting by on £35 a week in asylum support, Pride tells me that he felt as though he was "going mad". Haunted by his father's death and from witnessing the death of his close friend at the hands of the police, Pride was diagnosed with post-traumatic stress and anxiety. A GP in Sheffield told him to keep busy, so he began doing voluntary work for City of Sanctuary, a movement that works "to build a culture of welcome and hospitality for refugees and asylum seekers".
For a while he was in a relationship with fellow volunteer Stephanie, who had worked for G4S, a job she hated. Volunteering helped Pride stop feeling as though he was "drowning in despair", and today he is one of City of Sanctuary's trustees. A committed Catholic who once dreamt of becoming a priest, Pride also plays a big part in the life of his local church in Sheffield.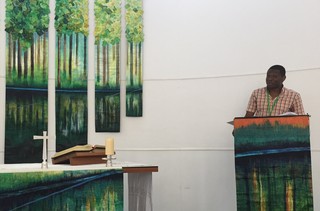 Pride was not comfortable in the UK, but he was hoping to stay. Then, eight days ago, while his solicitor was waiting for an expert to back up his asylum claim, Pride was arrested and told by the Home Office that he would be forcibly removed from the UK on Friday the 24th of March and returned to Cameroon, his home country. He spent the week living in fear. On Wednesday, he was told that his removal is being deferred. He was moved from Morton Hall to Colnbrook, a detention centre close to Heathrow, and then released on bail. His future remains unclear.
By the time Pride left Cameroon he was an active member in the SCNC, remaining deeply involved from the UK. Yet the Home Office has continued to reject Pride's applications for asylum, partly because he is deemed to only be a "low level" member of the pro-independence group. Expert advice contradicts this, as – seemingly – does the situation surrounding his father's death and his mother's exile. Paul Blomfield, Labour MP for Sheffield Central, says that, "Pride has become a really valued member of the local community. There are real concerns about the position of the Anglophone community within Cameroon, which must be properly considered."
Jillian Creasy, a former city councillor in Sheffield, is also supporting Pride's case. She says his situation is, unfortunately, not unusual. There are, Creasy tells me, many people effectively trapped in limbo, "waiting and waiting, going around and round and round". Living in the heart of Theresa May's "hostile environment", asylum seekers can spend years in detention centres, with the threat of returning to very dangerous situations hanging over them.

But in the case of English-speaking Cameroonians, there is an especially bitter irony. "I'm trying to uphold British culture and I'm being persecuted for it," says Pride.

"Pride's case gives the British government the chance to show that its dreams for "Empire 2.0" are based on more than a desire for cash – that this country might recognise the role it has played in the situation Anglophone Cameroonians find themselves in."
French Cameroon got its independence in 1960, and then, on the 1st of October, 1961, the time came for the British territory in the region – British Cameroons – to be divided. A referendum gave the people two choices: join Nigeria or join French Cameroon. "That choice still makes us angry to this day," says Pride. "They were two bad choices." The northern part joined Nigeria and the southern part joined French Cameroon.
At first, English-speaking Cameroonians had their own autonomy as part of a federal Cameroon, but in 1972 much of this autonomy was removed by the government of Ahmadou Ahidjo, which pushed through the replacement of the federal constitution with a unitary one. In 1982, Paul Biya became president of Cameroon and over time he created a one-party state, centralising powers. In the early 1990s he accepted the introduction of multi-party politics but managed to hang on to undisputed power. He is still president today, winning elections against a divided opposition, amid deep voter apathy and accusations of vote rigging.
But the apathy that grips much of the nation has increasingly turned to rage in English-speaking Cameroon. The SCNC is deemed illegal by Biya's government, and over the years its members have been monitored, arrested, beaten and killed by police or armed forces. In the last few months, protesters have been killed and the internet in the region has been cut off by the government. Even Miss Cameroon had her title taken from her after she was reported to have offered support to Anglophone Cameroon. The next national election is in 2018, and this time the opposition believes they can finally topple Biya.
In the months since the Brexit vote, Conservative politicians have talked up the significance of the Commonwealth, claiming that Britain can make up for what it will lose after leaving the European Union by strengthening relations with its former colonies. Pride's case gives the British government the chance to show that its dreams for "Empire 2.0" are based on more than a desire for cash – that this country might recognise the role it has played in the situation Anglophone Cameroonians find themselves in. The British Empire was always primarily a system of wealth extraction, and British foreign policy is still fixated on the mercantile at the expense of moral, ethical or even political issues.
Waiting to find out what his future has in store while his country tears itself apart over issues that have their roots in the British Empire, Pride Mbi Agbor knows this more keenly than almost anyone.