If 2016 was the year that fake news began to bubble up out of fringe prepper websites and onto your aunt's Facebook feed, 2017 is the year in which it became a media mainstay. Abetted by social media and the existence of millions of people with seemingly zero analytical skills, this kind of misinformation is more rife than ever, disseminated by everyone along the bullshit spectrum, from amateur pro-Trump blogs to The Express and The Daily Mail.
To make it easier for you to reflect upon the horror that was everybody's newsfeed over the past 12 months, we've compiled a list of the UK's most read fake news stories of 2017, according to data gathered by LogicAlly, a fake news search engine due to launch next year. Their methodology was pretty simple: they grouped together articles by topic, separated the false from the factual and then – by looking at shares, tweets and page views – ranked them in order of how many people they reached. The top four alone generated over 100,000 shares and one million impressions.
Without further ado, here they are.
10. Brighton council evict tent dwellers on New Year's Day
In a world in which retailers use metal spikes and sprinklers to deter homeless people from sleeping in doorways, it isn't that much of a stretch to believe that a council might evict homeless people sleeping in tents on New Year's Day. However, this particular story, from January, wasn't true, and Brighton Council insisted that theargus.co.uk run a clarification.
Far worse is the fact that verifiable assaults on society's most vulnerable are daily occurrences in Britain, so one might wonder why somebody would even bother making something like this up.
9. The Sun's demonic cannibal killer
The Sun is globally revered for its solid, balanced reportage, so it came as quite a shock when the notorious red-top published a lurid story claiming that the tragic murder of a woman by a man with a history of mental health issues was "cannibalistic". A later Press Council ruling noted that an inquest into the tragedy had found no evidence of the victim being devoured, let alone that the perpetrator was "demonic".
---
WATCH:
---
8. 100,000 people to face Christmas without universal benefit
The BBC comes in at number eight on this year's list, for its recent erroneous reporting that up to 100,000 people could receive less (or zero) Universal Credit during the holiday season, because those who are paid weekly have five paydays in December, meaning their monthly earnings – on which Universal Credit is based – would be too high to receive the benefit.
The figure was initially quoted by presenter Paul Lewis on BBC Radio 4's Money Box programme in November, and then repeated on the BBC's breakfast show and online, before Mr Lewis admitted the figure was lower, saying: "Some people will undoubtedly receive less Universal Credit over Christmas and New Year, but by no means all of them."
Chief Secretary to the Treasury Liz Truss told the Commons: "It's disgraceful that fake news was put out on our national broadcaster," prompting the BBC to issue a statement pointing out that "There is a difference between fake news and inaccuracies in a legitimate story."
7. Lorry attack and gunshots at Oxford Circus
"How long until we find out that today's attack in Oxford Circus was by a Muslim?" asked ex-EDL leader Tommy Robinson, in a soon-deleted tweet after the Mail Online reported that a lorry had "[ploughed] into pedestrians" outside the central London tube station, using a ten-day-old tweet about an unrelated lorry crash as a source.
Of course, no such thing had happened. After mass panic and widespread confusion, the British Transport Police clarified that an evacuation of Oxford Circus took place because of "an altercation" between two men, and not – as far-right ogres had prematurely gloated – an attack by Islamic terrorists.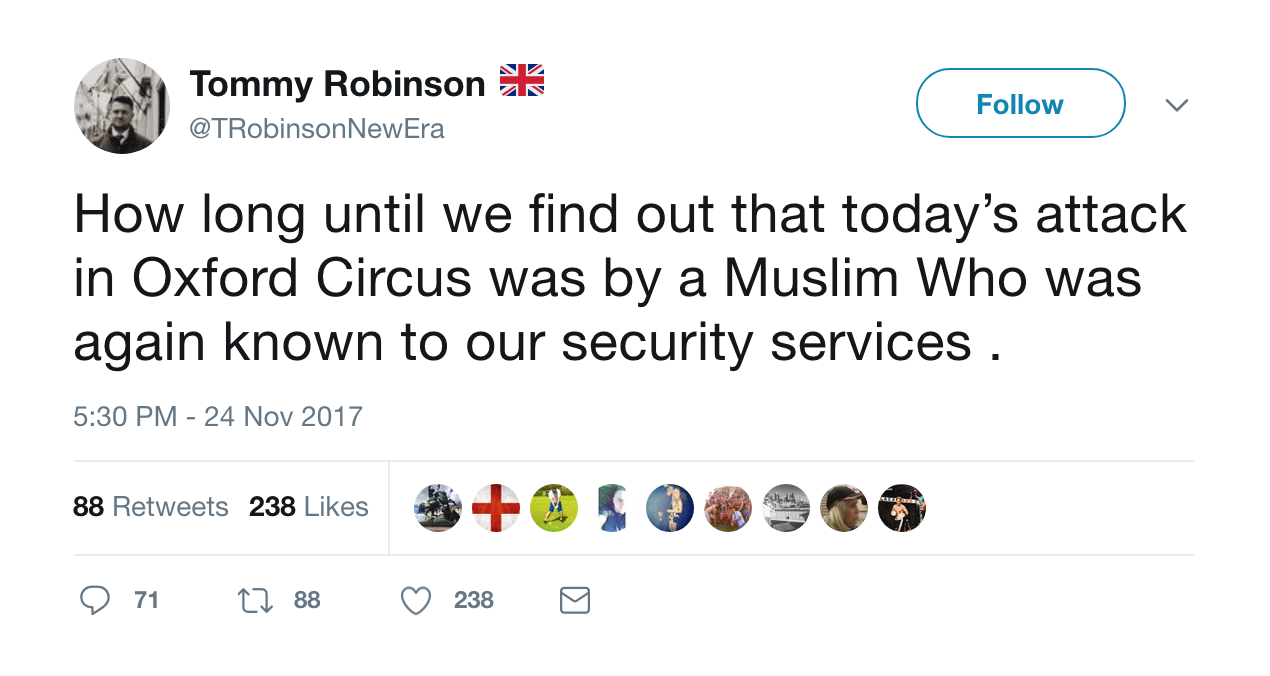 6. John McCain directly linked to London terror attack
The first story on the list with its origins in the minestrone of hyper-paranoid right-wing US news websites, this one appears to have been inspired by a Telegraph report claiming that one of the London Bridge terrorists, Rachid Redouane, had once fought for a Libyan militia with links to the Free Syrian Army – a now largely-disbanded anti-Assad group that various governments, including the US and UK, have backed in the past.
By the time this information made its way to sites with names like Freedom Daily and Conservative Fighters, Republican Senator John McCain – who has criticised President Trump, and therefore become a natural enemy of whoever runs these barmy websites – was "directly linked" to the London atrocity in which eight people were killed.
How? Well – and bear with me and our friends at Freedom Daily here – "Redouane came directly from the McCain's Free Syrian Army" and "wouldn't have even had the resources necessary to carry out the terror plot had it not been for McCain's support and financial backing".
This is demonstrably false in so many ways, but common sense should be enough to tell you that you don't need the help of a US senator to rent a van or buy a couple of knives from Lidl.
5. Angela Merkel calls for German-led EU army
The globalists are coming to get you, Barbara, and they're planning to use some kind of a German-led EU Army to do it.
In January, a number of stories outlining German Chancellor Angela Merkel's maniacal plans for the creation of a united European Union Military Force circulated, originating from an article in the Express that said as much in its headline, but then never backed up the claim with any direct quotes. Either way, the subsequent tweets and stories on right-wing blogs validated the paranoia of Eurosceptics, Brexiteers and crackpots alike.
Funnily enough, it transpired that Merkel had never suggested the unified army, and to this day the European Union continues to function as a mere trade bloc and not a military arm of the New World Order.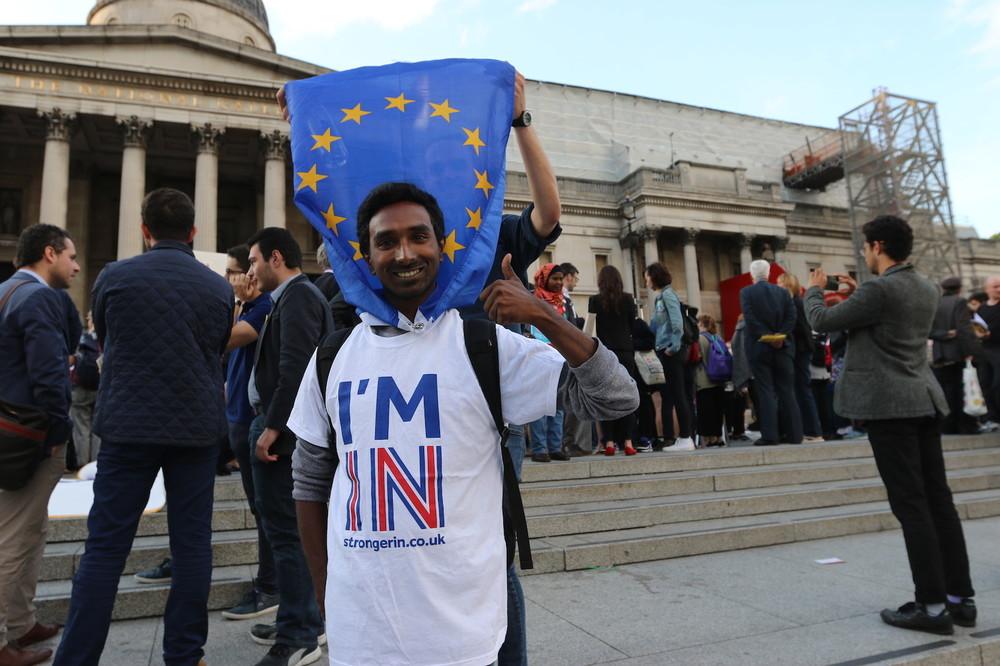 4. 'Majority' of Remainers switch to backing hard Brexit
Having witnessed the pound plummeting and Nigel Farage resigning in triumph, seven out of ten people were beginning to favour Theresa May's "plan" for a "hard" Brexit – or so we were told in August, by the Express, Mail and Telegraph, citing the results of a study conducted by the London School of Economics and Oxford University.
However, a misleading polling size made the "majority" of Remainers described in a number of widely shared pieces seem a lot more comprehensive than it actually was, and it turned out that certain doom had in fact not swayed two-thirds of people to support the economic equivalent of putting a toaster in the bath.
3. Missing people in the aftermath of the Manchester Attack
Perhaps the ugliest fake news stories are those which play on people's sympathies. Following the bombing at an Ariana Grande concert at the Manchester Arena in May, a widespread desire to help and express solidarity would lead to the sharing of a fake list of missing people, which included a woman who was murdered in Oxfordshire in 2013. A number of media outlets would have to warn the public to be wary of false reports, and also spend time attempting to vet images they had been sent to ensure they were authentic before posting them online and helping families locate their loved ones.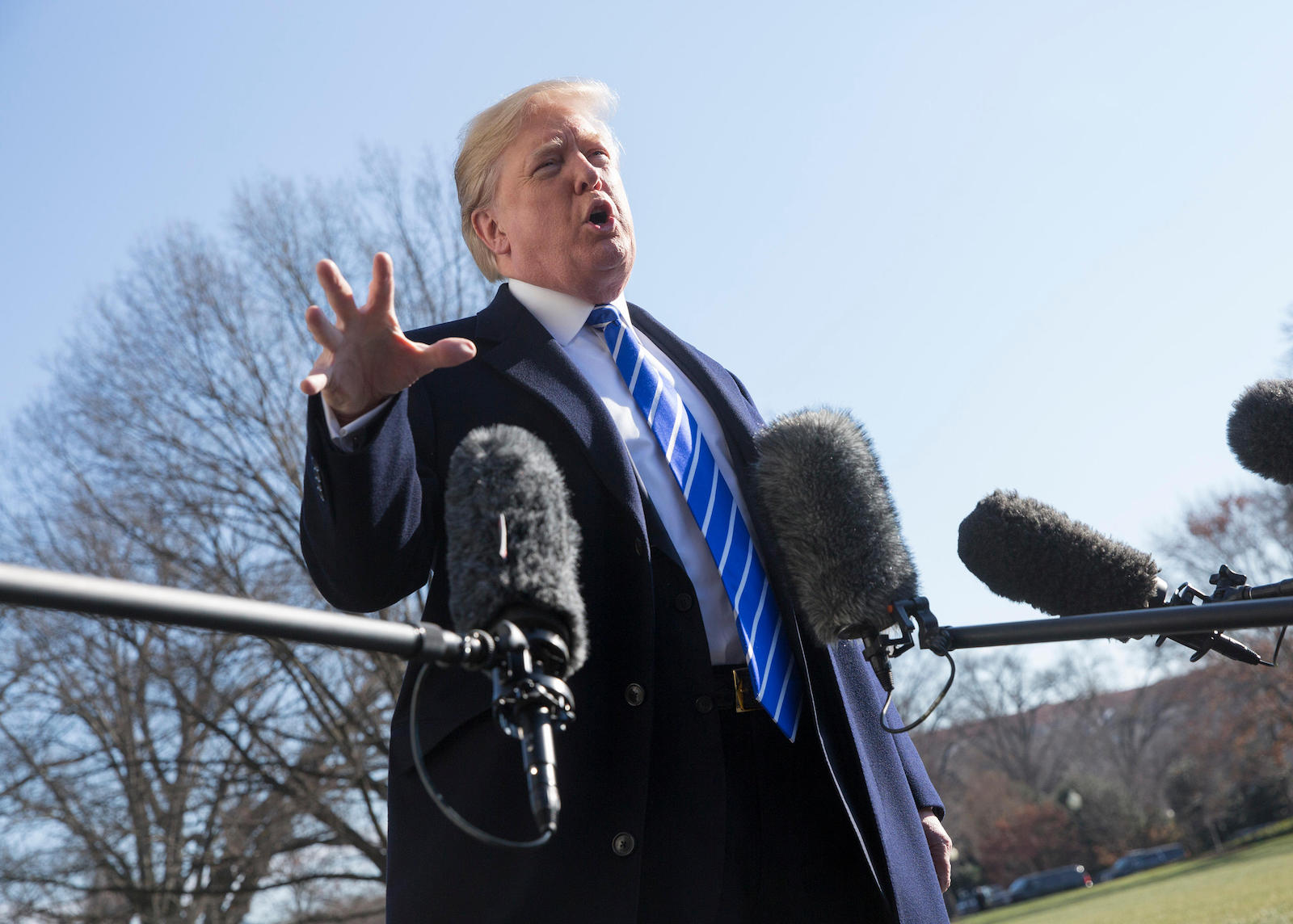 2. Landmark climate change paper exaggerated warming
Back in February, it was reported by The Daily Mail that world leaders had been "duped" regarding the realities of impending climate catastrophe by a group of mendacious scientists, who had "exaggerated" the danger.
The Independent Press Standards Organisation (IPSO) later upheld a complaint against David Rose's article, which was found to contain at least 30 inaccurate or misleading statements. At the very least, the Mail's ensuing admission that it published fake news makes for a decent read if you're feeling sad while nursing a hangover over the holidays and want to feel a bit better about the world.

1. Sadiq Khan gets reprimanded by the Queen for his comments on Trump
As far as the right is concerned, Sadiq Khan is a very busy man, attempting to establish both Sharia law and a marxist-feminist state in London. So the last thing he needed on his plate was to get OWNED by her Majesty Queen Elizabeth, who, after Sadiq called on the government to cancel President Trump's planned state visit, "refused to retract" the invite.
The story, of course, was yet another fabrication by pro-Trump media – one that appears to stem from a fairly basic misunderstanding of how state visits work.
In January, Theresa May extended a state visit invitation to Trump, which would have seen him greeted and officially hosted by the Queen. Since then, Khan has called for Trump's visit to be cancelled, but the Queen hasn't responded at all, much less "refused to retract" an invitation she never personally made.
No one seems certain about what the current state of play is with this one, but the latest reports suggest that Trump's planned visit has been downgraded from a state visit to a "working visit", meaning he won't meet with the Queen at all.