I'm at a football match in the Midlands. Stoke City are playing at home to Hull, and Swiss winger Xherdan Shaqiri just scored an absolute screamer. He's settled the match with ten minutes to go. The visiting fans kept up their support but Stoke-on-Trent—a town known for fine pottery and Spitfire fighter planes—have outplayed them.
I, meanwhile, am on my second portion of Staffordshire oatcakes.
A rolled up, piping hot oat pancake filled with bacon and Cheddar cheese, these oatcakes are Stoke's most famous delicacy. They were added to the menu at the city's football stadium in 2015 and the club called a press conference to announce the news.
"The press conference was buzzing," Anthony Emmerson, Stoke City's services manager, tells me. "It was a bit like when we sign a new player."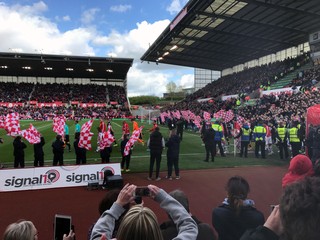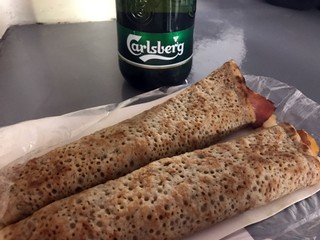 In selling Staffordshire oatcakes on match days, Stoke City hopes to introduce new people to one of the county's best loved dishes.

"Oatcakes are becoming increasingly popular here," stadium catering manager Anna Jackson says. "Stokies love them, but away fans are now lapping them up also. I think they like the tradition. They're well received."
Striker Peter Crouch, who came on earlier and headed the Stoke's second goal, is relatively new to the city. He has grown to adore the pancakes and takes them home with him every week.

"I like my oatcakes," he recently told local paper the Stoke Sentinel: "There's a scout who's been there for years and years, Stewy. I've always got on well with him in the years I've been at Stoke and he brings me in oatcakes every week from his local shop. I take them home probably twice a week. I like just butter and cheese, personally. I like to keep it simple."
The oatcakes are made from a batter of ground oats, wholemeal and white flours, salt, yeast, and a mixture of milk and warm water. They're heavily seasoned and cooked off in a fat such as lard, clarified butter, or bacon dripping.
The history of Staffordshire oatcakes spans further than the football ground. The carb-heavy, hand-held food provided fuel for the region's many coal mining and steel industry workers in the 19th century. In 1812, Cornish scientist Sir Humphry Davy wrote in the Elements of Agricultural Chemistry that miners actually preferred the oatcakes to wheaten bread because the "nourishment enables them to support their strength and labour better."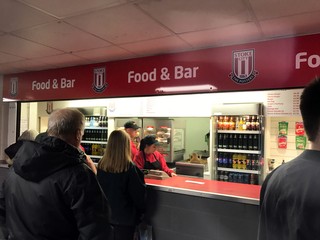 Lots of shops around Staffordshire still sell rolls of the oatcakes for as little as 20p. Locals fill them with sausages, cheese, bacon, or just butter, and eat them as a snack or for dinner. They make a perfect accompaniment to malty ale or a strong mug of tea.

Or a football match on a chilly April afternoon.

At half-time, I talk to Martin Walter, 54. He lives nearby in rival Port Vale country, but has been a Stoke fan all his life. Every home game, he enjoys a round of Staffordshire oatcakes.

"They're traditional here," he says, "and really important. I'm not sure I know a 'Stokie' who doesn't like them. Everyone buys them. They're simple, cheap. I have mine with sausages usually, and dip them in brown sauce."

An Italian friend of Walter's, Mary Maadera, is visiting from Rome. She compares Staffordshire oatcakes to crêpes but says that in essence, they have far more in common with pasta.

She tells me: "In Italy, we eat pasta. That's the dish, and it's down to region how you have it. I know in England you eat pancakes all over. I love the fact that here in Staffordshire, the people eat these. The oat base is something different. I think it adds texture and an interesting flavour. I love to eat them when I'm here."

In between sips of Carlsberg, Walter mentions the fact that Robbie Williams, former Take That star and Stoke native, is also an oatcake fan.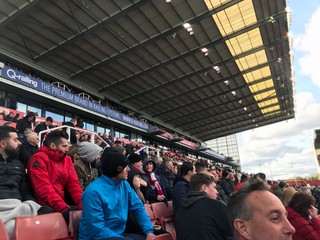 Despite garnering an international, celeb-studded fan base, the pancakes remain municipal. You can't easily purchase Staffordshire oatcakes outside of Staffordshire, unlike their Scottish namesake—an altogether different baked oat biscuit. That's not to say it's impossible.

Chairwoman of the Stoke City FC Supporters' Association, 69-year-old Angela Smith, explains: "When I went over to Ukraine with the football team, I took Staffordshire oatcakes over with some other supporters. I was staying with a Ukrainian family and they loved them. Now, I send some over once a month.

Smith tells me that there's a general belief among Stokies that Staffordshire oatcakes—like Cornish pasties, Melton Mowbray pork pies, and other traditional regional foodstuffs—should be awarded a special protected status by the EU. I agree. But who knows whether that's conducive to the current political climate.
"They really are so important here. They're part of our community," Smith says. "A staple dish that's been crafted in time. There are loads of bakeries and shops here. People pop by—it's social."
Either way, at Stoke City's stadium, fans power through oatcakes merrily. Hundreds, if not thousands are flogged every game, outselling burgers, hot dogs, and even pies—the traditional football ground food.
But in a country that contains such a variety of regional dishes, I struggle to understand why Staffordshire oatcakes are quite so geographically restrained. I hope Stoke City's plan to promote the dish far and wide prevails.
Until then, I urge you to go to a game. You might see Crouch score a goal—a goal undoubtedly powered by oatcakes.