This article originally appeared on VICE France
On the night of the 23rd of April, the result of the first round of the French presidential elections became clear – social-liberal candidate Emmanuel Macron won with 24.01 percent of the votes, while far-right National Front leader Marine Le Pen came in close second with 21.30 percent. One of them will become France's new president after the second round of elections on Sunday, the 7th of May.

Before the first round of the elections, VICE France handed out disposable cameras to supporters of each of France's presidential candidates to document their week, while canvassing for their favourite candidate. Today, VICE UK is publishing the photos taken by supporters of the two winners of the first round – Macron and Le Pen. Click here to see what a week in the life of a Le Pen supporter looks like.
Thierry Gibert is a member of the UDE (Ecologist Party) and of the Democratic Movement, as well as a campaigner for Macron's En Marche! party. Thierry joined Macron after the result of the second round of the left-wing primary. Following that, he applied to be the EM! representative for the department of Hauts-de-Seine, and is currently waiting for the party's response. When Thierry gave me back the camera, we sat down for a while so I could ask him a few questions.
VICE: Hi Thierry, you are a member of the UDE (Ecologist Party) and of the Democratic Movement in Hauts-de-Seine. Why did you join Macron's En Marche! party?
Thierry Gibert: I noticed Macron when he joined the Ministry of Finance. I liked his unique approach. In 2016, he founded Les Jeunes Avec Macron (a movement translated as Youth with Macron). I went to the first gathering of young entrepreneurs for Macron – it attracted about 200 people and that was when Macron had yet to be widely noticed. I thought he had a good understanding of the issues at hand. I didn't know that he was going to run for president but I felt that he represented the future of France.
After the outcome of the second round of the left wing primary last January, I decided to join his movement. The UDE had a meeting to decide upon which candidate to choose, Hamon or Macron. Four out of 40 people supported Macron and I was one of those four.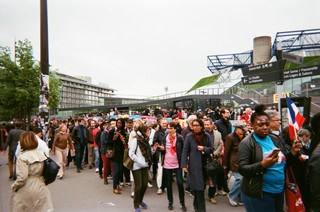 How long have you been involved in politics?
For about a decade. I was always interested in politics but I started to get more seriously involved in 2008. This is the third time that I am actively campaigning during a French presidential election, though.
As an insider, how would you describe this presidential campaign?
Usually it's up to the media to bring the candidates' core principles to the spotlight and that sparks a debate about one or two important subjects that then become the core issues of a campaign. But this hasn't happened in this election and I feel that the French people are very confused. Which is a shame.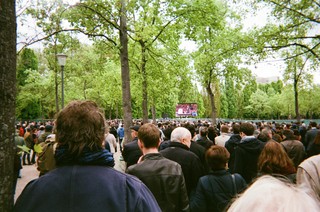 Do you think the En Marche! campaign has been efficient?
This campaign has brought together women and young people. They have taken the floor and spoken up. That is the key to the success of Macron's campaign. But I also think that the Macron effect wasn't as great as we expected. He didn't inspire enough motivation, which meant that his campaigners haven't been unified enough during this campaign. So, in that respect, it's been a bit disappointing.
Before coming to meet you, I was at Macron's rally in Bercy, which attracted many thousands but 20,000 of those people were turned away from the venue because there wasn't enough space. That meant that they didn't get to see him speak. There were too many people, which is obviously a good thing, but I felt that it also showed a lack of organisation and consideration for the supporters. People came from all over France but they were left to watch it on a massive screen outside the building.
Who did you think would end up in the second round of elections?
I did expect Macron to move on to the second round, but I was even more certain about Le Pen doing the same.
Scroll down for some more snapshots from Damien's week. Click here for the week of a Marine Le Pen supporter.