It's about dinnertime on a Saturday and two women in their early thirties are trying to get me to join in as they twerk to Stormzy's "Shut Up." On an average night in his London hometown, where I live, this would be par for the course. But I'm on a patch of gravel in Hong Kong. Behind me, boats glide across Victoria Harbour, the thin body of water that laps between Hong Kong Island, where I stand, and Kowloon, where giant warehouses and glowing buildings clutter the skyline. Looking up, Hong Kong Island's famous skyscrapers rise like glistening swords for giants, flashing with the names of the banks that keep the financial workers fed and watered. Then of course, beneath those skyscrapers, Stormzy skanks across the stage with the same long-legged energy he would in London. It's, as I keep finding myself thinking, A Lot.
This isn't a small event either – I'm one of a few tens of thousands of people who've swarmed through Hong Kong's chaotic and endlessly bright centre for the tenth edition of music and arts festival Clockenflap. It's a weird scene. On the one hand, Hong Kong crowds are often connected with not "getting" festivals – live music in smaller venues alone is hard to book in the city, for bureaucratic reasons I'll get to later. On the other, I regret to inform you that the travel tips you may have scanned on Hong Kong crowds are about as reliable as Russell Howard's thoughts on race.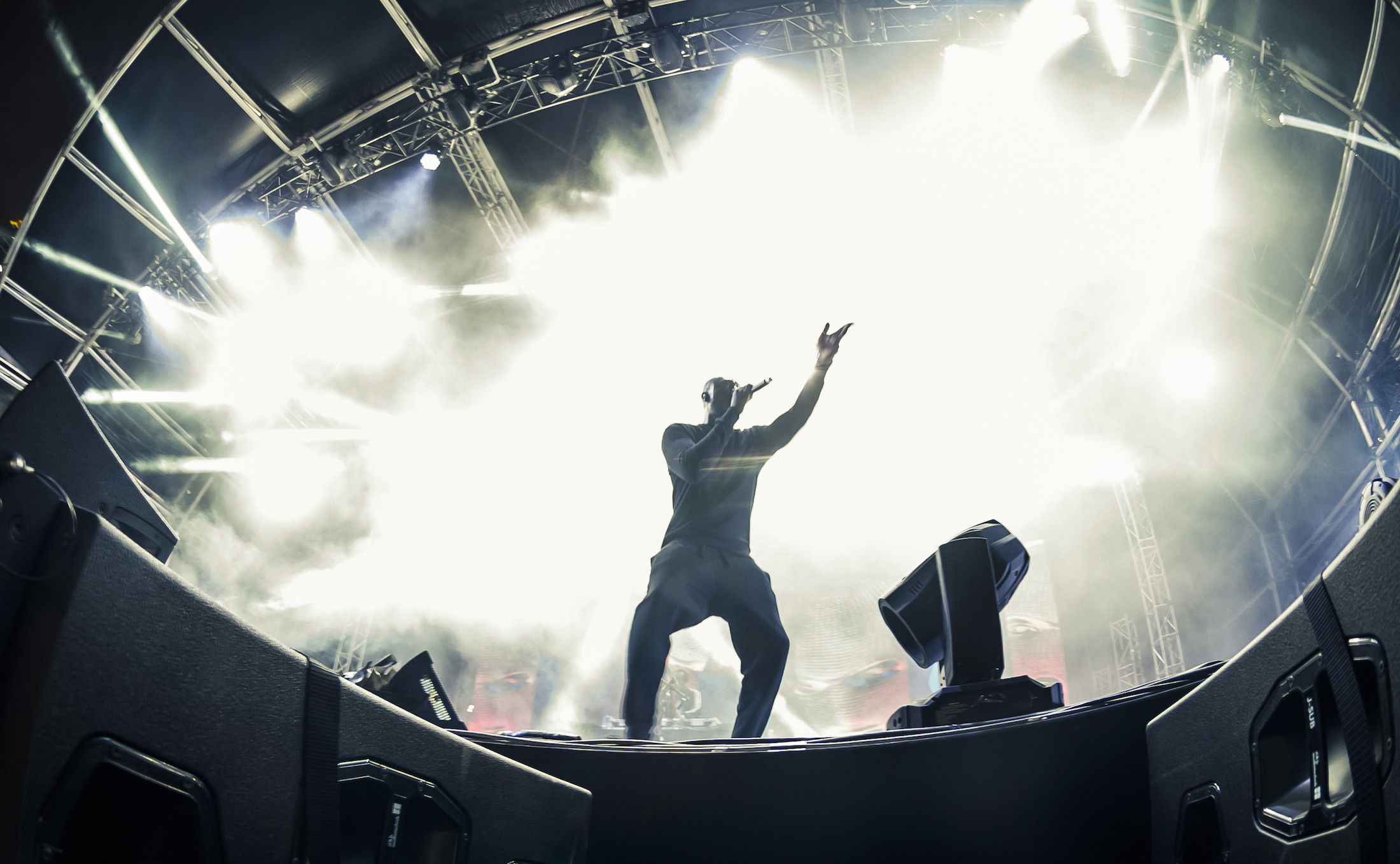 These are some of the most hype crowds I've seen at an non-camping city festival in years. Alongside Stormzy there are "western" artists like Feist, Dandy Warhols, Young Fathers, east Asian acts and, the 'u ok m8??' booking of no-longer-relevant Kaiser Chiefs. So far, so Parklife. But the crowd makes it totally different. They set the tone for a warm, somewhat endearing and tightly-run festival, making this very clean, punctual and non-lairy festival shine in a way that feels new. Going to lots of festivals for work can leave you jaded, but Clockenflap's crowds shout hysterically, mosh (often during incongruous music), chant and make the ground underneath a covered stage shake from dancing so hard without leaning on the crutch of class A drugs to do so. I don't know, maybe it's the remnants of my jetlag talking, but there's something special about how wide-eyed and up-for-it so many of the punters here are. A major part of that comes from the fact they aren't mashed up out of their minds on pills and they seem to be curious about the music – even if not not hugely knowledgeable about all of it. As a result they whoop with a fervour that practically blows your hair back when faced with so many musicians passing through their city, most likely for the first time.
At one point during his set Stormzy sounds both awed and humbled, commenting that the welcoming crowd "feels like home". Obviously, given Britain's past colonial relationship with Hong Kong there are both lots of UK acts on the bill and absolutely hordes of British ex-pats milling around in the harbourfront park. Traipsing from one stage to the next you could sometimes squint and just about be at an English festival – white girls in bras and jean shorts re-apply glitter to their cheeks, the average thai curry or falafel burger costs about £8, harassed-looking dads try to negotiate their baby buggies over the uneven gravel patches. But there's also enough of a mix of Japanese, mainland Chinese and local Hong Kong music on the bill to jolt you back into the reality of being nowhere near, say, Hyde Park for British Summer Time. Plus: the cleaners pick up fallen cups so quickly here they never have a chance to pile up, and every local I see is polite as hell. London on a rare hot afternoon this is not.
Chengdu trap group Higher Brothers smack you right in the face with this reality on day one. In a YouTube video of other rappers reacting to the mainland Chinese four-piece, KYLE describes them as "like Playboy Carti, Yung Lean and Lil Uzi all were Chinese dudes who made a group" and tbqh where is the lie. On paper they're an absurd idea: four young men stunting, rapping in Mandarin and English, exhaling all the signature "YUHs" and "EYs" of trap. Two of them even have dyed dreads. But, as with the Justin Timberlake-lite croonings of South Korean star Dean on the Saturday, you can easily forgive them for seeming like cultural appropriators. What Higher Brothers do – with the energetic gregariousness of four kids who've just been sent into a puppy pen while high on raw sugar – goes beyond minstrelsy and into a display of a passion that makes you both smile and yell along (even if you don't know half of what they're saying).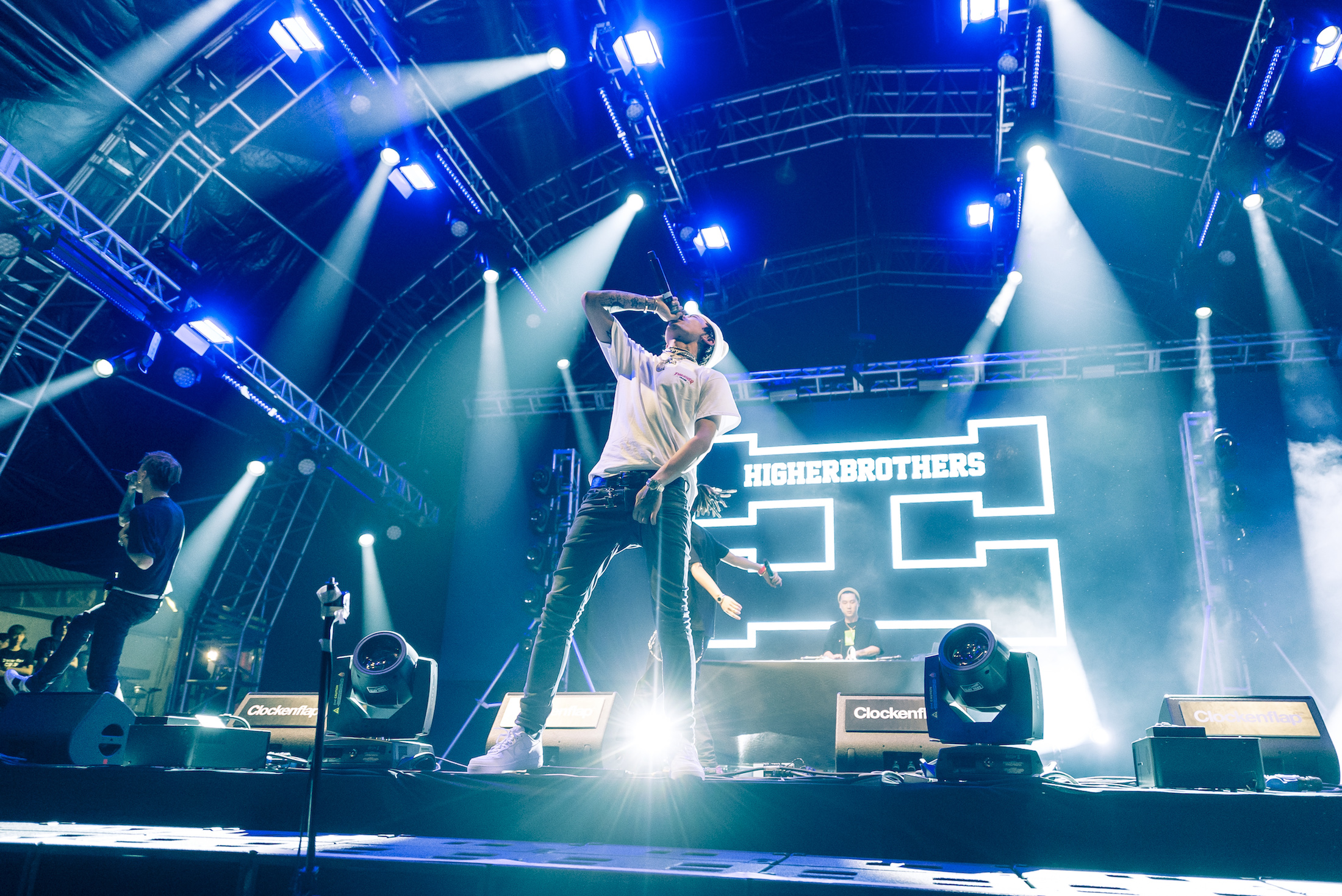 From the way they shout out the hooks on "Flo Rida" or demand we "turn the fuck up" (as is requested several times over the weekend), the group have both adapted and adopted some of the markers of post-lyric rap. You may have noticed something similar happen over the past few years, with acts from Scandinavia to Korea picking up on the textures of black American art and making them their own, whether in pop, R&B or rap. It can feel uncomfortable when done naively, or grim when done disrespectfully. Lifting elements of blackness and dropping them into pop in another country is what Max Martin has been doing for years, after all. But Higher Brothers pour themselves into their work, picking up on the nuances of rhythm and cadence that have filtered across the world online and into their lives. This works. They veer towards imitation at times, sure. Yet, as they bounce and grin across the stage, throwing verses between one another like tennis balls, you can't ignore the respect they hold for various rap subgenres.
The FWD Stage that Higher Brothers take over is turned into a breathing sculpture by shimmery, experimental J-pop trio Wednesday Campanella on Saturday. Unlike most UK festival sets where bands can appear to have crawled straight from an Uber to the stage, frontwoman KOM_I appears from beneath a billowing sheet that swallows up the stage and looks like it's made of a soft nylon. She throws herself across the stage as the band's high-octane electropop pummels out of the speakers and clambers up a ladder in the middle of the crowd to play among us, reminding you that the standard festival set can be so much more than that when you make an effort (see: their Camp Flog Gnaw festival appearance earlier this year). KOM_I ends the set being zipped into a giant clear ball and basically zorbing over our heads, a la Diplo and Wayne Coyne. The crowd responds in kind, straight-up screaming as though they've just seen a dead body rather than an innovative and daring show. It's a festival highlight, in no way dampened by the knowledge that this is just a regular setup for Wednesday Campanella. This ear-splitting shrieking is matched by hollering "EY EY EY EY" each time Cashmere Cat gears up for a drop during his Saturday set, whenever Seth Troxler's early rave set dips on Sunday or when the Prodigy chug away on the main stage to close the festival on Saturday night.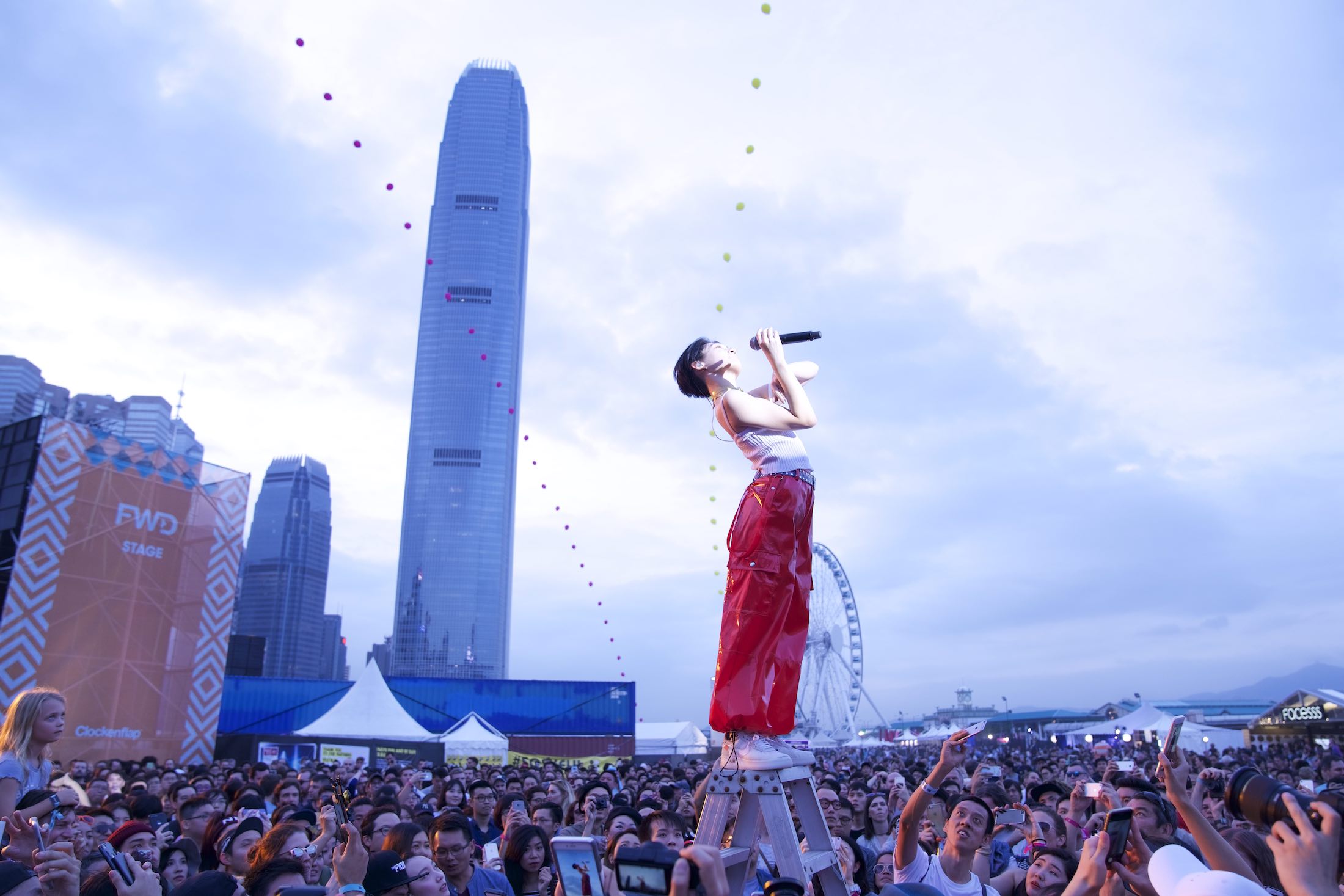 But while things pop off over this weekend, it's a lot harder for indie acts to play smaller venues in Hong Kong outside Clockenflap. According to a music supervisor of Hong Kong Arts Development Council, speaking to the New York Times, there are just 13 small-scale venues in the entire city. Ridiculous rents and regulation restrictions tend to inspire venue closures. As a sound technician put it to local publication South China Morning Post in 2015, "Everyone knows the government won't support music. And it's not just music; they don't even care about how people live. If you want to stay in this business, it's only because you want to; it's because you're stubborn." And so there's every chance that bands from both inside Hong Kong and further afield don't realise just how much support they'd have since they don't always get to play a "regular" venue before performing at Clockenflap. Guitar bands like crashing two-piece Slaves, twinkly-eyed guitar destroyer Mitski and Aussie psych-poppers Pond look almost visibly surprised by how much people are losing their shit during their sets (though, in fairness, it's harder to tell what Slaves might be thinking from the way they're thrashing about).
So, look: the festival's name is weird. It's really far away if you don't already live in Hong Kong, and its ticket prices may be prohibitively high for low earners in the city (which is already expensive to live in). But Clockenflap creates an environment that's oddly… innocent. It's about boiling festivals down to a different essence than what runs through most of them in the UK, namely by slicing hard drugs and fancy dress out of the equation and replacing them with crowds both porous enough to move through and coordinated enough to open up circle pits during a Cashmere Cat set. British camping festivals in particular are about hedonism and escapism; city events centre on turning a park into a plastic cup dumping ground or dashing from one venue to the next before the last bump of coke catches up with you. But Clockenflap, not unlike New York's gravel-floored festival The Meadows, drops you in a starkly urban setting then leaves you to find its magic. In this case, you can most easily do so by turning to the person beside you and joining in. Especially for a 7.30PM twerk.
You can find Tshepo on Twitter.