Thousands of people filled Manchester's Albert Square tonight to remember the 22 people who were killed in the attack at the Manchester Arena.
The beautiful weather felt incongruous with the sombre atmosphere. Before the vigil, the streets near the Arena were quiet. Moving closer, around every corner we turned we encountered groups of police and journalists rushing about, until eventually reaching the square, which was heaving with people.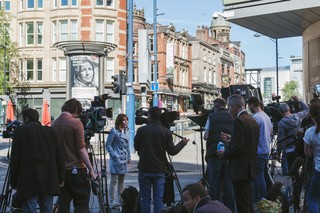 At Deansgate, the end of the street was cordoned off with police tape and a line of reporters doing pieces to camera, with the Arena in shot. Richard Jojo, 55, an entertainer, told me he had been making his way home from a nearby tram stop not long before the explosion, but because of a knackered phone had only found out what had happened hours later. "I'm thinking it's lucky my tram was on time, because these trams are always late," he said.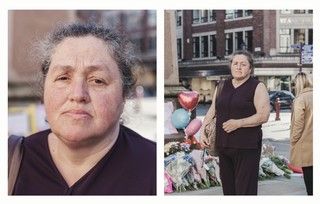 At St Anne's Square, people were laying flowers with messages to the victims. I spoke to Jean Whiteoak, 51, who had travelled from Blackpool to pay her respects in her hometown. "I just had to come today," she said. "Manchester always pulled together for everything. In fact, I got my flowers from Marks and Spencer. I went to pay, said I was coming here and they said, 'No, they're free.' We've always pulled together."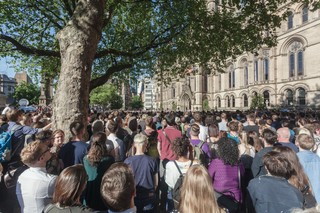 Albert Square was rammed long before the vigil started at 6PM. There were speeches from the Lord Mayor and the bishop of Manchester, who said that wherever the victims were from, "from now on, they are Manchester, too".
Tony Walsh, "the Longfella poet", read a poem called "This Is the Place".
In one verse, the line, "This is the place that a Manchester girl, name Emmeline Pankhurst from the streets of Moss Side…" was drowned out by thunderous applause. Another verse got a laugh: "If you're looking for history, then yeah we've a wealth / But the Manchester way is to make it yourself / And make us a record, a new number one / And make us a brew while you're up, love, go on." It felt more like a wake than a funeral.
After that there was a well observed minute's silence, which gave way to another wave of applause.
Flowers were being laid to the side of the town hall entrance. I asked a tearful Chloe Matthews, 18, why she had felt it was important to be here. "Georgina Callander," she said. "She was a girl in my school, in my year; she was the first victim. Her brother posted it on Facebook at 8 o'clock."
What did she make of the vigil?
"I think it's amazing, especially that the Muslim community came out."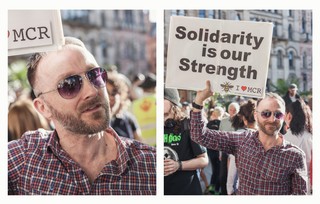 As people stood around taking pictures of his sign, 44-year-old health worker Adrian Smith told me: "I think this vigil really captured a lot about the spirit and solidarity, the humour and the fortitude, of people today. I thought that poem was brilliant – it really got to the character of Manchester. I've always thought Manchester – as a visitor, someone who's been here 15 years – is edgy, it's proud of itself. Today, in what's been a shit, horrible time, there's been a lot to be proud of.
"Last night at 10 o'clock I was seeing friends taking selfies at the concert. Then you could follow their story bit by bit across the evening and into the morning, and we were nervously waiting to be told that they were safe again."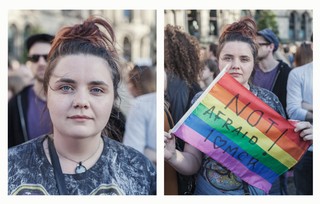 Taryn Watts, 25, a hospital worker, had seen the effect the attacks had on the emergency services. "We're getting quite a few transfers from other hospitals," she said. "It was just a horrible atmosphere to walk into this morning. At the same time, people are working so hard, people are coming in on their day off. The support has been amazing. It says a lot for where we are and where we come from. I know a few people who were there last night and saw some awful things. It feels really good that there are so many people who will turn up last minute and show so much support and solidarity and stand together. It just shows that no one's scared. Nothing changes – we are who we are, this is what we do."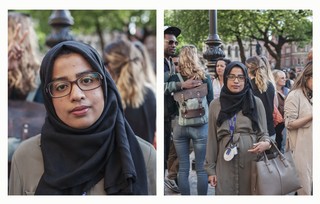 Fatima Raza, 30, said: "Manchester is a city that gave me so much love. I was born abroad, but as soon as I came here I felt I was a part of the city. I've been living here for a very long time and I feel it's my duty to stand with the people of Manchester. As soon as I heard the news, tears couldn't stop coming out of my eyes. I was in such a shock, especially finding out that children were hurt. That made me even more sad because I'm a teacher and I work with children, and knowing that, when I go to work, some of the children might be from our school."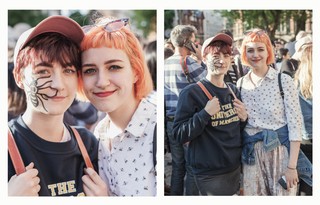 "I've been thinking about it all day and there's no obvious way I could help," said Emily Burley, 19. "You don't want to go to the blood-banks because they're already full. You don't want to go to the hospital because you're stopping people from working. I've got [Muslim] friends that have texted me saying, 'I feel so guilty for what people are trying to say my religion has done.' It's not their religion at all. I just want to make sure Muslim people don't feel they have to be guilty for that. It's a total inhuman act.
"I feel so at home here; I've become myself here. Manchester gave me the space to be myself. It's heartbreaking that people have to deal with this shit."
"I don't see how living here you couldn't attend, really – it's time to come together," added her friend, Vicky Brown, 21. "We heard 25 minutes after it happened. If you've ever been to a concert at the Arena you know exactly where the bomb went off."
§
Thinking of the excitement of your first gig, then hearing testimony of the panic and confusion after the blast, and imagining the roar of a concert crowd as you listen to the recorded screams of people stampeding out of the arena, is agonising.
If music is better live, it's because it's a shared experience. It feels like a grim comparison, but that the grief on display in Manchester this evening was shared – really, viscerally shared – felt very important. The internet grief cycle is too fast: reports, confirmations, tweets, analysis, opinion pieces. The chatter can drown out the significance of a horrific event. Here, it was the opposite: everyone's voice bolstered each other's. When the ceremony finished, a football-esque chant of "Manchester" went up.
The vigil cut above the dreadful white noise of abject internet narcissists trying to make it about them, and the sickening "I told you so" of alt-right creeps hoping to instrumentalise the situation. It was cathartic. This was a city grieving its dead, and standing up against the forces that took them.