Five Questions About… That "How To Find Love in Six Weeks" Article
The Daily Mail are promising you true love in time for Valentines Day. What could go wrong?
Hello yeah hey Happy New Year listen: not to prang you out or anything but you have six flat weeks to find love, it says here, before the dreaded horny apocalypse of Valentine's Day, and I mean lets review how you're doing with that. How did Cuffing Season go for you? Cuffing Season went quite badly, didn't it. Remember when you ended up on someone else's unwashed bedsheets, in Zone 7, resolutely not getting hand stuff and getting a really long Uber back after re-watching two episodes of Stranger Things you pretended you had not seen but had, actually, already seen? Is this too specific? I dunno? Am I revealing too much of myself here? Almost certainly. I don't know? I don't know. I don't know!
But Cuffing Season didn't go that well for you, let's just say that and leave it. Christmas continued the drought. No thoughtful presents from bae for you. No long, hand-written Christmas cards. No cuddles by the fire in thick jumpers. No bracing Christmas morning walks. Listen: you ever tried to masturbate on Christmas Day? It feels wrong, somehow, like you're doing something squalid over something holy. Jizzing in Santa's jolly round face. Cumming in church. Did anyone kiss you at midnight on New Year's Eve? Or did you do that thing where you do the countdown, looking up at the clock, full of joy, then looked around – head suddenly spinning, zooming thrillingly out – expecting the warm embraces of your friends and instead seeing them, all, coupled together and kissing? That was bad, wasn't it. Then January 1st 7pm Tinder, The Nether Zone, metaphorically somewhere between a pack of lions hunting a pack of gazelles and, like, that dark horrid feeling of disgust you have sometimes immediately after you orgasm. And now here you are, look, single again, making a resolution about drinking more juice that you know you're not going to keep, and the cycle continues anew. Happy 2018!
Anyway, you basically have six weeks to answer this vitally important personal gender-neutral question: hey, who's sticking a finger up your butt this Vally D? We need to figure this out.


Thankfully, the Daily Mail has an attack strategy for love, running quotes from someone called 'Abi Moujaes' on behalf of the app 'Badoo', who has the next six weeks planned out for you. Does Abi Moujaes exist? I don't really think so, no. Does anyone desperately want to fall in love, right now, over the course of a month and a half, just to have someone to go to dinner with on February 14th? Also unsure. That and other questions below:
1. HOW HORNY IS THE WORD 'CHEEKY', TO YOU
Love is a careful alchemy: sometimes it finds you, sometimes you find it, sometimes it hits you when you least suspect it, sometimes it comes at the end of a long search. Sometimes friends can know each other for years before the warmth between then jumps suddenly into the hyperzone of love. Love lies in dark crevices and exists out in the light, and it'll strike you, one time, just be patient about it. Or, also: have u thought about changing your Tinder profile to, 'I can never turn down a cheeky weekend away but equally won't ever refuse a cheeky Nandos'? Because. Maybe that would do it. Maybe that would make someone fall in love with you. Using the word "cheeky" twice in one sentence.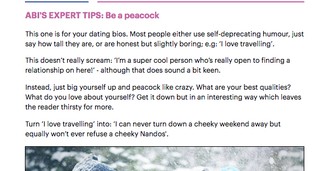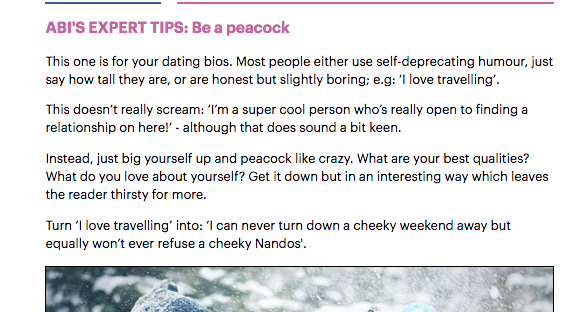 2. WHAT ELSE DO PEOPLE LIKE, WHAT ELSE DO PEOPLE LIKE… OH, RIGHT, YEAH. MINIATURE FOOD FIGHTS
First dates are very strange because they make you examine your own human behaviour, behaviour that you are doing constantly without ever really noticing it. On a first date you have to finally, for once, assess yourself from the position of a third-party, whom you want to fuck, which suddenly makes you hyper-aware of every tic and fault that is your "personality". So for example I say "sick" a lot and very sincerely talk about how many Twitter followers I have. I know this. I know this about myself. That is my burden. I have to deal with this more than you do. The only way we can hide our faults is by knowing them intimately.
Have you, though — bear with me! — have you ever considered bringing in a few, fun, new behaviours, ones that mask the horror of who you truly are and also communicate what a fun and carefree person you are, you are very fun though aren't you, and random, and impulsive and fun, and for example would never plan ahead of a first date to, say, throw a small amount of food at your date in a playful way in the form of a premeditated flirtatious food fight. I'm serious about this: if I'm on a first date with someone and they throw any food at me, I'm calling the police and having them arrested. That's the behaviour of a solid gold maniac.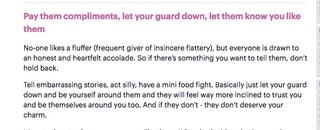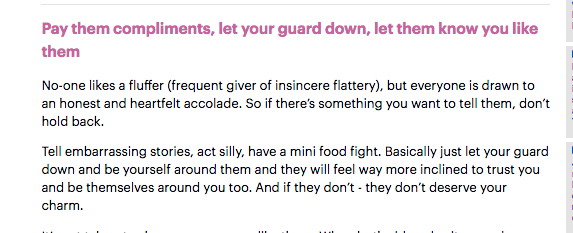 3. YEAH HEY HI: MUM? MUM IS THAT YOU? I'M BRINGING A TINDER SHAG OVER FOR DINNER, DO A LEG OF LAMB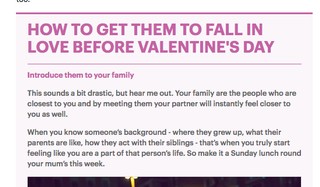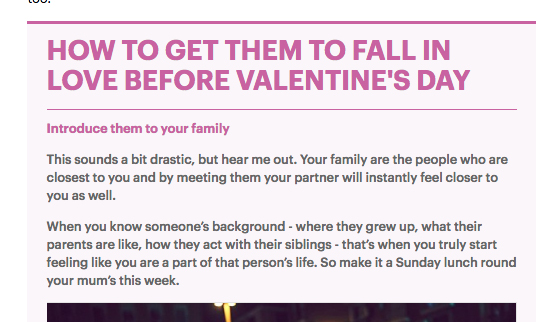 Listen I have politely retired from the having parents game and have been out of it for a while so maybe parent-having has changed in the last half decade or so but I'm not so sure taking someone you've banged twice and seen in daylight once over to your mum's house so your entire family can run the rule on them is Exactly A Good Idea this weekend, maybe do not do that, maybe that is the worst dating advice anyone in history has ever given
4. YEAH HEY WHAT'S UP I KNOW IT'S ONLY OUR FOURTH DATE BUT I GOT YOU A PRESENT: IT'S AN ENTIRE FUCKIN DILDO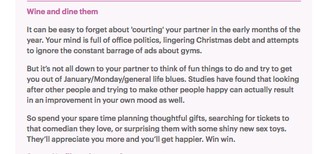 "Babe?"
"Yeah."
" Babe?"
"Yeah."
"You okay? You just seem a littl—"
"No, it's fine. It's fine. I'm thinking about office politics."
"— a little, like, not in the moment."
"No it's fine it's just I'm thinking about gym adverts. You know how it is. Keep going, you can keep going. You can finish."
"…"
"…"
"Listen: I got you something."
"…"
"… it's every single dildo."
5. HEY: DOES THIS DATING EXPERT ACTUALLY EXIST?
Listen I know we've all made a new year's resolution to "disconnect more" this year and we've all installed a special app that's supposed to reduce our daily screentime (you read that thing about blue light, didn't you, and now you sleep in a pit of horror, knowing always you spend the last six hours of the day relentlessly beaming sin into your head via the form of watching every single Instagram story on your feed, then refreshing, then watching all the ones that turned up since you refreshed) but it is weird, isn't it, when you Google someone's name – a quite unique name, too, I mean more unique than "John Smith" or "Becky White" or something – when you Google someone's name and they just… don't… exist… outside of the confines of these particular six to eight mad quotes about dating?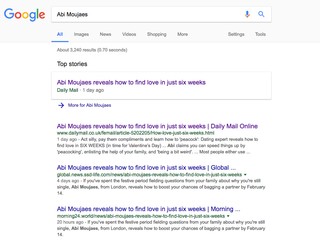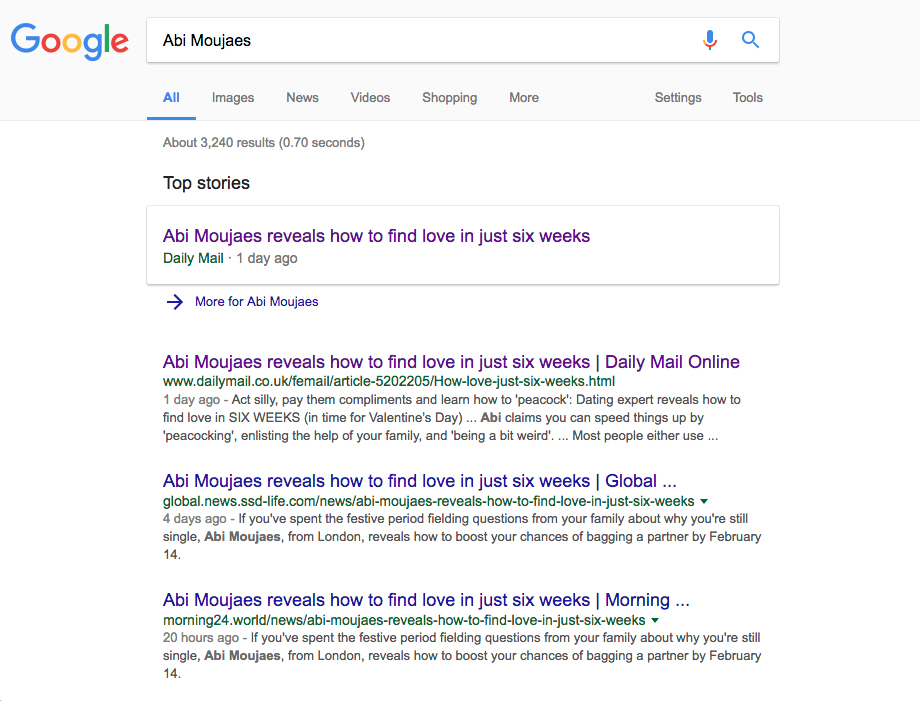 Like: no Facebook? No LinkedIn? No ill-advised, forgot-the-password-and-now-I-can't-delete-it Myspace page? Nothing? Just no mention of Abi Moujaes at all?
So does Abi Moujaes even exist?
If Abi Moujaes doesn't exist, who is telling us, madly, to present them with a dild at our mum's house in an effort to make them fall in love with us?
Did an algorithm just tell us to initiate a food fight on a first date?
Did a harem of copywriters come together and, via the power of multiple brains, pitch the Tinder bio, "I can never turn down a cheeky weekend away but equally won't ever refuse a cheeky Nando's"?
Is Abi Moujaes fake news? Is the concept of love fake news? What's news anymore? What's love? What's anything? We're all alone, aren't we Fundamentally. Internally. When we die, we die alone. Fleeting little grasps at love as instructed by a robot will not help that. We are still just skeletons wrapped in flesh. The only life we know is our own. We can, never, truly and deeply connect with another person. Throw the sausage roll. Change the Tinder bio. Buy the love egg. Get your mum to put a roast on. None of it matters. Happy New Year.
CHEERFUL CORRECTION: Happy to concede that Abi Moujaes is the pseudonym of Abbie Moujaes, who has just let us know that she does actually exist