Toby Young stepped down from his appointment to the board of the Office for Students this morning, after the internet pointed out his history of sexist comments, his advocacy of breeding stupidity out of the gene pool, his disdain for the accessibility of schools for disabled children and his apparent obsession with boobs. Even defences from two separate Johnson brothers – Boris and Jo – couldn't save him. It looks like being performatively boorish over a number of years as a career choice may actually be a barrier to involvement in serious public work.
In his blog on the Spectator, Young said that "some of the things I said before I got involved in education, when I was a journalistic provocateur, were either ill-judged or just plain wrong – and I unreservedly apologise". That's one way of describing what a group of Cambridge academics described in an open letter as the career of "a serial purveyor of misogynist, homophobic, racist and able-ist commentary".
Young explained in his resignation blog that his appointment had become a "distraction" from the good work of the Office for Students. In a way, he's not wrong. That same group of Cambridge academics noted, while they were laying into the Toadmeister, "(For the moment we will set aside our scepticism regarding the creation of the OfS)"
Why's that then?
The OfS is supposed to regulate the market for education in the same way Ofwat regulates your water supplier and Ofcom keeps tabs on your phone provider. Jo Johnson, the universities minister, has said the OfS "will rightfully put the interests of students at the heart of regulation and play a pivotal role in reforming one of our nation's greatest assets – the higher education sector". In other words, it'll be instrumental in the government's attempts to further marketise education and turn campuses into great big pound signs. The pursuit of knowledge, a noble goal that improves society and gives us the freedom to consider the questions at the very core of... nope, let's spin our employability statistics and rip off some foreign students.
That would explain the rest of the board, which is mostly a cross section of Oxbridge alumni now involved in the corporate management of universities or the business of education, and with a smattering of straight-up business types. Only one actual student is represented.
The board is supposed to hold universities to account over issues such as vice-chancellor pay. That's despite the fact the board includes Prof. Stephen West, the fat-cat vice-chancellor of Bristol UWE, who was paid £315,269 last year, and Prof Carl Lygo, the founding vice-chancellor of Britain's first for-profit university, who earned a whopping £738,000 in one year. Toby Young was just one of many dubious members of a board, which, in an ideal world, would probably be abolished.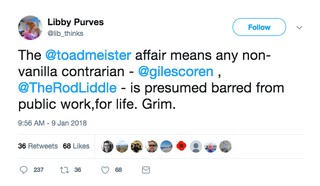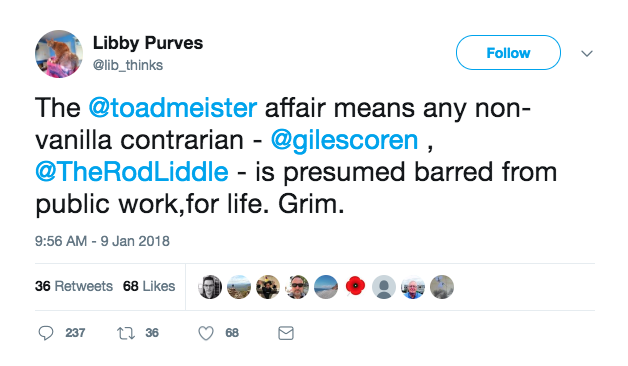 Meanwhile, former Times columnist Libby Purves is left looking on in horror at a world in which Rod Liddle can't be gender equality Tsar, and Giles Coren can't take his rightful place on some sort of Quango about the body image of chubby kids. What next? Will Jeremy Clarkson be somehow "disqualified" from an important Climate Change brief by the Political Correctness Brigade?