Casual Fridays: The Legacy of Australian Hooligan Culture
"Skies turn red, can't buy a flare? Rob a boat instead."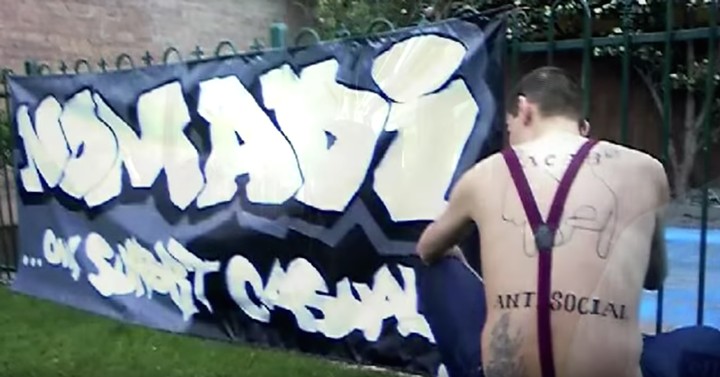 Photos Supplied
"Sex, drugs, the casual way—come on cunts it's football day!" was the anthem rocking through the North Terrace of the A-League grandstands. The chorus was led by the hooligan provocateur, part-time Grime artist, and full-on ambassador of the industrial Westside: Hosper The Horrorble.
Hosper had actually written the song. According to him, he'd archived the legacy of Australian casual culture in the form of a grime track, a tribute to a scene that saved him from the drug polluted void of suburbia.
But who are the casuals? Well, to us "shirts" or civilians, they're just football hooligans.
The whole thing started in the late 70s, when football hooliganism was bred in the terraces of the English Football League. Every team had a crew of casually dressed supporters who defended the honour of their club through brawls and riots. Some say Liverpool FC started it all by dominating Europe throughout the late 70s—to the point where their touring fan base swapped club jerseys with high-fashion Italian threads, creating a smart but aggressive aesthetic. And in turn, other clubs began responding with their own high-fashion look, including the Perry boys who represented Manchester Uniter in Fred Perry polos, Adidas sneakers, and Beach Boys haircuts. Today it's got to the point where the brands have a look that represents casuals all over the world, and brands like Sergio Tacchini, CP Company, and Stone Island have become the dominant uniforms.
This designer-disguise allowed crews of casuals to infiltrate the stands of rival teams and bypass wary bouncers into pubs where they've previously been banned. These smartly dressed lads then disrupt games and pub crowds by exploding into riots, fueled by an attitude that straddles the amphetamine-fuelled raves of the Mods and the anarchy of the skinheads.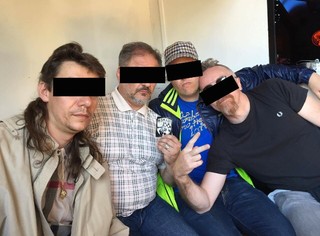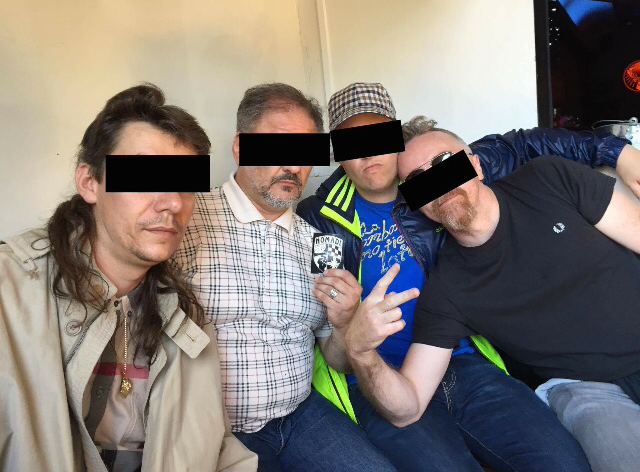 Here in Australia, our Casual scene is heavily inspired by that of the UK's, but with one key difference. While the Brits have adopted a far-right stance under the banner Casuals United, the community here remains culturally inclusive, reserving their hatred and violence for the out-of-state crews. But this hasn't exactly placated the police, who in 2014 began cracking down with a task force to target crews and arrest ringleaders.
Naturally, the scene has suffered a lot since the Police and A-League began disrupting the decadent spectacle of the grandstands. So we sat down with Hosper, a member of the infamous Nomadi crew and a well-respected Australian grime artist, to talk about the golden past.
VICE: So man, how'd you get involved in the football scene?
Hosper The Horrorble: I was always into football man, my cousins were sick players. Back then I watched the NSL, which was the national league in Australia, and I went for Preston Macedonia. I wasn't allowed to go to games because there was always trouble, so my dad wouldn't let me.
Years later, I was in a fucked place in my life. I got back in contact with a close friend who told me he was into the A-league and involved with the North Terrace. I was in a bad way and he said I should start getting involved. The first game I went to, I met him at Southern Cross station and he took me to a bar where he introduced me to the boys who would become the original members of Nomadi.
I have an addictive personality so I was hooked after that first game. Most of the time I didn't even know who we were playing or even care. Just being with the guys was enough to get me pumped up blasted through the whole weekend.
What was match day like for a Melbourne casual?
If I didn't get on it the night before, my routine before match day was usually to wake up and maybe watch an Ultra DVD, while I thought of what outfit to wear. If I was out the night before I'd go to a mate's house and get on it, start the day with about five to 10 lines [of cocaine] and a cold beer. I'm not trying to glorify it but that's how it was for me anyway, football made drugs fun again.
What were some of the best memories?
I got locked up in Shepparton years ago, and when they let me out they told me a car would follow us three towns out so we didn't stop at a bottle shop. It was funny because they actually did it.
Once we were driving to Sydney and my mate copped two speeding fines on the way up. We almost got to Sydney when suddenly pulled over and said he had to do something. Everyone jumped out thinking he was pissed off about the fines but he opened his boot and unzipped a bag to reveal a shoe box with brand new Adidas trainers. He put the shoes on and said, "Okay, now I'm ready." We all laughed and continued on our way. It might not be funny to most people but when you're about trainers, that's how serious it is.
Traveling interstate with mates can get weird.
Yeah! One time in the TV room at a hostel, one of my close mates told everyone to go in because he had a movie we could watch at about two in the morning. By the time I got there I could hear rooting, I tripped out and thought, "What the fuck is that?" But they were all in there eating chips, watching a porno, even the backpackers who were up didn't flinch. I remember a couple walking in, seeing everybody watching porn, and walking straight back out.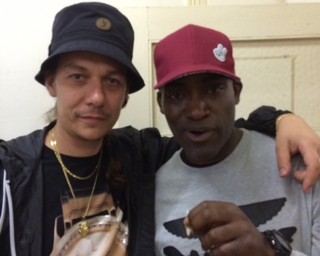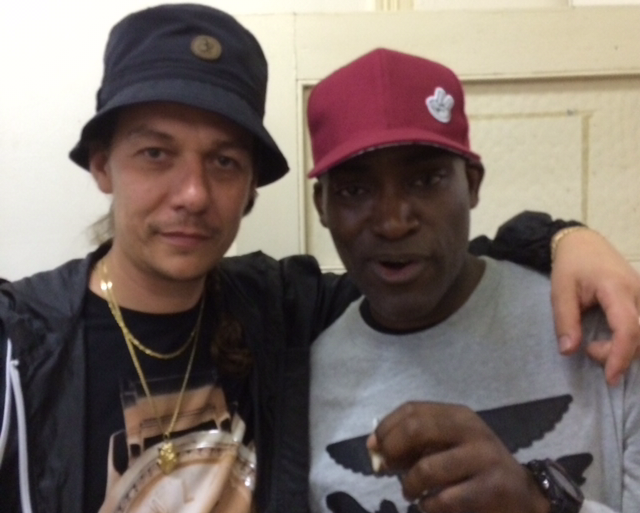 What drew you to casual culture?
I loved everything about it. I've always loved clothes too. Just being in a crew of different nationalities, good people having a laugh, it really drew me into the scene. I didn't really have that much gear [clothes] back then but that didn't stop me from standing out. It was different in Australia, back in the day—us wogs wore Umbro, Lotto, and Fila. Every country had their own style, but nowadays everyone in the scene reps the same brands.
One time we were leaving the match and a Scottish guy wearing board shorts with a Rip Curl singlet was trying to bag me about my Burberry clothes. He kept saying they were fake and from Bali. I turned around and said, "How are the waves in Aberdeen going you fucking ugly cunt?" Even his mates laughed and he shut his mouth.
Tell us about Nomadi and what the crew meant to you?
Nomadi meant the world to me. It still does. My close friend who I mention in casual Fridays got me out and about again. I made a lot of close friends, my mate's son even calls me his uncle. The kids were seeing the way we were acting-up in the culture, some might say that's a bad thing but it's family at the end of the day. That's what people don't understand, it's a bond between people who come together when it counts. You're not this, you're not that, you're Melbourne, you're Nomadi. But it's just friends having a ball.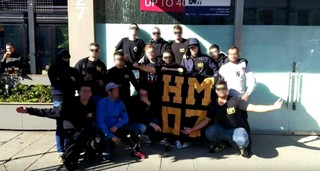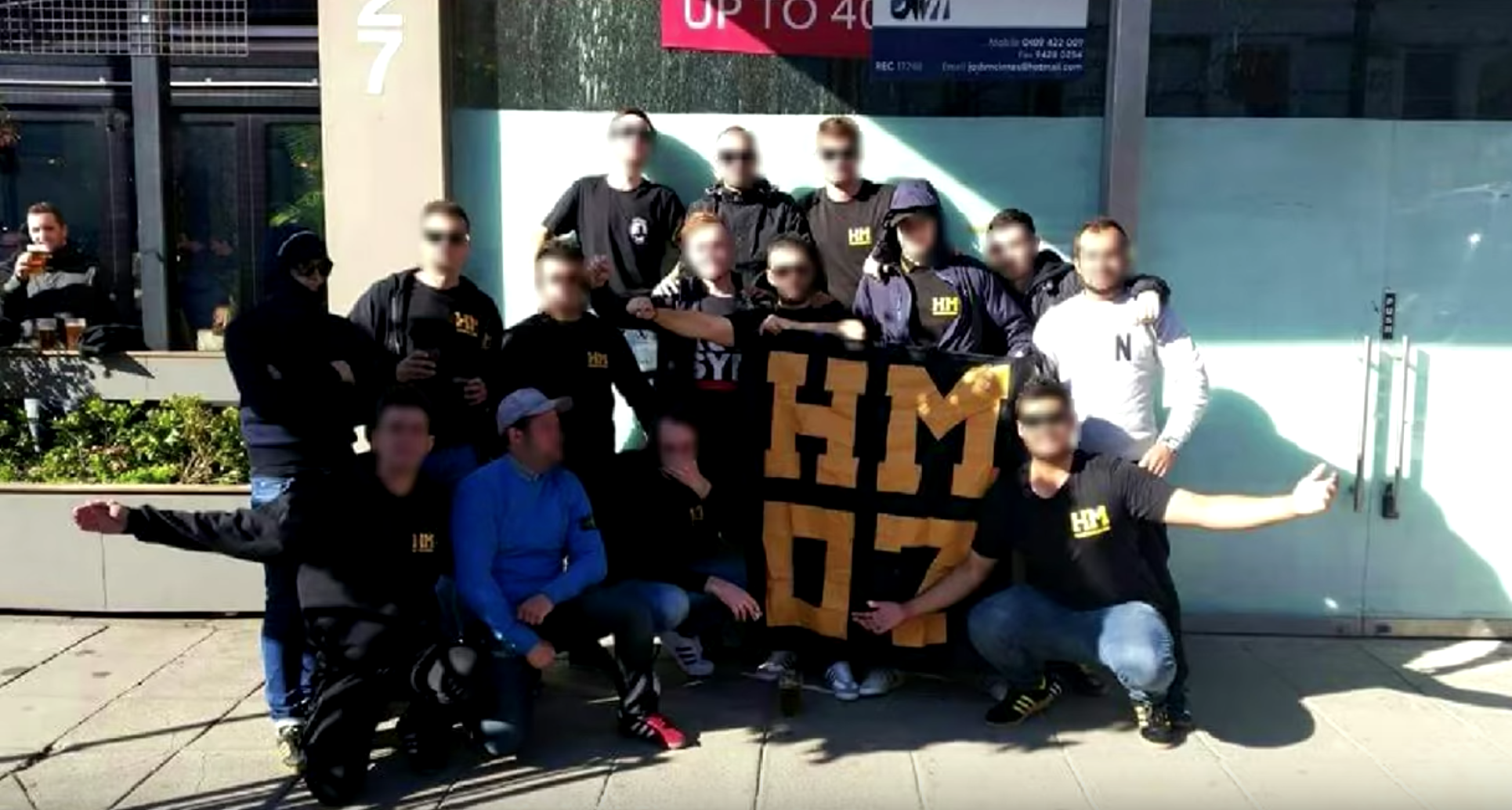 How big was the scene, were there many different crews?
I think crews were started more as friends coming together, and then if people were looking for a fight, you had to protect yourself, your mates, and your city. At the start of my clip that footage of the news reporters, the Melbourne boys just went in Sydney's end and did what they did. It was just like that back then.
I can't really comment on how it works now, but technology makes it easier to set things up. One of my mates got dumped by his crew for being too crazy and we took him in straight away. People talk about how it's ruined the game, but it's not like there's violence all the time. You need people to protect the city you live in I guess. I'm not condoning violence at football but it's crews against crews. It's not like they go and attack shirts [civilians] who aren't involved in the scene.
The culture was different back then. Most of the fighting happened through chance meetings on the streets with people who were looking for it. It's much more hectic now. Back then it was only Melbourne, Sydney, and Adelaide who had fights. I don't know what names they went under or anything like that, usually someone would get phone numbers and call up crews for meetings.
How violent did it get?
It was just working class people protecting their cities. Nomadi wasn't formed on violence, the violence just happened. If there are people mobbing up to come to your city to get rowdy you have to show them that you mean business. Fighting at football has been going on for years man, back in the NSL days it was all about nationality. The teams had their nationality in the name back then, it was hectic. Even the players notice firms that fight other firms. I'm out of the scene now so I can comment on how it is but it only really happened when provoked. Some of the best times I've ever had at the football were when there was no violence at all, but people don't understand that.
Why did you feel like you needed to make a song?
One of my best mates said that I put 10 years into a song that's two and a half minutes long. I guess he was right. Back in the day, my mate Jaff showed me a song by Macedonian rapper Volk Makedonski and I was amped that there was a wog making good rap music. Many things in life got in the way of my progression in music back then, mostly drugs.
But when I got into Football culture, I wanted to do a song about it because it's who I am and it's what I was. When I put the beat together, I just came out with the opening hook straight away. Some people hate it but so much more love it, even people from other crews. A guy from West Sydney [crew] tagged me in a Facebook post saying, "Shouts to my missus, shouts to my daughter," after his wife gave birth to a baby girl. Heaps of people from overseas have reached out loving the track and our style down here.
Why do you think the fashion style was and still is so important?
It's a working-class thing man, they started wearing nice clothes in the 80s to fool the cops because a lot of football hooligans were skinheads. But black or white, skin colour didn't matter, they all listened to rude boy music and reggae back before all that Nazi shit. The casual movement spread and history was made; clothes, beer and drugs is what I spent my money on.
A few people have told me you were the first to rock Ellesse in Melbourne.
Oh man, I repped it hard! My missus rocked it too. Everyone had their unique styles but I was the Ellesse man for ages. Fashion is a big thing in football culture and in the grime scene as well. Swapping clothes with mates is what it's all about. I traded clothes with Fraksha and Diem; CP Company linen jackets, Paul & Shark garments, everything man.
A lot of mainstream fashion has come from casual culture. Heaps of stores now stock brands like Ellesse, Sergio, and Kappa, and a lot of rappers are in Stone Island these days. I'm obsessed because we couldn't afford clothes when I was younger, so we would have to shoplift if we wanted to be dressed in brands like that. I even gear up if I'm going to buy milk down the road. You never know who you'll bump into, maybe an enemy who stabbed you in the back who's now schmittsed on the pipe.
I remember getting kicked out of a game once and the coppers said, "I bet you're shattered now that you've wasted money on a ticket!" I was like, "Nah I used my mate's membership, can you please stop scrunching my Lacoste jumper?"
Follow Mahmood on Instagram
This article originally appeared on VICE AU.