The concept of a sanctuary—a place that is a source of refuge, removed from the deluge of public vitriol that feels increasingly common in our society—has been a topic of great interest in recent days. College campuses, major metropolitan cities, churches, and even entire counties have all begun to label themselves "safe zones" and "sanctuaries," offering protection to any who seek it.
Now, on the day of the highly polarising inauguration of President-elect Donald Trump, we can add restaurants to that list.
Sanctuary Restaurants is a nationwide initiative offering resources to restaurants, enabling them to support diners and restaurant employees who find themselves targeted or impacted by harassment, bigotry, or xenophobia. Launched earlier this month by Restaurant Opportunities Centers United (ROC United), a restaurant worker advocacy group, and Presente.org, a Latinx social justice organisation, Sanctuary Restaurants calls itself a "movement"—one with a mandate to create a world "free from hate, discrimination, and harassment."
Currently comprised of 64 restaurants across the US, Sanctuary Restaurants brings together food businesses that "do not allow any harassment of any individual based on immigrant/refugee status, race, religion, gender, or sexual orientation to occur in their restaurant." After signing up for the project, restaurants are told to place a sign in their front window that reads, "SANCTUARY RESTAURANTS: A Place At the Table for Everyone."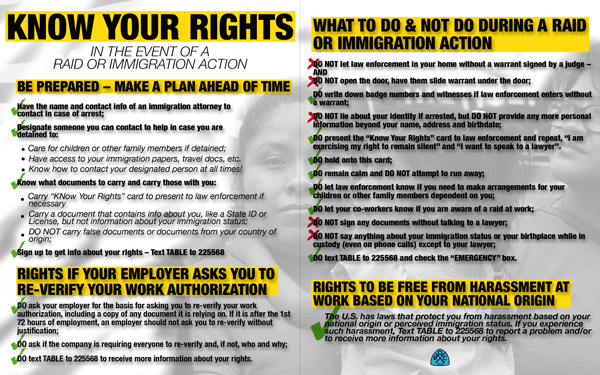 GYST, Minneapolis's first "fermentation bar" known for its wine and cheese, is representative of the early adopters of the movement and its principles. Kylene Guse, co-owner and producer at the restaurant, told MUNCHIES she signed on because, "We consider ourselves a 'progressive restaurant group,' meaning that we align our hospitality with policies that create justice and equality in the restaurant industry for everyone."
Similarly, Tracy Singleton of the Birchwood Cafe in Minneapolis, Minnesota said that she sees the Sanctuary Restaurant movement in a larger context. "I signed on because I see the Sanctuary Restaurants movement as an extension of our mission to connect people to where our food comes from; I believe that awareness of how our food comes to us reveals that we are all connected."
Restaurants are becoming more socially conscious, not just about the sustainability of their food, but also about other issues. Singleton says that being a designated Sanctuary Restaurant "also aligns with our social justice values and the other issues we've taken public stands on over the years: marriage equality, voter rights, GMO Labeling, Black Lives Matter, Hate Has No Business Here, and most recently, Standing Rock."
Andrew Tarlow of Diner, Marlow & Sons, Achilles Heel, She Wolf Bakery, and other eateries in New York, agrees. "Our view of sustainability has broadened, it's not just about food sourcing. To be a sustainable business means committing to employment practices that sustain our community," he told MUNCHIES.
You may wonder about the need for restaurants that function as sanctuaries in major cities that swung Democratic and were bastions of Hillary Clinton supporters. But consider a report by the Southern Poverty Law Center, which states that the ten days following the election saw 867 documented cases of "hate incidents." Hell, even French bistros in Brooklyn and upscale steakhouses in Tribeca have been the sites of post-election harassment.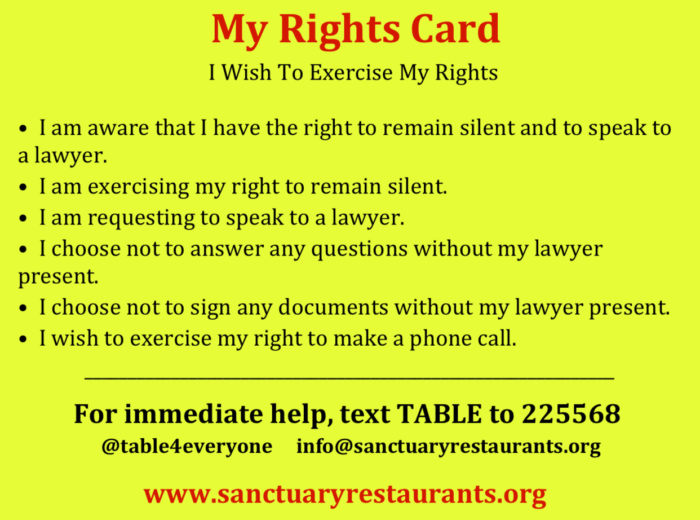 And even in these traditionally Democratic-voting cities, public response to the project has been mixed. For example, Singleton of Birchwood Cafe in Minneapolis said that although her loyal customers are very supportive, "haters are gonna hate." She said, "We had our 'All Welcome' sign in our window [and it] has produced so much more negative attention, harassing phone calls, tweets, emails, and Facebook posts than we've ever experienced before." Singleton attributes this vitriol to the election: "President elect Trump's hateful rhetoric and threats directed at immigrants, GLBTQ, Muslims, people of colour, and women was the impetus for this project and the negativity and harassment we experienced last weekend are the unfortunate, yet very real result of how normalising hate speech emboldens people to be more openly hateful."
Fiore Tedesco of L'Oca d'Oro in Austin, Texas has had a similar experience. "We got some positive feedback, and then all the negative comments were like, 'great, now I know who you are and where to throw the brick.' And threats, but not veiled threats, from people who feel like that status is sort of acutely stating that we are housing illegal immigrants." Although Tedesco is concerned about xenophobic attitudes toward immigrant workers, that is not what is driving his restaurant's membership in the Sanctuary organisation. "It's more of a response to the whole system and what it feels like this election is representing: a smaller voice for women, a smaller voice for minorities, and sort of a stronger voice for fear-mongering."
According to Saru Jayaraman, the co-founder and co-director of Restaurant Opportunities Center United—the group authored an open letter to Trump, asking him to help alleviate fears of deportation and harassment for immigrant restaurant workers—Sanctuary Restaurants will thrive through the efforts of supportive restaurant customers. "We're reaching out to consumers all over the country to help us encourage more restaurants to sign on. Consumers should let restaurants know that we can help drive business their way if they sign on," Jayaraman told us.
Dan Swenson-Klatt, the owner of the Minneapolis-based Butter Bakery Cafe, told MUNCHIES, "Although I, myself, have not had staff harassed about their 'status' in this country, I live in a part of Minneapolis that has both a large Latino and Somali population and welcome them as customers daily. When the stories of harassment and hate were shared, there was a consensus that we needed to speak out specifically as an industry. It's really not a difficult choice for me since the values my restaurant is built on are these: community, welcome, and respect."
Swenson-Klatt believes almost every American should be able to relate to the fear of immigrants and the marginalised in the current climate. "I know that my great grandparents entered this country as immigrants from Sweden and Finland, and felt the sting of bias and hate. Yet they were comforted and supported by people who recognised their worth as humans, their ability to contribute to our country, and who could see beyond the differences in language and culture to embrace them and help them enter their communities."
Tedesco of L'Oca d'Oro summed up the feelings of many of the restaurateurs in the Sanctuary movement. "It feels like a dark ages with social issues, so do we accept that or do we fight? Our population, we don't fight enough. We have to fight for what we believe in."
Editor's note: One interview used in this article was conducted by Brad Cohen.