Good Barbecue Is a Lot Like A One-Night Stand
When you open up that lid and smell those scents and see that meat… It's sexual. It's you, it's the fire, it's the cooker, and it's the meat.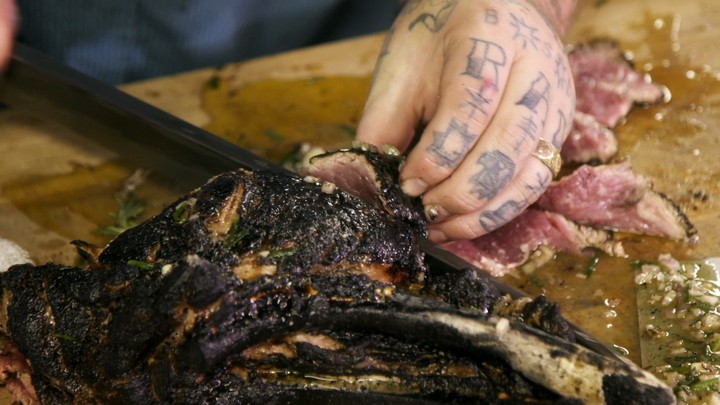 When you open up the lid to a barbecue pit and see some glistening brisket inside, it feels like those nights when you've tried to get that girl or guy back to your house from the bar. You've spent all night trying to whittle that one down to come home with you. And when they finally do, you take them back to your place, and it's everything you've ever dreamed of. Barbecue can be hit or miss like lovers at the bar, but that's what I love about it. When you open up that lid and smell those scents and see that meat… It's sexual. It's you, it's the fire, it's the cooker, and it's the meat. With BBQ, you can't fake it. And when Adam Perry Lang is barbecuing, I know I'm in good hands. Whatever he's pulling out of his smoker is something worth taking a bite out of.
I paid him a visit in Los Angeles on the new season of Dead Set on Life because he's like a brother to me. He's a Brooklyn dude making Texas-style barbecue in Los Angeles, but he learned that Texas-style barbecue in Texas. He's a real one! We have a really good bond, and I love watching that guy cook. A few years ago, we did an event together in the back lot at the Jimmy Kimmel Show and he made a ton of fucking pork ribs. I thought they were the best pork ribs I'd ever had in my life, and he didn't even serve them because he didn't like them. So many people would just be like, "Oh, these are great." But he ate them and was like, "No… no. They're not there. They're not on my level. They're not on brand." When I saw that, I thought, This dude's for real.
I think that Adam is a little bit of a perfectionist. He likes to use the best product that he can and he has 100 percent integrity for his food. He's not gonna give you something that he doesn't back 100 percent. I think his ethos for using the best products is just his vibe. It's who he is. I love him so much.
When I showed up to his spot, he showed me his
waygu
brisket—it's not A5 waygu, but it's premium meat. He's just a salt and pepper guy with the meat, but the way he makes it, it's all about that slow, slow rendering.
And once you wrap up the meat, it becomes crazy tender, or as Adam calls it: "mayonnaise-y."
Everything breaks down and melds together. You wrap it and allow it to steam before you cut into it, and it's Adam's wrapping technique that really steams the meat and warms it through, helping to break down all the collagen and that kind of shit.
I've always talked about cooking meat in a forge, because it's insane and no one's really done that, so Adam made my dreams come true. We took a cote de boeuf, a big bone-in ribeye, about 50 ounces. And once again, watching Adam, I would never think to do the things that he does. He seasoned the cutting board, and then had this wooden mallet that looked like a billy club, and he pounded the big steak with it. The fats got torn, and it really gave it different crevices and arches and creases, all these things that made a huge difference while cooking the meat. It's all about those little valleys and pockets of fat and little charred bits.
The whole thing was charred as fuck, because it went into a fully-heated forge. We almost set the garage on fire. We put it in, and we were all watching the flames reach the rafters like "Wow, this is crazy!" We kept pulling it in and out of the forge, but then he did this technique that blew my mind: the plunge. So we had this beautiful, scorched, charred, blackened beef, and he made a nice melted butter that he mixed with garlic, chilies, and herbs, and he pulled the piping hot meat from the forge and did the same thing you would do with a knife: he plunged it into the butter bath, as if it were a hot blade into water. I think that butter plunge sort of took out the bitterness of the carbon right away, and then there was this crust, and the butter soaked into it, and it had all those flavors. The end result was something we'd never seen or tasted before, and it was definitely a showstopper.
You put this piece of meat into a forge and flames spit out as if it were Satan's asshole.
It was crazy. The flames were tickling the rafters!
---
New episodes of Dead Set on Life air on VICELAND on Thursdays at 10:30 PM. Find out how to watch here. And if you're hungry for more Matty in the interim, check out our Dead Set on Life recipe collection.