Halil Altindere. Wonderland. 2013. HD video: color/sound. Courtesy the artist and Pilot Galeri, Istanbul.
Zero Tolerance, which opened at MoMA PS1 last month, explores how artists can respond to and confront repressive politics. The show takes its name from the 1990's policy of 'zero tolerance' that colored, and often strained, New York City police-civilian relations.
Some of the included works were created locally, like the advocacy group ACT UP's public service ads that addressed the devastation of HIV head on in a time when the virus was not openly discussed in the US. Other pieces consider political situations unfolding elsewhere—for example, in the Middle East and in Russia, the latter represented in Zero Tolerance by the now-infamous group Pussy Riot. Works by artists like Joseph Beuys and Yoko Ono anchor the exhibit, offering insight into how art has been used to fuel protest and spur political action in decades past.
The Creators Project talked to MoMA PS1 Director and Zero Tolerance curator Klaus Biesenbach by email about his inspirations and the connection between protest and performance art.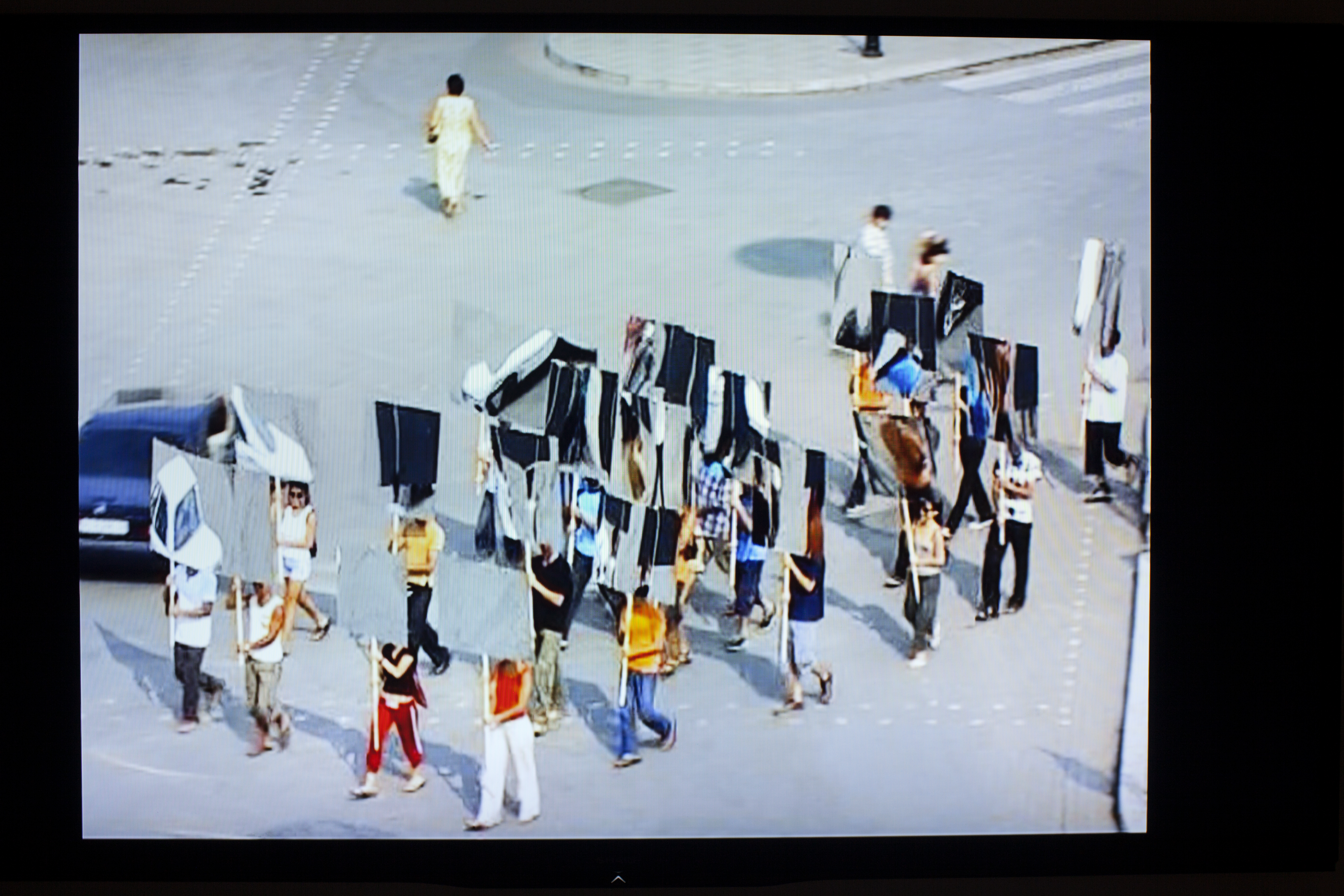 The Creators Project: How did you select the participating artists, and what different practices do their pieces represent?
Klaus Biesenbach: In general, I am always looking for artists that can capture the most relevant content in the most innovative and most reduced form. I did not go away from this, but I made sure that every single work in Zero Tolerance is really dealing with a march, a parade, a protest, a demonstration, or any public artistic action that takes a political stance [and] is engaged in pressing issues in their mostly urban context.
Why did you decide to title the show Zero Tolerance? Was your choice to focus on this topic at all inspired by the New York City's somewhat recent mayoral election?
I felt it was very important to not be finger pointing but to start with the here and now and look at New York City. The choice for Zero Tolerance was not inspired by the city's recent mayoral elections, but I did remember the times of zero-tolerance policies in the city and how it was 'cleaning it up.' I also remember the ACT UP times where the AIDS/HIV crisis was so present in New York City that it really touched everybody's daily life and thinking.
Adding on to the last question, why did you choose this specific moment to reflect on art and political activism?
Basically watching the news every day, reading the papers, and being online made me want to do this show for the last three years. It feels like democracy is on the decline and [increasingly] you hear about liberties being cut or diminished. Recent draconian laws in Eastern Europe, the development in countries from China to Egypt to Istanbul questions if civil liberties and artistic freedom is increasing. It feels as if life in cities like Berlin and New York, the two cities I spend most of my life in, are islands in a vast ocean […] all of the freedom we have in these two big cities is not necessarily a given.
Coming from Germany, especially Berlin, which was very tolerant in the 1920's and then went all the way down to the terrible Nazi terror where art was declared degenerate, homosexuals ended up in concentration camps, and minorities were prosecuted… and all of this was leading to the one of the low points in human civilization. Especially as a German, I have to be vigilant and make sure that wherever I see a development that does not respect human rights, to speak out. I am very much inspired by Joseph Beuys who declared that just being a citizen means to be political.
How can festivity and celebration, or, to use an older notion, carnival be subversive?
So there is a beautiful and very important work by Lorraine O' Grady on the African American parade in Harlem from the 1980s. She just brought this gigantic golden frame on a carnival float, drove it through the city and gave out smaller golden frames to frame not only the marchers, but also to the policemen and bystanders. This work encouraged pride—very affirmative, very beautiful as a symbol, making everybody a photo-op long time before Instagram.
Do you feel that there is a relationship between performance art and protest?
In performance art, the artists make their own bodies and their own actions public, make their own bodies and their own actions object and subject, matter and material of their art, and they are therefore very vulnerable. Going back to Joseph Beuys, any action is political, as you have to take on all responsibilities. You could say that voting and which products you buy is already very political. Every act of shopping, every act of picking a means of transport, is political as it has implications in larger society. So if you go a step further and you do something very public that is of no direct productive use like baking bread, or producing a car, but just standing somewhere for hours, or sitting in the atrium of MoMA for weeks, it is immediately political as it is considered a disruption, as it is considered that it makes the viewer look at the world differently.
There are political parades, there are big marches. That's what an army parade is, that's what a victory parade is. I have focused on pride parades in Zero Tolerance, as I think they are incredibly political, incredibly thought-provoking, but unfortunately they are often just as provoking for parts of society that are not as tolerant as one wishes.
You led a conversation with members of Pussy Riot as part of the show. Would you please speak a bit to what you feel their importance has been in promoting freedom worldwide?
Members of Pussy Riot were also members of the Russian artist collective VOINA. As VOINA, Masha and Nadya [also members of Pussy Riot] kissed police women in the Russian subway, which, of course, is a hugely subversive act in a homophobic society. I have followed the activities of VOINA for years. VOINA was in St. Petersburg and Moscow and some of the VOINA members are now with Pussy Riot.
Pussy Riot did their notorious, world famous performance at the Cathedral of Christ the Savior and they were only prosecuted a week later. It needed a week of aggravation from the political side to bring them to this point. The sheer fact of what they went through makes them exemplary artists. Just the uniqueness of them having been artists that were put on trial is a historical fact that you cannot ignore. I applaud their incredible courage to stay in Russia. They would rather see Putin leave than to leave themselves, as artists in the country they love and whose culture they were brought up with.
Zero Tolerance is on view at MoMA PS1 until March 8, 2015
Related:
_[Video] Hy-Fi: The Living's Local, Sustainable, 10,000 Brick Mushroom Tower at MoMA PS1_