Love Island is on again, did you know? Because we have nothing better to do than watch it fervently every single night, every Monday from today, VICE staff will separate the marvellous from the muggy, in this, the Love Island Power Ranking.
Time, it is said, is an abstract and malleable concept, and I have a theory that there is no phenomenon which proves this better than the duration of one week in the Love Island villa.
Though the ITV2 show's fourth season has only been on for seven days, it feels like we have never known life without it. It has already caused a national moral panic, via the revelation that this year more people applied for a place on the show – an eight week-long televised holiday with models – than applied to attend Oxford and Cambridge universities (to which I say: Jonathan-from-Queer-Eye-can-you-believe.gif), and it's so ubiquitous that even George Osborne has tweeted about watching it, leading the rest of us to momentarily wonder if we shouldn't just set our tellies alight and throw them out the nearest window.
But, ultimately, not even Gideon's involvement could keep us away: we are powerless in the thrall of its genius pacing, and one week in Love Island time is an entire life lived, every human emotion played out by characters in fluorescent swimwear. Already, couplings have been made and broken, and, crucially, the villa-dwellers have slipped into their roles – heroes, villains, big oily snakes – with ease. Naturally, the contestants who occupy these positions in the villa become the most watchable, the most important, while others – the "just here for a good time!" types, who have somehow missed the memo that Love Island is a direct path to 1M+ Insta followers and 10-percent-off Boohoo codes with your name in them if you stay in there long enough – fade into the background.
To that end, here are this week's winners and losers, the sorts separated from the sort-ofs. Here is the definitive Love Island Week One power ranking.
Adam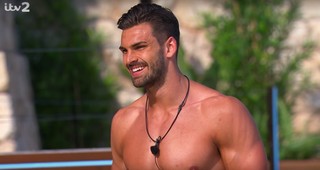 Adam, whipping up eggs like IRL Gaston. Adam, staring directly into the confessional room camera like it is a soul he is about to feed on. Adam, the phrase "look at the fucking size of us" made flesh. Adam: the most powerful person currently residing in the Love Island villa.
He tops this Week One ranking simply because he has so far caused the most chaos: in one week, he's torn apart a coupling, sent a "u up???" text and officially coupled up with two different women, resulting in one of them (the very popular Kendall, a sweet, recently heartbroken woman I identify with, because, like me, she looks like she ought to be wearing one of those hi-vis "NERVOUS" jackets people put on dogs with anxiety) being dumped from the island. Adam, our Lord Voldemort on creatine, did not give one fuck. The Big Oily Snake cares only to slither another day – though, with the nice-but-thus-far-boring Rosie by his side, his position might slip.
Capitalism
Nothing is safe from the cosh under which our sorry existences play out, and the only reason anyone goes on Love Island is to get rich – or, if they're really lucky, to get their own eight-episode deal for an ITVBe reality show. But this year, with Missguided officially dressing the cast, the whole thing feels a bit like an extended advertorial (though I'm willing to accept that my mild outrage at this is a bit rich, given that last year I very nearly convinced myself that buying an official Love Island personalised water bottle was a Really Good Idea).
What it comes down to is that I don't want to feel like I'm being sold to while I'm watching the hot people crying, you see. Is that so wrong? At the same time, however, I feel strongly that I would cop Dani Dyer's crochet dress as, like, a cute, beachy cover-up?? So: I'm probably not to be trusted here.
Dani Dyer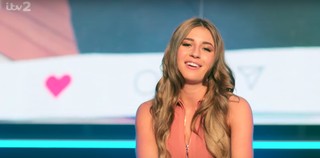 Speaking of, Dani Dyer is an angel of purity and light. I would prostrate myself across the M6 if it meant she would never come to any harm, and I am not the only one. In one week she has become the nation's sweetheart, which is the best way to be powerful on Love Island, because it's an easy position to maintain, unless you do something extremely nasty or rogue – which, as we know, Dani Dyer, patron saint of Essex, is incapable of. Whenever she cries, I truly believe it means a Chow Chow puppy is being strangled somewhere. She is this year's Kem Cetinay, already a beloved personality, which is a very powerful place to be indeed.
Laura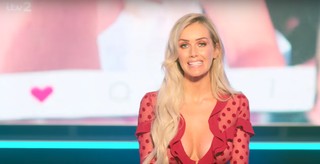 The public jury on Laura is still out, but she has assumed the fairly powerful position of Girl Who Is Good At Doing Hair, and therefore has that all-important inter-villa likeability.
Georgia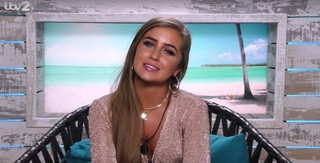 Georgia is powerful because all of the boys think she is A Sort, and, as the old adage goes: in the villa, as in life, when you are A Sort, you can get away with doing literally whatever you want. That said, I do have a hunch that she is going to cause some drama by shedding her Rainbow Fish scales and fucking Niall off for the new boy, Josh, which puts her in a precarious position.
Alex's Tops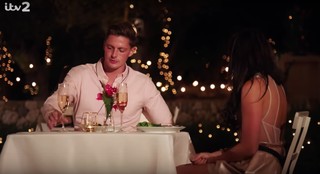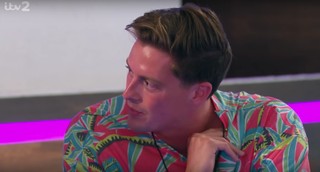 Dr Alex hasn't been parred off for a few days now, and following a Nice Chat with Samira and the possible interest of new islander Megan, he might be on a better trajectory for Week Two. If that's to continue, however, I'd like to implore him to stop wearing pink tops.
The facts are this: the man is simply too pink himself – too susceptible to the power of the sun – to wear pink. He looks, unfortunately, like a very ripped salmon. The button-down shirt – the shade of the sort of vomit you'd hurl up if you ate 20 Petit Filous in one minute – was upsetting enough, but last night he popped up in a brighter, patterned number (thanks, Missguided!) which somehow managed to make him look pinker than Alan Brazil in that photo where he looks like he's about to combust.
The shirts, they are too pink. They are overpowering the man inside them, and they must be stopped.
Eyal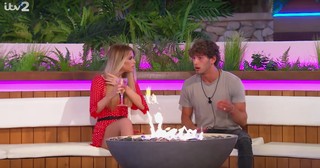 In a single week, Eyal has gone from the island's most widely-desired man to your petulant younger brother, with nobody to blame but himself. After the first episode aired he racked up the most Instagram followers out of everyone by far, because he looks like a TEFL-certified Disney prince who would gush about your "beautiful aura" and then go down on you for two solid hours. Then he chose to couple up with the most stereotypically attractive blonde, thus exposing himself as Boring.
Despite positioning himself as a new breed of man – one who is into communication, moisturising and foot stuff – picking Hayley informed us who he really is: every single gym bro who has ever appeared on Love Island repackaged as someone who knows about polyamory. In turn, Hayley – a "Sports Illustrated in the 90s"-hot model, who ruined all his chat by yelling "WHAT'S AN AURA?" – called him a "weirdo" whose breathing makes her "sick to her stomach".
For now, Eyal has been dismantled by the very person he considered to be his #clout equal, and now he's just a right swipe who plays the djembe.