There's a mural of angels ascending to heaven above Okay Kaya. While performing on a stage in The San Damiano Mission, a 100-year-old Catholic church-turned-sometimes venue in North Brooklyn, the singer stands bathed in blue light, humming out a bawdy question to a room full of her faithful fans:
Do you dance like you fuck? Or do you dance like you make love?
With it, some of the crowd noticeably withers with delight in the pews. I can't help but view the declaration of such candid words in this setting as a metaphor for the 27-year-old's best work. Within the timeless format of a pop song, she can place a blunt truth that turns the experience on its head, making it both refreshing and more relatable.
Would you come with me to get an IUD? She coos on the first line of "IUD," the lead single off her upcoming debut, Both.
Maybe, if you come with me, I will let you come in me.
This candour doesn't immediately shine through in her persona offstage, however. I learn this the afternoon before the San Damiano show, talking with the songwriter, model, and actress in her cozy (New York tongue for "tiny") Greenpoint apartment, pleasantly aglow with some springtime sun. Kaya – whose real name is Kaya Wilkins – sits perched on top of her bed, cross legged, talking in small pours, allowing her thoughts to slowly fill the glass. Her demeanour is dulcet and reflective, traits you wouldn't necessarily associate with someone who's often in front of a camera.
"I think I've always had trouble communicating," she says amid a soft smile, admitting that she's still getting the hang of interviews. "I found mediums to express what I was feeling."
Those mediums have grown steadily since her move to New York from her birthplace Norway eight years ago. In addition to her music career, which started with an Arthur Russell-inspired Soundcloud mix of her redolent vocals and has blossomed into a rep as one of the city's more honest singer-songwriters, she also has her long-time modelling gig that's recently placed her on high-profile runways around the world. Then there's her acting work, which started with a flash of brilliance in last year's Thelma, a Norwegian film about a student who struggles with her feelings for another woman (played by Kaya) and the supernatural powers that get intertwined in them.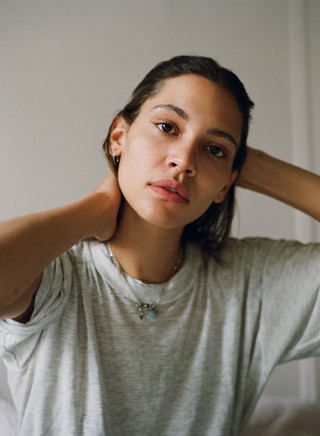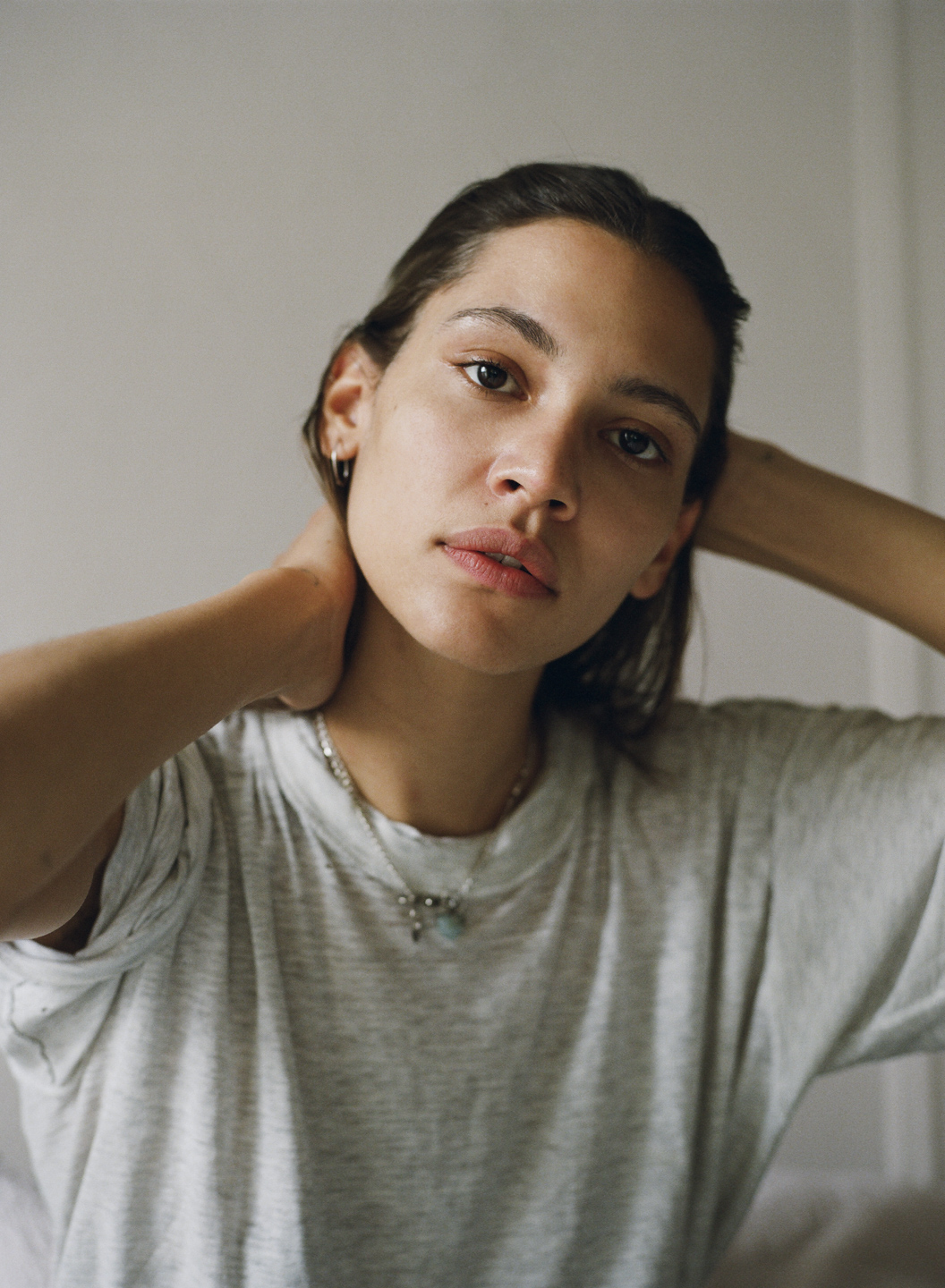 But these successes haven't necessarily come naturally to Kaya; with each new artform, she says, comes a growth period when she must discover where her identity fits into things. Whether it's flooding a church nave with placid truths, rocking "silk skunk" (a real thing, yes) in a Calvin Klein campaign, or auditioning for a role without much prior acting experience, the underlying strategy of it all is to let her personality be the catalyst for the creativity.
"I don't know how I could get away with it otherwise. I don't have the skills necessarily, but I do have me," she explains. "I'm sure of my own voice, my style. And that feels good cause I'm insecure about everything else."
Like many of us, finding her voice has been a journey for Kaya, one that can be traced back to her childhood in a small peninsula community outside of Oslo. There, in a cottage-like house only 10 minutes from the beach, she grew up with her mother and three brothers (her American father, a former marine that was stationed in Oslo at one point, raised her other two brothers in Boston). She has warm memories of summers there, swimming and playing in her mom's garden, where she would match her clothing to the purple and yellow flowers that adorned it. She found the frigid winters to be bleaker, however, and the area's homogeneous community to be problematic in relation to her ambiguity, both in identity and appearance (her mom is white and father black).
So she turned to art, at least in part inspired by her mom who worked as a proofreader by day and a painter by night and was just as likely to play Prince around the house as she was a Swedish jazz singer or Cypress Hill. Kaya would twiddle around with a guitar and sometimes play with her older brother's metal band, but her first obsession became movement after a dance instructor in high school showed her examples of famous performers who "moved funny," a descriptor she would often get in ballet classes. She realised she could use her uniqueness as an advantage, turning her small gestures, deemed awkward before, into innovative moves.

While we talk, I can see some of these gestures in her hands, which she nimbly tilts and curls through the air while describing things, like she's peeling back an invisible curtain to examine them. "I just love to feel connected...like, 'Oh someone is doing something that doesn't have as many rules,'" she says of finding her creative niche.
She planned to pursue movement into the future, even pondering going to a "modern mime school" in Paris ("I was going to be like a clown basically"). But fate intervened, and she was discovered by modeling scouts, who encouraged her to take up the profession. After a year of trying to make it in London, she moved to NYC to make more money as an e-commerce model, posing as a "shell of a human" on retail websites like Ann Taylor's LOFT.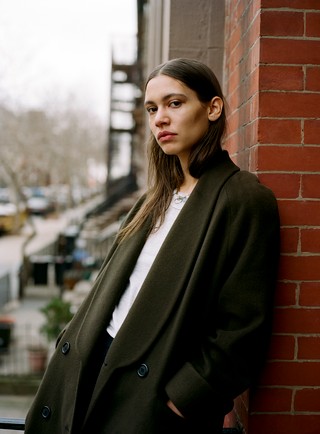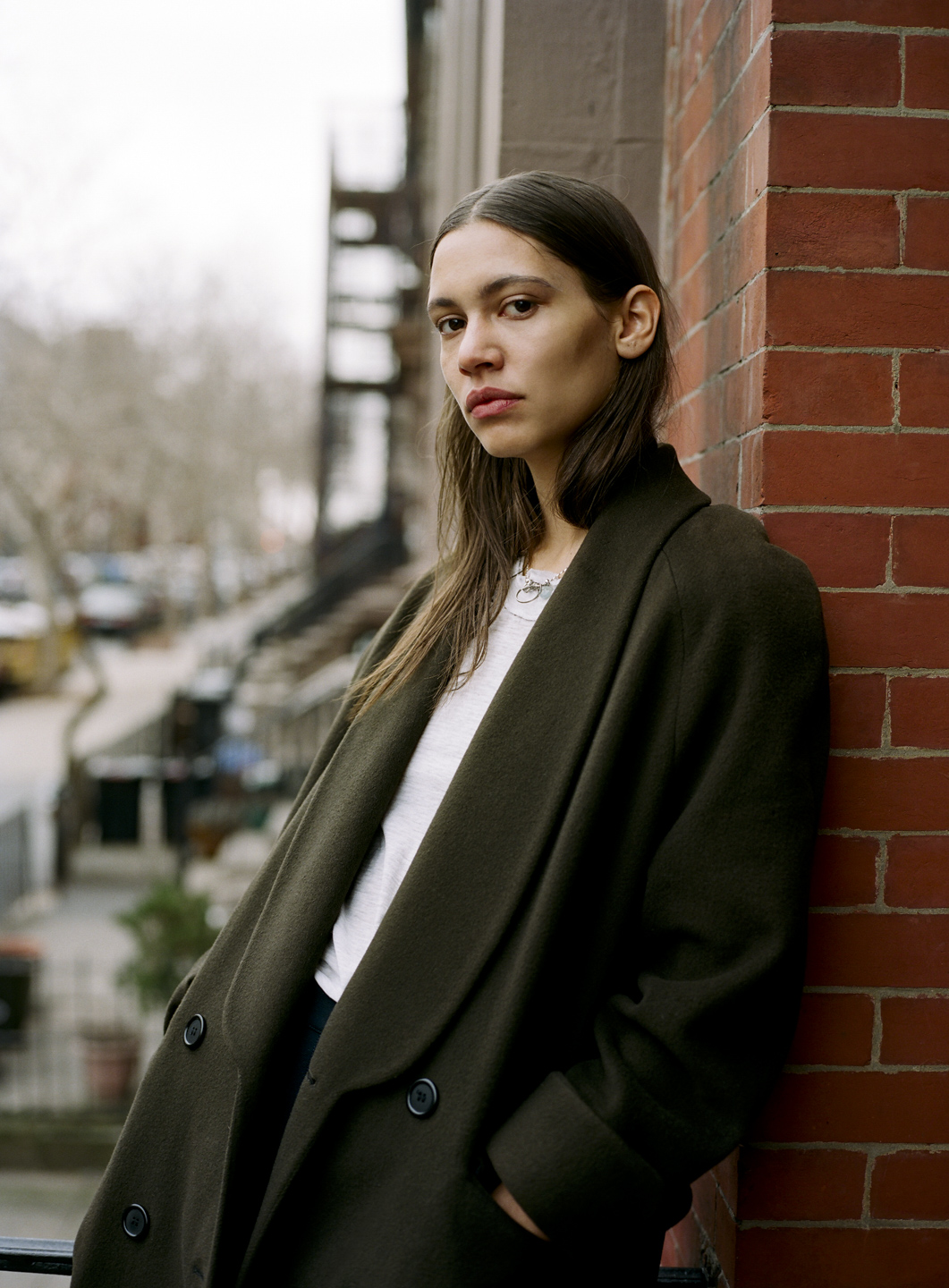 It was during this period, feeling under stimulated, isolated and alone, that she decided to revisit music. She picked up a guitar and started recording short tunes to send to her friends and family back home. To get their attention, she would create rough covers of records by artists that differed wildly in tone than her, like Nate Dogg or the Curtis Mayfield-led Impressions. The songs came out soulful and slow moving, gorgeous recreations of upbeat jams. Eventually, combined with her original recordings, she had enough material to consolidate and post online.
"It's something I just wanted to work on for a while. That's all I know really," she recalls of her first musical sketches. "It felt very necessary."
What happens next Kaya finds strange to talk about, a familiar situation for seemingly any woman trying to break into the music industry. An A&R found her mix and approached her about management, promising to put out her work and introduce her to notable producers. She agreed, and together they released the songs that would announce her Okay Kaya project to the world, including the heart-tugging "Damn, Gravity," a slowburner centred around love slipping through the fingertips produced by King Krule and Sampha collaborator Rodiadh McDonald. But the A&R also made strange requests, like pressuring her not to tell producers that she was in a relationship (Kaya has been dating songwriter Aaron Maine, also known as the singer Porches, for the past year). The process began to feel "grimy," she says, and "really uncomfortable." So she walked away, leaving behind both a deal with a prominent East Coast imprint and distribution through indie powerhouse XL Recordings. Suddenly the idea of an album seemed distant.
"It didn't make me happy or even wanting to try for a minute. I think it took like three years for me to feel like I had my voice and...just going back to what I wanted to do."
With "do," she gestures her arms in upward circles, indicating the significance of the room surrounding us, where she recorded over half of Both, now set to be self-released on June 1 through her own label, Heavy Body Records. The apartment has become the epicentre of her work and a symbol of her newfound self-reliance in music. A small recording setup of a mic and mixer sits against the wall, next to a scribbled setlist for tomorrow's show; a pile of clear garbage bags, full of merch Kaya designed with a friend, crams a corner. The soundtrack buzzing softly out of the speakers is made up entirely of women singers – Caroline Polachek, Nina Simone, Sibylle Baier – Kaya found inspiration in during the record's writing process.
Both is a work of cogitation, poking at concepts and feelings Kaya has encountered in her journeys from Scandinavia to New York, the runway to the silver screen. "Emulate," for example, examines the idea of projecting love and whether it leads to genuineness or manipulation, a question that lies at the heart of the two young women's dynamic in Thelma. More directly, "Calendar Girl" was inspired by a time when Kaya felt it difficult to leave her apartment so she'd write simple tasks on a calendar – "walk around the block" – as motivation to break her self-confinement. Most of the arrangements that propel these thoughts, aside from a few co-produced by Maine, are her own.
Which brings us back to "IUD," a single that many women have accepted as a righteous ode to self care amid the current tumultuous political environment. Kaya has a unique perspective on the situation, as she comes from a country that provides basic healthcare services, no questions asked. Thus, while talking about it, she's able to underlie its significance and how foolish the alternative would be. "I just wanted to be transparent about it and be like, 'This is happening. People need this.'"
It's here that we possibly get a glimpse of the future. Kaya's music, deeply personal in nature, is slowly becoming tangible outside of her own consciousness. In other words, her songs are no longer just her's; she now shares them with others. We ponder this truth together in the kitchen, where we've moved so she could lean out the window and smoke a cigarette. The sound of hammering wafts up from a renovation on the first floor, placing our words to a grating rhythm. A table cloth of husky red roses, maybe a small ode to her mother's garden back home, ties the room together.
In the self-financed and -choreographed videos for "IUD" and "Dance Like U," the second single off Both, Kaya presents her feelings as physical embodiments identical in appearance to herself. One twin is irritating and cumbersome, representing trauma and sadness; the other is gentle and understanding, symbolising acceptance. The "weird sisters," as Kaya has dubbed them, were born out of a simple concept – a dualism that could serve as an album's core theme (hence the title Both) and an interesting visual driver. But first and foremost they're pieces of her, now barer than ever.
So much on the horizon – the show tomorrow, the album drop, the press that will follow – will put those pieces on display. She admits she's nervous.
"I have no idea what it's going to be like," she says with an exhale of smoke. Her tender smile returns as she remembers the most important lesson she's learned thus far.
"But wait, who am I trying to be? I'm just trying to be me."
Reed Jackson is a writer based in New York City. Follow him on Twitter.

Lauren Gesswein is a photographer based in New York City. Follow her on Instagram.
This article originally appeared on Noisey US.