Thirty-seven years ago, a child was born named Cameron Ezike Giles. That child would go on to replace the "E" in his name with an apostrophe and become Cam'ron, one of the greatest and most beloved rappers of all time. Despite being a universally-beloved figure amongst rap nerds, Cam'ron never had the pop reach reach of Jay-Z, 50 Cent or even a guy like Ludacris. But the Cult of Killa is strong, and the entire Noisey editorial staff are members, so here's a 100% definitive list of the ten greatest things Cam'ron has ever done.
U MAD
The specific moment in the video you're looking for here is at 5:58, but years after it happened the footage of Cam'ron and Damon Dash appearing on Bill O'Reilly further complicated an already messy conversation about how we deal with music that doesn't always offer concrete answers. Cam and Dash run rhetorical circles around O'Reilly, who tries to stack the deck against them by airing footage of Cam'ron videos while they're talking, disagreeing with pretty much everything they say and generally cutting them off by way of yelling a bunch.
THIS RAP CITY FREESTYLE
If we're being honest, this is actually the best Cam'ron song ever—although the one where he raps over Journey and manages to make the most humane song ever to contain a Dirty Sanchez reference is probably pretty close—Cam'ron positively destroys Kanye's beat for The Game's "Dreams," managing to say everything cool ever. It's pretty much impossible to highlight the best line, but when Cam spits, "Yahtzee. Yacht time," it's like time stops and in that one perfect moment all that exists is Killa.
FURS
I hold the above GIF to be self-explanatory.
THE FOUR-SONG STRETCH ON S.D.E. CONSISTING OF "DOUBLE UP," "LOSIN' WEIGHT," "SPORTS, DRUGS & ENTERTAINMENT," AND "WHAT MEANS THE WORLD TO YOU"
Cam'ron evolved from a flashy, talented but not-transcendent NYC rap guy to a beautiful, flamboyant weirdo who was helping progress music, fashion and human thought at some point around S.D.E., and this unassailable stretch of songs is the proof.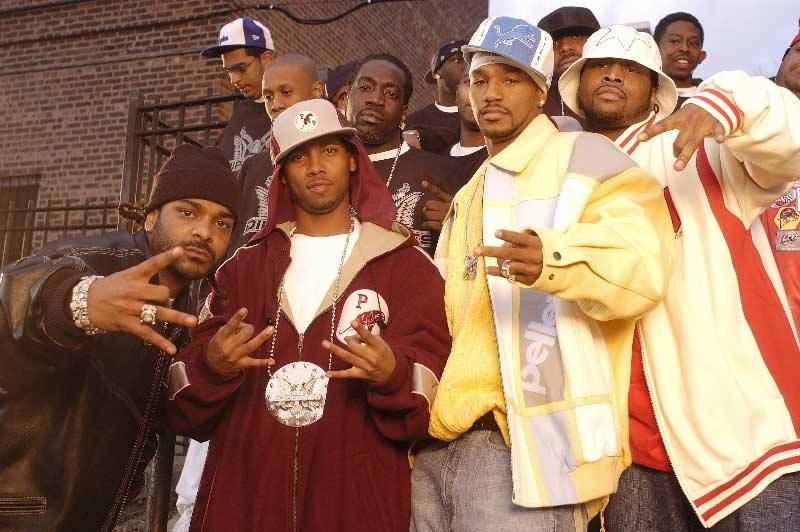 THE SECOND DISC OF DIPLOMATIC IMMUNITY
I'm talking specifically Disc Two of Diplomatic Immunity, though Disc One is also very good and contains a super on-point Hell Rell Jail Phone Freestyle. Disc Two, however, is Cam'ron's time to shine. So many of the songs that Cam carries on the latter half of Diplomatic Immunity are strong enough to make you want to punch through a wall. There's "I Really Mean It," obviously, as well as "Purple Haze," which paints you into an emotional corner and doesn't let you out until you've had a nice cry with Tito, as well as "The First," where Jim Jones gets straight-up celestial only to have Cam bring the whole affair back to the rugged earth. It's a masterwork of new-money flair that could only be topped by...
PURPLE HAZE
Alternatively the most mystifying and direct entry in the Cam canon, Purple Haze is a once-in-a-lifetime album where pure talent mixes in the atmosphere with pop acumen and the results mix in the atmosphere like warm air and cold air and hurtle down to earth where they then land in a bottle that through some weird rap alchemy becomes a CD and...oh, just listen to the thing on Spotify already. Be sure to say what up to Mizzle for me.
HEY MA
This is one of those songs that you throw on the stereo at a party and literally no matter where you are, you're gonna get a 90% baseline wig-out-and-sing-along rate.
CUUUUUUURTIIIIIIIIIIIIIS
WHOEVER LET YOU SIGN OFF ON THEM G-UNIT TANK TOPS WAS STUPID JUST LIKE YOUR DUMB ASS. In retrospect, Cam won that beef.
THIS VIDEO OF CAM'RON WITH A WOMAN IN WALLGREENS
Cam'ron should have his own reality show. Imagine hours of Cam just going around and talking to people. It would change television, unequivocally for the better. In this clip, Cam and his friend Murph find this lady in a Walgreens who can hold a Two-Liter of soda using only her butt. What's so weird and amazing about this is how Cam'ron manages to desexualize the situation, mainly because it seems like he probably used that Miracle Whip later.
CAM'RON ONCE HELPED MARIAH CAREY EVADE HER SECURITY GUARDS
This entire interview, conducted with Miss Info on the eve of last fall's Dipset reunion show (which was awesome, duh) is 100% worth watching, but the best part is when Cam talks about picking his good friend Mariah Carey in his Lambo and driving 88 gazillion miles per hour away from her security dudes so they could hang out. While the Camariah relationship was allegedly platonic, the story of Juelz Santana taking a trip to Destiny's Child's dressing room was, uh, not (also allegedly, always allegedly).
Drew Millard isn't one to fuck tradition up. He's on Twitter - @drewmillard