Modern Baseball are arguably one of the best pop-punk bands currently active. Their 2014 full-length You're Gonna Miss It All is one of those perfectly poignant albums that has the power to make people in their late thirties get all emotional over a memory of their school cafeteria, their first kiss, or the first time they got young drunk at an unsupervised birthday party. It captures the growing pains of that awkward period where, for the first time, you found yourself dealing with heartbreak, death, change, and all those other incredibly unfair things that define the phrase "this is real life", which seem bogus, because you're 19 and all you're really capable of is playing video games and eating grilled cheese. This partially explains why it was among the few punk records to break into the Billboard Top 100 last year.
Being super young themselves, the members of Modern Baseball have had to ditch class and peel away from their hometown of Philadelphia to get to where they are today. But thank fuck for that, right? Over their last two UK tours, they've brought joy and a good time. And we've been able to pay back the favour, as a country, by producing food that they really enjoy putting into their bodies.
Despite coming from a culture that boasts the world's most problematic relationship with supersize everything, Modern Baseball bloody love British food. When we asked vocalist Brendan Lukens why that is, he said: "My body just processes it way easier than US food and honestly I don't feel like shit after eating it." So suck on that, Wendy's.
As we have previously investigated, eating on tour can be gastronomic suicide, particularly when you're traveling around another country and the food on offer is totally unfamiliar to you. Sometimes you end up dipping a french stick into a pot of hummus for 24 days in a row, sometimes you end up on the toilet for so long it's worth bringing a sleeping bag and putting some family photos up, but now and again you will find that magical place where bargain intersects with sustenance and you don't end up doing a Bieber vom mid-way through your set.
So, if you ever find yourself on tour in the UK, then let your sphincter quiver not in fear, because Modern Baseball are here to help. Based on recent experience, Brendan very graciously agreed to collate the best and worst of their dining experiences on the road. Without further delay, here is Brendan's American pop-punk guide to British food.
Pizza Express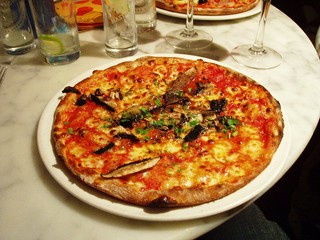 Do you live in the UK? Do you have American friends in town? TAKE THEM TO PIZZA EXPRESS and they will feel right at home! Their classic kinda-shit-but-not really pizza and red sauce related dishes are ones that any non-cultured hungry American can understand. The pizza I got even had the word "American" in the name. Believe me yet, Obama?
Nando's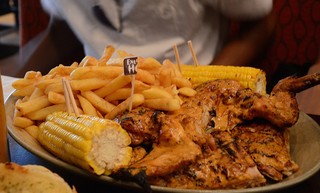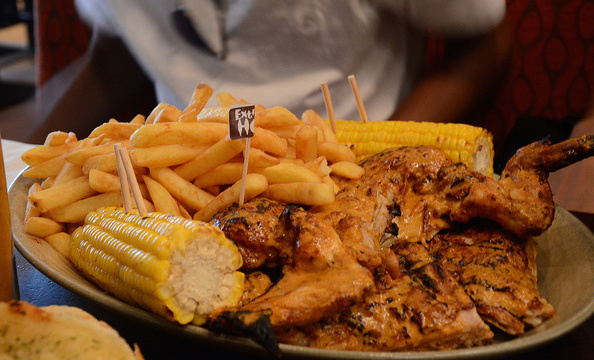 Nothing makes my belly say "Yo, thanks" more than chicken, ya know? And seeing as how Buffalo wings (any chicken with hot sauce) is maybe my favorite meal, Nando's and their weird lime-tinged vibe totally hits the spot every time. Essentially, it's just pretty good chicken with a few choices of sauces that also offers cheap sides. It's Buffalo Wild Wings with some class. It's the triple handclap emoji of the culinary world.
Although, I'm aware that if you're from the UK, then dining at a Nando's has totally different connotations to those I've just described. So if you're having a bad day you can read the Urban Dictionary definition of "Cheeky Nando's" to experience the same level of joy without having eaten any of the food.
The Full English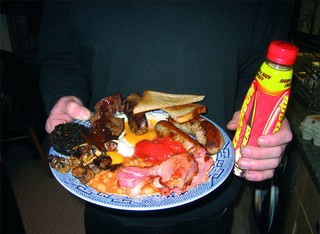 Once you get past the weird hockey puck pudding thing, this is my favorite breakfast ever. It's literally everything I want breakfast to be. So much food, one huge plate, one tiny cup of tea and a feeling that is eerily similar to Thanksgiving dinner. And Beans?!?!? I would honestly have a Full English for every meal if my digestive system could handle it.
Furthermore; Black Pudding
Endless sadface.
Marks & Spencer's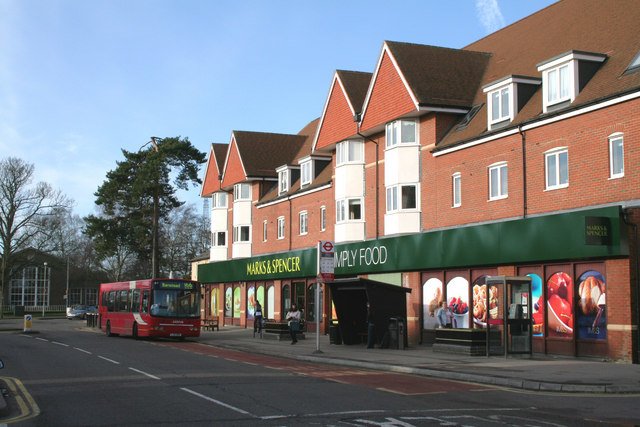 In the US, specifically the East Coast, there is one huge debate among touring bands and peers alike. That debate is called: "WAWA or Sheetz?" and it has the power to divide friendship groups.
I kinda feel that same vibe between M&S and Tesco in the UK. Honestly, sometimes you just need that gas station stop that is a lil' classier than just old Prawn Cocktail meal deals and family bags of "crisps". M&S are on their fucking game. The best meal deals, best snacks and their candy selection is top tier. I have never been able to decide between WAWA or Sheetz, being from both Pennsylvania and Maryland, but M&S has my heart in this Transatlantic packet food war. MOBO HATES TESCO. PRINT IT!
Prawn Cocktail, WTF!?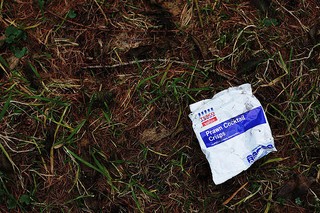 I'm sorry I don't get the hype. I really don't get why the fuck prawn cocktail is such a big thing in the UK. I've seen a prawn cocktail version of almost anything that has artificial flavoring, besides maybe ice cream but I'm sure that's out there too. It's just not that great. It freaks me out. Sorry, I'm done ¯\_(ツ)_/¯
Meal Deals
I need to branch off on this Meal Deal thing; it's the best thing ever. Being able to walk into any rest stop or gas station and know you will 100% find something you will eat and like is so nice. The decision is basically already made!! Just figure out your mood and your "Meal Deal" is complete. A decent sandwich, "crisps" and a drink for three or four pounds is a big deal for bands on a budget, and you don't even feel like poop after eating (looking at you McDonalds). Basically, it's the GOAT of all meal deals. Long Live The Ham Sammy.
Curry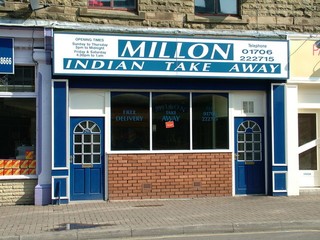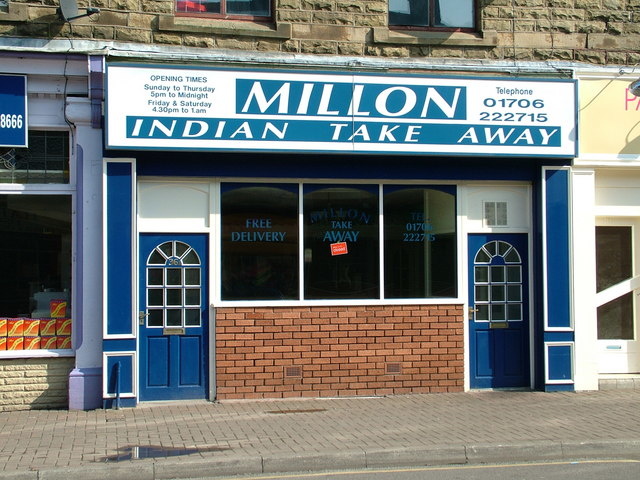 When you travel anywhere, things always taste different. Most of the time it's bad, but not always. In the UK Indian and/or Thai food is in another league of its own. IT IS SO GOOD. Curry in the UK is this thick spicy wholesome meal that you finish and immediately regret eating in thirty seconds. In the US, curry is spicy milk with bamboo in it that only becomes a meal after you throw in a pound of rice that cost you as much as the dish. If you look up "real food" in the dictionary you'll see a picture of a UK curry house. Honestly typing this out is making my mouth water. Gosh, I love food. Even the memory of it is so good and the fact that I'm really far away from some right now is really bumming me out.
Follow Emma and Modern Baseball on Twitter here and here.
This week on Noisey UK, we're going to be celebrating the best of punk, emo and hardcore in our new editorial series Punk In Love. Follow all the content here.