The last time I spoke to Peace frontman, Harrison Koisser, was nearly a year ago. They were midway through recording Lovesick, their debut LP. Back then they were buoyed up by the positive response of their first EP, Delicious, and full of prankster energy—famously, having it stipulated in their record contract that Columbia would erect this billboard (above) once they'd sealed the deal. With the album unleashed, the foursome set out on tour, seemingly, for the rest of their lives. Germany, Switzerland, whatever, Peace have been entertaining fans in as far-flung places as Korea, Thailand, and Australia, a gazillion miles from the grey skies of their hometown, Birmingham, UK. With Jim Abbiss (Arctic Monkeys, Adele) on production duties, Lovesick is a loose-limbed collection—carefree, sunny, ebullient—with a lineage easily mapped to The Cure, The Stone Roses, even Blur ("Waste of Paint"), and The Manic Street Preachers ("Toxic"). Meanwhile the melodic cadences of "Float Forever" are the exact meeting point between Revolver-era Beatles and Soundgarden's "Black Hole Sun." Who would've thought that would ever work. Lovesick makes you want to run around and have fun, so I called up Harrison and we talked about everything but music, like the stupid things he's done for love, wearing his girlfriend's clothes, and why he's drawn to "shiny" men.
Noisey: Hi. It's been a year. A lot has happened with you guys. Tell me about the strangest thing that's occurred since we last talked.
Harrison: Well, we were played right in front of Robert Plant at Jools Holland. He was about two metres in front of me, sat on a stool, glaring. And I was like, this is heavy, really heavy. I was trying not to stare him right in the eyes, but I couldn't really help it. Actually, I was trying to stare him in the eyes, basically. I was getting lost in his eyes it was great.
Did you meet him afterwards?
Yeah it was really weird actually because one of our guests turned out to be his brother-in-law. So he came into our dressing room afterward. If you think, what would you want Robert Plant to think of you, now is the moment you have to be that person. So I was just like, "Hey Robert, what's up man?" Trying to be as 1975 as possible. Big moment. I think I styled it out perfectly. I think we're pals now. I feel like if I needed to call him, he'd be alright with that. If I had his number. He must have forgotten to give it to me.
Hey Rob, ket's just hang out, let's get some breakfast, let's get a fry up.
That's what he keeps saying to me and I'm like, "I hate fried food Rob. Give it a break."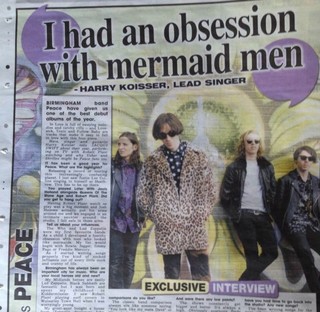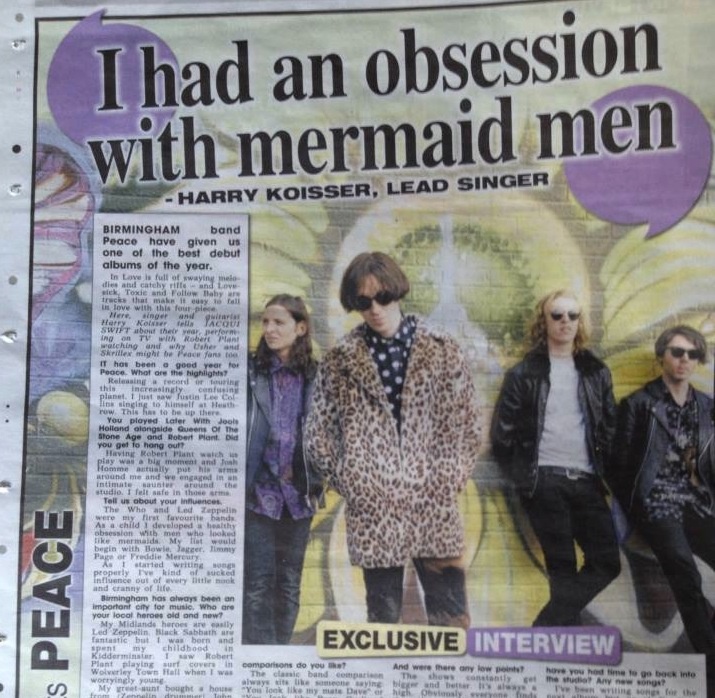 What's all this business about you being a health freak? That's not very rock and roll.
I only eat healthily so that when I eat shit, it tastes so much better. It's like a light and dark thing. Someone told me that Bowie existed on milk, red peppers, and cocaine for years. And obviously when Bowie does something I immediately try and imitate it. No, I'm not trying to live off red peppers, milk, and cocaine at all. That's not what's happening here. Although, it is fun to experiment. Wait. What am I saying?


The article in UK tabloid The Sun had a rather amusing, if somewhat clunky, headline…
That was actually a misquote. I didn't say "mermaid men." I said, "Men who look like mermaids." If I was going to say "mermaid men," I would have said "mermen!" But actually, what I said was that I've always had an obsession with men who look like mermaids. You know, the shiny long beautiful hair, like feminine, but in a very masculine way. They almost look like they've come from the sea, but not like they're covered in seaweed. I'm just attracted to stuff that's shiny. My male role models as a child were… I think it was my parents: they showed me pictures of Led Zeppelin and The Who when I was really young and that was it for me. If you told me that any member of Led Zeppelin circa-73 was also a merman, I'd believe you. They're shiny. They look like they're from another world. Or Ziggy Stardust. I guess he looks more alien, but it's still the same vibe. But I definitely lean more towards mermen. It's not like a sexual attraction. I'm just drawn to it!
Speaking of sexual attraction, there's a lot of love vibes on the record. Are you currently lovesick?
Yeah I think I am. Definitely.
What's the stupidest thing you've ever done for love?
I was once completely convinced that I was in love with a girl that I met at the world's shittest nightclub. I forgot her name and I was almost in tears about it in the morning. I asked loads of people—and I mean everyone I knew—to hunt down who this girl was. I think her name was Tiffany. The one who got away. I managed to find her, but it turned out we had absolutely no connection, she barely remembered me, and she had a boyfriend so it definitely wasn't right. I'm a fan of rose petals. I filled my house with rose petals once for my girlfriend.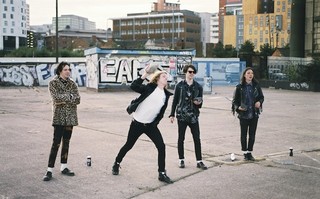 How much did that cost you?
Loads. But they're still there. You get months and months out them. They just decay to nothing. Don't we all! Isn't that the funny thing about life?

Do you ever borrow your girlfriend's clothes?
I don't have any of my own clothes. I'm currently wearing her t-shirt, her trousers, her socks. Actually these shoes are mine. I don't own any clothes but the thing is—I never did before. I just used to borrow clothes off people and mainly from girls because their stuff is more shiny. I've never been into buying clothes. The only ones I own are ones I get gifted. I don't think I have a style, it's more whatever people put on me.


Photo by Jonnie Craig.
Is your leopard print jacket your most treasured possession?
I think it's one that I would be most annoyed about if I lost. I've got a double neck Gibson SG which is probably my most treasured possession. The only things I actually own are guitars. I've spent all my money on them. So that's my most valuable thing, but the coat is my most sentimental item. It's the piece of clothing I've had the longest. There used to be a man in a market in Birmingham and he'd sell jackets that were ripped and disgusting and had stains. That's one of them. It doesn't have a lining, it was filthy, and it smelt of fish, but I bought it off him for 20 quid.
If someone were to visit Birmingham, what would you suggest they do?
Well you can get the train to London in an hour and half! I'm not gonna lie, I haven't actually been in Birmingham for more than a week in over a year. But from what I was doing when I was there, I'd say there's a club called The Rainbow which is in this area called Digbeth, where there's loads of stuff to do, if by stuff, you wanna drink cider and listen to techno, then that's a good place to go. They do a lot of daytime parties, which I'd recommend. Sunday daytime there's usually some house and some techno and everyone's been there since Friday. You know the vibe.
Peace Tour Dates

10.14 - Toronto, ON - Mod Club
10.15 - Toronto, ON - Danforth Music Hall
10.16 - Cleveland, OH - House of Blues
10.18 - Pontiac, MI - Crofoot Ballroom
10.19 - Chicago, IL - Riviera Theatre
10.21 - Denver, CO - Ogden Theatre
10.23 – Calgary - Macewan Hall Ballroom
10.25 - Vancouver, BC - Orpheum Theatre
10.26 - Seattle, WA - Neptune
10.29 - Oakland, CA - Fox Theater
10.30 - Los Angeles, CA - El Rey
Follow Kim on Twitter @theKTB
This article originally appeared on Noisey US' Style Stage. Style Stage is an ongoing partnership between Noisey & Garnier Fructis celebrating music, hair, and style.