Deep House Is Back: An Interview with Art Department's Jonny White
I talked to Art Department, a Canadian duo at the forefront of the deep house revival that's been re-sexifying dancefloors ever since the Swedish House Mafia showed the world the wrong way to wear a dress shirt.
|
20 February 2013, 10:00am
Art Department, the Canadian duo made up of underground mainstays Jonny White and Kenny Glasgow, are at the forefront of a deep house revival that's been re-sexifying dancefloors ever since the Swedish House Mafia showed the world the wrong way to wear a dress shirt (Hint: it buttons all the way up for a reason).
In anticipation of their forthcoming (and first ever) mix compilation, I spoke with Art Department's Jonny White about riding that underground groove railroad to stardom.
(HINT: You can preview and download Art Department's new mix compilation, Social Experiment 003, right here.)
Noisey: So deep house is back and it's bigger than ever. You guys had no small hand in its global storm. What's it like to see the scene grow bigger than even in the Chicago days?
Jonny White: It's nice. It feels good, I would be lying if I said otherwise. The credit is nice too, we stuck to our tastes - as if we had a choice - and pushed the music we really believed in for a long time when it wasn't so readily accepted by many. It's nice to see more people enjoying it.
Any fears it'll end up like dubstep though?
How did dubstep end up?
Touché. Ok, what's the best show you guys have played and why?
Man, that's impossible to answer. We're lucky to travel as we do and play everywhere, for the best crowds in the most amazing places. I could pick several shows at DC10 in Ibiza, Warung in Brazil, Panorama Bar in Berlin, Woodstock 69 in Amsterdam, or on a beach at a private villa in Tulum for 150 people… They all have their own kind of magic. If I was forced to pick one, I would have to say Robot Heart during Burning Man in Black Rock, Nevada. That might be as good as it gets.
Epic. Favorite records of all time-- go:
Daft Punk - Alive Rolando - Nights Of The Jaguar Luciano - Octogonal Round 2 - New Day. Some of the best of a few genres in my opinion.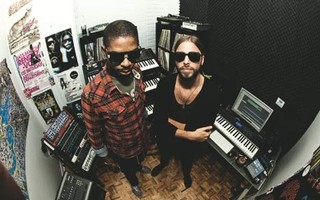 SXSW vs WMC
Not sure. Haven't done SXSW but I've been doing Miami at conference time for 7 years and I really enjoy it. It's a marathon in a concrete jungle though, so it wears on you… It's definitely got it's own vibe and i dig it.
UK house versus USA.
Well, the question definitely came out of the USA, that's for sure. Hmm.. Who would win? I don't know man, I appreciate artists from both places, so many great artists from both that I can't cast a vote.
Fiiiine…. What's your favorite type of show to play? I.e abandoned warehouse, pool party….
I like playing them all. You get to showcase a different style in each, you have different elements to play with and consider. I love the opportunities to play a dark room at 9am in Berlin and take people down that road with me. And then at times I feel like it doesn't get any better than playing on a beach in Mexico during sunset or sunrise… And we certainly do enjoy a nice pool party once in a while.
Same. Finally, where can we see you guys this year?
If it's anything like last year, and I know it will be, you'll see us at another 150 or so shows. From Hong Kong, to London, the States and everywhere in between… And probably twice. We're off the road at the moment to work on our upcoming full length album, so the first place you'll see us is in Miami at WMC for the NO.19 Social Experiment showcase and Ultra Music Festival there.
Major. See you then!
Emerson really likes to use Twitter - @emersonyeah