Touching Bass: Ital Tek
And we talked about making a fantasy band, country bumpkin life and Autechre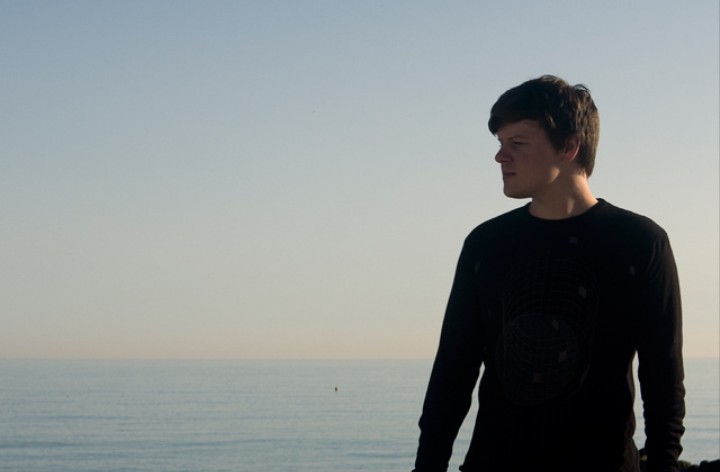 Ital Tek brings new meaning to the word prolific. Blood Line EP, his first release, grabbed the attention of electronic music label, Planet Mu, and built on dubstep's concrete foundations with elements of glitchy techno. That was six years ago, and he's been releasing new material solidly ever since. Already this year, Ital has planned a slew of new releases, starting with a project via Civil Music, and he's still hard at work.
Before he started splicing old school German electronica with drum and bass on our weekly half-hour mixtape, we talked about country bumpkin life, Autechre and the age-old music format saga.
Noisey: Ital, how have you been?
Ital Tek: Yeah, good. Been pretty busy. Just writing loads and loads recently. I've pretty much finished whatever my next singles are gonna be so everything's lined up for what's gonna come out after the summer. It's been good to blast out some ideas while I've had a bit of a break from tour.
Were you away on the weekend?
I was just away, just a short little holiday. Just got out to the countryside round here. Brighton is a pretty chilled out place anyway, it's not a big crazy city, but it's nice to get out to the countryside and have a bit of a break.
It's nice to be a bit of a country bumpkin sometimes…
Absolutely, well I grew up in the countryside just outside of Oxford so any city seems a lot busier than where I grew up.
Was it a small village or more like a town?
Yeah, it was a little village about twenty minutes outside Oxford and it was quite a nice place. I was very involved with the music scene when I was a teenager, playing in bands and learning to DJ. I spent all the money from my part time job on vinyl and there were lots of places to buy it. But when I go back to buy it, all the independent record stores are closed.
Are you much of a vinyl die-hard?
No, not really. I'm not really that fussed about formats, if I'm honest. I used to buy a lot more vinyl than I do now. I'm in a lucky position where I get sent music more than anything. I've got lots of mates that send me music as well as lots of labels. I used to DJ out on vinyl and Serato and now I'm doing most of my sets on Ableton just out of ease. As long as people are listening to the music in decent quality and having a good time I'm not that fussed about the format it is under.
Which releases have been your favourite thus far this year?
I've just been getting into really old stuff. Really old 70s stuff like Tangerine Dream and other stuff like Autechre. Loads of old German music. I haven't really been keeping up to date with buying records but I'm feeling the new RP Boo album on Planet Mu. That's a good record. And then just stuff that my friends make; stuff by Om Unit and Fracture.
So you said that you've been working on some new material lately, but have they got a home just yet?
I'm still talking to Planet Mu about doing a record. I think I will put something out with them before the end of the year. Because I've always been focused on writing albums, it's been nice recently to just bang out tunes. I've been writing stand-alone singles, stuff to play out. I'm just focusing more on the dance floor stuff. It has quite a jungle influence in there. I'm probably gonna do another release with Civil Music following Hyper Real from February and then a couple of other labels have approached me about stuff, so I think I'm gonna be putting out as much as I can this year. It can be a bit frustrating sometimes because of the wait between records. By releasing more music, it's good for my sanity and also for people that want to hear it.
And you've just started a band on the side too, right?
It's been good to do something different. It's quite electronic with synths and effects. Even though it's still music it's been quite a release. It's good to get making music with other people as well because I'm so involved in my own world that when I'm making tunes because it's all about me and my control over the music. It's nice to let some other people in and not have to be the sole focus.
What do you play?
I'm doing the synths, guitar and messing about with Ableton. There are three of us and we're all swapping around. We've only just started a few months ago but we're gonna start gigging and it will all be properly announced.
What's the name of it?
We haven't got one yet; we're still figuring it out. There's a few ideas popping around but it's one of those things where I forgot I hard it is to choose a name. When I did it with Ital Tek, I just picked it out of thin air. Everyone always asks me what the name means but it doesn't mean anything. The words have other associations, but I think with artist names once you've picked it and people start saying it, then it starts to make sense. Before that, you can be very self-conscious about it.
It's serious business. It's like choosing a baby name…
That's it, yeah. Once you've done it, then it's done. You've just got to have the balls to do something.
Who would be in your super band?
Whether it would work or not I'd love to get a chance to make some music with Jonny Greenwood, Steve Reich, and if he was still with us J Dilla. I think that would be a pretty awesome, but intimidating, selection of musicians to collaborate with and learn from. I'm not sure where I would fit in the equation but if we're dreaming I'd go with them!
"Solar Sail" was one of my favourite tracks off of your last album. What was the process of making it like?
"Solar Sail" was quite difficult to get right actually. I initially had this demo of it that was only about 40 seconds long. I had forgotten about it but Mike at Planet Mu really liked it and kept on at me to finish it. I find it quite hard to come back to tunes as I'm not in the same head space anymore or I just can't remember where I was going with an idea. It took me quite a few attempts and different versions to nail it, but it's probably one of my favourites on the record too now.
What tunes have you gone for on the Touching Bass mix and what made you go for that style?
I've gone for quite an eclectic selection on this mix. Trying to take in a lot of sounds that influence me. There's some Autechre in there, Tangerine Dream, footwork and drum & bass. It goes through quite a few shifts in tempo and mood in just 30 minutes. I usually approach studio mixes in much the same way that I do for my live show, but this time I wanted to change it up a bit, go a bit weirder in places and explore some different directions that I wouldn't do live.
Finally, what do people have to look forward to from you?
As I was saying before I've written a lot of new material in the past few months so I'm just lining up some releases for the second half of the year and continuing to write more. I've got quite a few gigs coming up around UK and Europe, and there should be trips over to Australia and New Zealand before the end of the year which I'm excited about as I've not yet played over there.
Ital Tek will be joined by My Panda Shall Fly and Eagles For Hands on May 26 at Birthdays, Dalston for Soundcrash. For more information, visit here.
TRACKLIST
Visionist - Pain
Autechre - Jatevee C
Om Unit - Fuckin Weirdo
Ital Tek - Untitled
RP Boo - Speakers R 4
DJ Earl - Up & Away (remix)
Machinedrum - Clissold VIP
Digital & Spirit - Phantom Force (Fracture remix)
Kutmah - One 4 The Dee
Tangerine Dream - Abyss
Fracture - Better Than Tomorrow
DJ Rashad - Ghost
Ital Tek - Froze Up
Follow Errol on Twitter @errol_and
For more Touching Bass read
TOUCHING BASS: BREAKAGE
TOUCHING BASS: BEN PEARCE