One of life's greatest pleasures is merchandise. For every celebrity you stan for, every album you love, every brand you thirst over, there is merch. That's capitalism, baby!! So it comes as no surprise that as Robert Mueller's investigation into the Trump campaign's ties to Russia and associated other sub-scandals heats up, there's merch to go along with it.
You see, mugs and T-shirts aren't just things to drink coffee out of and wear, they are also ways to tell people, I am a unique, well-informed individual with $20 to spare, and a lot of attitude! But which items should you pick? Well it depends on who you are. Don't worry, I've created a nifty little guide to help:
For any red hot renegade and/or prison abolitionist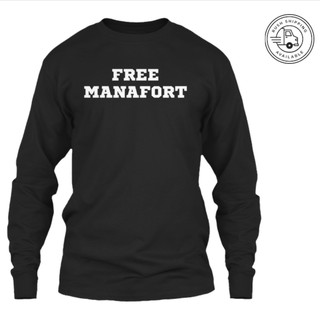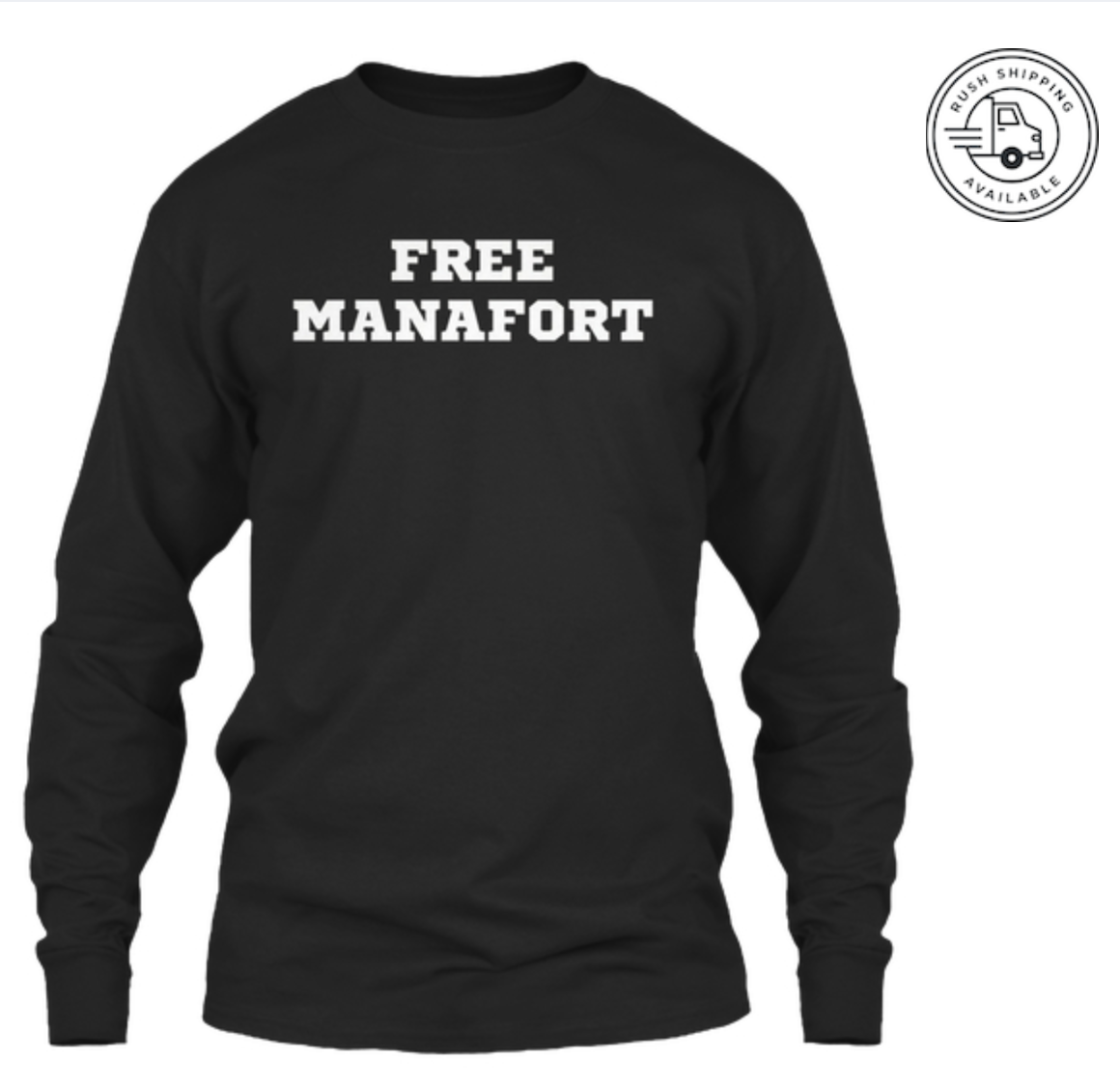 On first glance, this "FREE MANAFORT" long sleeve is the perfect item for any MAGA enthusiast who believes, to appropriate the words of Kanye West, "PAUL MANAFORT INNOCENT." But when you look deeper, you'll discover that this excellent piece of merchandise—nay, history!—is also the perfect piece of gear for any prison abolitionist who's looking to say, "Free Manafort... as well as the 2.3 million incarcerated people in the United States."
For beer drinkers who love law and order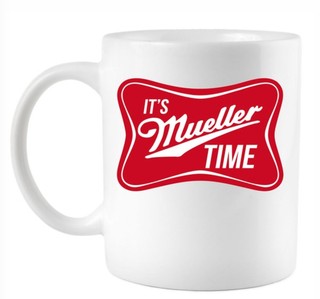 All beer aficionados yearn every day for the clock to hit that special number that commences "Miller time," when you can finally drink Miller, America's favorite beer that is just OK.
In Trump's America, however, it's never not Mueller time! (Mueller not Miller is the joke here.) This mug is the perfect vessel to consume an adult beverage as you watch Robert Mueller's (pronounce mull-er) investigation into the Trump campaign's ties with the Russian government slowly unfold.
More of a shirt lover? Do not fear, sweet reader. "It's Mueller Time" T-shirts, baseball shirts, and tank tops are also for sale. More of the tote bag or trucker hat type? Don't you worry, baby. Teeshirtpalace.com has got your back!
For the middle of a Venn diagram of the anti-Garfield faction and Manafort haters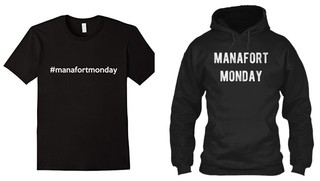 As you probably know, former Trump campaign manager Paul Manafort turned himself into the FBI on Monday, October 30, a day which was henceforth known as "Manafort Monday." This is a well-known phrase people actually say in real life. For anyone in the anti-Trump crowd who was full of glee on this key day, one of these shirts is for you. But the Monday haters (that's me, bitch) and Garfield lovers (not me) should stay away from this one: No need to parade around in gear that's repping the worst day of the week.
You can find the #manafortmonday shirt on Amazon and the hoodie on Teespring.
For the pun-loving lefty who wants to see Manafort take a plea deal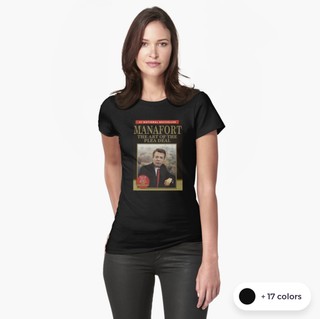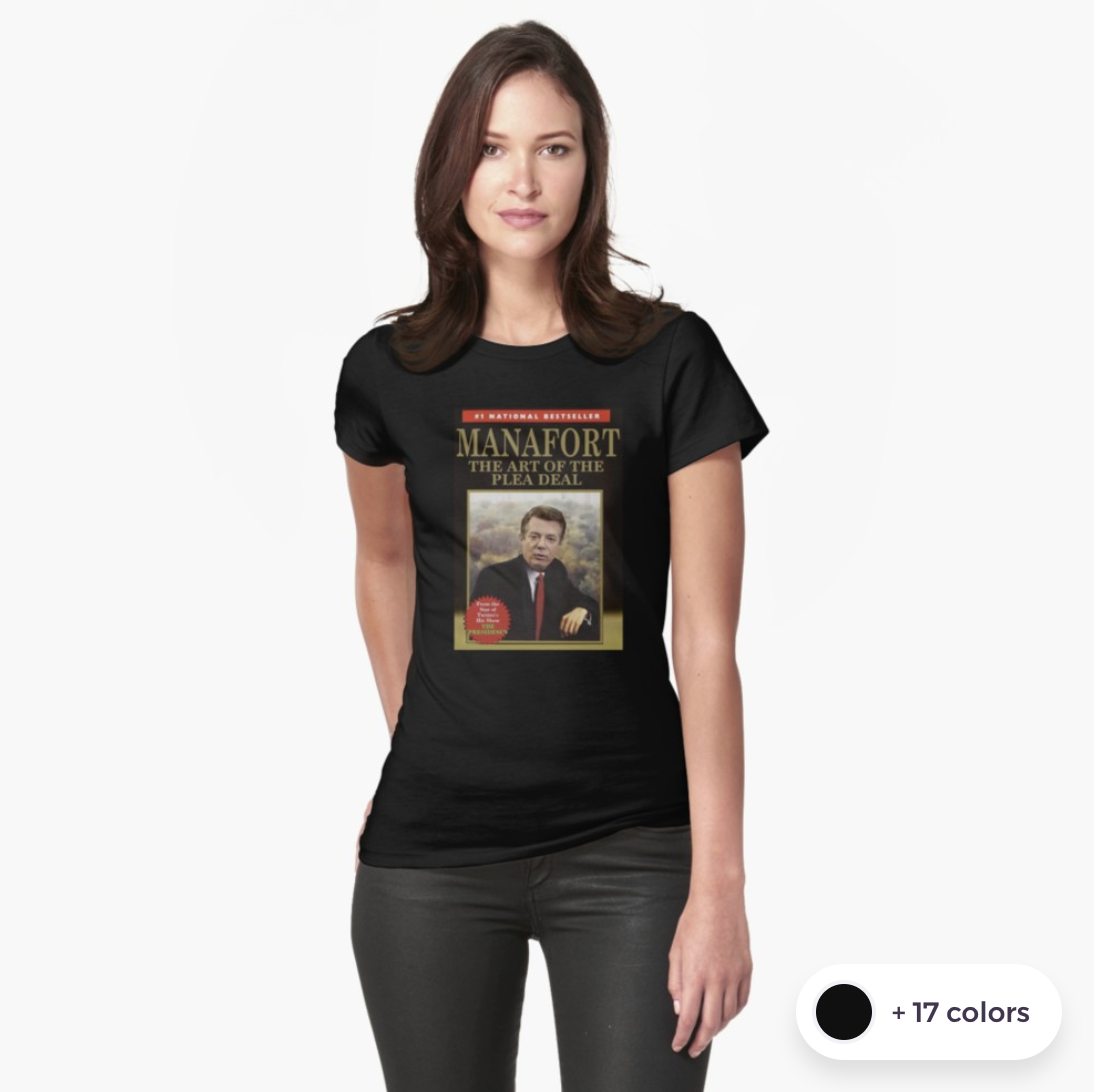 This T-shirt is a reference to Donald Trump's The Art of the Deal. They've replaced Trump with a picture of his former campaign manager, Paul Manafort, and changed the title of the book to The Art of the Plea Deal. What a hilarious shirt, after you explain it to someone who asks!
You can find this baby on Redbubble, where there are 17 different colors to choose from.
---
For the centrist virgin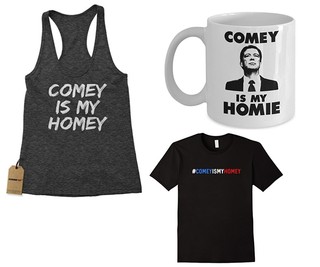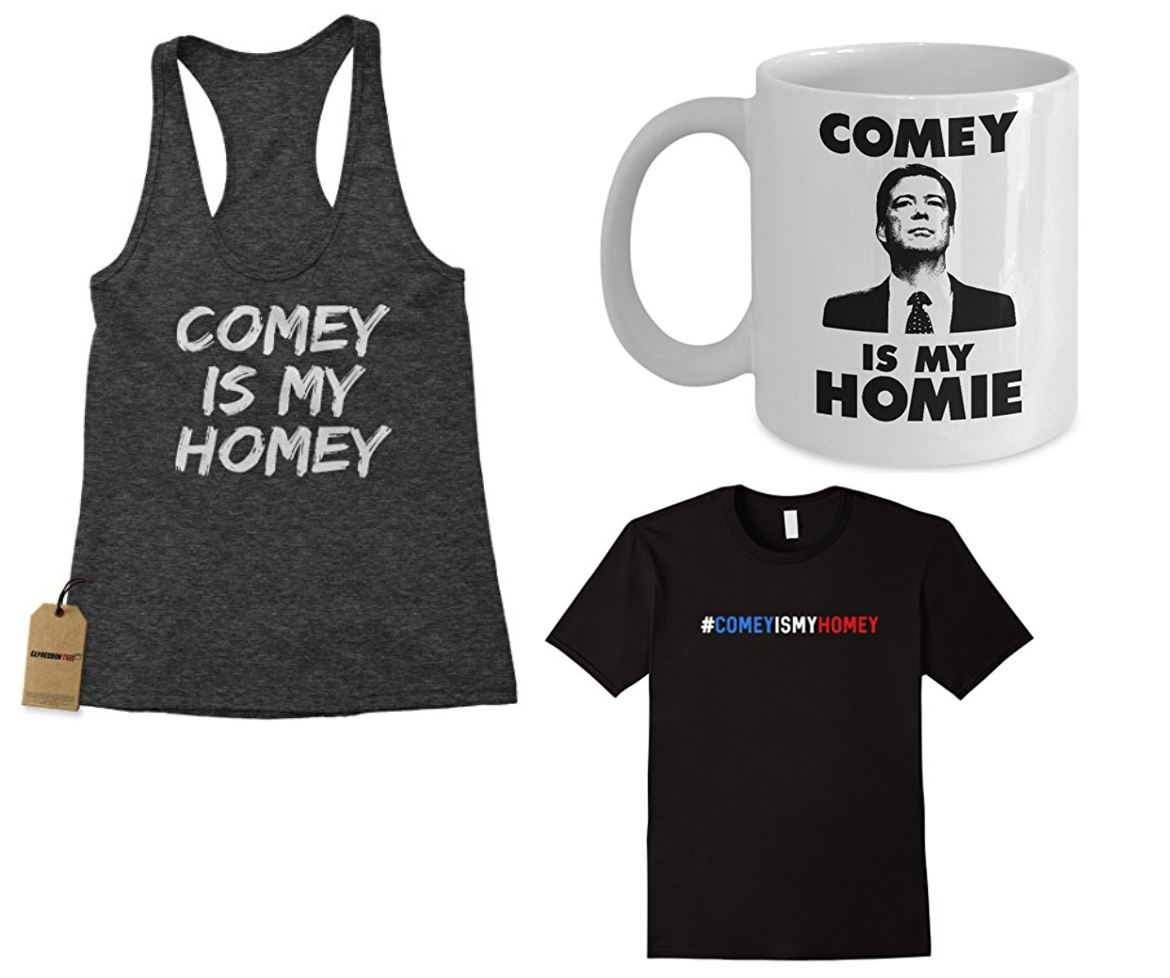 Since being fired from his position as FBI director by Trump, James Comey has become something of a resistance hero, an example of a decent—and very tall, at 6'8"—public servant undermined by corrupt blah blah blah you know what I'm talking about. It's an odd place for him to be, given that he can be plausibly blamed for costing Hillary Clinton the election.
Comey is a man with both merits and flaws—for example, remember that letter he wrote to Congress a week before the election? (I don't because I Eternal Sunshine of the Spotless Mind-ed myself.)
In any case, the only legit Comey fans are hardcore centrists (not me) and anyone with an attraction to incredibly tall men (extremely me). But even the most intense Comey stan should approach "Comey is my homie" merch carefully. Why? Because even within the microcosm of silly merch, it feels innately embarrassing to call the former director of the FBI your "homey."
Purchase the tank top, mug, and/or T-shirt on Amazon at your own risk.
For anyone named America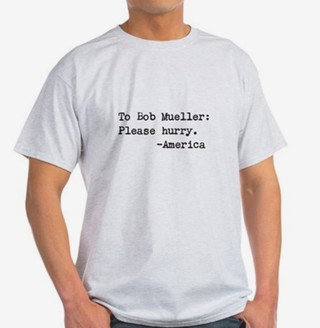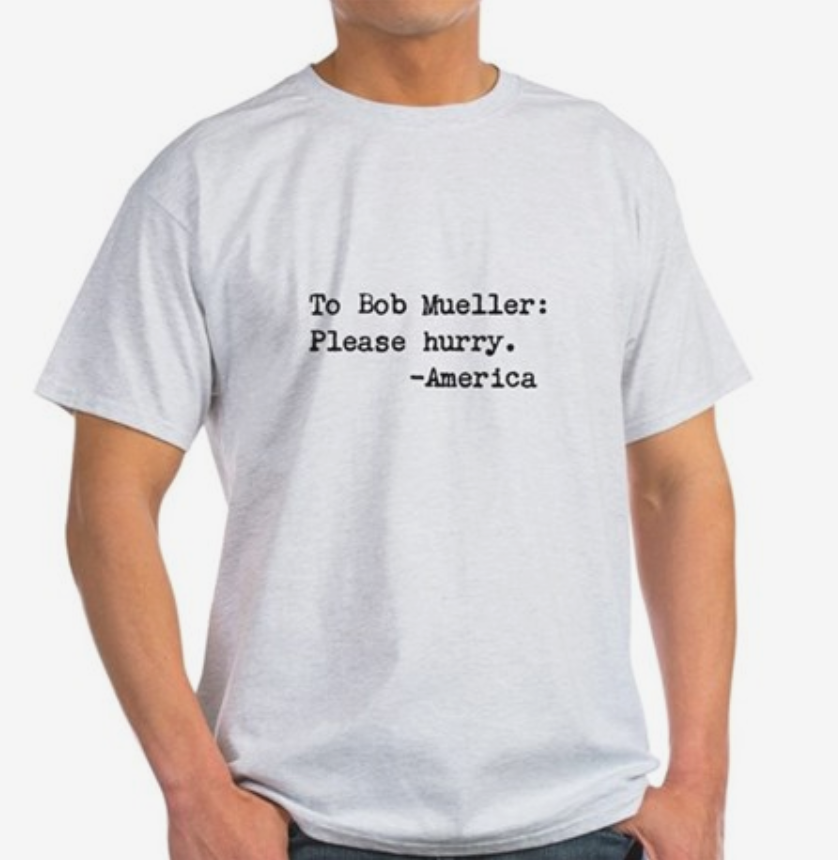 Imagine the added layer of hilarity that would ensure if America Ferrera, for example, wore this T-shirt.
For a liberal who doesn't mind getting mistaken for a Trump supporter from afar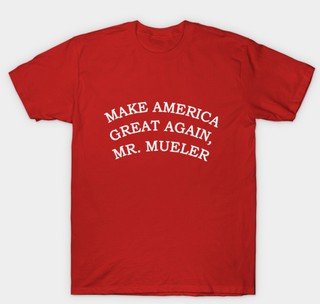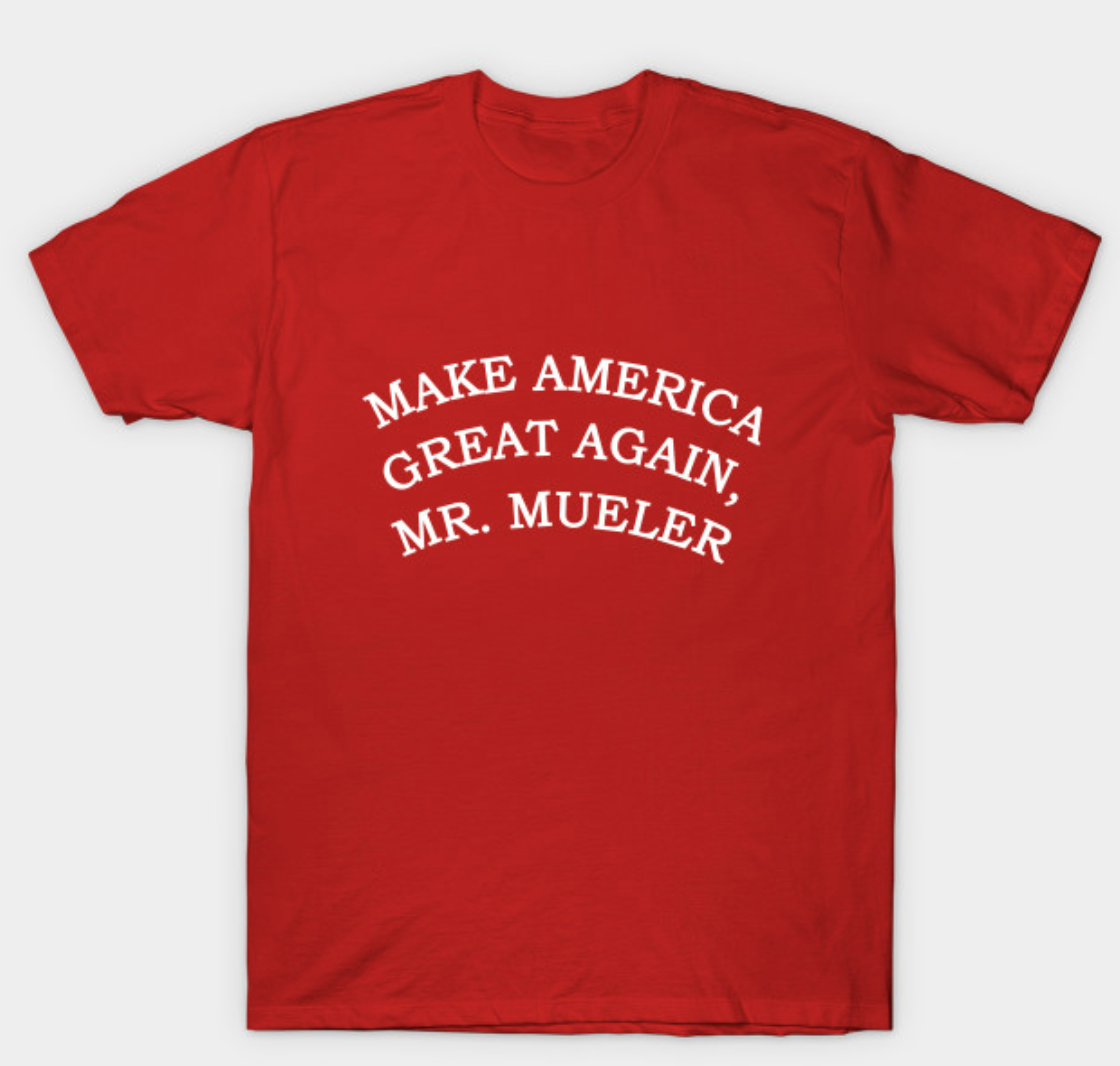 This shirt is a comical tweak of Trump's campaign slogan that adds "Mr. Mueller" to the end of the sentence. (The "Mr." is a sign of respect, I guess. I would've gone with "Sir.") It's great if you want to be mistaken for a Trump supporter at a distance, then have that person realize that actually you have a weirdly intense emotional investment in the special counsel's investigation.
All of these shirts could also be gifts if you medium-like the person.
Follow Eve Peyser on Twitter.