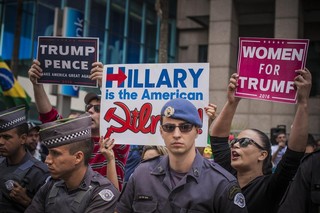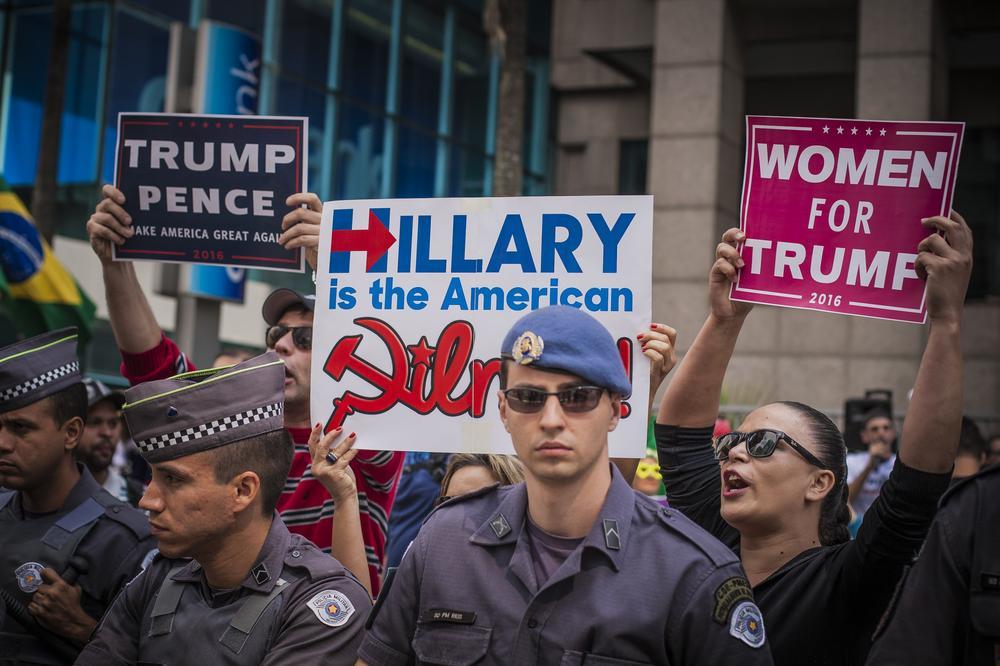 Brazilian military police escorting protesters holding signs comparing Hillary Clinton to Brazil's former president Dilma Roussef. All photos by Jardiel Carvalho/ R.U.A. Foto Coletivo
This article originally appeared on VICE Brazil.
Last Saturday, about 20 supporters of Donald Trump took to the streets of São Paulo to show their support for the Republican presidential nominee. These were Brazilians who presumably couldn't vote for Trump, but they were American patriots nonetheless—when they gathered in Paulista Avenue, they kicked the day off with a rendition of "The Star-Spangled Banner." Some demonstrators held Trump signs and placards accusing Hillary Clinton of being the North American version of Dilma Roussef (the former Brazilian president who was impeached last August); others wore shirts printed with the face of Brazilian far-right politician Jair Bolsonaro.
These Trumpistas were outnumbered by journalists, and the made-for-the-cameras action continued peacefully until about 3 PM, when an anti-fascist group arrived. The two opposing demonstrations started yelling at each other, and that was the prelude to some physical confrontations. After things got heated, police officers arrested four anti-Trump protesters, who were released right after being taken to the station.
See more photos of the rally below.