It's Friday afternoon in a bustling bar in east London and Isabella Gotti – better known by her stage name, NoLay – is asking me about my stupid tattoos. "I want to get the Venus symbol on my middle finger," she says, holding her left hand up to gesture, "So when I stick it up, people can see it."
NoLay has been rapping since her teens, first snatching attention from major labels in the early 00s with the grime collective Unorthadox before going solo and releasing "Unorthadox Daughter" on 679 Records' seminal 2005 Run the Road compilation. The track goes so hard people are still in her mentions about it 12 years later, although she can't stand it herself. "I'm my worst critic. Give me a month with my stuff and I'll think it's shit," she says, "When I sit with things for too long I get bored because I feel like I'm always advancing."
Growing up on drum 'n' bass and garage, NoLay started off fierce and unflinching – hitting you with cheeky, tough-talking bars that would, in her own words, "put you in Bupa" – and only ran deeper from there. 2015's "Netflix and Pills" deftly navigates heavy subject matter like drug addiction, abuse, rape and mental illness; last year's "Have You Forgotten" from Grime, Guts and Glory is a powerful takedown of the forces that can pressure young men into crime; and this year's "Dancing With The Devil" holds nothing back as it details an all too common story of an abusive relationship. Her bars are cutting and confident; delivered faster and more furiously than Vin Diesel ripping through Havana in a car on the verge of combustion. You have not heard fire until you've heard NoLay calling herself a "stroppy little madam" on one of the most lethal Fire In The Booth's since the dawn of Explosion.wav. Simply put: NoLay is a force.
The south London MC got her start writing poetry and rapping over beats her friend would drum against the bus window on their way home from school, before cutting her teeth at nights like Dirty Canvas and Sidewinder. It's well documented that she got her first wheel up on stage with Crazy Titch and Ghetts, the latter to whom she is constantly compared (to the tune of a thousand eye rolls). "A woman can't just be great," she tells me when I ask her why she thinks it is that non-male rappers struggle to be understood on their own terms. "There's always a man you're comparing them to. Every now and then I might dress up, have a nice photoshoot, but when you strip everything back what I do is really raw. It's straight to the point, no fucking about. I'm not trying to be ladylike or classy with it, and I feel like it's a problem for people when a woman's like that on the mic – when it's just straight-to-the-point bars. But it's not a problem when it's a man. I feel like if I was a guy, I'd be a lot further in my career."
Without hearing it delivered in her unbothered manner of speaking that could sound bitter, but she's casually stating facts. While Skepta, Stormzy, JME, Kano and Giggs are able to occupy the limelight at once to varying degrees, women in rap and grime are rarely afforded the same privilege. The UK has always been heaving with talented female MCs but when artists like NoLay, Lady Leshurr and Stefflon Don are all about at once the industry struggles to make room for them all. But that's a problem in general. If you took a sweeping glance around hip-hop in the US you'd see Nicki Minaj surrounded primarily by men; not even Beyoncé and Rihanna can coexist without someone inventing a new reason for rivalry every two minutes. "People just don't want women in power like that," NoLay says in response to this. I ask if she's ever felt pressured to fight for space. "People around you will try to make it like that, but last thing I want to be doing is pitting myself against other women. As far as I'm concerned, the music industry is competitive and if I'm going to compete then it's going to be with everyone."
If you couldn't already see it in the basis of her varied and occasionally sporadic output then it's certainly clear in person: NoLay isn't interested in doing what anybody else wants her to do. As an MC who can spit over anything from Massive Attack's "Unfinished Symphony" to Stormzy's "Big For Your Boots" as long as she "feels" the beat, it's not surprising that she has thus far opted to remain an independent artist rather than risk having to pigeonhole herself.
"Sometimes I get lost and I'm like 'I want to freestyle over a Killers beat!'" she says, laughing. "God knows what the next album's going to be like." Instead, coming up in the mid-00s alongside Dizzee Rascal, Wiley and Kano, she kept on her self-paved lane of hard bars as others veered toward the more pop-oriented sound that defined grime's first brush with mainstream success. But as someone who's been on board since day one – watched grime blow up, then settle back down, then blow up again and continued to do her thing throughout – NoLay is eager to see grime become an un-fuck-withable staple rather than a trend that comes and goes in the eyes of the industry.
"Everyone was talking about grime when we were doing our thing with Run the Roads, The New York Times were writing about it; I can't count how many interviews myself and people like Skepta and Jammer were all doing," she says, commenting on the short-term memory that people seem to have when it comes to music history. "They say Americans weren't paying any attention before, but I remember Jay Z coming out and spitting on 'POW', I remember him getting Lady Sovereign signed. Lethal B did that tune with Twista… It's great, the place that grime is in now, but I've seen this happen before. I'd like to see it go further."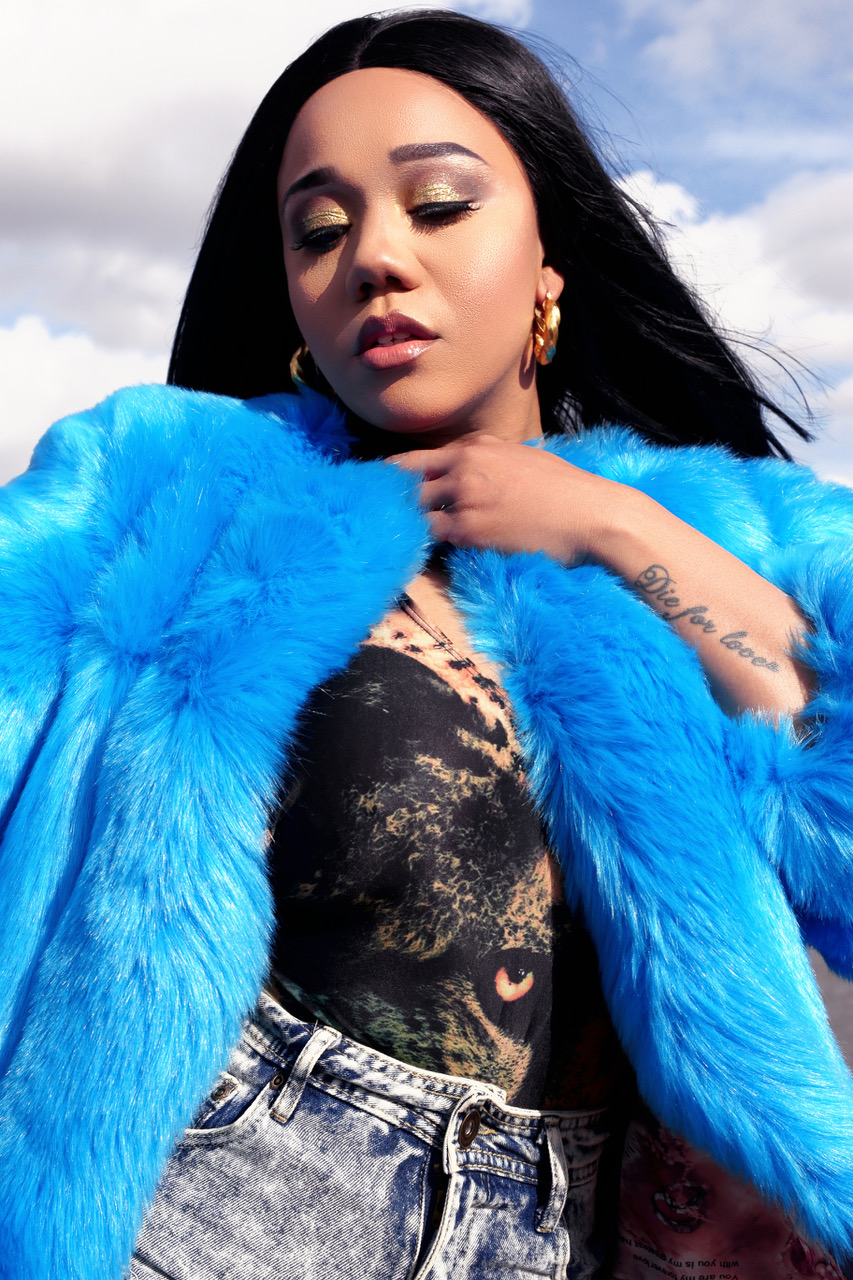 As for NoLay right now, This Woman – released back in March – is one of her strongest bodies of work to date. Ten unflinching rap tracks tackling misogyny, domestic violence and female empowerment, the release rides on stripped-back production that acts as a runway for her vocals rather than stepping on her toes. Opening with "This Way" – a swaggering mission statement in which NoLay introduces herself as "your worst nightmare" – and closing with a raw, first-person account of domestic violence in "Dancing With The Devil", This Woman encompasses a more multi-dimensional expression of womanhood that sees NoLay bursting out of any box anyone has tried to put her in and giving it a royal kicking afterwards. On a track bluntly titled "P.U.S.S.Y" she takes a word usually wielded as a form of objectification or an insult and uses it as a catch-all for the power of women, repeating the phrase "My pussy, my choice / My body, my voice". It's prefaced by an interlude featuring audio she ripped off YouTube of a woman chilling at home, smoking, listening to music and delivering a feminist manifesto into her webcam: "I'm just wanting to talk to my ladies and just let you know: you got a God quality, being a woman," the voice says, "It's a beautiful thing."
"I'm talking about femininity and as a female you're so powerful," NoLay tells me when I ask her why she plucked that particular out of the of the internet. "We carry life, we give birth, we go through all that pain, we're so capable in so many areas. Pussy is just the word to cover everything, make it more fun."
Sitting across the table from me in a ringer tee that says 'feminist' in pink bubble lettering as we drink beer she picked off the menu because it had the funniest name, the "thick skin" NoLay says she's required to have as a woman in the music industry is in absentia. She's warm, open and unequivocally herself. Her bars, too, for all their monumental confidence, are also full of care. As a rapper, a woman and a mother since the age of 16, she's aware of her position and platform in an industry and genre that doesn't tend to prioritise voices like hers.
Apart from artists like Lauryn Hill and Ms Dynamite, growing up NoLay was exposed to few women who rapped about their experiences, whether it be of social injustice, family, sexuality or mental health. "I was going through so much shit and I didn't have someone who was on the same plane as me," she says, "I feel like there's women in the UK who are like, 'oh Nolay's just the girl off the block'. When they hear me talking about my life it makes them feel like they can do it too. I'm not trying to be a role model, I'm just trying to be an outlet for the voiceless. I'm just trying to tell my story and if others find strength in that then that's a great thing."
Strength is certainly something NoLay has in abundance. Last April, she was involved in a car accident that left her in critical condition, with the story widely reported by UK news outlets that splashed pictures she posted from hospital over their pages even though they wouldn't ordinarily cover her as an artist. "I'm a tough cookie innit, so I was just happy to be alive," she says, "But I felt bad for my family because of how they found out. I would've preferred it to be quiet: I disappear for a couple of months, still tweeting, nobody knows any different and then I just come back. If I had my own way I would've kept it to myself and not told anybody."
In a Noisey documentary for Mental Health Week 2016, she talks about her father's schizophrenia, her own experiences with poor mental health and how focusing on music and the catharsis of songwriting has helped her cope. "People look at therapy as a good thing, like the release is through a smile or feeling happy, but it isn't always like that," she tells me, "Sometimes therapy is crying and feeling shitty. Even having a talk with someone, shedding some tears together with one of your girl mates or something – that's hard. I felt really low when I wrote 'Netflix & Pills', but the deeper it is – like 'Netflix & Pills' or 'Van Gogh' or 'Behind Bars' – the more therapeutic it is. You're talking about all the shit parts of life and releasing it like a weight off your shoulders. Then you can start to get over it and keep it moving. That, for me, is therapeutic."
Though there's already plenty in her bars for people to find or lose themselves in, NoLay has recently started reaching out to people in a more hands-on way. In the lead up to the release of "Dancing With The Devil", she shared videos on Twitter of survivor's stories and messages of support from Julie Adenuga, Charlie Sloth and others, amplifying an issue so widespread that police in the UK receive an emergency call relating to domestic violence every 30 seconds on average.
"I always focus on the good and not the bad in these men / And now the feds have gotta go and tell my mother I'm dead / I think my soul left my body tenth kick to the head / I blacked out on the fifth and the carpet went red," she raps. The video is equally graphic, opening with a scene of NoLay making a shaky phone call to her mum, her face made up to look badly beaten. "I'm fine," she says. I ask her if it was difficult to film. "It wasn't, actually. I had a goal and I knew what I wanted to achieve from it and I felt a sense of hope in that," she says, "Some parts were hard, but I didn't feel sad because I felt like women are going to watch this and it's going to help them and open up their eyes. And it did."
After the video came out, she was inundated with messages from fans praising her for using her platform to talk about domestic violence, as well as hearing from women who had decided to file for divorce. She even heard from men who wanted to get help. "Obviously I can't change anything completely," she says, "But I can be a catalyst in helping to."
NoLay's activism doesn't stop with her own music, either. She's spent much of this year working on a documentary with the BBC about empowering women through music. Intending to help women from hard backgrounds suffering with different mental health issues, the project sees NoLay workshopping music with a jazz singer, an alternative music singer and a spoken word poet as a way of encouraging self-expression and building confidence. "I told them to write down a few things about themselves that they like," she says, telling me about the various self-esteem exercises they did together. It's easy for any of us to turn around and say what we hate about ourselves, and we do that a lot as people. I got involved and wrote about myself, too, which they found funny because I was writing stuff like 'I can make a good shepherd's pie' and 'I like my boobs'. It was pretty sad when it ended. I felt like their big sister, learning what they've been through and how hard it's been for them."
After working together over the course of a month, they collaborated on a song and recorded it at The Amy Winehouse Foundation. The documentary ends with a screening of a music video they shot to go with it. "It's pretty different, especially compared to everything I've done before," NoLay says about the track, "But it wasn't about me, it was about them."
From where I'm sitting, the amount of energy and emotional labour NoLay is constantly giving seems tireless, whether it's through writing straight from the shoulder lyrics, responding to fans inspired by her honesty to open up in her DMs about their own lives, or physically working with people who have gone through similar experiences to her. When I ask if it ever gets overwhelming, she acknowledges that it can be difficult but she gets on with it anyway – just as she does with everything else. Earlier this year, the audio files for This Woman were lost beyond restoration just days before it was set to drop in conjunction with Women's History Month and International Women's Day. NoLay simply took a deep breath, booked studio time and laid down all the vocals from scratch in less than five hours.
Grime and glory aside, it takes a lot of guts to do what NoLay does so relentlessly. "I want to be an advocate for women without trying to be, just by being true to myself," she says, "I'll probably go more down the line of talking about relationships next, what it means to be a single mother..." here she pauses, and laughs. "I hope I don't turn into the Adele of rap!"
After we hug goodbye and she walks off to do a radio session, casually trailblazing through London in pastel pink bomber jacket, I'm left with something she said rolling around in my head like a mantra: "Women get shit done. Women are amazing. We're so powerful we don't even realise it, and we allow these men to come and make us feel like we're not. It's their way of breaking you down, because they know you're a force to be reckoned with."
Follow Emma on Twitter.
NoLay is performing at Birthdays in London on 7 June. This Woman is out now.