Proof that streetwear is a boy's club isn't hard to find. You can see it in the crowds of thumb-twiddling guys lining up outside shops; feel it in the lad-filled forums selling Supreme money guns for £125. And, in fairness, why wouldn't it be? The scene is rooted in the generally male-dominated subcultures of skating and surfing, and as a result the big brands – Huf, Stussy, Palace – originally made clothes solely for men.
But scroll through Instagram and it's not just 15-year-old Leo Mandella posing in outfits from the latest drops and racking up thousands of likes in the process; recently, more and more women have been getting involved. Twenty-year-old Feifei, for example, is fast becoming the most-followed female dressed head to toe in Supreme x Comme des Garçons. Or Instagram It girls Adrianne Ho and Sarah Synder, who've managed to get their hands on the latest tee before you've even entered your card details.
Eighteen-year-old Hannah Alkindi (Instagram followers: 30.9K, actual pictures posted: 91) first started getting into streetwear three years ago. "I had a boyfriend who was really involved in that world, and after hanging out with his friends I started following suit," she says. "I think that's a thing, though. As more boys have got into streetwear, their girlfriends have started to as well."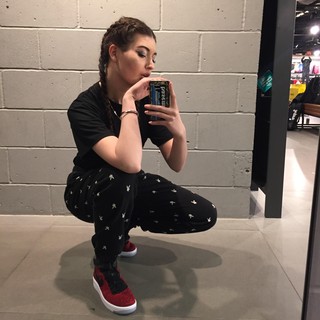 Back in 2014 Hannah joined The Basement – the streetwear-focused Facebook group where people buy, sell and trade items – but could see "barely any" girls posting or selling. Fast forward three years and the rapid rise of girls chucking out "price check" posts encouraged her to set up an entirely separate sub-forum. The Baesment () is devoted completely to women and their love of streetwear.

"Those who are just starting to get into the scene feel more comfortable sharing and taking inspiration from other girls," she says. "Boys – and I'm specifically talking about 13 or 14-year-old boys here – will often attack the girl's post or take the piss. So instead of posting in the main group with 100,000 people, you just chat amongst girls."
It's a trend that's only truly taken off in the last couple of years. When Leah McSweeney launched the very first female-focused label, Married to the MOB (MTTM), swathes of women kitted out in men-only brands wasn't a thing.
"Back in 2004, female streetwear did not exist. The term hypebeast didn't even exist. Were there girls wearing Supreme? Yeah, but very few," McSweeney explains. "You didn't call it 'female streetwear', though. The concept of wearing a Supreme bag and an Alife sweatshirt is not something new – I was doing it back then, and that's why I started MOB. I wanted to have my own brand and put out what it's like to be a girl in this culture."

Which, by the sounds of it, wasn't easy. One of McSweeney's first T-shirts featured the logo "Supreme Bitch", written in the Supreme (AKA artist Barbara Kruger) style. It was a way of making fun of the "misogynistic vibe of Supreme", McSweeney wrote at the time, and "one of the most powerful ways for me to comment on the boy's mentality that's pervasive in the streetwear/skater world". Supreme founder James Jebbia had approved the original designs at the time (and sold them in his store, Union) but as Supreme blew up, so did McSweeney's logo. All of a sudden Rihanna was posting pictures of herself in a Supreme Bitch cap. Jebbia sued McSweeney for £8 million and demanded she remove the items from shops.
---
WATCH: i-D Meets – Blondey McCoy
---
Yet MTTM survived. Some guys could handle it, others couldn't. "I had crazy things being said to me," McSweeney explains. "It was 'you slut this', 'you bitch that'. People would say in forums that I fucked my way into stores. Crazy shit. I wish it was that easy. But I challenged a lot of those sexist messages on the MOB shirts, in my photoshoots and the slogans we used. It's a double edge sword, because sometimes I've been able to use being a female to my advantage, but I've also had to work extra hard to be taken seriously."

McSweeney's efforts kickstarted a shift in streetwear gender roles. And, alongside similar early-2000s American brands such as HLZBLZ and Dimepiece, it created a space for women to do their thing in a predominantly male world. The obvious elephant in the room, however, is that these brands haven't exactly gone global. They've done well – very well, in fact. But we're talking global in a Kendall Jenner-wearing-your-Louis-Vuitton-collab-at-the-Chanel-Paris-fashion-show kinda way. Or the-police-shutting-down-your-launch-over-public-safety-concerns kinda thing. As HLZBLZ founder Lanie Alabanza-Barcena says: "After 12 years of doing this, there's still only a handful of female brands making noise in the market."
Which isn't a problem, per se, it's more just, well, disappointing. Women into the scene tend to stick to the clothes (mostly) designed by men, for men, in a world where they still earn 9.4 percent less than their male counterparts. "People glamorise skate culture. And men are the heroes of skate culture, not women," explains McSweeney. "So that's why a brand like Supreme can get so big. It's just different. If I'd launched a men's brand, it'd be way bigger than MOB, but I'm not interested in doing that." It's a sentiment echoed by everyone I speak to. As Barcena explains: "I just wish there were more women wearing female brands made by fellow sisters and giving these fellas a run for their money."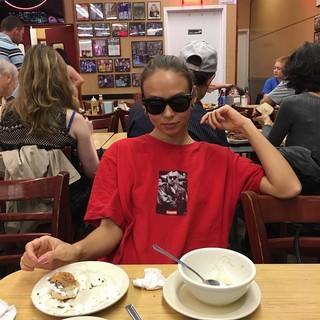 One exception is Emily Oberg. The former Complex on-camera anchor was hired by Kith – the streetwear retailer-turned brand – as the creative head of their women's section. It's a canny move on owner Ronnie Fieg's part. Oberg and her 200,000 Instagram followers will steer the women's section in exactly the right direction. It's still a label set up by a man cashing in on the newly flourishing women's sector, sure, but it's a start. And you can trust Oberg to make it not shit. "Girls are more comfortable wearing an oversized hoodie now," she explains. "So we want the men's pieces, but updated for us. We don't simply want the guy's stuff covered in florals, we want better." As she said at the time of the announcement: "I hope it's so good the men want it."

But why now? Women have always worn men's clothes, of course, but why the very specific head-to-toe streetwear brands of late? For McSweeney, it's a trend thing. "You know the term fuckboy? Now there's fuckgirl. A fuckgirl is someone who is wearing Nike trainers that literally just came out, a Supreme fucking jacket and an Anti Social Social Club sweatshirt with Off-White jeans. To me, that is not someone with style. Some of this stuff – like Palace – has become so trendy I don't even want to wear it."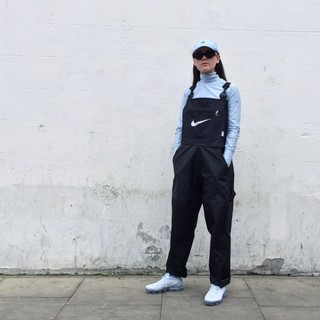 For Alexandra Hackett, owner of the label ALCH (AKA @miniswoosh), the blurring of gender lines has also played a huge role. "Just because I'm a girl, doesn't mean I want a V-neck, slim fitting version of the men's design in a leopard print pattern," explains the designer, who has hypebeasts falling over themselves for her repurposed Nike designs. "I don't like being categorised into one area, or gender segment, of the market. Don't get me wrong, I love a baby pink trainer, but brands need to broaden their horizons in terms of the female streetwear industry – we're not all 'girly girls'."

When Vogue dedicates a section of their website to "skate week", you know the world of streetwear is nearing saturation point ("The internet ruined everything," says McSweeney). But whether it's a women's brand reaching Gosha levels of hype or simply one everyone collectively gets behind, it does feel like the female streetwear world has a little more to give. Either way, women confidently ditching (the pressure to wear) heels in favour of feeling OK in baggy T-shirts can only be a good thing. Besides, as Alkindi says, it's really not much to ask: "I don't see why you can't stand out and feel comfortable at the same time?"
More on VICE:
Why Are So Many People So Obsessed with Supreme?
The 14-Year-Olds Spending Thousands On Streetwear
A Corporate Lawyer Explains Why He Traveled to Every Supreme Shop on Earth