It's hard to know where to begin in London's Chinatown. Situated over several sprawling streets in the West End, the area has been a hub for Asian food since the 1970s, and offers an overwhelming variety of dishes, ranging from high-end Sichuan cuisine to hot pot restaurants with ambiguous names to any not familiar with the language. There are also dumplings, dim sum, nasi goreng, noodles, desserts, bubble tea, and almost any other Asian delicacy you could possibly think of.
Although many of the restaurants here are family-owned, few of them are run by women. In the UK hospitality sector, women lag behind in men in senior restaurant roles, and while it's hard to source employment stats on the Chinatown community—due to the rapid change in restaurant ownership and malleable boundaries of the area—it sadly seems to be the same case here.
But there are exceptions. On a quiet Monday afternoon, as London recovers from a freak snowstorm, I make my way down to Chinatown to speak to three female restaurant owners holding their own in a male-dominated industry to serve some of the city's best Asian food.
Ellen Chew, Rasa Sayang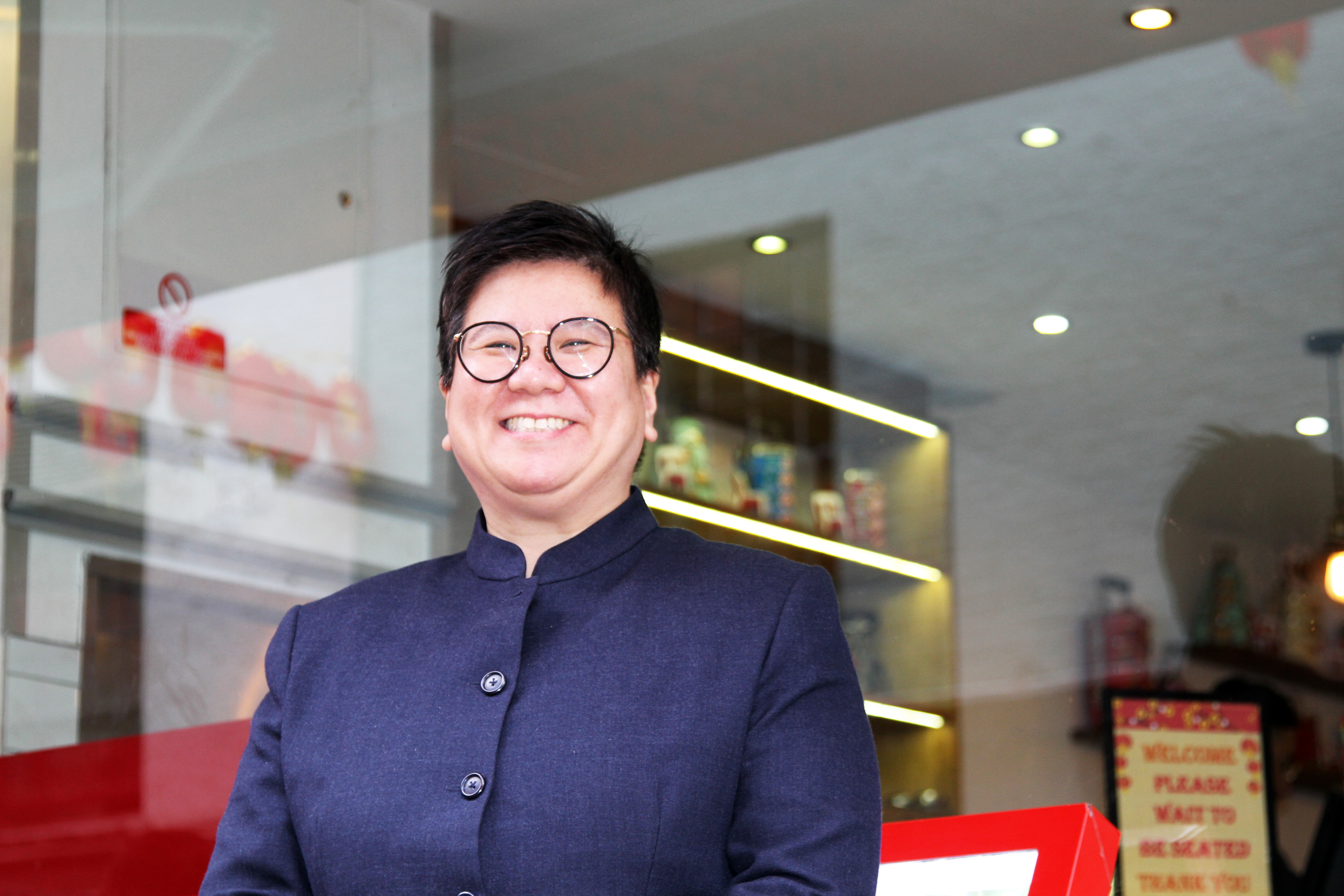 The morning before I speak to Ellen Chew, owner of Malaysian-Singaporean restaurant, Rasa Sayang, I get an email inviting me for lunch. When I arrive at the red- and yellow-fronted restaurant, Chew invites me downstairs and immediately orders for us, barely phased by my mention of vegetarianism. With a table full of salad, curry, roti, okra, something referred to as a carrot cake that contains no carrot, and the most delicious tea I've ever tasted, we talk about how she arrived in Chinatown.
"I came to London 12 years ago from Singapore and at the time, I was bought in as a food court consultant," Chew says, simultaneously offering me spoonfuls of gado gado salad. "I came as a consultant, but then the food court didn't materialise."
With no food court, Chew decided to start something herself.
"I was looking at the whole London, and I thought there was a gap. It was very cookie cutter, even in Chinatown: Dim sum, dumplings, rice. So I thought we could offer something different. At that time there was only one other Malaysian food [restaurant]."
I ask Chew how welcoming Chinatown was to women at that time. "Not at first, it was not at all," she remembers. "It was only later on when I got to know other restaurateurs who were also women, who also faced the same problem as me."
After opening Rasa Sayang, Chew found another challenge in having to manage the male egos of some of the people she worked with.
"It was very male," she explains. "A Chinese kitchen is different from a Western kitchen because they deal with a lot of open fire and people talk and shout and they're all men. It's very difficult to tell them what to do."
So Chew changed her managerial style: "It took me a long time to get [the chefs] to understand that I'm not taking over what they're good at, but I'm capitalising on what they're good at. It's a compromise. It's a lot of talking. it's a lot of persuading."
I wonder whether it might have been easier to just take the men out of the equation, but decide not to mention this, and instead take another helping of gado gado.
Sunny Wu, Bubblewrap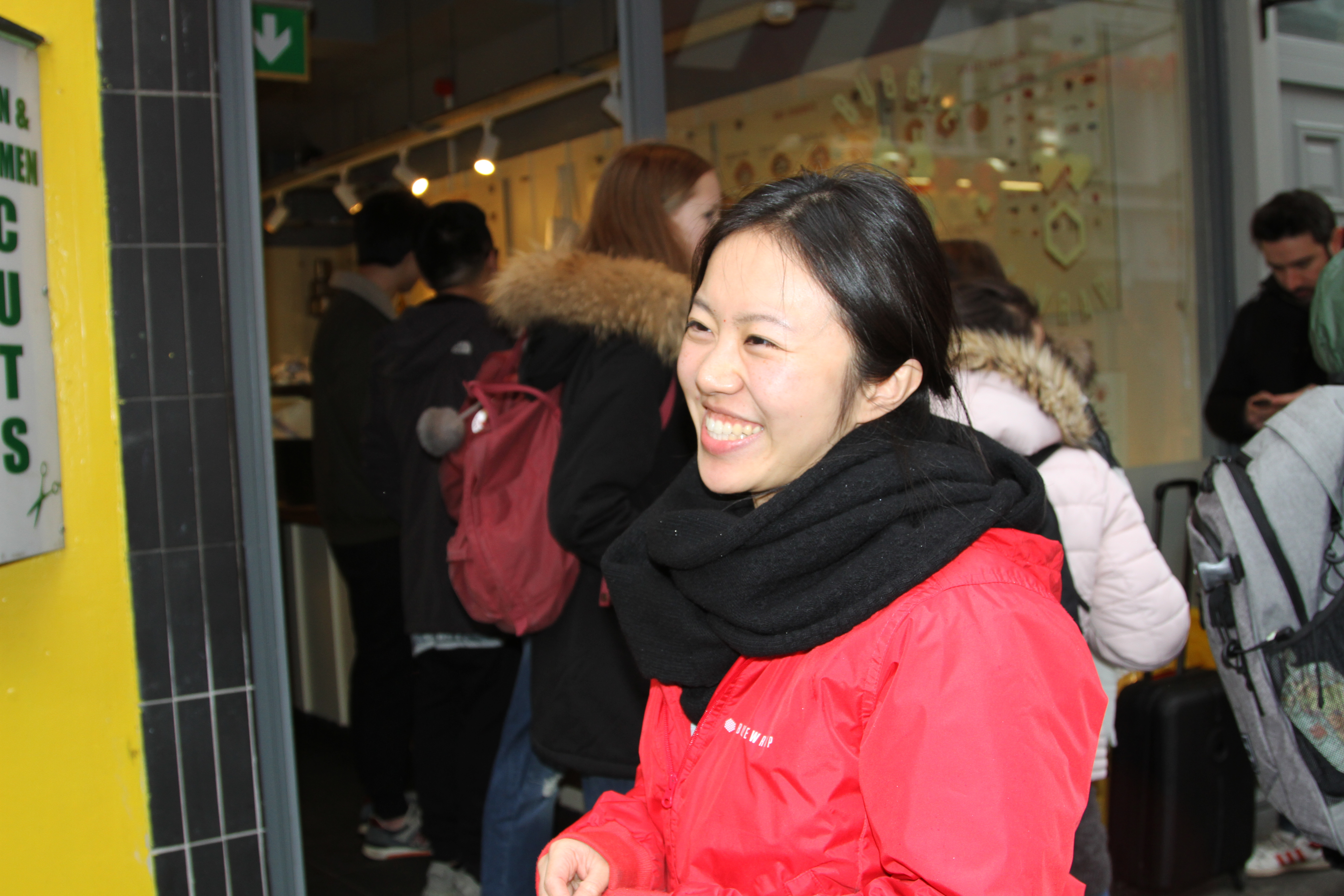 Next on my list is one of Chinatown's most Instagrammable items. Bubblewrap, owned by Chinese businesswoman Sunny Wu, is a dessert shop that serves the classic Hong Kong street dessert gai daan jai, a cone of bubbled waffle filled with ice cream and covered in sauce. Despite the cold March weather, when I arrive at the shop, I find people queuing outside and awkwardly Instagramming the ice cream dessert in front of the nearby Chinatown gates. Four German teens ask me for dinner recommendations in broken English.
As someone who doesn't look much over 25, I'm curious to hear from Wu about her experience of opening a new shop in an area with so many decades-old restaurants.
"It's a bit tricky," Wu says from an office a few doors down, where we head to escape the crowds outside Bubblewrap. "I wouldn't show I was the owner all the time. I just acted as a team member. Maybe it's because of my personality. It was so crazy last year and everyone wants to know who is related to this place."
Indeed it was Wu's male co-founder, Tony Fang, who spoke to MUNCHIES in a piece published about Bubblewrap last year.
Media interviews aren't the only thing that can be daunting for a new business owner. "It's difficult when you have to deal with complaints from external companies," Wu explains. "I don't think internally it's a problem. Also when you go out to pitch or present your ideas, you can feel that people might think, 'You look like a woman, so how should I treat you seriously?'"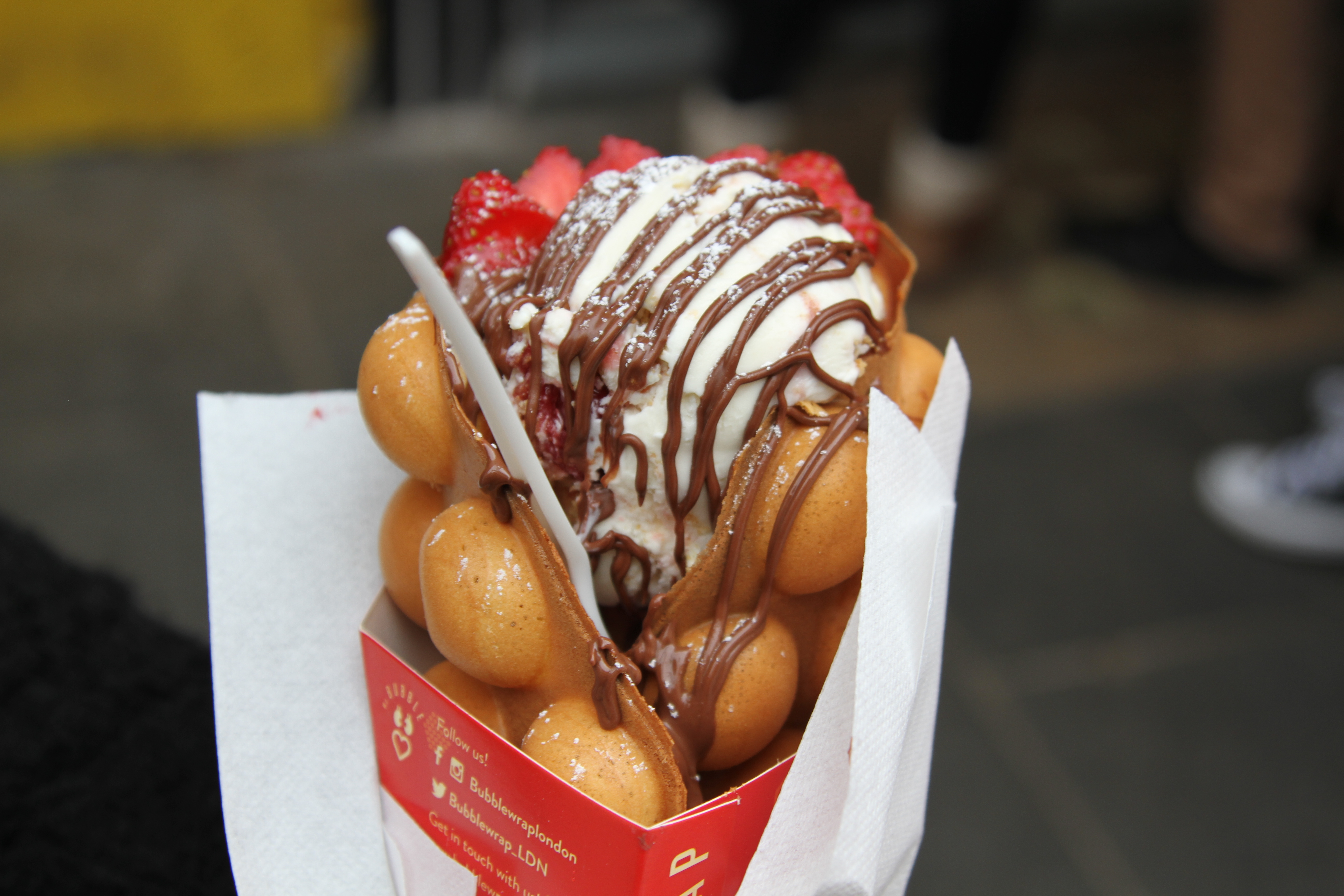 Despite this, Bubblewrap still boasts queues around down the block—apparently nearby shops often complain to Wu about their businesses being blocked.
"Being a woman is amazing. You have difficulties that men don't have but you have a better way of doing things that men can," Chew says, taking a similar angle to Chew. "It's about your approach."
"I think nowadays, it's not a huge barrier for women who are even young," she continues. "No matter what age group."
Just as we leave the office, I decide that it is imperative I try a Bubblewrap. Yes, it is about to rain and yes, it's eight degrees, but it would be impossible to complete this article without consuming the giant dessert. Wu obliges, bringing me a waffle with strawberry shortcake ice cream and Nutella sauce. It's far too cold for this, but I have no choice.
Christine Yau, Y Ming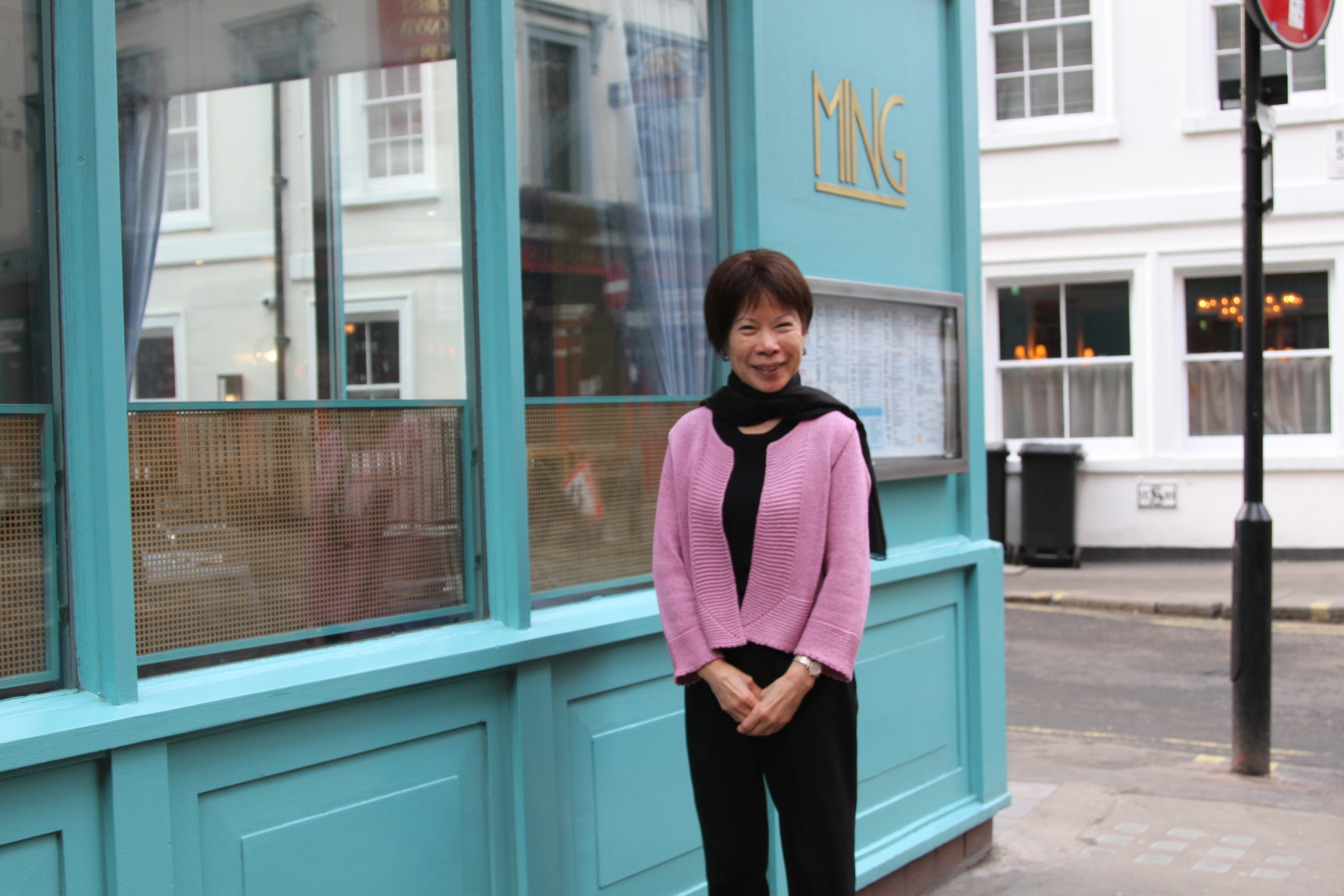 Bubble waffle in hand, I make my way just outside of Chinatown, across the street. Although I'm technically leaving the area (by about eight yards) owner of Chinese restaurant Y Ming, Christine Yau has been heavily involved in the Chinatown community since she came here over 30 years ago.
When I walk in brandishing my giant dessert, Yau seems confused. "Do you like that?" she asks, baffled by the size of it. "I see people walking around with it. I don't understand."
I try to explain that it's less about the taste of the waffle, and more about the cultural and social capital of having an Instagram picture of it. "Oh," she says, unimpressed.
Having been here since 1986, Yau's experience of setting up Y Ming was slightly different to Chew or Wu's first steps into the industry.
"I didn't want to start it. It was a mistake," she says, and I'm not sure whether to laugh or not. "I came and I bumped into two friends—not friends, acquaintances from Hong Kong. They thought, 'You're here let's start a restaurant.' I said, 'OK, providing I'm not running it,' because I never expected I'd have to get really involved."
"Then after one year, they couldn't take it anymore and they left, and I was lumbered with it," she says dryly. "Thirty-one years long."
So clearly, Yau was hyped to be here.
"In the beginning, it was difficult," she says. "Chinatown is all centred, and they all know each other very well. I'm obviously an outsider, and I didn't know anybody, and I didn't have any friends."
"You know, men get to know each other faster," she continues. "You couldn't talk to anybody about certain rules, and being a lone woman, and I think people tend to take advantage—for instance, my supplier would give me not the best goods, but charge me the highest price."
Did she have a community of women to talk to when she first came?
"During that time, there was one other lady, and she had been running the famous restaurant Canton," Yau tells me. "Unfortunately, she sold it four years ago. It used to be the restaurant. She kept it going for 45 years, and brought up two small children."
I wonder whether she has noticed more women working in Chinatown now. "[There's] not that many really, it's still dominated by men," says Yau.
Why does she think this is?
"I guess the men always run the business," she explains. "Women are looking after children, and to look after their education, and they are not the main domineering role in running the business in Chinese culture."
Despite her difficult beginnings, Yao has managed to build one of the most successful restaurants in the area (at one point, I compliment her on her mock duck, and she quizzes me on why on earth I would ever be vegetarian).
"In Hong Kong, women tend to be more independent," she tells me. "Maybe my mentality and my outlook are quite different."
She pauses.
"A little cuckoo maybe," she says, laughing.
*
Full of ice cream, Malaysian salad, curry, and Jasmine tea, I leave Chinatown with a slightly better bearing on the area. I now know where to find good food, support the women of the area, and, if needed, find a dessert larger than my head.
All of which seem pretty good rules to navigate life by.