I'm in a small pub kitchen in East London with chef Freya Coote. She's busy prepping for Yee Cho, a Burmese food pop-up she'll be hosting here tomorrow night with a five-course menu that spans lemongrass soup, sweetcorn fritters, and pork curry. I'm trying not to get in the way. As Coote slices ingredients, I place myself awkwardly between large pots of stock and garnishes that fill the work surface, punctuating my movements with "Oh sorry," "Shall I just ...?" and "I can move if you need," while trying to get as close as possible to the fragrant smells coming from the pots on the stove.
Deftly working around my interruptions, Coote explains what brought her to this tiny kitchen.
"I started doing this because my dad is Burmese, and I grew up eating the food," she tells me, placing noodles in a catfish stock. "We would go and visit my great uncles and aunts who were living in London, and I would be blown away by it."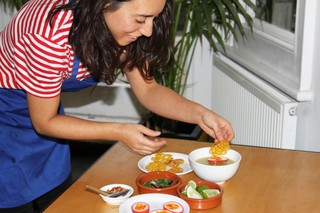 Coote became interested in Burmese food after tasting the home cooking of these relatives and eventually visiting Myanmar when she was 19.
"My nan was quite ill for a while and she had a carer who was called Yee Cho. I would go in the kitchen with her and watch her cook," she remembers. "I was bringing these recipes home and cooking them for my friends and I realised there weren't any Burmese restaurants in London, so I thought maybe I should explore this."
Coote, who is now 32, started Yee Cho just over a year ago as a side project to her freelance PR job. She originally envisioned it as a street food stall but soon realised that disposable plates and outdoor eating wasn't the best way to showcase Burmese cuisine.
"I was going around markets and doing research, and I realised that Burmese food was about communal eating and sharing. I didn't think a stall would portray what Burmese food was."
Which is how Coote ended up at The Gun, an extremely Instagram-friendly, everyone-knows-the-bloke-who-runs-it pub in Hackney. She has been holding her Yee Cho dinners here since she started, with the last eight selling out completely. Some diners seek out the pop-up out after visiting Myanmar on holiday and craving another taste of the food, others are simply curious about trying a new cuisine. Coote's menu covers breakfast, lunch, and dinner in the space of one meal, with dishes including faluda, a creamy dessert, a pickled green tea salad known as lahpet thoke, and mohinga, which is a fish noodle soup.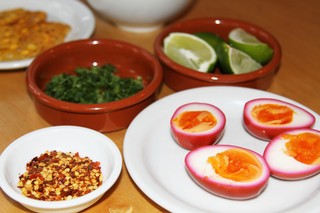 "It's quite a complex dish—as most Burmese dishes are," Coote says, garnishing the soup with pickled pink eggs, chili, and coriander. "The basis of any Burmese dish, and in fact most Asian dishes, is the onions, garlic, and ginger. That's all cooked down. You then add lemongrass, and at the same time, you're making the stock. We use catfish, which is the traditional dish you use in mohinga."
While many Burmese dishes are formed with a base of ginger, garlic, and coconut, they use additional ingredients and garnishes that differentiate them from neighbouring countries Thailand and Bangladesh.
"Burmese food takes from all the bordering countries but it does have quite a strong identity of its own," says Coote. "It's really all about fish, and the basis for a lot of dishes come from dried fish and fermented fish paste. Burmese food is a lot of curries and noodle dishes, but they're usually put together in a different way."
As I ladle the steaming mohinga into my mouth, I wonder why Burmese food hasn't become as popular in Britain as other South Asian cuisines.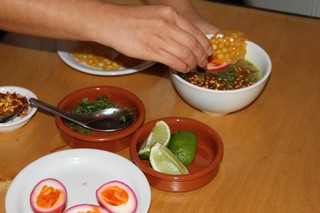 "There is [a big Burmese community in London], but I'm as baffled as you as to why there aren't more Burmese restaurants in London, to be honest," Coote says. "I really couldn't tell you why. It's very strange."
The Burmese community in Britain is around 10,000, according to data from the Organisation for Economic Co-operation, but its food scene isn't nearly as prominent. Sadly, one thing that is being talked about is the recent ethnic cleansing in Myanmar of the Rohingya, a stateless Muslim community that has lived in the country since the eighth century. Mark Farmaner, director of the Burma Campaign UK, explains that the atrocities suffered by the Rohingya may even be worse than we realise. He tells me over email: "Burmese military attacks against the Rohingya have created the worst human rights crisis the country has seen in decades, but also the weakest international response. So far, the military in Burma have completely got away with ethnic cleansing of the Rohingya."
Coote is keen to raise awareness of the political situation in Myanmar, and will be donating the profits from the Yee Cho pop-up to the Disaster Emergency Committee, an organisation that supports 13 UK charities giving aid to Rohingya.
"I felt it couldn't be ignored," she says. "It's a big part of my heritage, I certainly don't agree with what's going on there. It's devastating. I wanted to bring awareness to it, and donate some money."
Alongside raising funds and awareness for charities working on the ground in Myanmar and Bangladesh, Coote hopes that Yee Cho can bring Burmese food to an even wider audience, eventually branching out to other pubs around the capital.
"It seems to be my generation that are bringing the cuisine forward and doing something with it," she says.