Russell Haswell
If you were to encounter any notable person operating in the fields of art, music, fashion, technology, media or science during the last 15 years, chances are they would have a story to tell about Russell Haswell. The British multidisciplinary artist...
|
01 November 2010, 12:00am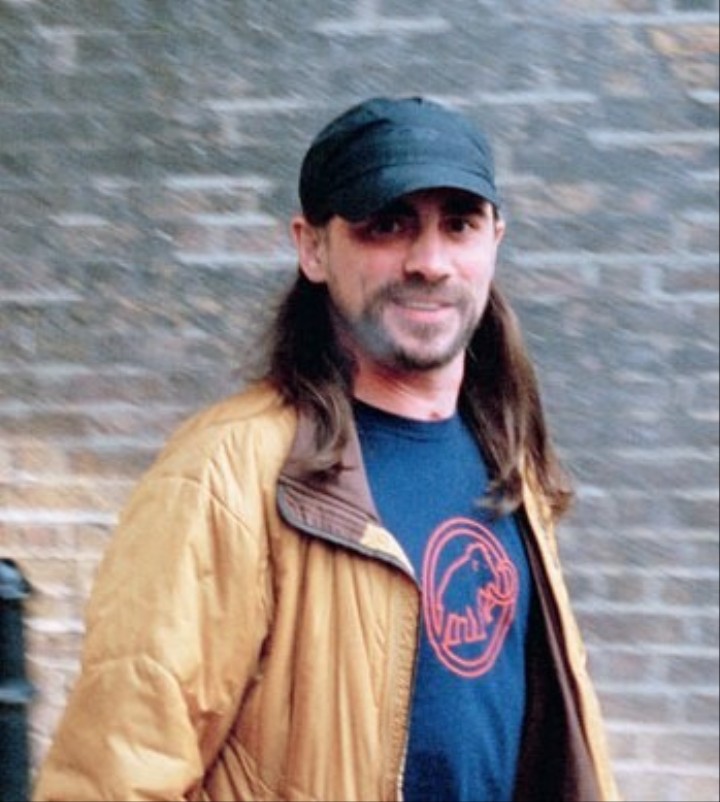 RUSSELL HASWELL
INTERVIEW BY ANDY CAPPER, PHOTO BY JAMES PEARSON-HOWES
If you were to encounter any notable person operating in the fields of art, music, fashion, technology, media or science during the last 15 years, chances are they would have a story to tell about Russell Haswell. The British multidisciplinary artist and curator, who turns 40 this year, has chiselled out his own highly idiosyncratic niche across an enjoyably unorthodox career that has seen him produce a small but perfectly formed body of work in a variety of media, most of it characterised by its uncompromising physicality, brutal honesty and black humour.
Over the years, Haswell has collaborated with artists such as Aphex Twin, Zbigniew Karkowski, Jake and Dinos Chapman, Autechre and Carsten Höller, and has released a number of records on the Warp and Editions Mego labels. He's also a lot of fun to hang out with and could talk the hind legs off a donkey, provided there's enough beer on hand.
Vice: How did a lad from Coventry end up working for Gilbert and George?
Russell Haswell:
Well, I once helped them. In the art world some artists don't fabricate their own work, they get other people to make it for them when they hit the big time. Gilbert and George hit the big time in the 70s.
How did you end up doing that?

It was after spending years in London, unemployed. I went to all the gallery openings every night because at that time in the art world, Beck's first started to sponsor the arts. In the early 90s, every gallery opening you went to had free Beck's, and when you're unemployed, getting free beer really was a key thing. All my friends, Jake and Dinos, and Dave Falconer, we all used to go to the openings. You go to meet the artists, it was a scene, and over the years I met Gilbert and George.
Why were you in London?

I'd just left Coventry, my hometown, and I had studied at the Art Faculty there. Coventry is the Detroit of Britain, it's where they made all the cars and aircraft engines. Rolls Royce, Jaguar and Peugeot Talbot are there, the largest speedway track in Britain is there, and it was the second most bombed city in Britain. So yeah, it's a pretty grim place. When I got to London I was in a flat with a guy called Dave Pugh who was in a duo called Critical Decor, who were really great. Dave Falconer and Jake and Dinos had their first exhibitions in London when we lived there.
What art were you doing then?

Nothing. Thinking. I had no studio, no materials, no equipment and no budget.
So what would you do day-to-day?

Sign on, cash your Giro, go to the cafe, go to an art opening, then go to a nightclub and then do the same the next day.
Where was your flat?

It was on Myrdle Street [in Whitechapel, east London] and it was where everyone lived. Jake and Dinos had made it big by then. In the late 90s I left that environment and I went to New York to be a curator.
How did you get that gig?

I was headhunted by Alanna Heiss, the then director of PS1. This was before and during its merger with MoMA. At the time my girlfriend was Cecily Brown and I was working on various shows. The first thing I was working on was
Children of Berlin
, a group show of people from Berlin, so I actually spent about three months in Berlin, hanging out with the artists. Because there were a lot of musicians there I did a kind of monolithic, mega CD changer where every band and record label from Berlin provided their new releases and back catalogue, which filled this 200-odd-CD changer. I spent fucking ages cycling over to every record company, meeting all these people. In a true curatorial sense I had to meet all these people, some who I didn't like, and work with the music of some artists whose work I thought was shit. To cut a long story short, I didn't want to do it any more. I wasn't prepared to do work with artists whose work I thought was shit. To work as a curator, in any curatorial capacity, I was only going to work with artists that I liked. If I thought they were a pile of shit, I was either going to do a bad job, or not do the right thing, so as a consequence I left New York.
It all went tits up?

Yeah, it did.
What happened exactly?

Well, if you go on the internet you'll see loads of different stories about what happened, and they're all incorrect. It all got a bit hectic and shit hit the fan big time when it wasn't supposed to and it didn't need to.
What caused it?

I still don't know. General dissatisfaction with things you just don't want to be doing.
What happened next?

When I came back to the UK, I realised I didn't really want to move back to London. And exactly at that point I went to Sweden, I spent a year there on an artist's residency, then half a year in Helsinki.
What were they like?

Amazing!
Like jumping in to freezing cold water and stuff?

Well, that was in Finland. In Sweden I was on the IASPIS, which was an international artists studio programme in Stockholm. That's where you're invited into the city and you just do whatever you need to do for your work. However, when I went to the one in Helsinki, directly from Stockholm, I went with Coil because they were on tour at the same time that I wanted to go to Helsinki. I took the tour bus and ferry with Peter Christopherson and John Balance, and when we got to Helsinki, I was living on this fortress island called Suomenlinna, which is this UNESCO World Heritage site, and I was there for the winter period, so there were no other artists there, nobody to meet and hang out with. But there were all the advantages of Finland, like avanto, which is where you cut a hole in the ice, go to the sauna, take your sauna, come naked to the hole in the ice, and you soon realise that the air is colder than the water you're in. So you get more into the water until it's unbearable, climb out and then leg it back to the sauna. All the snow and ice on your body melts, it would be great to be there with a girlfriend.
So all this time, what was the art you were making yourself? What was the music like?

That's the thing, if you look at my web page at haswellstudio.com, there were exhibitions I contributed artworks to.
Like the cockroach painting?

Dave Falconer curated that show,
Frass
. It was held in the decommissioned UBS bullion vault in the City. So there I exhibited a new version of the cockroach paintings. At that time the art world was getting really large scale, and it was before it crumbled.
What was it like when it got like that?

Well, there were a lot of artists who would be given big money from powerful galleries and their work was still shit, but they were getting big commissions. Their work was manufactured, fabricated, and it was still shit work. And anyway, I was quite cynical, and it just seemed like an interesting idea to use cockroaches, as they can survive in any kind of environment, whether it's a nuclear-bombed area or whatever. The idea that you could kill them with Chanel nail varnish was this strange contradiction. And there was also the fact that I'd have to go through this physical, structural, materialist process of actually killing these things myself, which was more gruesome than I ever expected. They tried to escape the whole time. They were so brutal that even when you painted them in nail varnish they'd still keep going, but would leave a Chanel trail! When the nail varnish gets caked on enough, they would stop, suffocate and die, and then that's that.
How many did you kill in the end?

Fuck knows. Not that many, 60 or 70-odd. I made a video of them being killed, painted or perpetuated... a gesture. The thing is, now the piece is destroyed, so it didn't help with the gesture.
What happened to the piece?

Nobody bought it. I didn't have room for it, so it just got chucked in a skip. I don't know, maybe somebody has got it somewhere.
Russell Haswell and Toshiji Mikawa of Incapacitants performing live at IKKI, Kitakyushu, Japan in 2007. Photo by Akiko Miyake
Recently you've been doing this thing with lasers?

Well, it's based on this Iannis Xenakis UPIC system. Florian Hecker and myself got to use the UPIC system in Xenakis' old studio in Paris. After we completed the recordings and edited the material into a release, we knew we were going to do concerts with this music. We basically decided to choose to use and make gestures towards Xenakis' efforts in the past, like the fact that he always had these lasers when nobody was using lasers—it was well before Jean Michel Jarre. To date, we've done 20-plus UPIC Diffusion Sessions, these multi-channel surround sound concerts, and nearly all used multiple lasers. But I'm more or less over with that now.
Why?

It's just done. I'm more interested in getting on with my own editing. That was something we did five or six years ago, we've done it. It's been done. That's not to say we don't do it any more; we have an invitation to do one next year in France. We were invited by Sharon Kanach, who was Xenakis' assistant for two decades.
What now?

I've curated some artists for a project called
The Morning Line
, which is in Istanbul and commissioned by Thyssen-Bornemisza Art Contemporary. It's a sculpture pavilion with five Meyer surround sound systems contained within it. I've curated the musicians Peter Zinovieff, CM von Hausswolff, Yasunao Tone and Jana Winderen, who are providing surround soundscapes and compositions for this. That's while Istanbul is celebrating being a city of culture. I just think of
Midnight Express
. I don't like it. It's tons of mosques and crazy cab drivers with no seat belts. They're all drinking Turkish coffee by the pint and driving 80 mph down alleyways backwards.
I'm also currently compiling surround recordings of all the solo gigs I managed to archive while on tour in Europe this year supporting Autechre. This is to be released on DVD, vinyl and CD. The two-channel versions are encoded in this old two-channel format called UHJ, which can be decoded by the end user into surround.
You've been living in the countryside for a few years now. Has this had any influence on your work?

Well, the
Wild Tracks
thing [a collection of field recordings released last year by Editions Mego] was really about making something there. I'd spent a lot of time with Chris Watson, who makes lots of natural history recordings, and was in Cabaret Voltaire and the Hafler Trio.
With my latest record,
Value + Bonus
, I wanted to compile an album that was different to everything I'd done before. It kind of comes from that emphasis of going "I've done that, I want to do this now", and then that's the next stage. This is me doing what I wanted to do when I was 16. I was watching all these bands, but I didn't have any equipment. All these tracks here, the second half of the first disc, are what I'd like to have done when I was 16.
How much of art is a racket? How many artists do you think are blagging it?

Fucking hell! Well, who isn't blagging it? Everyone's blagging it in some way. The thing is, it's better if you're blagging it!
And the money?

It's gone up 800 percent in the last few years.
Explain how you make that money.

As an artist or a collector?
As an artist.

Well, you need someone, a patron or a collector, like Charles Saatchi. But someone could buy an up-and-coming artist's entire graduation show and then never show it ever again. It's Catch 22.
Why does Saatchi do it?

Well, the thing is, you can't play unless you've got the cash, if you're talking about collecting. The illusion is, as an artist you've got to live in the gutter and the collector picks you out of the gutter, and puts you in the gallery, and you're sponsored because they think your work's good. But I don't think it's like that any more.
You're a big fan of the Tony Hancock film The Rebel, aren't you?

I think that's one of the best films about art. One of my favourite scenes from it is when Tony Hancock, playing the artist, is looking at a painting on the wall, with his landlady, Irene Handl, and she asks the artist, "What's that?" The artist replies, "It's a self-portrait." And she says, "Self-portrait? Who of?"
Given your experience, where's the best place to be an artist?

It depends what you're trying to do. If you're just trying to experiment and do your own thing at the start of your career, you're probably best off in a place like Sweden. Because if you're from there you get supported really heavily.
You were fucked for years here, right?

When you go to the dole and the person behind the desk says, "Artist? What? It's not on the list of jobs I have here." If you've got a body of work and it's good, then London's probably a great place to get a break. It's probably better than New York. New York is just cutthroat and full of wankers. Though I haven't been there in over ten years, so what do I know?
Ever been close to making a shitload of cash? Your work doesn't seem like it would.

I've not been making any work, even for years. I've never made much, because I've always had to do other things to make my living. And that's one of the simple things artists have to do to get by—it takes over. In New York, I realised, when you're curating artworks in a gallery, the last thing you want to do is your own artwork. I was completely castrated.
Would you say the art world revolves around drinking?

Not necessarily. There's a lot of promiscuity, especially in New York, people trying to get together and get up the ladder, people trying to become nepotistically entangled with other people. It's the culture of the gallery girl. There are lots of hot ones in New York. Not that I was doing that, but that's what New York is, that's the strategy. I mean, people probably do that here. The reality is it's like every job: if it gets out that you've shagged the receptionist, then that's it, you're over!
Value + Bonus
is out now on No Fun Productions. More at haswellstudio.com.