It's 10 AM on a Sunday and I'm at my parents' home in South London. This means one thing, it's time for brunch. More specifically, it's time for plates of freshly cooked aloo paratha, the buttery flatbread stuffed with fluffy potatoes and fresh spices, and cooked in generous quantities of ghee.
In our house, cooking paratha is a whole family operation. My brother and I prepare the aloo mixture, which gets stuffed into each paratha. He peels ginger and chops it with a large bunch of coriander while I roast a handful of cumin seeds in a dry frying pan until fragrant, then grind using a pestle and mortar. We combine our ingredients into a bowl of grated potatoes. My brother adds sea salt and asks me to taste.
"Smashed it, mate," I say.
As we finish the aloo stuffing mixture, my mum adds water to whole wheat flour to create the soft paratha dough. She kneads it with her right hand (using your left hand is a taboo) and then leaves it to rest for 30 minutes. Meanwhile, I lay the table with Indian pickles, butter, and yogurt.
When the dough has rested, my mum shapes it into small balls, then rolls each one out into a square shape. She adds two teaspoons of the aloo mixture to the centre of each paratha, then closes the edges so that they look like neat parcels. We cook the paratha in ghee or butter—probably not the healthiest option, but no-one counts calories at brunch.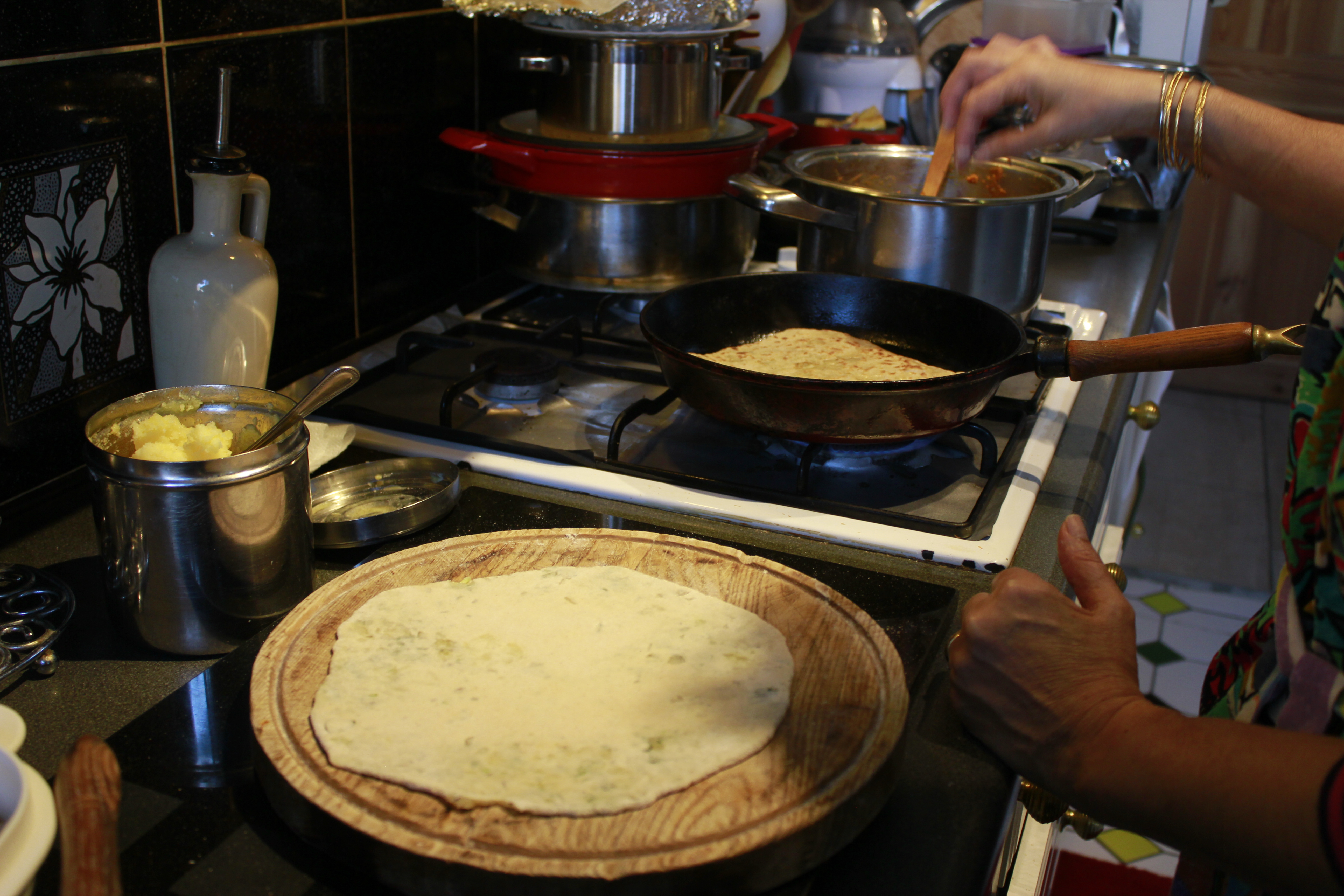 I take a seat at the table next to my dad as my mum carries the stack of steaming hot paratha over from the stove. I grab one and tear off a crispy corner, smother it in butter, and spoon on a dollop of yogurt. For me, this is the definition of home comfort food.
Growing up in a Kenyan-Punjabi household, preparing and eating brunch together was a fundamental pillar of family life. But to assume that every Punjabi eats the same dishes in the morning would be ignorant. Brunch in the Punjab region of India and the global Punjabi diaspora varies depending on location, seasonality, and available ingredients. Paratha stuffed with vegetables or paneer are popular options, as well as channa and halwa puri and dhal with yogurt. My cousins draw on their Kenyan heritage at brunch, snacking on mogo chips—made from boiled and fried cassava root seasoned with salt, red chilies, and lemon juice—before they get to the parathas.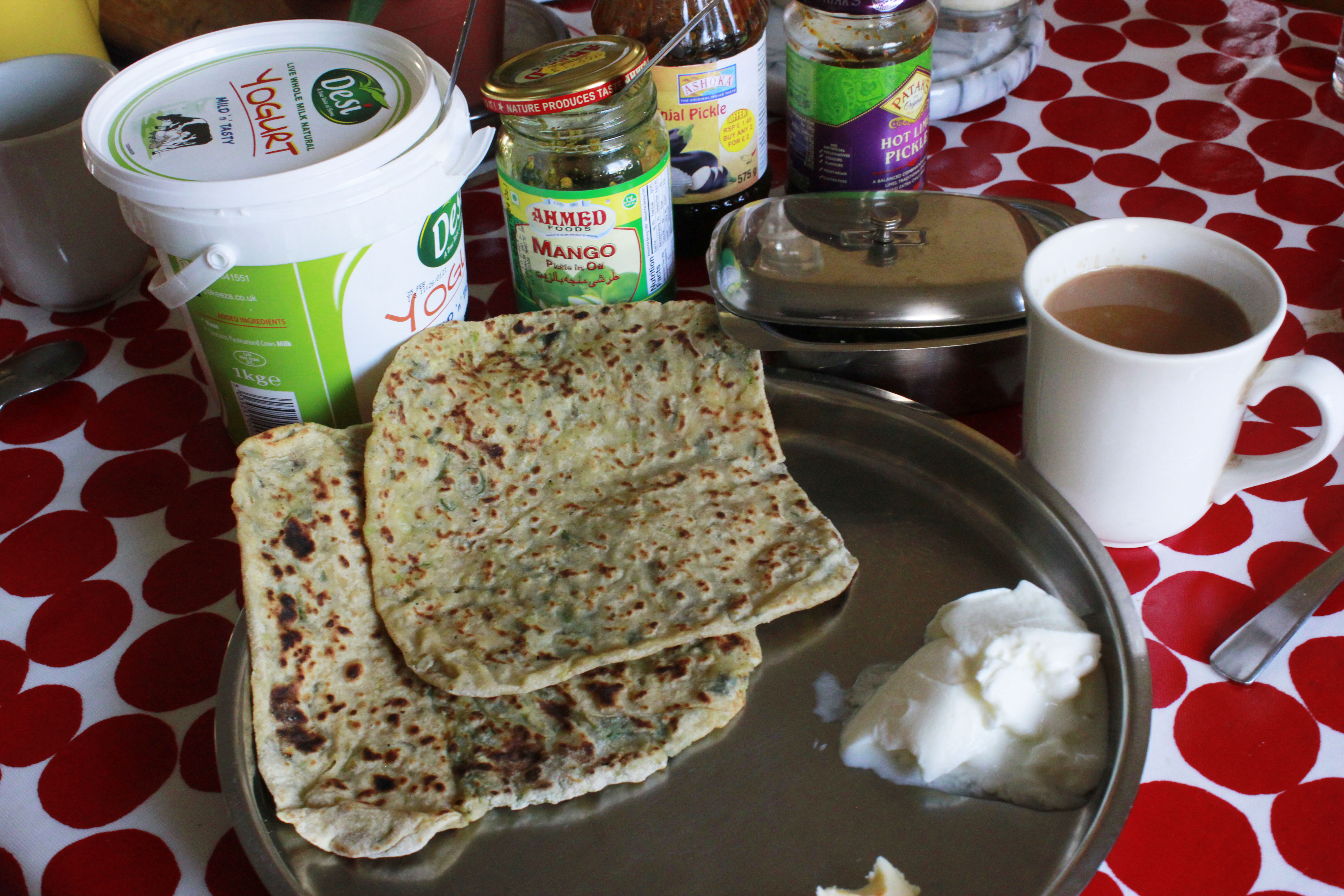 Keen to learn more about the wide-ranging brunch traditions of the Punjabi community in London, I head to Masala Wala cafe in Brockley. The Pakistani-Punjabi cafe is run by mother-and-daughter team Saima Arshad and Nabeela Muqadiss, and has a rotating menu of homestyle curry dishes.
When I arrive at the cafe on a grey winter's morning, the pair greet me with like an old friend and we head straight into the kitchen. I watch Muqadiss prepare laccha parathas, a multi-layered version of the flatbread. Daughter Arshad tells me about how Masala Walla got started three years ago.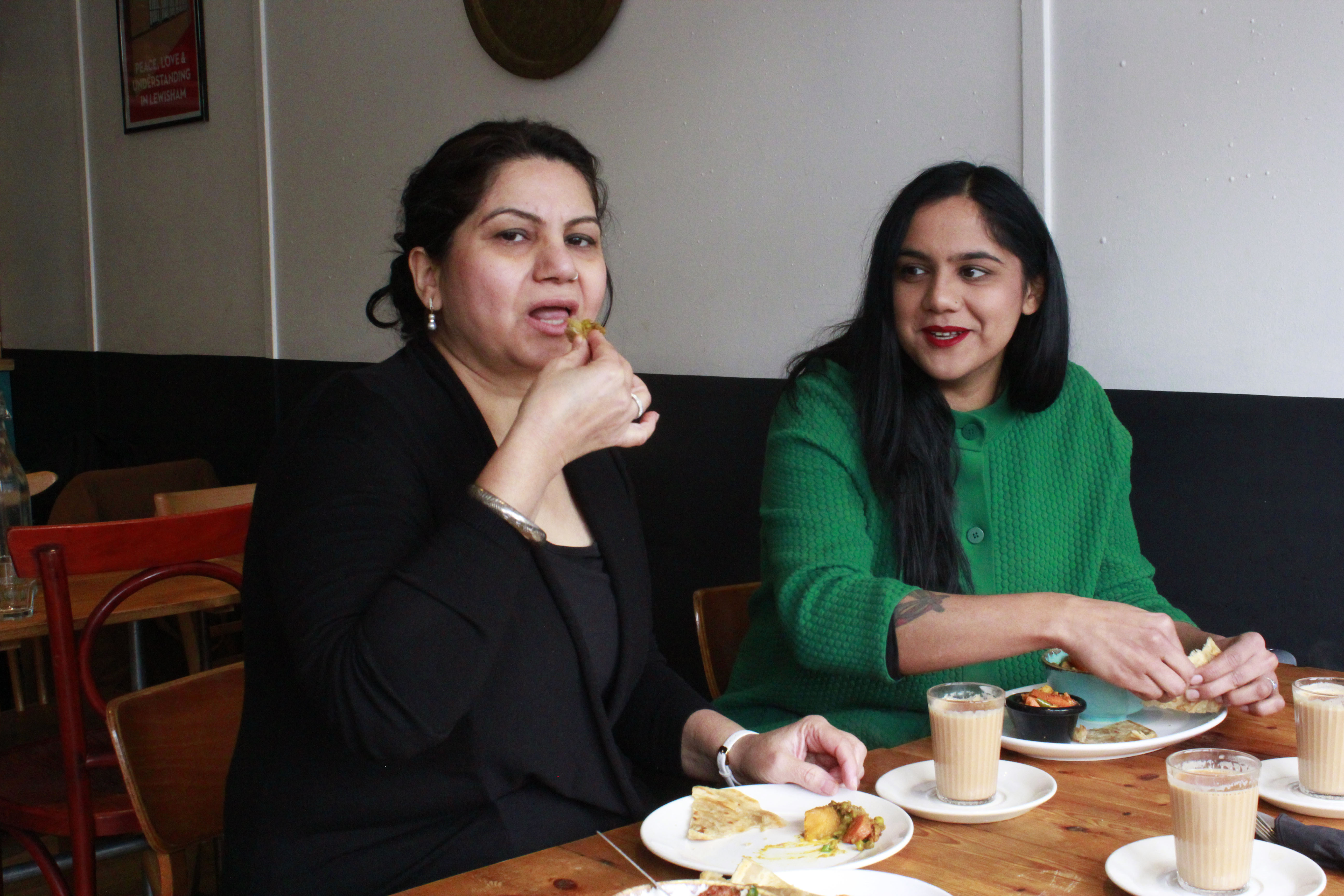 "When I moved away from my family home, I realised how special the food was and I took it for granted," she says. "That's when it clicked for me. The food I'd grown up with was exceptional. That's a big part of my life. It's my identity."
This included brunch. While Arshad ate "generic cereal" on weekday mornings before school, at the weekend, much like in my family home, everyone came together over bounteous plates of traditional Punjabi dishes.
"I remember sitting down and eating a big spoonful of homemade yogurt with aloo or gobi paratha and a side of pickle," she tells me. "Sometimes bhatura [a type of deep-fried bread] or halwa puri with aloo. We spend time with my cousins and aunties. Sometimes we have more of a lunch setting with one-pot dishes like aloo gosht [potatoes and tender meat] with biryani and fresh rotis."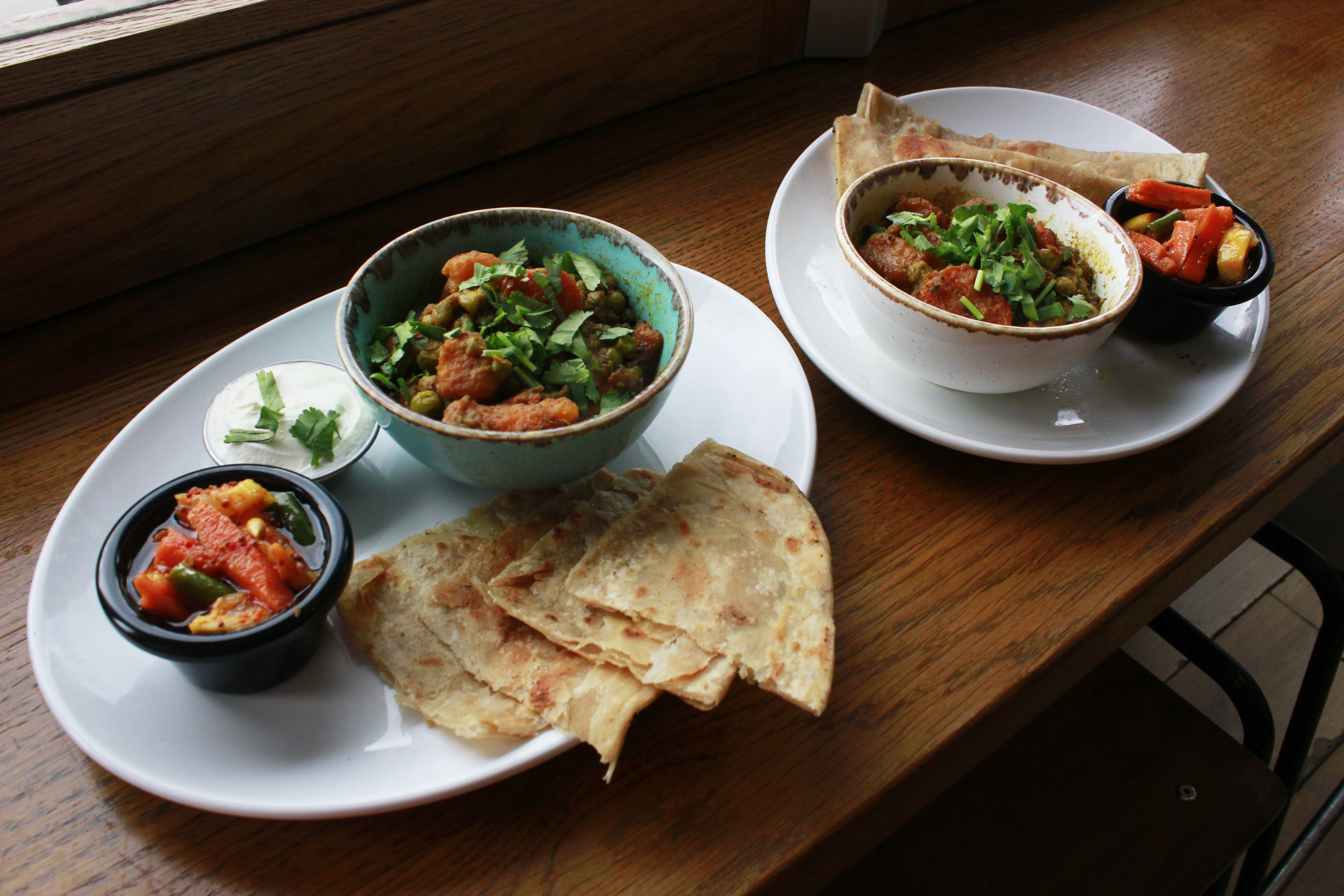 Arshad, Muqadiss, and I eat the fresh laccha paratha with gajar, a carrot-based dessert, and a spiced butternut squash, carrot, mushroom, and pea dish called kadu ka sabzi. Leaving with full stomach but hungry for more food stories of Punjabi brunches, I make my way east to Forest Gate.
It is here that I meet Kenyan-Punjabi entrepreneur Kuldip Singh, co-founder of the Punjabi cooking brand, Mr. Singh's. As well as manufacturing a range of thurka cooking pastes, chili crisps, and sauces, Mr. Singh's runs a Punjabi brunch club at a local bar.
"Eating together is important for us. When our friends come over, the table is loaded, and they don't leave until they're fed," Singh says. "It's about hospitality and making people feel like they're at home. Everything we do with Mr. Singh's is about that. We don't just have paratha, we eat other things too. Which is why we offer pancakes and vegan fry-ups at the brunch club."
Singh also tells me about the Kenyan breakfast staple, ugali.
"It's made with white cornmeal flour and water," he explains. "After mixing the ingredients it turns into super-thick paste and you mould it with your hands, scoop up the sabaji, and eat it like roti."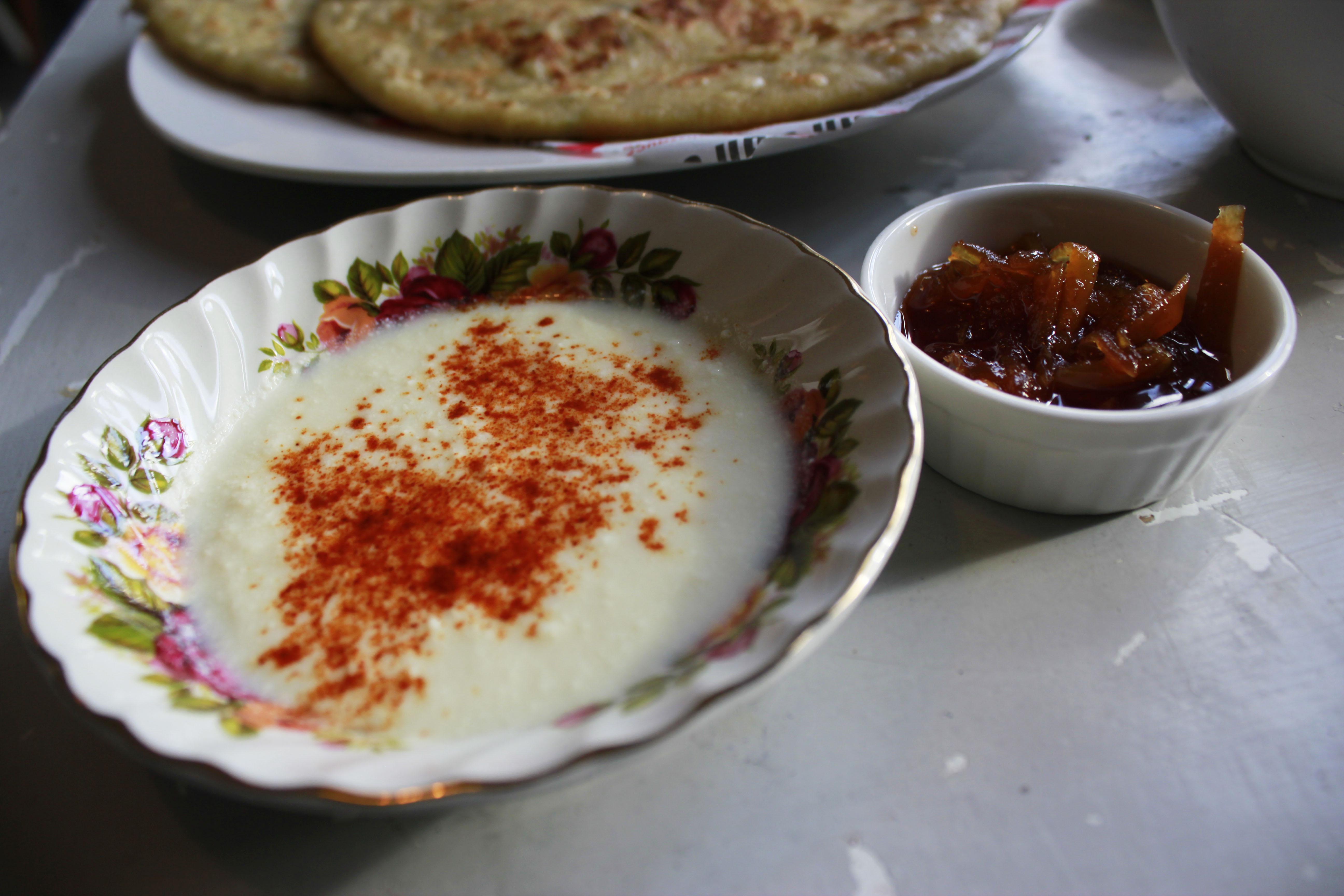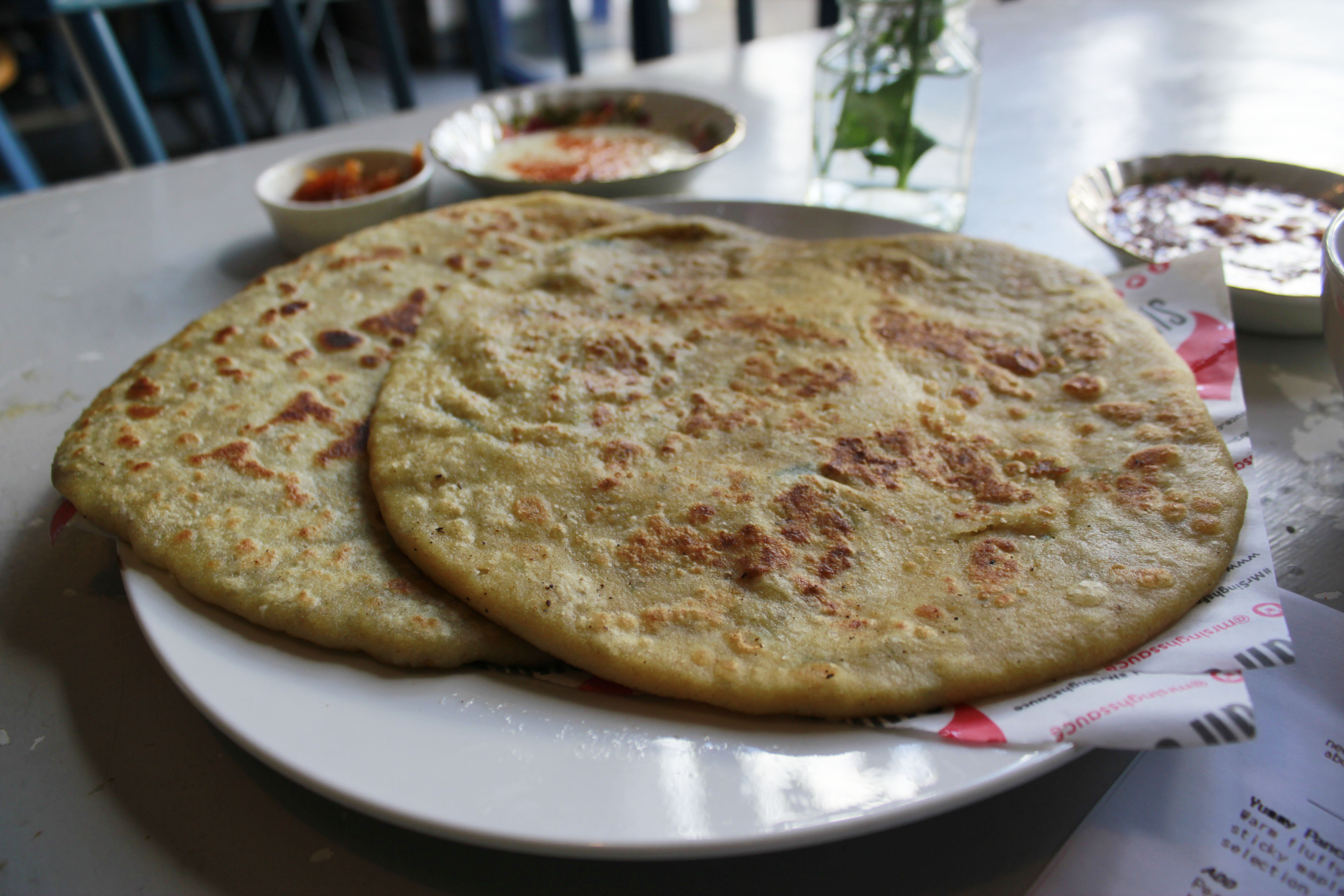 All this talk of food is making me hungry but luckily Singh soon tells me to sit down and brings over bowls of soya mince, pickles, masala beans, and yogurt, as well as a plate of aloo and gobi paratha. I scoop up the masala beans—cooked using Mr. Singh's thurka paste—with a corner of paratha and my eyes widen. These beans are next level. I keep scooping, chewing, wiping my hands, and repeating until I physically can't eat anymore.
Making my way to the bus stop feeling stuffed but contented, I think about my conversations with Singh and Arshad and their memories of eating brunch. There is a correlation here—it's about family, obviously.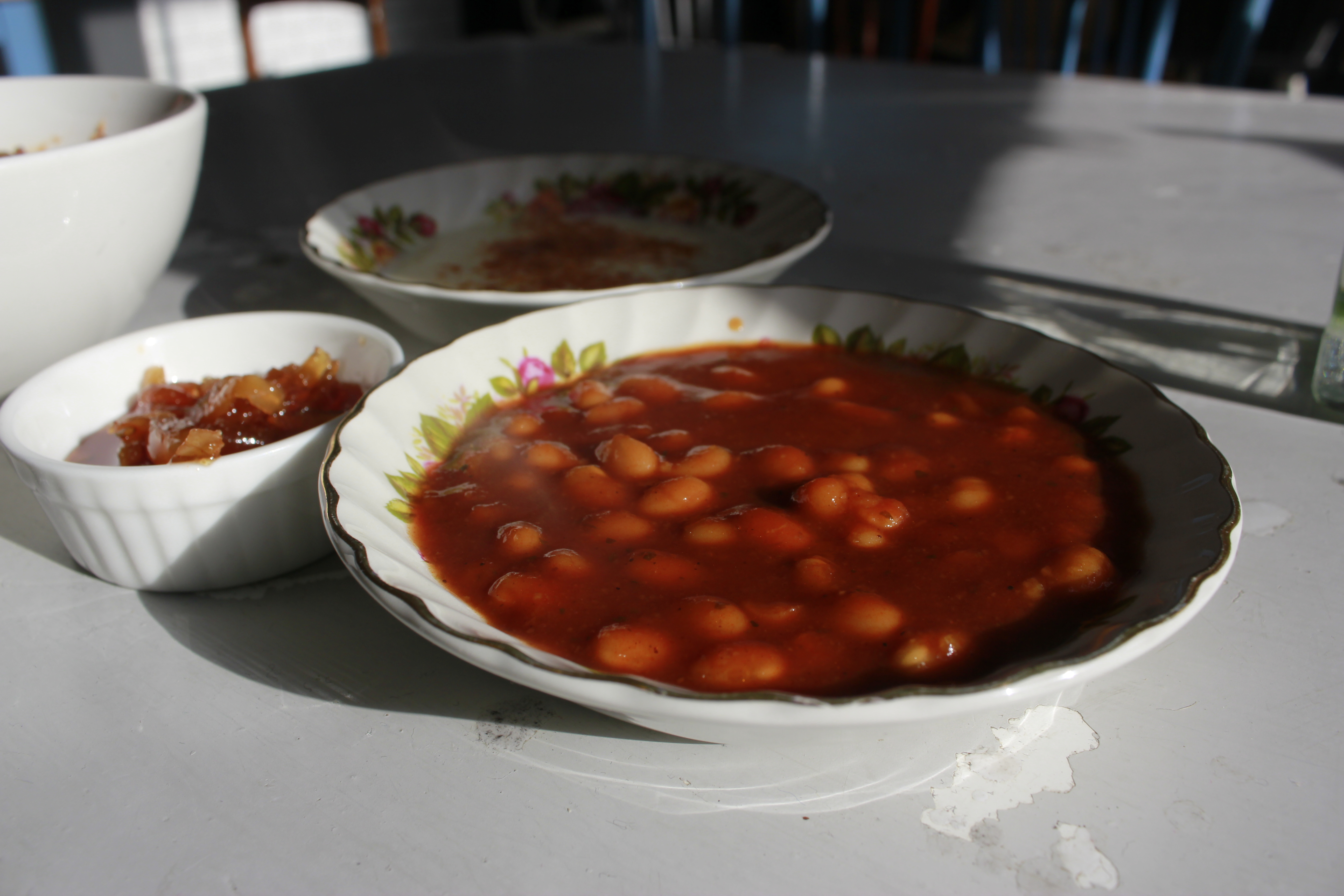 To gain a clearer understanding of how Punjabi brunch habits have evolved throughout history, I arrange to speak with Monisha Bharadwaj, author of The Indian Cookery Course and India's Vegetarian Cooking, and lecturer on Indian food history.
I meet Bharadwaj at Hounslow West tube station and we quickly make our way to Chini Chor, a nearby vegetarian Indian restaurant. We grab a cosy table in the corner and Bharadwaj begins telling me about Punjabi migration in Britain.
"If we talk about immigration to the UK, Punjabi immigration is quite unique and distinct. Out of all the Indian communities, Punjabis have probably been here the longest," she tells me. "When these first Punjabi people came, Britain was not multicultural and therefore they felt the need to fit in quite strongly. Indian food, 40 years ago, was called 'stinky, smelly' food. The Punjabi people who came, didn't want those labels."
"Eating together is important for us. When our friends come over, the table is loaded, and they don't leave until they're fed."
I order an aloo tikki chaat, a potato patty served with chickpeas cooked in masala spices, tamarind, and yogurt. We also ask for two masala chai.
"If you look at the cuisines, Indian cooking has always been about sharing plates," Bharadwaj continues. "English traditional food is all about plating up. We never think of cooking in portions. We think, 'We have eight people coming, I will cook for 12.' No-one makes just two portions."
I laugh in recognition. I have never been very good at cooking in portions.
"When I was growing up, my parents always had people over," remembers Bharadwaj. "These days when you meet friends, no-one's ever inviting you home, it's always going out. There's a whole art of having guests over, it's not only about having food. It's conversation; teaching your children how to treat guests and how to be good hosts. All those skills are not a big thing now."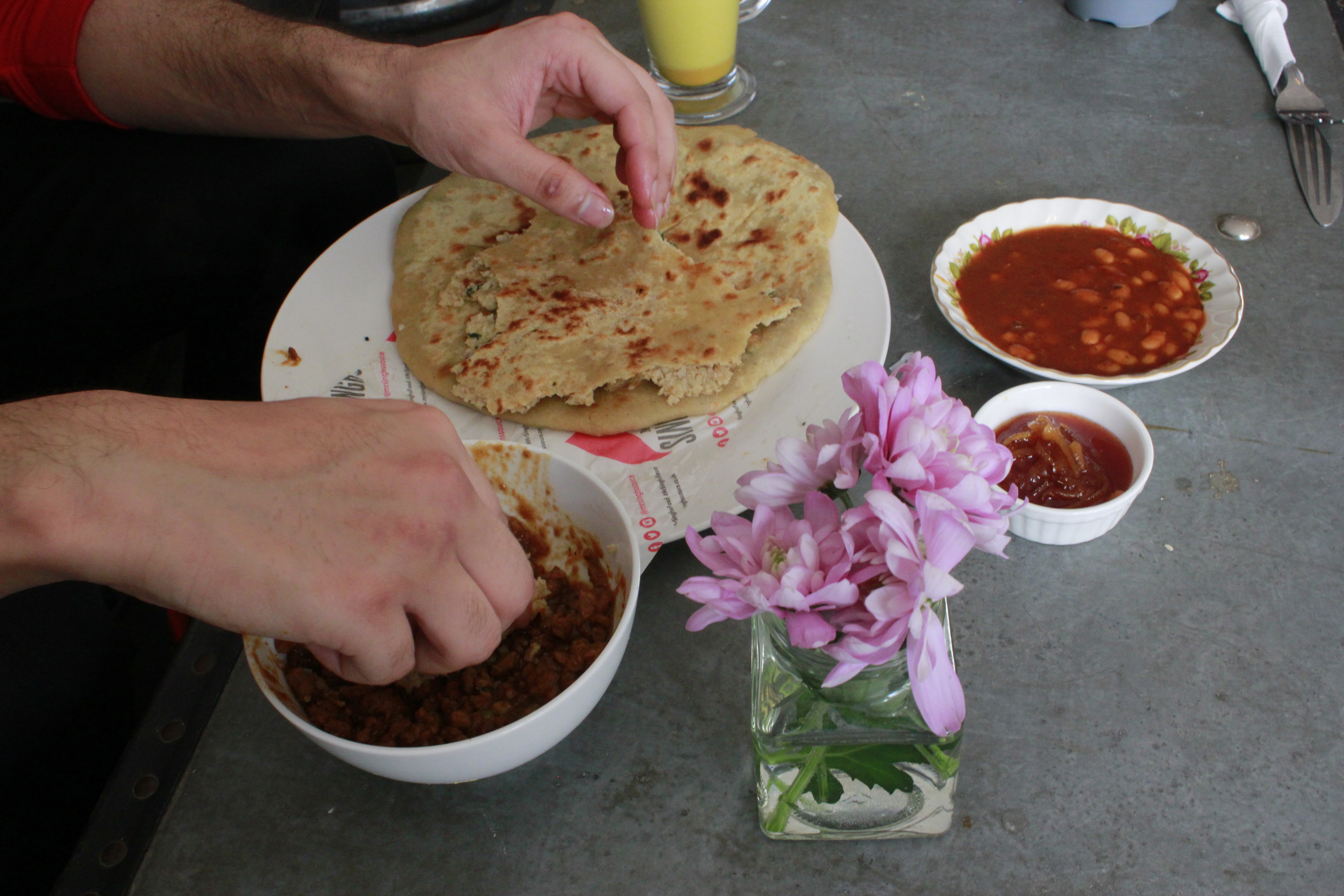 On the walk back to Hounslow West Station, I think about how far Punjabi food has come in Britain. With that in mind, I text my brother and ask if he'll be home on Sunday for parathas.
"Yeah, but you're making them by yourself," he replies. He'd better be winding me up.