There was a point when it felt like festivals crowded every weekend between late May and early September, leading to the sort of frenzied WhatsApp group plans that would drain the batteries of most Brits in their late teens and early twenties. Several events would clash or newcomers seemed to pop up every few weeks, complete with slickly-shot slow-mo teaser videos inviting potential punters to disappear in whatever fantasy world the event was meant to foster. Then … you could almost hear the bubble burst. But despite a shifting festival climate that's recently seen some of the big dogs of the scene downsize (Bestival), no longer sell out (V Fest), or close down altogether (Secret Garden Party), Croatia-set Outlook and its sister festival Dimensions have been bobbing along quite happily.
Brits continue to flock to the festival (although percentage-wise, they make up less of the total number of people at Outlook each year), even with the higher price tag that comes with going abroad for a weekend. In light of the very different musical climate – now, the dubstep that Outlook originally championed has all but disappeared off niche festival bills, and internet hype culture has pushed the underground mainstream at a rapid rate – I set off on a mission to find out what the purpose of Outlook even was now, since its inaugural 2008 party. How did a group of mates from Leeds end up pulling off a bass music-focused event 1,000 miles from home? One that wasn't dead yet?
Well, at the start, they didn't even intend it to be a festival. "Originally we simply wanted to run a sunshine holiday soundtracked by some of our favourite music," says Noah Ball, one of its founders and managing directors. "There weren't any grander-scale ideas at that point; we didn't know whether we would even run more than one year when we first made the leap from club promotion into international music events." Walking around the site on my first day in Croatia, it was easy to see the festival's 'general' appeal. You had sun and the smiling people that inevitably brings out, and while festivals as a whole are pretty white places, there were enough people of colour around that I didn't feel uncomfortable. Navigating the site was easy, the food options looked legit.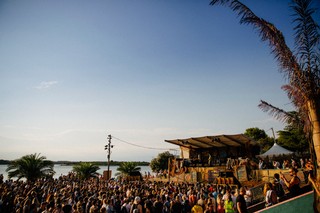 One thing I couldn't seem to find, though? People who'd come to the early years of the festival, and were willing to chat to me about it. Admittedly, the leap in capacity from 1,500 a decade ago to 14,000 might have had something to do with this, but after a while it seemed apt that everyone I spoke to said they'd only been coming for a few years. Outlook has somehow managed to last a decade by frequently shedding and changing its skin, so their 'crowd' is hard to pin down. The closest I got was a slightly dishevelled dirty blonde guy called Lucas in his thirties, who huddled next to me at the bar when it rained one night and said the festival "was great then and it's great now, although it's loads more organised than when I first came in 2008". Whatever that means.
Ruby Kellard, a 21-year-old at uni in Nottingham who I meet at the airport on the way home, said something similar. "I thought it was really good that they sorted out the crowding so well. You could get into places, so you could enjoy the music more." Ruby's mate Abi Brearley, 20, added that when she'd come two years before, "it was a lot cheaper. It's quite a different crowd of people than it was back then, but I had more fun this time. The weather was pretty horrible though – there weren't enough places for shelter. In that half an hour when we were waiting for the sound system to go back on, there was literally nowhere to go other than the canopy at the bars. But it is good though that the music is on until so late, because you don't really get that at British festivals."
However, chatting to all the young people I interviewed, I couldn't really pin down a shared identity among them. Large sections of the crowd seemed to follow the uniform for today's gigs from rock to road rap: girls in tight clothes with immaculate contoured makeup, guys in bucket hats and pristine sportswear, many speaking with the slightly affected accent of the middle class' middle. It was like Boomtown with less ket-induced vomit, Bestival minus the faux-hippy families, Lovebox with more bass – this was a crowd who clearly came for the music, but they weren't a particular 'crowd' at all. Perhaps this is just what today's musical climate is like now. Unlike me at the time, today's 20-year-olds don't think it's weird if they listen to more than one genre of music: they all do it. It's no wonder, then, that their style has become a reflection of this. But by virtue of not following a particular look, and of looking like they belong no matter what music is on stage, there's a tendency for people to look quite… samey. Or maybe I'm just too old to grasp the nuance.
What about those sound systems, then? Over the decade that Outlook has been filling Croatia with British punters eager to take advantage of the country's more lax rules to noise pollution, the musical make-up of the festival has nonetheless changed (along with the crowd). One genre in particular has found itself with a rapidly rising profile on the Outlook line-up: grime. For the past couple of years, the latest wave of exposure has made grime beloved by Brits of all classes and races, as opposed to the black working classes who once were the arbiters of the genre. Binging people like P Money, Flowdan and Newham Generals to Croatia in the past, Outlook has established itself as a champion the genre, on top of the other bass music at the core of its bookings. Grime's presence at the festival doesn't feel tokenistic, though: from AJ Tracey on the main stage to people like D Double E and Jammz on the boat parties, grime has an important place at Outlook.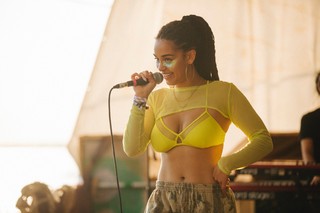 Grime aside, the lineup offered plenty of variety. I had a soft spot for the beach stage: Jorja Smith and Princess Nokia's sets vibrated with energy on opposite ends of the spectrum, while Tom Misch's Sunday afternoon DJ set ended up being perfect for the grey skies. David Rodigan's main stage set was as Rodigan as it gets, with wild intros to every song (apparently Drake is "American Dancehall"). Everyone loved Giggs being Giggs, and the boat parties could get rowdy in a good way. The Moat, the festival's best venue by a mile (and all the venues had excellent sound), felt made for UK Garage too. Special shout outs to Mike Delinquent and his UKG guitar mashup at the end of his set: I never thought I'd ever hear a Spanish guitar/bass mash-up of Wretch 32's "Traktor" go into Craig David's "7 Days" in the middle of a 200-year-old moat, but here we are.
So, what next for Outlook? "When it started," Noah Ball told me, "Croatia was applying for access to the European Union. Croatia is now part of the EU and sadly the UK is now leaving. However our family and partnerships built over that time has grown into something strong and wonderful and there are no plans to change anything that we've worked so hard at. During the last ten years we have seen dubstep grow from a small underground scene into a worldwide phenomenon, thankfully flourishing at a more stable level. We've been supporting grime for the last decade and now grime is seeing worldwide exposure in much the same way that dubstep did… hopefully the scene won't be hijacked in the same way that dubstep was."
This year saw Outlook turn ten years old and having visited for the first time, in all honesty I can imagine them going for another decade. Outlook is a fun festival; somewhere with music that goes harder than the crowd can, and a place I feel less likely to see a cider-sick teenager, smeared with sunscreen and passed out in the grass. The question is, though, with a lack of firm identity, what is it going to turn into next? As the genres Outlook has championed rise in popularity, the music line-up becomes more commercial by default. But maybe that's not necessarily a bad thing? While it's hard to unpick how true Outlook is to its original form when even its founders admit they weren't initially hoping for much, it's clear one thing has stayed the same: people came, and still continue to come, for the music.
You can find Bridget on Twitter.