BREAKING: Gary Lineker Does NOT "Shag Crisps"
The snack spokesman has finally broken his silence on the Glastonbury flag that has haunted his career.
What was the best thing that happened at Glastonbury Festival 2015? Music legend Lionel Richie making an appearance? The Libertines' surprise set? Kanye West's stunning, visually simple but completely arresting headline performance on Saturday night's Pyramid Stage? No, sorry, wrong. It was this: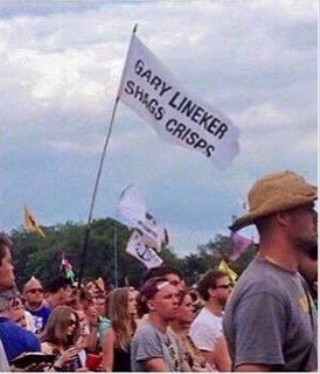 I am of the opinion that the very Union Jack should be replaced with this flag, so perfectly does it reflect British culture and identity. However, until now, the subject of the flag – former footballer and Walkers' crisps longtime ambassador (and alleged lover) Gary Lineker – has stayed quiet. Until now.
In a candid interview with OK! magazine, Lineker finally broke his silence. When asked whether he is frequently recognised from his Walkers crisps advertisements, he found the bravery to speak out:
"There was a big banner at Glastonbury once saying: 'Gary Lineker shags crisps.' But I honestly don't! I think they'd just crumble anyway!"
At last, Lineker addresses the spectre that has loomed over his career for the last two years. Let's examine his response, shall we?
"There was a big banner at Glastonbury once"

Please note the nonchalance with which Lineker speaks here. There are two possibilities: 1) Gary Lineker, a non-crisp shagger, saw the banner as a funny joke and doesn't really recall how long ago it happened, good one though; or 2) Gary Lineker has the date Saturday 27 June 2015, the day his crispy secret was exposed, burned onto his brain, and his use of the word "once" is a thinly-veiled attempt to seem unbothered.
"But I honestly don't!"
The plot thickens. Exclamation, use of "honestly" in an intensifying capacity. To even dignify this flag story with a genuine response is potentially a worrying sign that Gary doth protest too much.
"I think they'd just crumble anyway!"
Lastly, Lineker reasons as to why he could never possibly shag the crisps, those crumbly crisps, which would simply disintegrate under the pressure of his wanton thrusts. And I am forced to ask: is this the comment of a man who does not shag crisps? Is it the defence of a man who once, in a darker moment – perhaps a lonely night in a Travelodge during an overnight Walkers ad shoot, with only a multipack for company – picked up a bag of cheese and onion crisps for comfort, before realising that the crisps did not have the structural integrity for the act he briefly imagined he could commit, casting it aside in anguish and never thinking of it again? Or are these the words of a fully-fledged crisp shagger, attempting to hide his habit from the world with a logical explanation?
Some things, like the existence of God, the meaning of life, and now, whether Gary Lineker does actually shag crisps, are simply not for us to know.
Follow Lauren on Twitter for more hard-hitting news reporting.
(Image via The Mirror on Twitter)