What is it? I mean, it is built out of bricks, making it therefore not technically a "shed", but: a shed;
Where is it? Bethnal Green, home of the last gasping vapours of pre-gentrification east London, i.e. hard blokes with grey teeth savagely eating full English breakfasts in yellowing cafes where it's secretly still OK to smoke, mixed in with flashes of east London post-gentrification, i.e. a cat café, where people pay in advance to pet a cat, and then in amongst all that you've got a big Iceland and like a hundred thousand places to buy a sari;
What is there to do locally? Go to any one of the many, many pubs that look like good old fashioned boozers but actually inside are host to a food pop-up and have pints of Hoegaarden on tap at dangerously close to £6 a pint; go to that one film development place that's always full of art students and art graduates and confused lads who can't seem to figure out how to elegantly leave their bikes outside and always try, without fail, to walk it through the glass-fronted door instead; go to the Museum of Childhood, I suppose, although how many times, truly, can you go and look at some old toys? I mean really now;
Alright, how much are they asking? £350,000, and I double-checked and that comma is in the correct place;
You're back for Easter, back at your mum's house. Thick, thick slices of lamb meat and crunchy roast potatoes. Nobody does a roast like your mum, do they? How does she do the mint sauce like that? "Just sugar, and lots of vinegar." How does she get the gravy so—? "I've got a new recipe. From Tom's book." Your mum calls Tom Kerridge just "Tom". If ever a man knows gravy, your mum says, it's Tom. "Big lad, he was," your mum says, dreamily. "Big boy. Big, big boy. But now he's lost it." Your mum brings a sizzling tray of roast parsnips, unctuous with honey and spice, out from the bottom tray of the oven. "Too much, now, if you ask me. You can see it, round his neck." She dips her voice to a conspiratorial whisper. "He looks ill." Yep, nobody does a roast quite like your mother. Isn't it good to be home? Isn't it good to be cosy and home?
Cut to the pub the night before now. This is the same one you used to drink in aged 16, 17, 18. You spent your 19th birthday here, having your back rubbed while you vomited into a urinal. The landlord was really sound about it, actually. Real single-rubber-glove-and-just-get-on-with-it man. Has it changed? It has not changed: the heavy, smudged red carpet; that sense that the air is just denser up here, the light lower. The chairs and tables, varnished dark and chipped and stained, sit closer to the ground than you remember. Yellow lightbulbs glow on peach-coloured walls. The smell of ale. The chill of the pub garden. There is a sticker on the door that says this pub has free Wifi but this pub does not have free Wifi. "We have BT Sport," the landlord says, "but we… we don't like to tell people about it." Outside is a weatherproofed banner that says "Carlsberg", promoting the fact you can watch Euro 2016 here. A round for six people just cost you £14. Your friends gaze at you with happy faces. Darren still wears that hat he always used to wear. Rob and Becky have been together seven years now. Riz is thinking about re-enrolling at a local uni for the third time in five years. Chris might make it later but he's still working nights so it's always 60:40 whether he wakes up in time. Some things change, some things never change. You forgot to bring a hardy enough jacket up with you so you're wearing that same hoodie you lived in for a summer in 2009. "What—" your friends ask, hope in their eyes and ale in their hearts. "What is London like?"
And you think: you think of the litter and the people and the faceless sea of Prets, and of your Oyster card running out of money at least twice a week (that dull red beep noise, so familiar), and you think of your mouldering rental and the grey sandy air, and the smell of the tube, and the gnarled feet of the pigeons, and the fact that it takes an hour to go from anywhere to anywhere, and the fact that you keep telling yourself you are going to revel in the infinite delights of the city – ­the museums! The galleries! The parties! The openings! There are, always, every Thursday, at least three shops in east London with 50 people in them drinking beer, and you can go in and have hors d'oeuvres and a warm bottle of Peroni for free, because nobody checks who you are! This scam is bulletproof! It cannot be shot! – think about how you tell yourself all week This Is The Saturday I Take Myself Down To The Tate, but how often you don't, and instead just stay hungover and wallowing in New Cross, locked beneath your duvet because you're working a day job to make rent and a couple of bar shifts to keep going and this is the only one true honest day you have to be yourself to make your zine, and it never happens, does it, none of it ever happens, and Tinder is shit and everyone is shit, and you don't have friends down here like you have up there – you sort of have work friends and a couple of other friends, but not friends friends – and also there's this shed for fucking sale in Bethnal Green that you could work an entire lifetime and a half and not afford—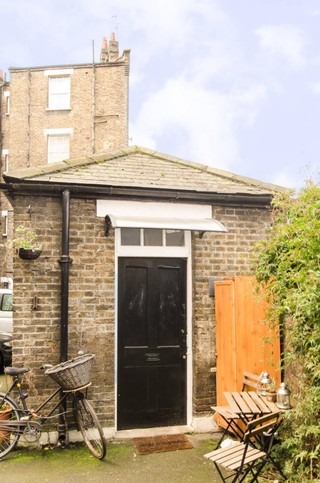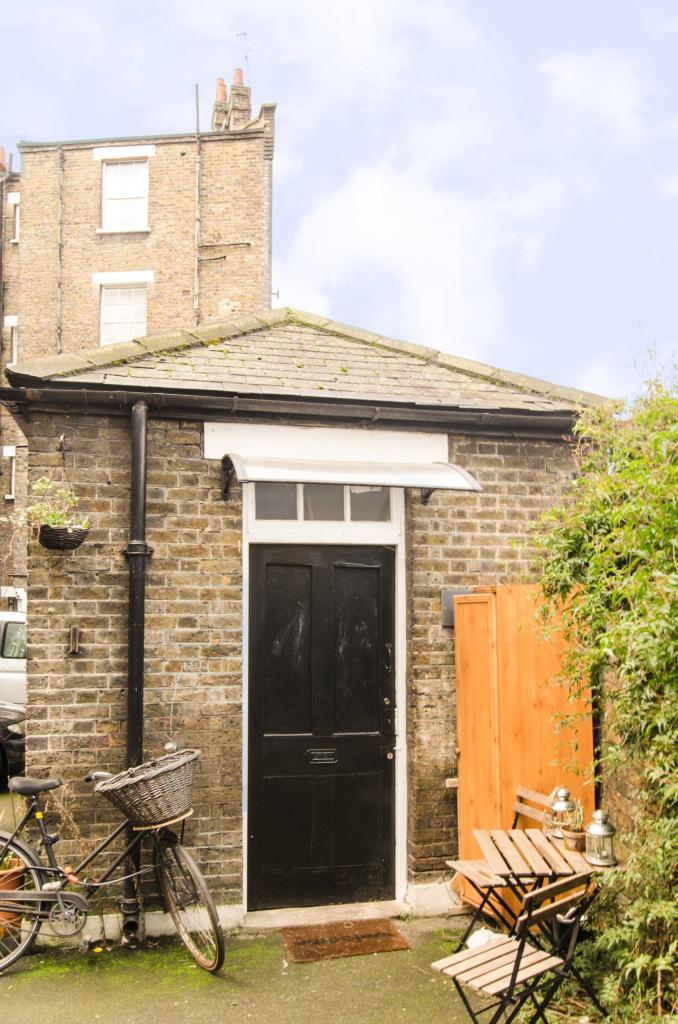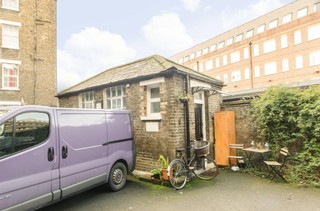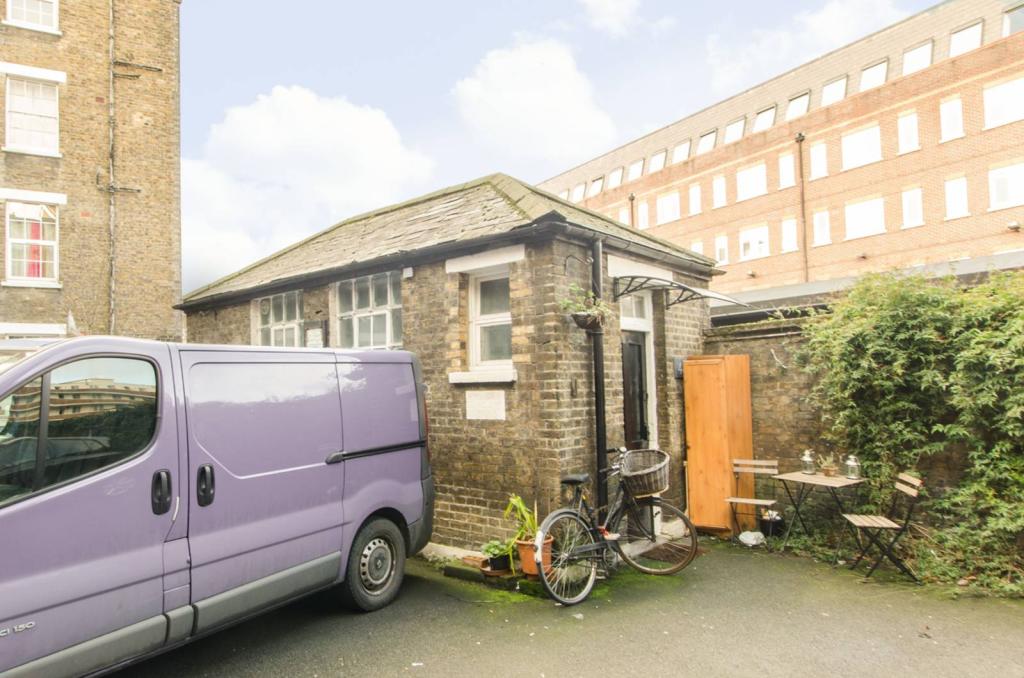 — like, this is an actual shed, look. A shed. A single room. Consult the floor plan. Three doors open at once. A tiny toilet and a tiny sink-and-shower arrangement. There are no internal shots of the shed, presumably because a human being and a full-sized camera cannot both co-exist in there. The floorplan has a kitchen sink, and a hob, which I know from seeing enough of these now is one of those bleak electric stovetops that can barely boil water, and there is nowhere, clearly demarcated, for a bed to go, and sometimes these come up – buy a garage for £750,000 in west London! – and always seem like elaborate jokes for Russian oligarchs to buy when they get bored of spending their money on hyper-property and fine white cocaine, but this one, the laugh about this one, seems to be that this is £350,000, which is what you might reasonably expect – in 2017 – to have to spend on property in London, especially if you make it out of the centre and out of the trendy bits, but now this is what £350,000 gets you: you scrimp and save for years and years, and smooth your credit score down, and put on a suit or dress and go to the bank for a mortgage, and you beg them, "Please, NatWest," you beg, "Please lend me an unviable amount of money that I can spend a quarter of a century paying you back," and they umm and ahh and go OK, fine, but we'll take your fucking house if you fuck us.
And this is what you get. A shed. In Bethnal Green. Rightmove has handily provided a Schoolchecker tool in case you want to think about raising a child in this hell.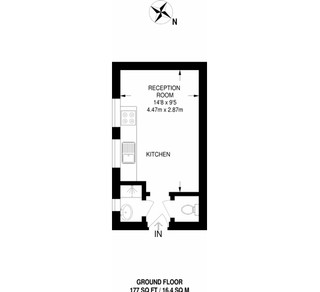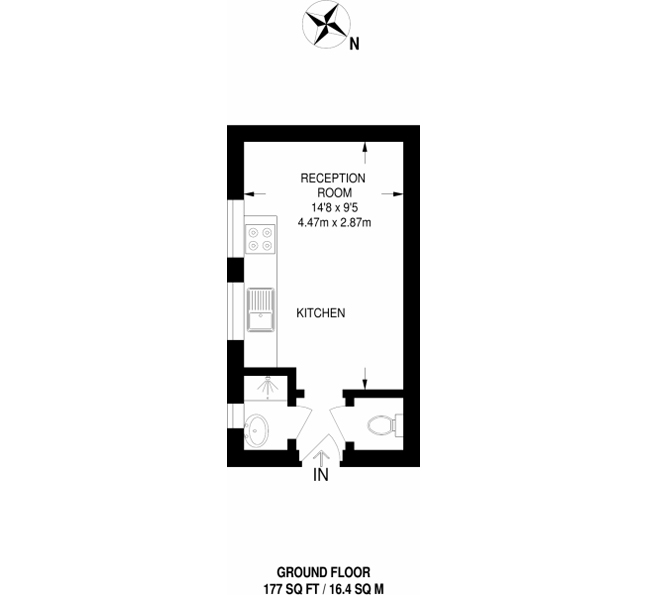 — and over dinner the next day your whole family is over because your mum very truly does do a good roast and your Aunt Dickhead is there doing her tight smile to everyone and insisting your dad stays sober all meal because "remember you have to drive me home, Pete", and her plate, at her insistence, is like one piece of meat and two potatoes – oh I don't have much of an appetite, Aunt Dickhead says, plus I have a pie defrosting at home, and it's like, why did you come here then – and she picks a potato up with her fork and asks your mum, who does a good roast remember, And How Did You Do These?, and your mum explains her trick with the colander shake and the goose fat, and Aunt Dickhead says a tight hm, and then she turns her beady eye to you and says, "and how's—" and she says the next word with the sort of disdain you might reserve for an ex-boyfriend who cheated on you, owes you money and also went on to do five or six murders after you broke up "—how's London?" and you says "yes" and "good" and don't mention the shed you will never afford in Bethnal Green, and Aunt Dickhead used to live in London for about a week-and-a-half in the 70s – "Do you know Cricklewood," she says, and you say "no", and she says "well I used to live in Cricklewood" and you say "OK" – and you know where this is going, you've known since the potato, you've known since she walked over the threshold of the house, enunciating her limp like she does, taking 20 fucking minutes to take her coat off, eyeing you with those dog eyes, turning her head at you when your mum announces cheerily that you've got a job now and Aunt Dickhead says "Oh?", you've known since then – and she goes: Are You Still Renting?
And you say yes, you and two friends are renting in Crys–
And she goes, You Should Buy A Place Instead.
And you say OBVIOUSLY I SHOULD BUY A PLACE, DIPSHIT, LIKE DO U LITERALLY THINK I ENJOY GIVING FORTY TO SIXTY PERCENT OF MY PAYCHEQUE ­– I DON'T KNOW THE PRECISE PERCENTAGE BECAUSE I DON'T KNOW EXACTLY HOW MUCH I GET PAID EVERY MONTH BECAUSE I AM TOO AFRAID TO CHECK MY BANK ACCOUNT AND SEE THAT BIG, BIG, NEGATIVE NUMBER – BUT REGARDLESS, GIVE THAT TO A LANDLORD EACH MONTH FOR A SMALL ROOM IN A SHARED FLAT OR HOUSE, AND EVERY TIME I MENTION THAT THE BOILER DOESN'T WORK OR THE KITCHEN IS FILLED WITH MOULD IT TAKES SIX WEEKS FOR HIM TO CALL A CONTRACTOR OUT AND EVEN THEN IT TAKES MONTHS TO SORT IF AT ALL AND IF AND WHEN IT IS SORTED, LIKE FUCKING CLOCKWORK, THE LANDLORD RAISES THE RENT AGAIN "IN LINE WITH MARKET PRICE", BUT WHAT WE ACTUALLY KNOW NOW TO BE AS PUNISHMENT FOR SAYING THE SHITHOLE HE RENTS US IS A SHITHOLE, AND I AM SAVING NEGATIVE MONEY EVERY MONTH, AND I AM STRUGGLING WITH RENT AS IT IS LET ALONE SAVING THE THIRTY TO FORTY THOUSAND DICKSUCKING POUNDS I NEED TO GET A MORTGAGE, AND EVEN THEN I PROBABLY NEED TO GO IN HALVES WITH ANOTHER HUMAN BEING FOR THAT, AND I'M GOING THROUGH A PERIOD OF ROMANTIC READJUSTMENT RIGHT NOW, I.E. I GOT DUMPED 18 ENTIRE MONTHS AGO AND HAVEN'T BEEN LAID THIS CALENDAR YEAR, AND THEN WHEN I DO SCRAPE UP A LIFE PARTNER AND FORTY THOUSAND POUNDS AND A MORTGAGE, THEN AND ONLY THEN, THE FOOT ON THE LADDER I CRAVE – THE ONE ESCAPE FROM MOVING, FROM HOUSE TO HOUSE TO HOUSE, EVERY 12 MONTHS LIKE CLOCKWORK, LOSING MY DEPOSIT EVERY TIME I DO – THE ONLY ESCAPE OFFERED TO ME ON THAT IS TO PAY MORE MONEY THAN I CAN HOPE TO EARN IN A DECADE ON A FUCKING SHED
AUNT DICKHEAD. A SHED.
IN BETHNAL WANKING GREEN
But obviously you don't say that. You say "good idea, yeah" and eat your potatoes, and wait for the landlord to raise your rent again, like he always does. Like he always fucking does.
Previously, from this fun series:
A Studio Apartment in Chiswick