Everyone forgot about Rose, as they do in Muay Thai. She stopped fighting after winning a big fight in Bangkok where she was able to come back from being a 10-1 underdog. The fight was for OneSongchai's promotion Yod Muay Thai Rat. They had been doing a lot to promote her, even having her enter the ring in a female Thai costume, but when she didn't return to the promotion for a lengthy period of time, no one seemed to care. This is Muay Thai, where more fighters are broken by success than uplifted by it.
In Thailand there are thousands of active Muay Thai fighters. With the next big thing always waiting around a corner, it's easy to get swept under the rug, even by just the tiniest hiccup in one's career. With the strong emphasis on gambling, a novelty like Rose doesn't mean much to the sport, but a promoter like OneSongchai with a fine eye for match-making does. Rose's success is based on whether or not she can be matched up evenly enough to keep the gamblers satisfied. Being transgender doesn't have much to do with it. Rose is a stable Muay Thai fighter, she's known for incredible strength, heart, and conditioning. With over 300 fighters under her, she's no pushover in the ring. However in Thailand, her ability is deemed nothing more than average, making OneSongchai's ability to promote her much more than average. A self proclaimed, 'gift from the Buddha', OneSongchai has remained one of the top promoters in Thailand for over two decades.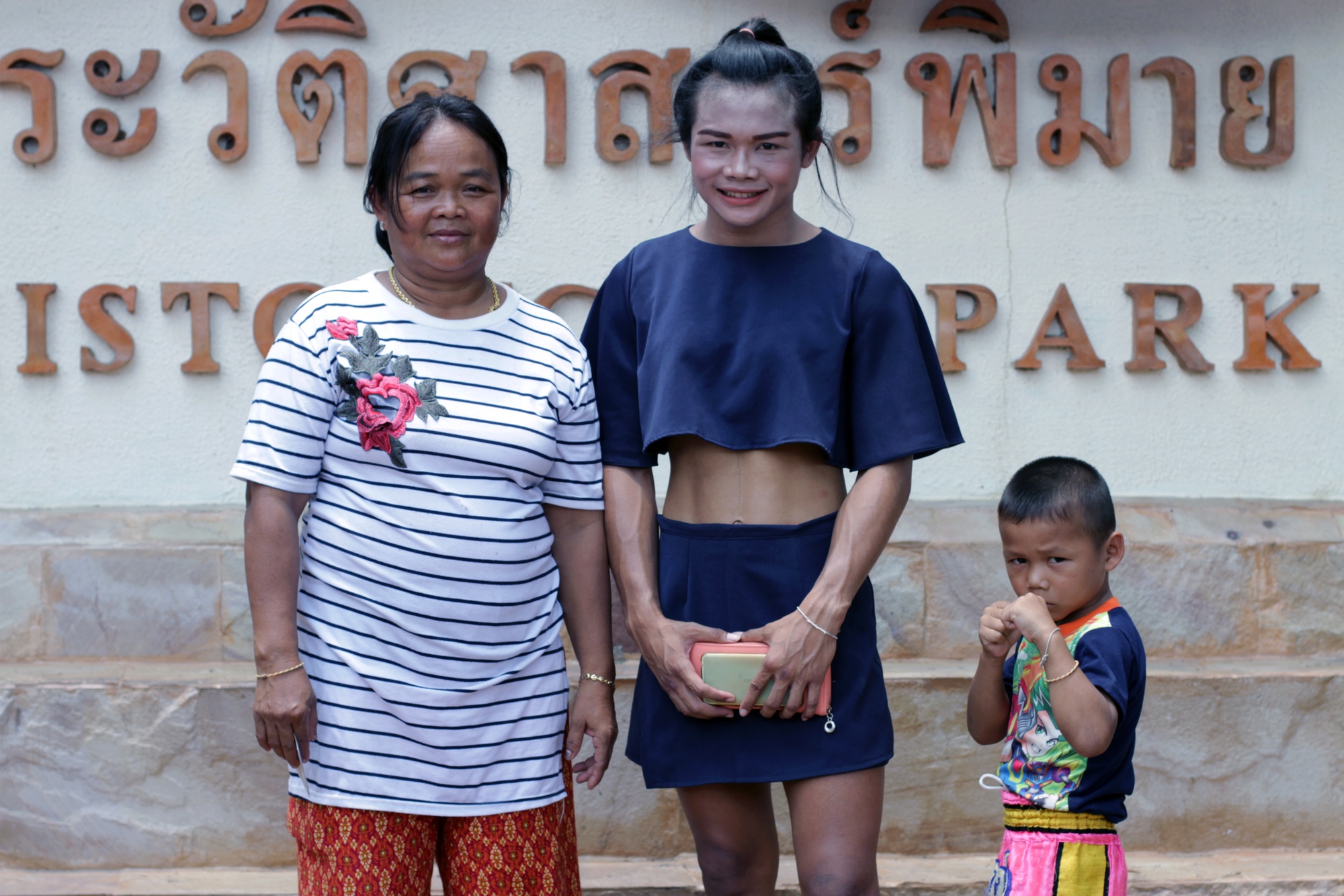 It's been two years since we last sat down with Rose and a lot has changed since then. Now a high school graduate, Rose is able to grow her hair out long, something she takes great pride in. And after brief success in Bangkok, she decided to focus on fighting and put going to university on hold. But why for more than a year did Rose disappear from the fight scene? Although she politely refused to address the issue, Rose was given a 100,000 Baht (3000 USD) tip out from the gamblers for turning that fight around, a tip that is rumoured Rose did not receive.
In Thailand, fight purse, along with sponsorships, and tip outs from gamblers are typically divided 50-50 among gym owner and fighter. However, when a fighter is able to turn a fight around, the way Rose did, most gym owners will only take 30-40%.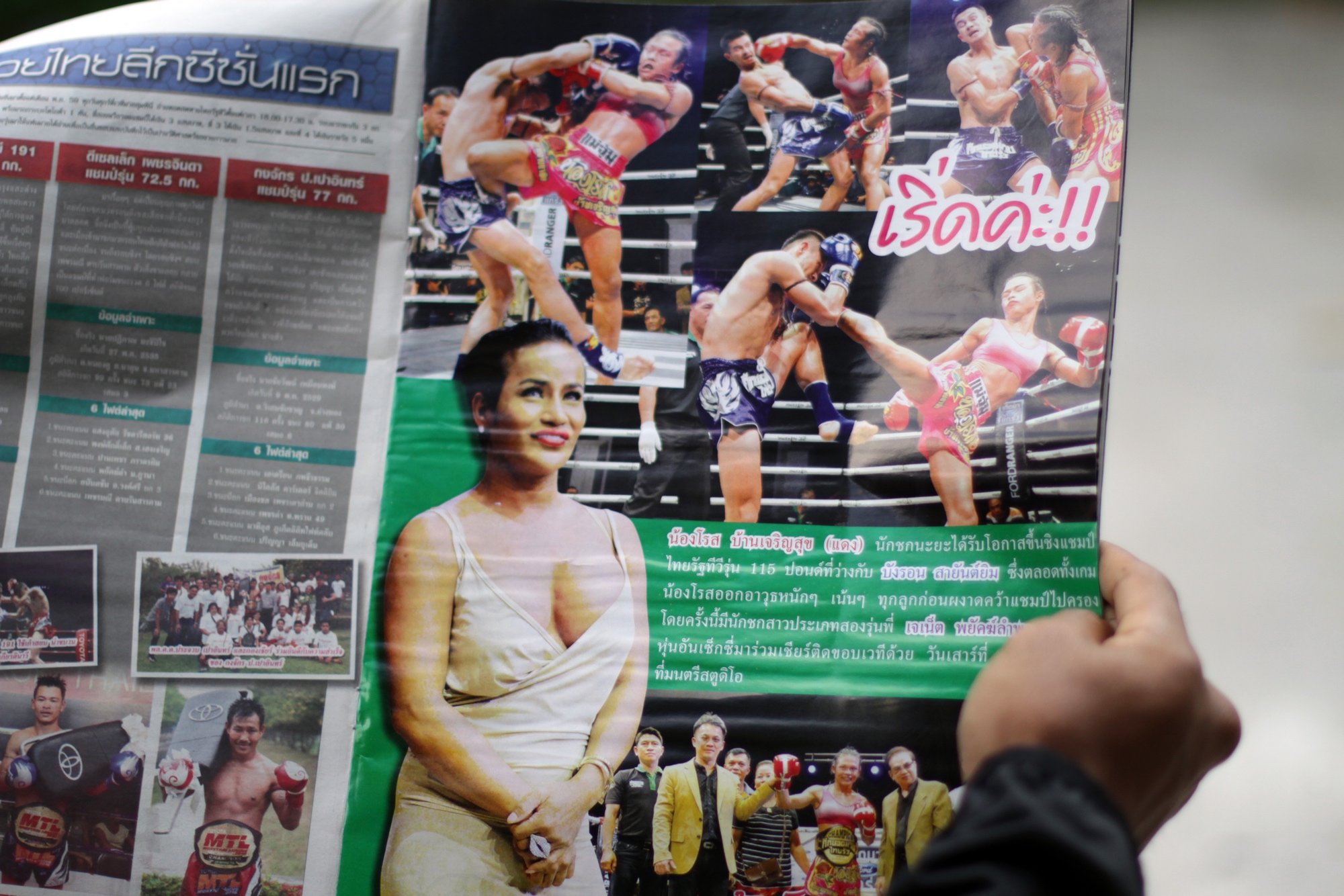 What exactly happened that caused Rose to stop fighting isn't on record. But after months of negotiation and a rumoured visit up to Rose's home in rural Thailand by OneSongchai, the man himself, Rose is back. After nearly a year off from fighting, Rose took a few fights in Isaan to warm herself up. Her last, saw her winning the 55 kg Muay Siam Isaan title against Lumpini stadium regular, Chok-Dee Dagulfpattaya who trains out of Lookboonmee. OneSongchai, known simply as Mr. Song, has now taken over Rose's management and has asked her to stop taking fights up country. Rose is happy to comply, for the title fight she was paid a meager 4,000 (120 USD) Baht, despite having agreed upon a 15,000 (400 USD) Baht purse, an all too common trope for Isaan fighters. For Rose, fighting on TV is much more exciting and promoters are able to guarantee income and lock your opponent into place. The Thai media loves her; she has appeared on multiple TV shows and has been given the nickname, 'The Ladyboy with the Mean Knees' by the Muay Thai community.
She made her successful return to Bangkok in March earlier this year, and then won the ThaiRat TV stadium title in April for their final show. So, with Rose's promotion now finished, where will she go next?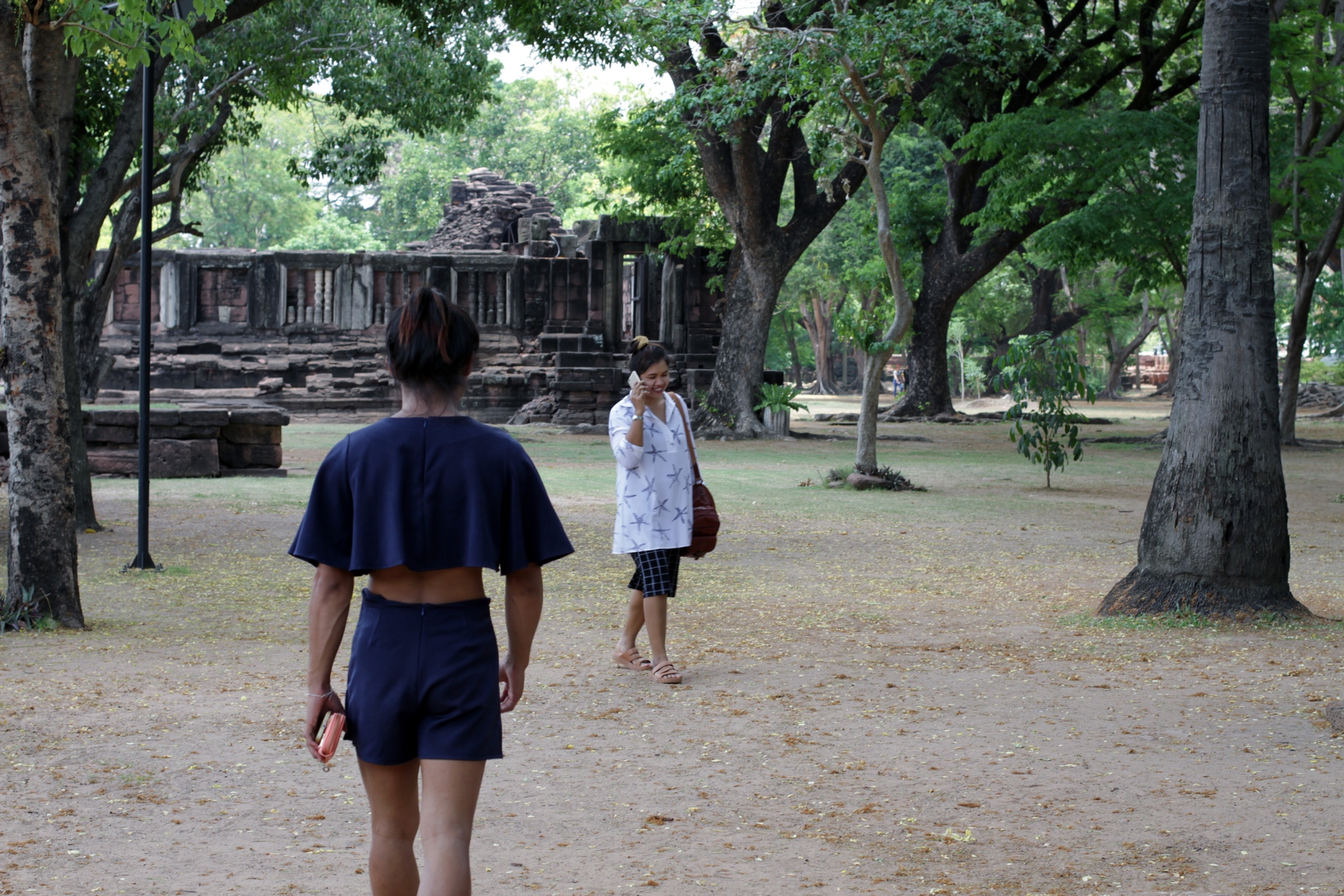 Being a "ladyboy," a derogatory term usually used to describe trans women, in Thailand differs greatly from the West. Ladyboys here occupy a special place in society known as the third gender. It offers them fluidity from the gendered binaries wherein they don't have to push boundaries but instead are able sit comfortably. For Rose, gender reassignment surgery is completely off the table.
"I'm happy with the way I am and think gender reassignment surgery is far too expensive."
Similar to Rose, most ladyboys aren't looking to transition, but instead are content living as a third gender in Thailand. The same holds true for females who identify as male, known as Toms. While they will of course face certain obstacles in life, education and social media has made it increasingly better for ladyboys in Thailand. With proper documentation, they are even able to apply for exemption from the military draft. Now 20 years old, Rose will have to face the draft next April but is confident she will be granted an exemption.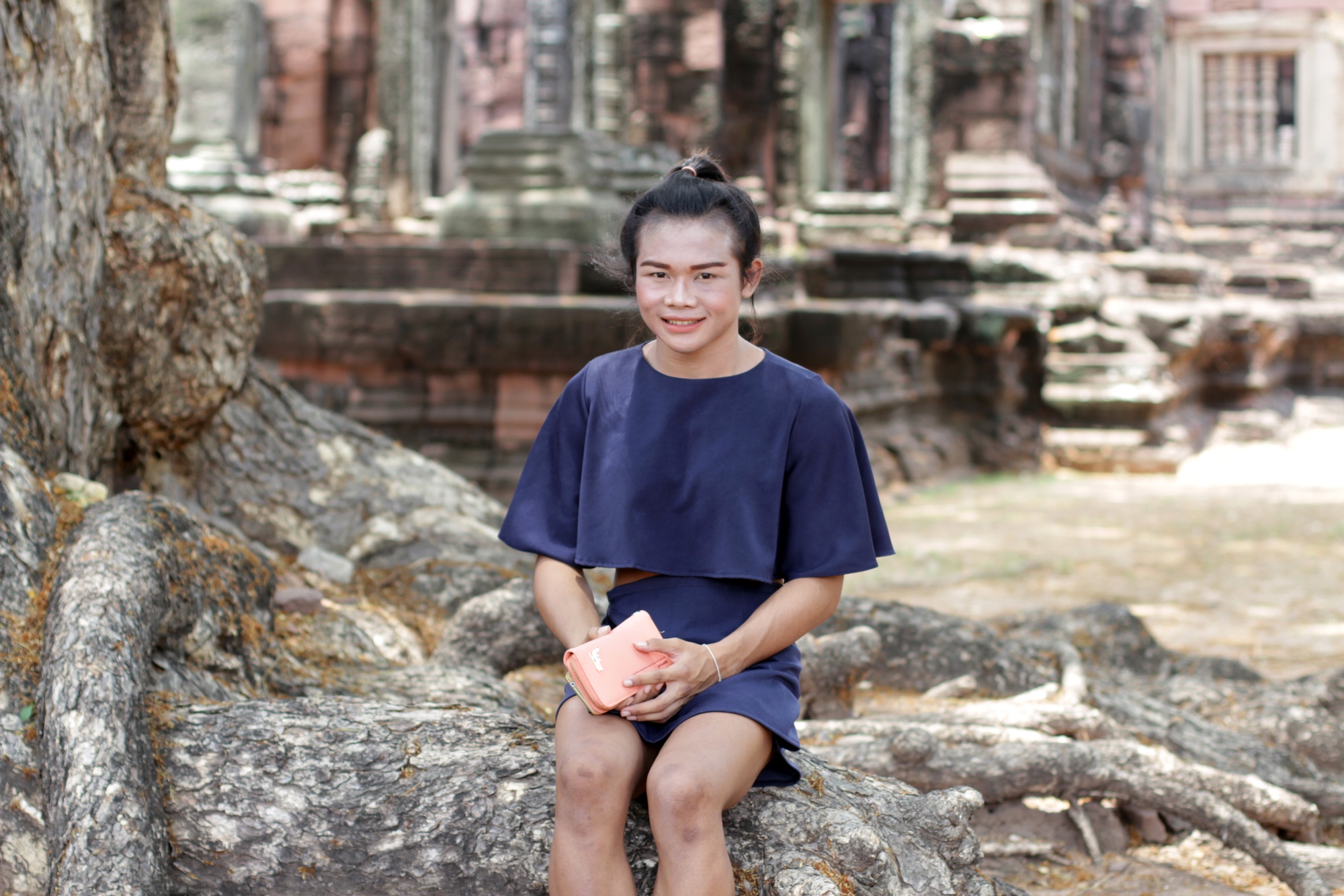 When asked if she has had to overcome adversity to get to where she is, Rose has denied it.
"My body is a man, and my heart is a woman. That's it and there is nothing more. I must train hard, just like other fighters, and give it my all in the ring."
With her bubbly girl-next-door persona, her favourite things to do are being at home with her friends and family in Phi Mai where she can go shopping, buy make-up, travel, and hang out at restaurants. Now making 40,000 Baht (1200 USD) per fight, Rose has started to save her money seriously with the goal of buying a car in the near future. It's incredible seeing how far she has come from getting her start at temple shows in Isaan where she was paid a measly 150 Baht (5 USD) for her first fight.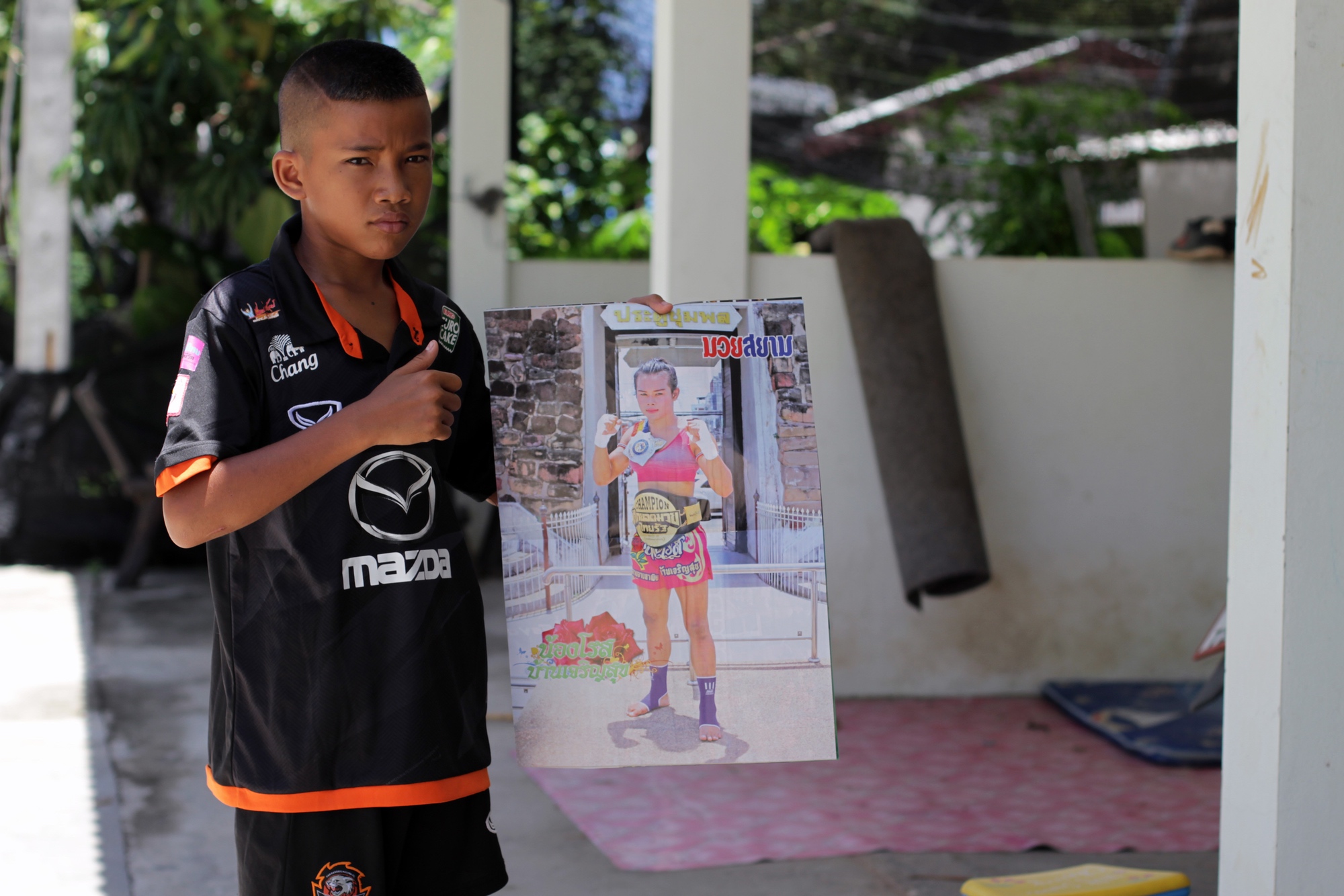 According to Rose, OneSongchai has plans for her to fight in Japan later this year and has just recently gotten approval for her to compete at Rajadamnern Stadium. On July 7th, 2017, Rose will be the first ever identifiable transgendered fighter allowed to fight at Thailand's oldest stadium. Most stadiums have very strict rules regarding dress code, not allowing T-shirts or sports tops in the ring. OnceSongchai has overruled that, allowing Rose to fight in her sports bra. Prior to this Rose was only ever able to fight at stadiums that allowed women, like Omnoi. Of course, if she chose to fight without her sports bra she would be welcomed anywhere.