What is it? A studio apartment, which is a clever phrase estate agents use to say "a very small, entirely featureless apartment";
Where is it? Ealing Broadway, a sort of middle class enclave that still has the odd stabbing to keep its edge alive;
What is there to do locally? Same shit you can do anywhere in London: go to Bill's for breakfast, Pret or EAT for lunch and Franco Manca for dinner. Honestly, this city is just the same three streets, copy and pasted over the space of 607 square miles;
Alright, how much are they asking? £650pcm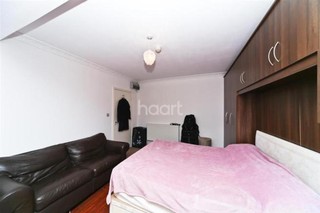 Let's see if you can spot it. I believe in you to spot this. Approach this advert like you would a crossword, or a mind puzzle. Keep your thoughts supple and ready to jump. Hey: what's missing from this picture?

"A stunning newly refurbished one bedroom apartment that has been completed to the highest professional standard. The property offers a huge open plan bedroom/living area with beautifuly crafted fitted wardrobes. The property also benefits from a modern walk in shower suite and is presented in excellent decortive order. The property is located a stones-throw from Ealing Broadway Station (Central and District Line, British Rail and Heathrow Express) as well as offering excellent road links via the nearby A406."
No: don't get distracted by the two typos in 78 words (an astonishingly high hit rate, even for an estate agent!) (estate agents literally have to take a photo of the room that isn't in portrait mode and describe it without fucking up the spelling! That's all they have to do to earn their 10 percent commission! And they cannot fucking do that!). I'll give you another clue: here's the floorplan: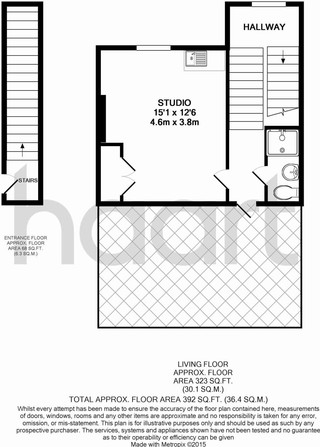 You got it yet? I'll take you out of your misery: there is no kitchen. There is no kitchen at all. Can you sleep there? You can sleep there. Can you shit and piss there? You can shit and piss there, with incredible proximity to the sink and the shower. Can you cook even a single boiled egg there? You cannot cook a single boiled egg there. You can't even make a Pot Noodle, unless you're willing to keep a kettle, always, resting next to the nearest plug socket to the floor, filling it with sink water from the bathroom. You cannot make a steak. Imagine yourself, sitting here on the bed (you could sit on the sofa, directly facing the bed, but you are – when you sign a rent agreement here – essentially committing to a Travelodge life, just a mini-fridge and some single-serving Glen's bottles for company, so when you eat – and sit, and ponder, and read, and do anything, basically – you are going to slump into that same hotel space, mentally, and you are going to eat exclusively on the bed) imagine yourself, on that bed, just eating from the crust inwards (you have gone so insane here you are eating sandwiches back to front), and every breakfast, lunch and dinner is the same: a Tesco Cheese Triple Sandwich. Six hundred and fifty pounds a month.
There has been a groundswell, in regards to recent LROTWs, where people will seek me out on Twitter in response to a story I have written – me going on and on and getting frothy mouthed about the lack of a sink, or toilet access, or no lights or something mad like that; it's a cupboard, it's literally advertised as a cupboard, and I scramble up upon my high horse and yell about it; "THIS IS A CUPBOARD!" I say, always, "LONDON IS BROKEN" – and, without fail, someone will find me and go: it's not that bad. I could live there.
Which is very noble, but also wrong and bad. That's what London has taught us to believe. It has bent and frayed our logic and made us think that this is OK. London has strapped us to the radiator (the room comes with a radiator!) and beaten us with a belt (belt not included in the rent!) and we have come out of this torture room altered, and changed, and we think it's sort of OK, maybe, to live in a studio apartment with no kitchen. I mean, how often do you cook anyway? You're out drinking most nights. Normally get a pub burger or a kebab on the way home. Out for brunch on the weekends. Takeaway at night. When was the last time you cooked? Really, really cooked? You could get a nice little Itsu on the way home, at the end of the day, when they slash the prices. Sit in bed and have a lovely half-price Itsu. Hey, maybe it'll be good: you've been meaning to try more restaurants! Yeah. Cooking food – creating sustenance to continue human life – is overrated anyway. There's nothing that can't stop you going to the petrol station and having two Pepperami, a Ginster's and a Curly Wurly for dinner. If you mum calls and asks you if you're eating healthily just hang up. Problem solved! Problem fucking solved!
(I would also like to point out that this flat, which you will never eat an omelette in ever in your life, is a shit-hole regardless of the no kitchen situation, and that spending even one second in there while wearing a pair of socks – every surface of this flat is slippery polished wood – would result in you immediately falling over, shattering your spine and dying, alone and in agony, surrounded by old takeaway tins that still have an old, room temperature pakora in it. Do not rent this flat.)
London is broken!
@joelgolby (h/t @Gabby_L_M)
More from this fun series!
In Which the Pop Artist Drake Is Watching You Shit
'Have You Ever Stayed in a Horsebox Before? No? Well Now's Your Chance'