Bacon, Egg, and Cheese Wontons
The ultimate hangover sandwich, wrapped in a wonton and fried.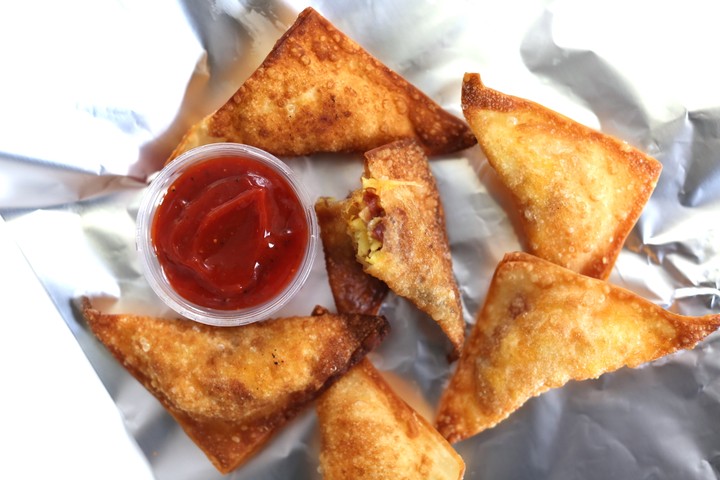 Photo by Farideh Sadeghin
Makes 25
Prep: 10 minutes
Total: 30 minutes
Ingredients
4 ounces streaky bacon
6 large eggs, lightly beaten
kosher salt and freshly ground black pepper, to taste
6 ounces shredded cheddar cheese
25 square wonton wrappers
canola oil, for frying
ketchup, for serving
Directions
1. Heat a medium nonstick skillet over medium. Add the bacon and cook, flipping once, until crispy, about 8 minutes. Transfer to a paper towel-lined plate.
2. Add the eggs to the same skillet and season with salt and pepper. Cook, stirring, until curds form and the eggs are lightly set, about 5 minutes. Stir in the cheese and crumble the bacon throughout. Cool the mixture slightly.
3. Working with one wonton wrapper at a time, place about 2 teaspoons of egg in the center and wet the edges with water. Fold in half, forming a triangle. Place the wontons on a baking sheet until ready to fry.
4. Heat 2-inches canola oil in a large saucepan until a deep-fry thermometer reaches 350°F. Working in batches, fry the wontons until golden, about 2 minutes. Transfer to a paper towel-lined plate and season with salt. Serve with ketchup.