I'm standing on a Californian beach as the sun sets, 2013 Skateboarder of the Year Ishod Wair is in a moshpit in front of me, jumping around to Metro Boomin, who's DJing on stage. Behind me, Aaron 'Jaws' Homoki and Ben Raybourne are downing beers. For a small-town skateboarding Brit abroad like myself, this is all a bit ridiculous.
I've flown from drizzly London to LA for the Dew Tour, which this year is being held in the skateboarding mecca Long Beach. It's an impressive looking set up, with a central tower surrounded by a selection of different courses. The contest is split into different categories, Pro, AM and team, and is hosting an array of different skateboarders, from young rippers like CJ Collins, to more seasoned legends like Chris Cole. It's kid-in-a-sweet-shop stuff for the hundreds of skateboarding fans here.

The event also hosted an exhibition that fused skateboarding with art, science and technology. For this, top skaters wore devices measuring heart rate, blood volume, pulse, skin temperature and motion which transmitted biofeedback in real-time to an analytics engine. This then created pieces of art, which directly corresponded with what they were doing. Impressive stuff.
I'm here to chat to Sean Malto, who along with Curran Caples is one of the faces of the contest. Malto's laid-back style coupled with his technical ability has won him numerous contests over the years, including a Street League Gold in 2011. Having started as an AM on Girl, his skateboarding evolved constantly to the point where he's now considered by many to be one of the finest street skaters of his generation, even if he was recently sidelined for a couple of years due to a particularly brutal ankle injury.
I head into a bustling tent to see a smiling Malto working his way through an excited queue of young skaters, all hyped to be getting boards, posters and limbs signed by their hero. As he finishes up, we head towards a quiet part of the tent and get talking about how this year's Dew Tour is shaping up.
"I'm enjoying it!" He says with a smile, "The courses are good, the format is good, and it's hot out here. This contest is cool, you can breathe."
The notable differing aspect to this course compared to other contests is the fact that it's divided into different sections. Where events like Tampa, X-Games, and Street League focus mainly on one big course, the Dew Tour has four different sections: rails, tech, gaps and bowl.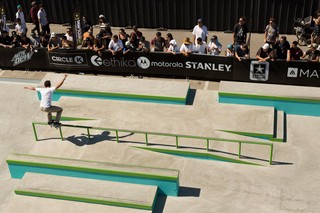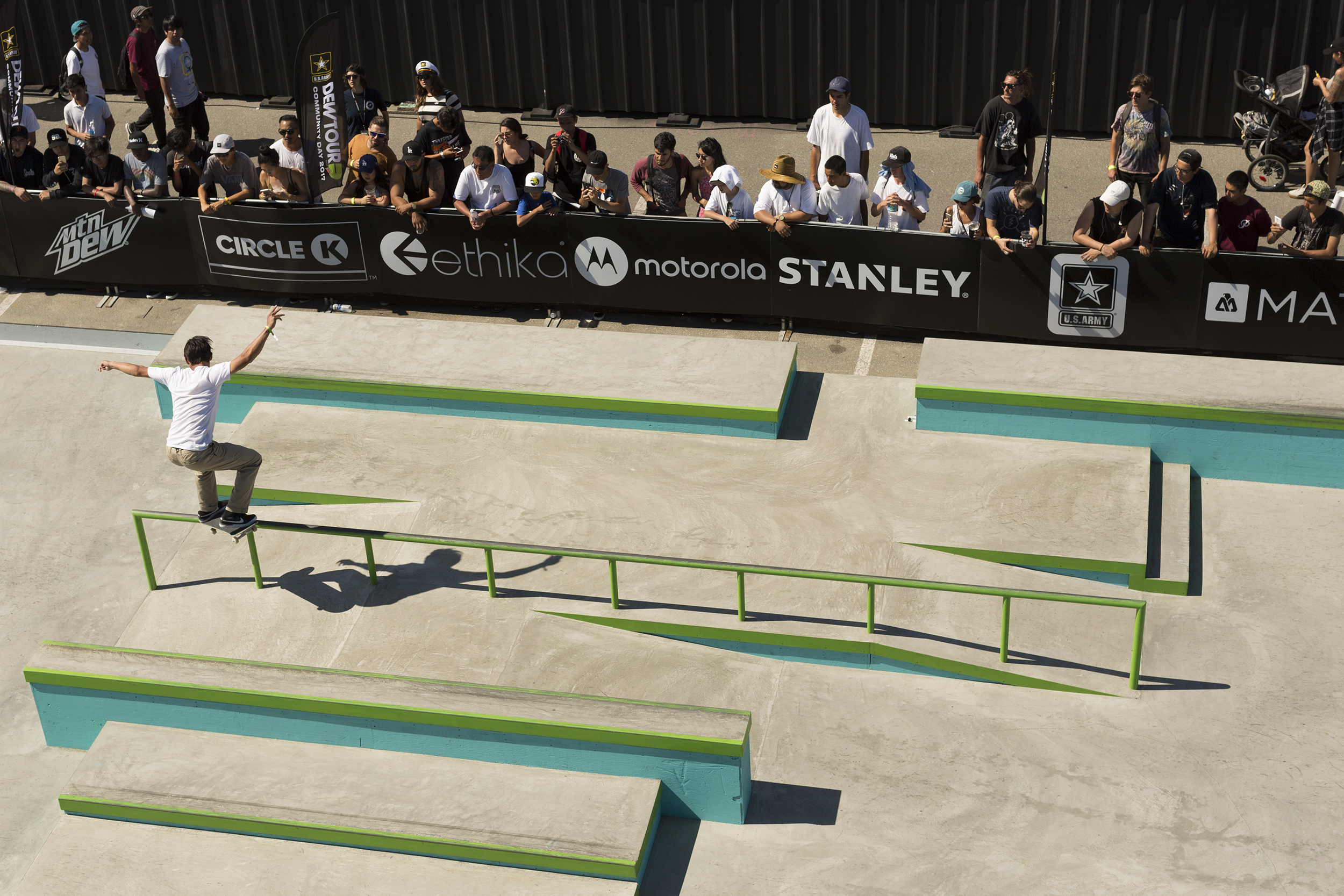 "You have to get used to all the different courses," he says, after I ask if it's different to what he's used to. "Traditional contests are just one course that you have to figure out. With this one there's a lot of hopping around and a lot of different kinds of skating. You're just focusing on one specific skill set at a time, instead of putting it all together in one run. But it's cool like that. It's different."
Skateboarding in contests has always interested me, as it's so different to the original ethics of skateboarding. Hanging out with pals, drinking beers, skating street spots and then possibly getting kicked out or arrested is a far cry from skating in a big branded competition in front of a team of judges, with a commentator documenting your every move. I ask how he differentiates between the two skateboarding worlds.
"In contests your adrenaline gets going, and the juices are flowing for a couple of hours straight," he explains. "When you're on the streets you have all the time in the world to figure it out, you know, one trick can take four hours. The pressure is different. It's a pressure of trying to get your line down in your head and then executing it, rather than in street where we're pushing ourselves to do the hardest trick we can possibly do. So I guess there's a little more fear with skating street, but contests are just straight adrenaline the whole time."
When you walk in to the Dew Tour, it takes a bit of time to get used to seeing so many world-class skateboarders just hanging out. Nyjah Huston and Shane O'Neil are chatting whilst warming up on the rails course, Jaws and Tommy Sandoval are cruising around the gaps section, my childhood hero Chris Cole is checking out the tech course, Ryan Sheckler is standing in the fucking lunch queue. It leaves me a tad starstruck, but for Malto it must be daunting. These people are his friends, but they're also his incredibly talented competitors. I wonder if it's always friendly out there, or whether it can get a bit heated.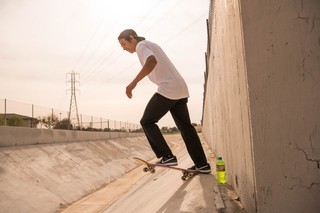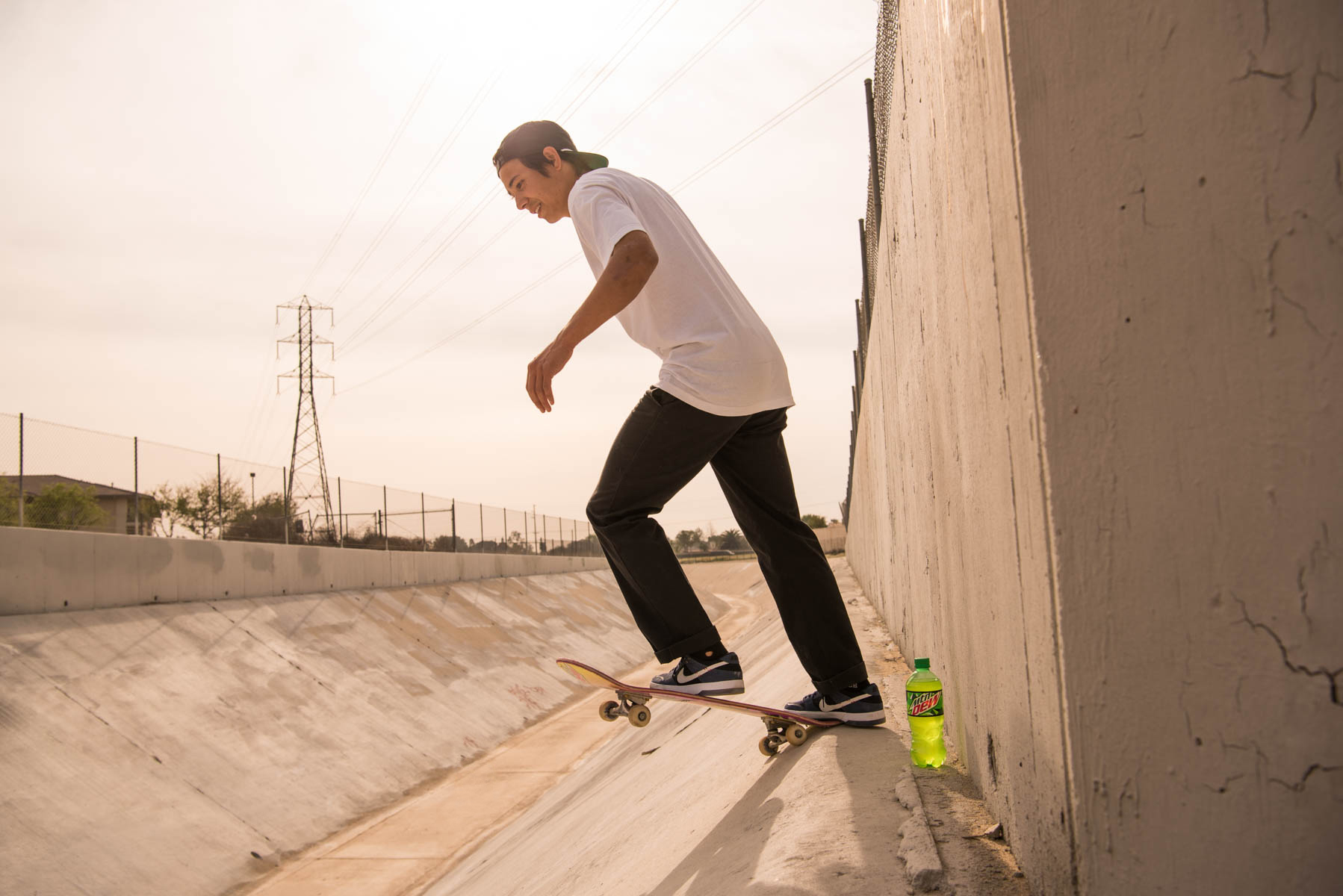 "Nah, it's all friendly dude. We're all basically just trying to land the tricks that we want to do, and not necessarily thinking about what anyone else is doing."
Sometimes you have to think about what others are doing though, like when your competitors are doing the same trick you want to try. But the good vibes continue: "Yesterday, I'm skating right behind Tommy Fynn," Malmo explains, "and he nollie front-boarded the rail, and I was like damn, that's exactly what I was going to do. And he came back and I was like, 'Hey I'm just going to do that too', and he was like 'Oh yeah dude, you can do it!' So yeah, it's all friendly."
We get to talking about skate videos that Malto watched when he was growing up, and as we're both of a similar age, we had similar experiences of being blown away by videos like Flip's Sorry and Girl's Yeah Right. "Hell yeah, I grew up on Yeah Right," he tells me. I ask him what it was like to then get signed to Girl, a team which is famously difficult to break into.
"It was so crazy. I got on the team when I was 15 or 16. I would just send them so much footage and then eventually they called me. I was always such a big fan of Girl, so it was just a dream come true. I still screenshot calls when Eric Koston calls me, that's how big a deal it was."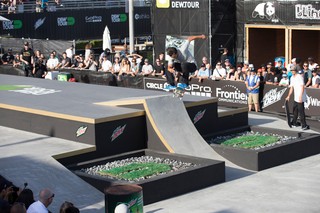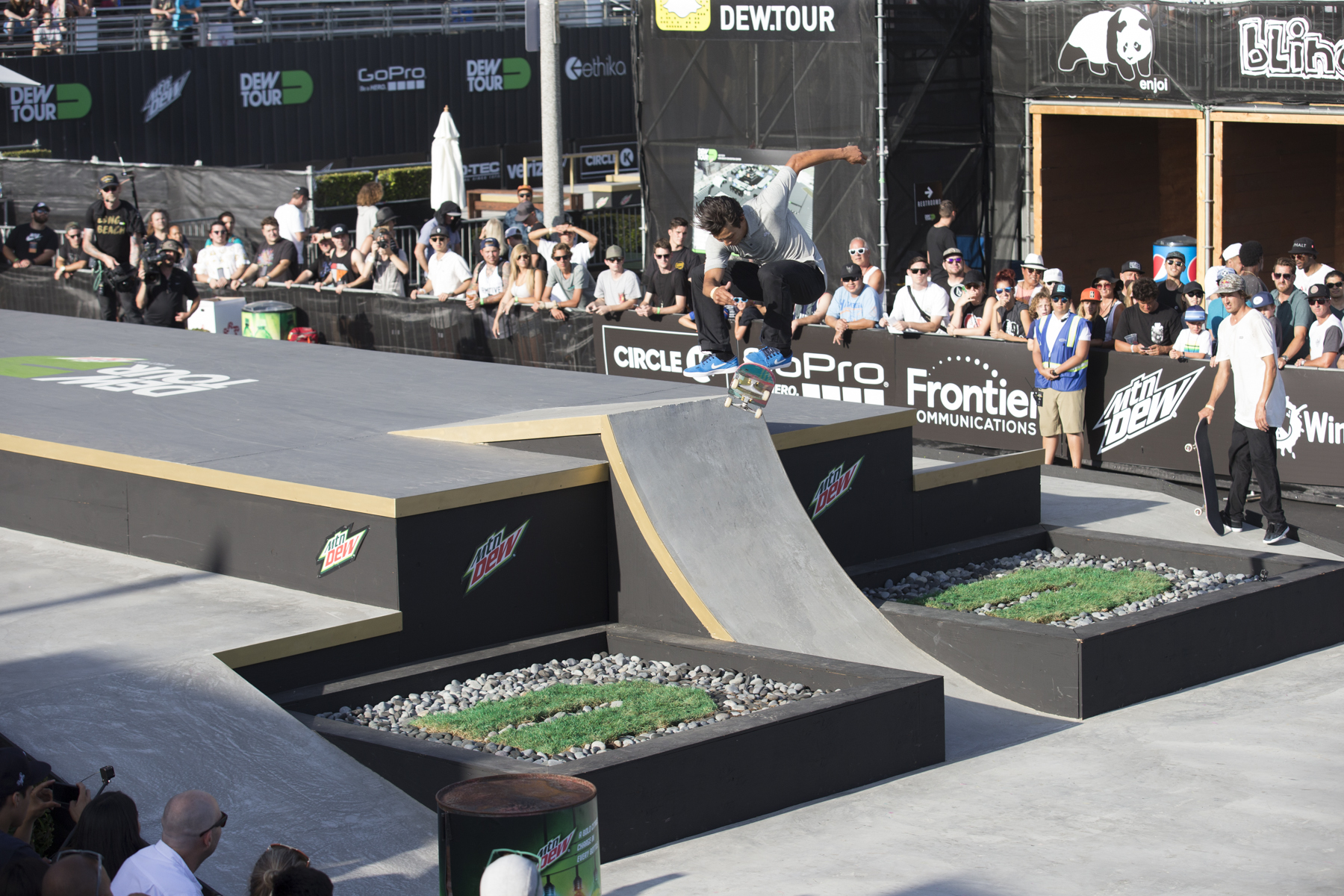 After joining the Girl team, Malto soon turned pro, and became one of the most exciting prospects in street skating, with skate legend Marc Johnson announcing "We are witnessing the dawn of a new era, the Sean Malto age." He was snapped up by a number of huge sponsors, including Nike and Mountain Dew. When wandering around the Dew Tour, his face is everywhere, on billboards, posters, and TV adverts. I ask him what it's like to transition from a teenage shredder dying to be sponsored to a sporting celebrity.
"I mean, I work with some good brands so I'm blessed in that way. But it's good, I just love skating, travelling and meeting new people, and doing these campaigns, skate trips and contests allow me to make a career out of it, and for that I'm grateful, and I'm just trying to make the most of skateboarding."
Travelling always seems to be the highlight when any skateboarder turns pro, with trips to interesting corners of the world a big part of the job. I ask Malto about the biggest culture shocks he's experienced along the way.
"I just went to Tokyo and I loved it out there, I'm a big fan of Japanese food, and they know how to have a good time out there. It's a totally different world.
"There's still a load of places that I haven't visited though. I haven't done a lot of South America, like I'd love to skate a lot more of Brazil and that area. I haven't been to Malaysia, and we were just talking about skating in Israel or Cuba. I went to India and it was the biggest culture shock I've ever experienced. I want to go to more countries that don't speak English, where the locals aren't used to seeing skaters around."
All this talk of untouched spots and people that don't speak English begs the obvious question: has he skated in England much?
"I've skated London a lot!" he laughs. "Nike have a park there right? Bay66? So yeah I went for the launch of that park, and actually filmed a bunch of my part of Pretty Sweet in London. I love skating out there, but it is tough."
I tell him about how different I've found the surfaces over here in Long Beach, and how you can see why it's such a natural home for skateboarding. "Yeah it's a little smoother out here," he agrees, "but England just looks cool. All the footage, you can tell it's from London, there's a lot of history in that city, and a great skate culture."
In the distance you can hear the contest getting under way, so to wrap up I ask Malto about how skateboarding has changed recently. As contemporaries, we've both seen the decline of skateboarding video releases in favour of the disposable Instagram/YouTube clip. Malto sees the good and bad sides of this.
"Well social media evolved, and social media is a big play in skating right now. And I think it helped evolve skating. There used to be a video that came out every three years that pushed the boundaries, and now there's a new video every ten minutes that does that. It's good that there's all this content coming out, but it's also hard, people get lost in the mix now because there's just so much. I'm glad I got to get into skating when I did though, with video premieres and DVD releases, but now it's changing and I get to see how it evolves next."