Nick Broomfield has always courted controversy. His first film, Juvenile Liaison, remains banned in the UK – an act of censorship he felt so strongly about that he packed up shop and moved to the States. Lately, the subjects of his films have leaned towards tabloid sensationalism, looking at the lives of the famous in all forms, from serial killers (Aileen: Life and Death of a Serial Killer) to politicians (Sarah Palin: You Betcha!). However, he never takes the superficial red-top approach. For Broomfield, it's about what that fame masks.
The documentary maker is well known for his diligent research, as he tramps the streets, boom-mic in hand, speaking with unlikely candidates to unearth the real story as he finds it. His approach is always to peel back the mainstream narrative and locate the reality behind the media propaganda. His latest documentary is no different – although absent of his trademark "door-stepping' approach – as he traces the rise and fall of Whitney Houston in Whitney: Can I Be Me.
This isn't the first time Broomfield has focused on a musician. Back in 1998 he kicked up a hornet's nest with Kurt and Courtney. Infamously, the film was meant to be screened at Sundance, but was cancelled at the last minute when Courtney Love threatened legal action. Broomfield had refused to toe the official line, asking awkward questions inferring Love was in part responsible for Cobain's death in 1994 – something she has always adamantly denied. She denied the film any rights to Nirvana's back catalogue.
Then there was Biggie and Tupac, an equally controversial documentary. In the film, Broomfield argued that the infamous Suge Knight, co-founder of Death Row Records, was behind the deaths of the two West Coast hip-hop legends – again, something the now-beleaguered mogul has denied repeatedly. As a filmmaker, Broomfield shows no fear of consequence as he tells the story, unhindered by the intervention of family estates and friends. Which means he's used to doors being slammed in his face when he comes a-knocking.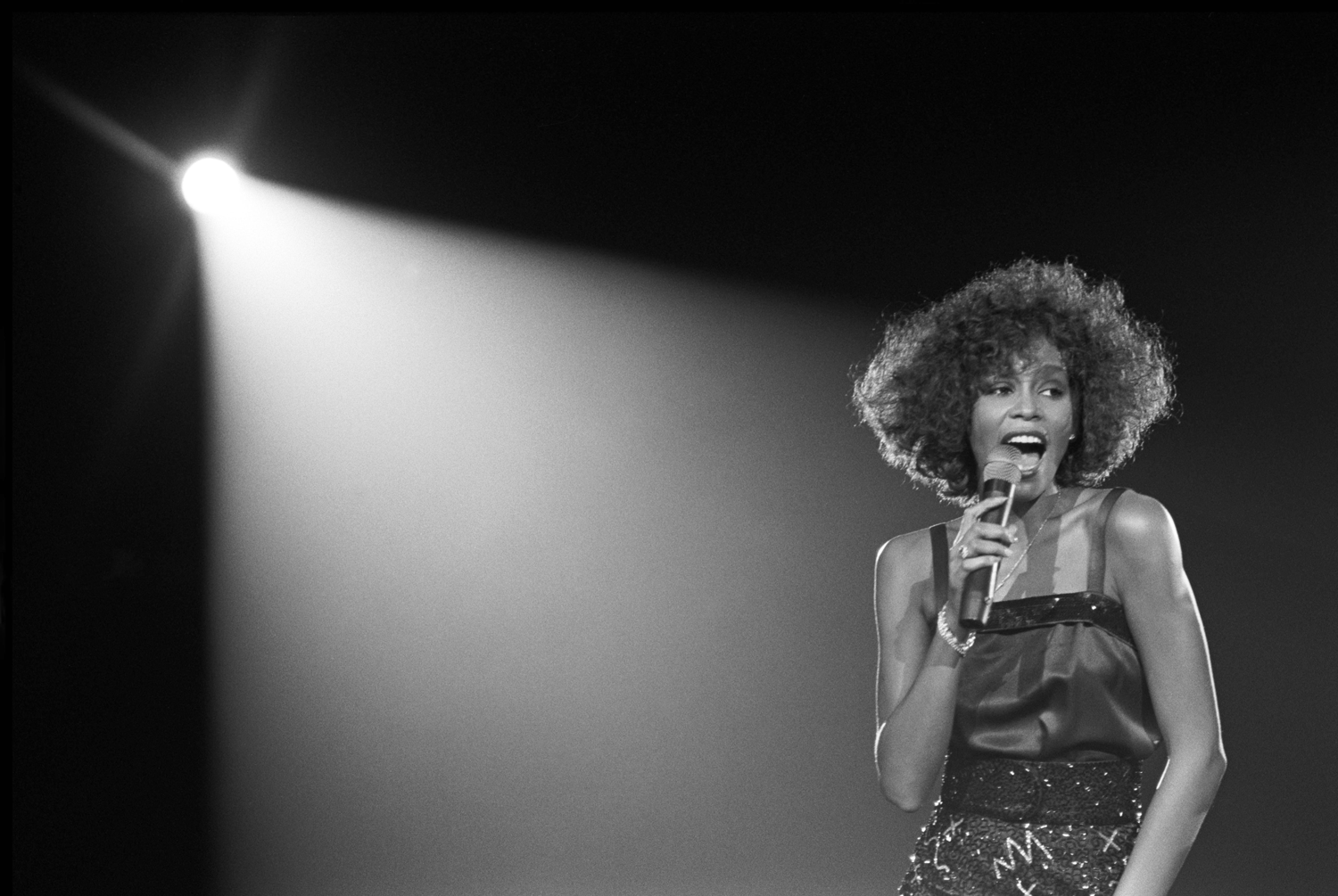 Whitney: Can I Be Me is no different. Like Kurt and Biggie before it, this is the unofficial story, trying to discover what led to the singer's tragic death in 2012, asking why she felt she could never be her real self. The documentary has already run into problems with the musician's family estate. It has fallen to fellow British documentarian, Kevin McDonald, to tell the official story (out later in the year) with the blessing of the family.
Broomfield is intrigued to see what his old friend comes up with, but it isn't an approach he would ever take. "My experience is that if you work with the estate they normally have a very strong line," he says, "and they often will make it impossible to tell the story that you see there." He recalls working on Biggie and Tupac: "Biggie's mum was behind the film, but that took a lot of doing, and we were about halfway through by the time we got her blessing." Broomfield is quick to add that Tupac's mother, Afini, was "busy with reinventing the image of Tupac".
For a long time, Whitney Houston had a perfect public image. She had long-standing musical credentials – her mother was gospel singer Cissy Houston; her cousin was Dionne Warwick. She had a charming, warm persona, and a voice that appealed to both white and black audiences – a music producer's dream. Aged 21, Whitney was catapulted into the limelight with a string of number one hits, (including "I'm Every Woman" and "I Will Always Love You"), film roles (most notably as Rachel in The Bodyguard) and she'd weekly make headline news.
Behind this carefully manicured image, according to Broomfield's film, Houston's life was falling apart. He makes a convincing case that she was struggling to conceal a long-rumoured gay relationship with her assistant, Robyn Crawford. There was her turbulent marriage to the New Jack Swinger Bobby Brown, and an increasingly severe addiction to cocaine and prescription drugs, all of which fed into the media rumour mill.
It was this contrast of public and private images that intrigued Broomfield, who wanted to unearth the real Whitney, just as he had done before with Kurt and Biggie. "I had a lot of questions about how she was marketed and who she was," he says. The fascination is understandable. During the 1990s, music companies were still dividing white and black musicians into two separate departments and marketing them accordingly. Whitney was the first crossover artist to become a huge success and, as Broomfield's documentary argues, her music was consciously produced to be absent of anything that sounded too "black".
What struck Broomfield about the mainstream narrative of Whitney's life was that it denied the importance of Robyn Crawford, Whitney's long-time friend and assistant up until they parted ways. "The Houston estate really want to eradicate Robyn [Crawford] from the equation and want Bobby Brown as the person responsible for the bad stuff that happened, and that is simply not the case," argues Broomfield.
The problem was how to make a documentary about Whitney without access to material from the estate. This led to Broomfield tracking down Austrian producer-director Rudi Dolezal, who had backstage footage of Whitney on tour in the late 90s, which he intended to use for his own film. "The footage was a real challenge because Whitney was a very private person, and it was a different era," says Broomfield, who was concerned that enough material existed to craft a film until meeting Dolezal. "His footage had the only interviews that I had seen with Robyn, and backstage footage of both her and Whitney. In the end, we ended up with the bonanza of the footage of Whitney's life."
Broomfield knows that when you start a project, you're in the wind, waiting for a break, which he admits comes down to a mixture of hard work and sheer luck. And it's getting harder and harder. For him, the problem now is how increasingly self-conscious people are when a camera is shoved in their face. "Let me tell you this: people have got a lot more media savvy, and so they are a lot less open," he says. "People are very controlled now. There is a lot of reality TV now that is so deliberately and awfully manufactured."
Despite the rise of pulpy reality TV, Whitney: Can I Be Me demonstrates that there's still space for directors like Broomfield to kick up the dirt and court controversy without getting tacky. He sums it up neatly: "As a documentary filmmaker, what you get off on is when you get to the essence of something that isn't controlled or manufactured."