Allow Me to Present the Oscar for 'Worst Parody of Best Original Song'
Jimmy Fallon, or "Sinkful of Suds"?
|
27 February 2017, 12:56pm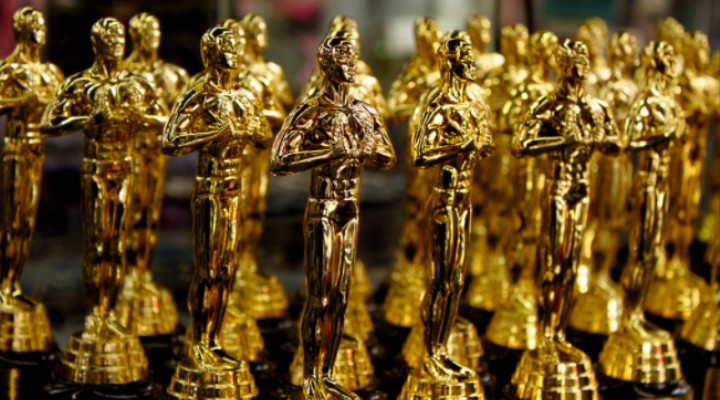 The 89th Academy Awards took place on Sunday night at the Dolby Theatre in Hollywood, and the song "City of Stars" – written for Best Picture almost-winner (*braying cackle*) La La Land – scooped the trophy for "Best Original Song."

But there was one award that they forgot to hand out: "Worst Parody of Best Original Song." So we, your friends at Noisey, have taken it upon ourselves to present it here, now. This is because everyone loves bad parody videos, and we love to give you what you love. It's all love, baby!

Third runner-up: "City of Light - City of stars (La La Land) Parody" by WhoIsClarence
This guy just has a complex relationship with the city Paris and he has repurposed a song from popular movie musical La La Land to show you that! Give it to 'em Clarence.
Second runner-up: "City of Stars - La La Land- Parody- Sinkful of Suds- Dana Marrocco" by Dr. Dana Marrocco

Honestly this should have won the Oscar for "Best Short Film." It is a piece of experimental genius that few of us can understand. I wish Dr Dana Marrocco a long and illustrious career.

First runner-up: Jimmy Fallon's Golden Globes Cold Open

Usually this would have been the worst one because a) Fallon; and b) the fact that it's being "self-referential" by parodying La La Land which is already a "self-referential" film about filmmaking, at a film awards ceremony. You would think, therefore, that this was the dirt worst, but unfortunately, there is something more heinous.

WINNER: "LA LA LAND - CITY OF STARS - MUSICAL PARODY" by Movie Man Mark

OK, this goes from 0 to 100 real quick. It starts off innocuously enough, with some pretty decent piano playing, before turning into a full blown assault on the homeless of Los Angeles? I am kind of floored. This is Actually Bad. This is actually The Worst. Delete this, Movie Man Mark, you can do better.

Join us again next year!

Follow Lauren on Twitter.

(Image by Prayitno via Flickr)