Painter and filmmaker Kurtis Hough has filtered the landscapes of Oregon, Arizona, and Utah through Google's Deep Dream software for his latest short Painted Hills. As the title suggests, Hough has used the undulating psychedelia of Google's AI mind to turn the barren yet sculptural geology of those states into dreamy moving paintings, set to music by Colin Stetson. "The initial concept was to look at the sculptural shapes and colors of arid landscapes through the lens of a painting," explains Hough to The Creators Project.
Hough camped out in the Coyote Buttes and spent hours hiking and filming video and timelapse footage of the swirling erosion that marks out the rocks and landscapes there. Once he got back home he ran each shot as an image through the Deep Dream code using Python, adjusting and layering the values until he was satisfied with the effect.
"This process ended up being the most amount of manipulation I had undertook when making a short film. It went through 50 iterations before landing on the completed version," notes Hough. "Once I completed the Deep Dream layers, I wanted to go one step further. I began adjusting certain scenes in After Effects and adding 3D elements which have roots in mathematic formulas found in nature and geometric objects, like the Golden Ratio and Pi."
GIF courtesy of Kurtis Hough
The result is a surreal effect caught between reality and manipulation, where the natural abstractions are further heightened by the application of Google's dreaming AI.
"I wasn't interested in the 'dog slug' images I was seeing in Deep Dream postings with furry eyeballs filling the frame. Instead, the painterly brush strokes of banding colors fit not only the layered colors found in the sandstone I was photographing, but also connected to the Georgia O'Keeffe style found in my paintings," Hough says. "That is what I found most interesting about Deep Dream, was the ability to combine styles from other mediums together to create a new image."
Image courtesy of Kurtis Hough
Image courtesy of Kurtis Hough
Image courtesy of Kurtis Hough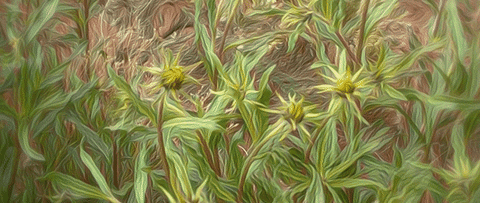 GIF courtesy of Kurtis Hough
Visit Kurtis Hough on Vimeo for more.
Related:
Stereoscopic GIFs Get Trippy Makeovers with Neural Network Imaging