This Woman Ditched Her Software Career to Make Weed Desserts For a Living
"I didn't know anything about cannabis," she laughs. "All I knew was what the leaf looked like."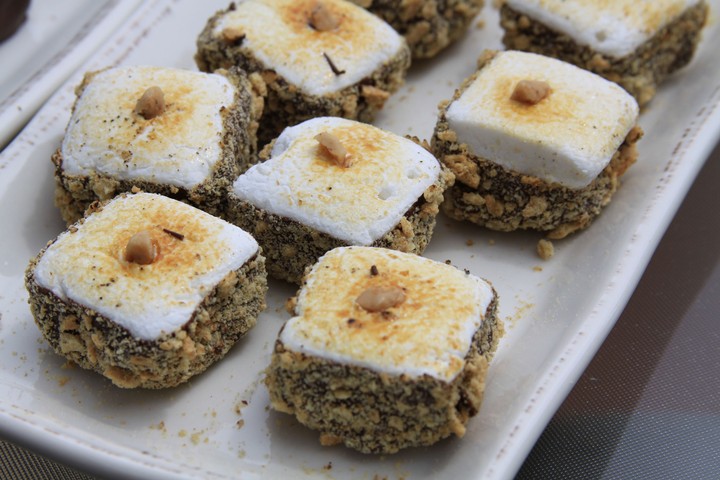 Image courtesy Elise McDonough
by Elise McDonough

"They looked at me like I was already high," Mina Carrillo says, describing how her family and colleagues reacted when she abandoned a 10-year software engineering career in the healthcare industry for a new life devoted to growing marijuana and infusing it into carefully-crafted sweets like macarons, truffles, and eclairs.
"I was a straight-laced person who wore suits to work," she says. "Everybody thought I was going through a midlife crisis!"
Carrillo wasn't a closeted cannabis enthusiast whiling away her days daydreaming about growing vast fields of ganja. In fact, she'd never even been a casual pot smoker. "I didn't know anything about cannabis," she laughs. "All I knew was what the leaf looked like."
Like many late converts to the herb, Carrillo only got interested in weed after witnessing the plant's healing powers. Her daughter Kristina Smith has a rare form of a hereditary disease called encephalopathy that had already claimed the lives of two of her first cousins.
"I didn't know if I'd wake up in the morning and find my daughter dead," Carrillo remembers. "because that's the history in our family."
But despite such a dismal prognosis, Carrillo says she still reacted negatively when Smith's doctors recommended cannabis. "I thought they were crazy. I asked, 'You want me to go to jail? You want me to have my daughter taken away? I thought, 'if it's such great medicine, why isn't it available already?'"
Her daughter's conditions were instead treated with a long list of pharmaceutical medicines. Even longer was her list of health issues: grand mal seizures; shaking hands; impaired mobility and speech; and swelling in her brain. And yet cannabis remained off the table.
But when Smith turned sixteen, she decided on her own to try medicinal marijuana, backed by a doctor's recommendation and her parents' support. So Carrillo infused her daughter's favorite dish—chicken alfredo—with cannabis, and then noticed an immediate improvement.
"She wasn't shaking as much and she could speak better," Carrillo recalls. "I felt so guilty for not giving it to her for all those years."
With ongoing cannabis treatment, Smith has been able to leave her wheelchair behind, and her speech and motor skills continue to improve. She no longer takes any pharmaceutical medications. Asked how cannabis makes her feel, she replies,
"It makes me feel normal. It makes me feel free."
In 2009, after witnessing her daughter's transformation, Carrillo felt compelled to quit her software job and create a line of pot-infused food. So she and her husband enrolled in culinary school at Le Cordon Bleu, where she earned dual degrees in Cuisine and Patisserie while figuring out how to apply the curriculum to her future business.
At Mina's cannabis farm, tucked into the mountains north of Los Angeles, hummingbirds zip around a small cluster of greenhouses. The whole endeavor is Clean Green certified, which means that the on-site cultivation standards go beyond organic, with companion planting, integrated pest management strategies, and compost tea in full effect.
"We focus on quality versus quantity,"
Carrillo explains. "It takes months to create our sun-infused oil for cooking, but the quality is astronomically delicious!" Carillo frequently supplements the cannabis oil in her desserts with essential oils that complement the healing benefits of cannabis. "In Guam, where I grew up, we use a lot of essential oils to heal people," she explains, "they can help boost the immune system, increase appetite, and combat nausea or headaches."
After launching Baron's Confections earlier this year, Mina tapped into her extensive healthcare connections from her previous job and started working directly with doctors and patients. To address the needs of those undergoing chemotherapy and radiation procedures, she has a range of easy-to-ingest lozenges and tinctures, helping patients regain appetite, quell nausea, and aid sleep. As the patient's health improves, Mina then introduces them to her "celebration collection" of high-end treats.
Asked if she ever misses her previous software career, she doesn't hesitate to answer.
"No."