Communions are hungover. As they should be really—their new record, Blue, was released yesterday and they stayed out late celebrating. Sitting in a bar in their adopted hometown of Copenhagen, they're hoping to lift their night-after fug by drinking draft beer and smoking cigarettes. They say it's the only thing that works. Founded in 2013 by lead singer Martin Rehof (who was, at the time, only just out of his teens), and his younger brother Mads on bass—both of whom spent a formative 11 years living in Seattle before moving back to Copenhagen with their parents—the lineup was completed by Frederik Lind Köppen (drums) and Jacob Van Deurs (guitar). The band cut their teeth playing underground venue Mayhem in Copenhagen's somewhat worn down Northwest neighborhood where bands such as Iceage and Lower also got their start. (Bands who Communions are frequently, if a tad incorrectly, compared to). Mayhem may be known as a primarily punk venue, but Communions tout a more melodic, reverb heavy kind of guitar pop exemplified in its nascency on their debut 2014 EP Cobblestones.
Recorded in Frederik's apartment on an old HP computer with a USB-microphone which cost them $70, their first four track collection was a decidedly lo-fi affair, but it garnered the band enough buzz for label Posh Isolation—the premier exponents of Danish underground—to sign them. Their follow-up self-titled EP offered a more produced and polished take on their sound and now, with Blue, Communions finally sound like a band, who's really supposed to play guitar pop, should sound. It's as if they've been fighting themselves a bit until now. "Come On, I'm Waiting," opens the album with a youthful energy and roaring intensity roaring, while "It's Like Air" owes its brash melodic stylings to Oasis, but they also sound like a band who have matured. Here they offer restraint too, knowing that there's value in not giving everything away. On "Midnight Child," for example, Martin Rehof sings of someone missing, and here Communions almost shed their playfulness for something more adult and fervent. There is a complexity beneath everything, but most of all Blue is an outburst of youth.
And so: the hangover.
Noisey: Congratulations on the new record. How's it going?
Martin Rehof: It's going well even though we're a bit tired because of last night. We've begun writing new songs. It's as if we've already put the music behind us in a way. It's funny, but when you put out music, you give it away and suddenly it's not only yours anymore. In a way we've already moved on. It's a release but it's also paradoxical, because in a way you just want to move on.
Frederik: I think we've made some fine songs. We're happy about them. But now that we've given them away, it's as if they belong to someone else. Now they're in the world and that makes space for something else. When you close one door, you open another. We have some material to work with and will probably begin little by little, but we also need to make time to be hungover. It's damn nice to be out. Cheers! I was really looking forward to smoking a cigarette and drinking a beer.

Jacob: We had our release party yesterday. Afterwards we went to this gay bar down the road from here. Amigo Bar. It was fun. A good party.

Cheers. But back to business. When did you guys know you were a band?
Jacob: Pretty quickly. When we started out there was a lot of enthusiasm around us. A lot of people liked what we were doing and of course, that gave us a taste for more. We were pushed forward, also by the people at Mayhem who really believed in us.

Martin: Actually, it wasn't until the second EP, I felt that we were a band. I think it was around that time we hit the sound we were looking for. The recording process was right, everything just felt more right. Before that it was more homemade and maybe it was difficult to feel that we were a band when we weren't recording probably. After all, we were just sitting at home.

Frederik: But one thing that's clear is that the spirit and solidarity of Mayhem was wildly important.
In what way?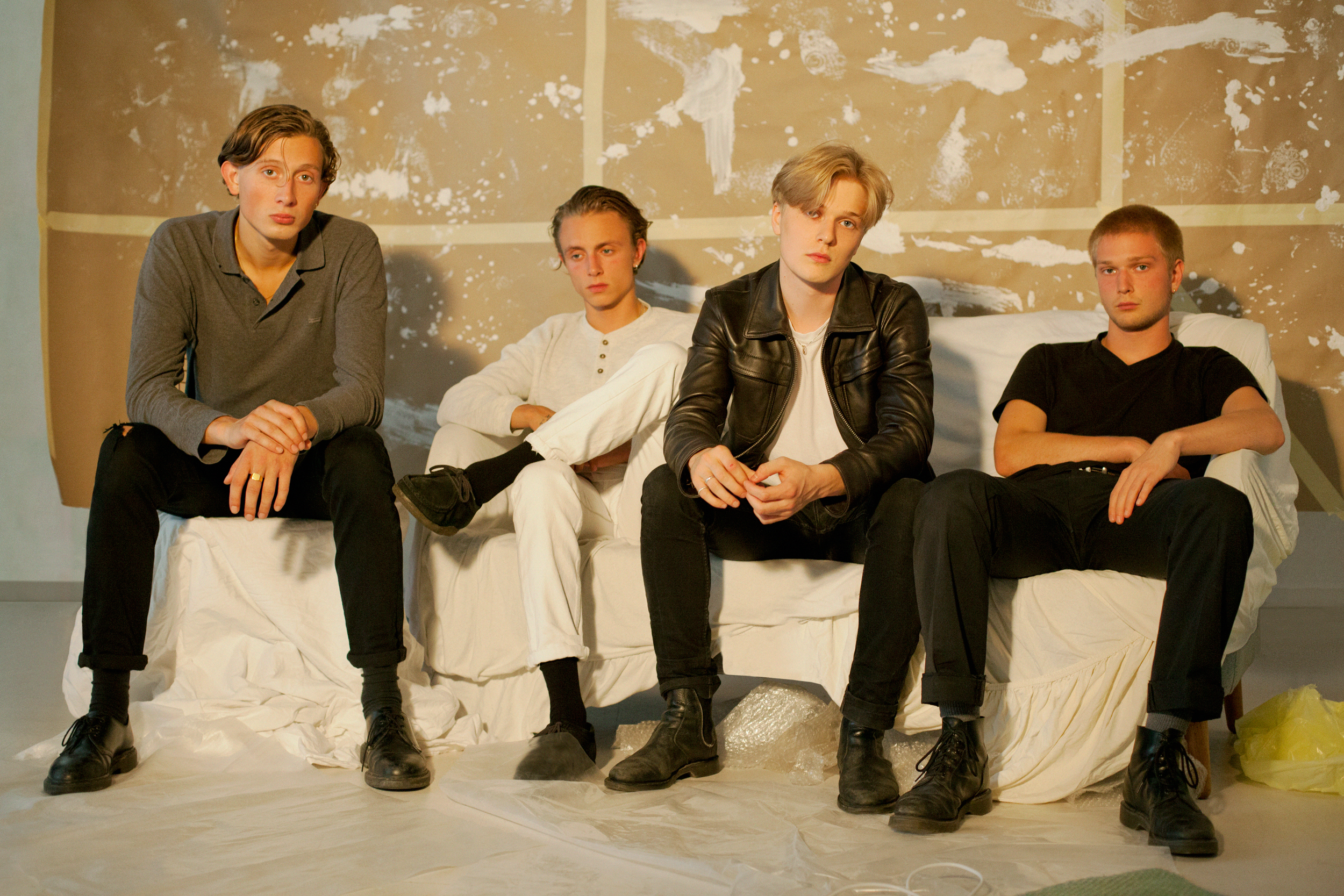 Frederik: It was our platform. A place that was always available to us for practice and concerts. There's an enormous sense of cohesion and spirit out there, everyone's helping each other, everyone's playing in each other's bands. At least that's how it was in the beginning. It's been very inspirational to us.

Jacob: When we first started out we had the feeling that even though we weren't trained musicians, we were able and allowed to get on stage and play. There was an enormous interest surrounding the scene back then because Iceage had just released Plowing Into the Field of Love. That helped us catch an early wind. There was momentum from the beginning.
Blue seems as if it writes itself into a journey towards a more produced and polished sound that you've been on since Cobblestones. Why is it you've had that development?
Martin: I actually don't think the development has been that wild, I just think the production has become better. That probably has something to do with the fact that there was no production at first. The first EP was really just kind of a demo, but a lot of people liked the lo-fi image of it. It somehow fit into the time and the place, the simplicity was an important aspect of it. It talked to people and drew them in. But we've always played guitar pop, for us it's always been about the melodies. The songwriting, the form, the structure. All that is still the same. A lot of people have been pointing at the change in sound and saying that we've taken a huge leap, but I don't feel that we have. The production is just better.

Jacob: Cheers. Its fucking nice to sit here.

It really is! So… the world is a bit fucked right now. Right?
Jacob: You can say that again.
What do you think of the exploits of Donald Trump?
Jacob: Oh, I think it's a bit risky to talk about politics, you know? But I think he's a fucking idiot. A fool.
Martin: The way I see it, it's the structures of the American system that's failing. Trump might be a fool, but he's more than that. He's a symptom of the problems and the atmosphere of society. He sounds like an idiot, but really, he's playing the game and he's winning. It's a somewhat ambivalent situation because in some ways I get why people are drawn to him. He's got character. He speaks of change for the people who have been left behind by globalization and the power of that shouldn't be underestimated.

Mads: He's playing the game and he's winning. The problem is with the game. The economic system is fucked, some people are poor even though they're working multiple jobs, and of course they're going to feel left behind. On the other hand we have people who've only become richer during the crisis. The disparity is way too great. That's what the world needs to address. The poor feel left behind, they haven't seen any change for their benefit and those are the people Trump talks to. Those are the ones who need to see change.
Martin: Yeah. And they need to address this, they really do. Because he's dangerous. His rhetoric is enormously dangerous. Absolutely crazy.

What about you? What do you dream of now?
Martin: We want to make a new record. We're ready to go again. What interests me most is really the creation of music. The writing. The process. Also more than playing concerts. The creation is more interesting than the execution. It's fun to play, of course it is, but the creation of something where before there was nothing is what it's about.

Mads: I don't think we have a specific target. There's an ambition to be stimulated creatively and to use ourselves in unison.
Jacob: It's so redeeming to do something that makes sense. You give birth to a song, you give birth to a sound that wasn't there before. That's the ambition.
Follow Noisey on Twitter.