Doctors Who Oppose Abortion and LGBT Rights Get New Government Protections
This morning, the Trump administration announced a new "civil rights" division tasked with protecting doctors who have religious objections to helping certain patients.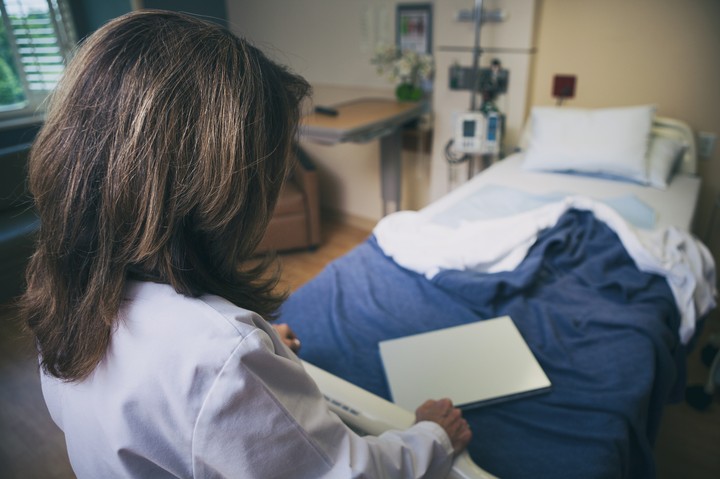 Photo by Sean Locke via Stocksy
In 2014, Krista and Jami Contreras took their six-day-old daughter Bay to meet her new pediatrician. But instead of meeting with the doctor they'd chosen, they were greeted by another woman, who told them she'd be handling their daughter's healthcare instead. When the couple inquired about the pediatrician they'd hoped to see, they say the doctor replied, "Well, she prayed on it, and she just can't do it."
"Krista and I are obviously gay," Jami said in an interview. "But Bay's not gay. She's only six days old. We don't know what she is yet. As far as we know, she doesn't have a sexual orientation yet, and here she is being discriminated against all because of who we are."
"Medical care should be so sacred," she continued, "and it wasn't."
This morning, the Department of Health and Human Services announced the formation of a new branch of the Office for Civil Rights (OCR)—grandiosely called the Conscience and Religious Freedom Division—ostensibly for the purpose of "protecting the religious and moral beliefs" of people who work in healthcare. Civil rights advocates see it differently: This move, they say, will give healthcare providers license to discriminate against LGBTQ patients and people seeking abortion care.
According to Politico, the new division will conduct compliance reviews and other actions to ensure hospitals and doctors' offices are doing their part to protect their workers from having to endure religious or moral conflict. HHS will also now investigate complaints filed by people who feel they were "coerced" to participate in procedures they morally objected to; in fact, a link to take those claims is already live on the division's new website.
"This division isn't actually here to enforce religious freedom—it's designed to protect providers who discriminate against women & LGBTQ people."
"No one should be forced to choose between helping sick people and living by one's deepest moral or religious convictions, and the new division will help guarantee that victims of unlawful discrimination find justice," said Roger Severino, OCR director, during a press conference today.
But representatives from a number of advocacy organizations, including the ACLU, Planned Parenthood, the National Women's Law Center, and National Center for Transgender Equality, find this explanation spurious. "Despite the name," NARAL tweeted, "this division isn't actually here to enforce religious freedom—it's designed to protect providers who discriminate against women & LGBTQ people."
Even without HHS throwing the door wide open to discrimination, people from marginalized communities already face unfair treatment when they try to get the care they need. According to a recent survey from the Center for American Progress, eight percent of queer respondents said a doctor refused to treat them because of their perceived sexual orientation. And when they were seen, nine percent said their doctor used harsh or abusive language while treating them.
For transgender patients, the standard of care can be even more appalling. The CAP survey found that 29 percent of transgender respondents said they were denied being seen by a provider because of their actual or perceived gender identity. Twelve percent said they were refused health care related to gender transition, and 23 percent said they'd been misgendered.
"Using the powers of the Office of Civil Rights to enable discrimination instead of stopping it is the latest in the harms the Trump administration has enacted on this community," Shabab Ahmed Mirza, a co-author of the CAP report, said in a statement. "From avoiding doctor's offices out of fear of discrimination, to hearing demeaning language, to being denied care outright, it is no wonder that LGBTQ people report poorer health than their peers."
Monica Simpson, the executive director of SisterSong: The National Women of Color Reproductive Justice Collective, tells Broadly that religious liberty has no place in healthcare, and calls this new division a "hijacking" of the OCR. "The OCR was put in place to enforce federal civil rights laws, not harm the very people it's supposed to be protecting," she says. "Healthcare is supposed to be about providing care, and we are stepping into dangerous territory and playing with people's lives whenever we try to incorporate someone's religious beliefs into that conversation."
In addition to potentially exacerbating the discrimination LGBTQ people face at the doctor's office, these so-called religious protections would also give doctors free reign to deny women abortion care or birth control based on religious grounds—and women of color would be particularly impacted, Simpson says. "We already face huge barriers just to get access to what we need ... What Trump and his administration are trying to do is make it even more difficult."
The fact that the administration would rather protect its workers instead of the most marginalized groups, Simpson continues, sends a very clear message to those communities, of which she is a member. "The message I'm getting is my government doesn't care about my life, my health, my well-being."
Stories